Explore the charm of this earth tones decorated Christmas tree color scheme elevated with modern elegance! From ornaments to layering techniques, dive into the details of our decorated frosty flocked Christmas tree. The subtle sparkle and harmonious hues are bound to enchant and elevate your holiday spirit.
I'm so excited to share my latest Christmas tree with you! This Earth toned Christmas Tree is inspired by nature with holiday memories, designs, and ornaments with a non-traditional color palette.
Isn't she lovely? While my living room last year was inspired by A Winter Themed Christmas Tree, this year is a little different. This year, we will be traveling during Christmas, so I had a goal of smaller, more impactful decorating.
Moreover, we are super busy working on of our biggest home improvement project ever. Last year, I shared this Red Christmas tree as a sneak peek while the basement finishing is in progress. For that tree, I crafted some gingerbread ornaments and used it alongside our kitchen Christmas decorations.
While I am designing the basement man cave, I had the inspiration to play with some color scheme ideas, which spilled over to this year's tree. So, it's a bit like a Christmas color scheme test drive.
Flocked Christmas Tree
So, where to start with this tree? This flocked Christmas tree might look familiar as I've used it for several years as our rustic woodland animals tree. I snagged it from Wayfair several years ago and I don't think it is sold anymore.
Truthfully, I didn't really like it at first. It's a very messy tree and it was too heavily flocked with branches glued together by flocking, which created holes. I store it completely upright all year long, just so I don't have to re-fluff it.
However, I do have and love this flocked tree. It loses far less flocking, sticks well, and doesn't feel crunchy.
When purchasing a tree, I look for:
Density. I like a tree where I can't see much of the trunk pole once it is fluffed completely. A spindly tree is not for me.
Pre-lit. Especially for flocked trees, I need pre-lit. I like led lights better than the old-fashioned lights on this tree. They twinkle plenty without taking away from the ornaments.
Texture. One thing I do like about this tree is that it is highly textured. The branches look more natural because they are uneven lengths and spacing. The tips point downward from the weight of the "snow". It is perfectly imperfect, like I just hauled it out of the woods and set it in my living room. The realistic tips also extend pretty far back on each branch.
Natural Earth Tones Christmas Color Scheme
The whole process started when I was working on designing our unfinished basement for quite the merry man-cave. There will be a lot more information coming in the new year, but I have planned a moody, masculine space with a contemporary English pub vibe to it.
Think lots of molding with darker woods, and elements of brick and mixed metal textures. So that got me thinking about what kind of Christmas decorations to put in that space.
The color scheme for this Earth Toned Christmas Tree includes:
Terracotta Clay
Muted greens like the eucalyptus and sage green ribbon
Medium Wicker Browns and a little deep Brown Christmas tree decorations
Smokey grey (just a little)
Cream
Warm Metallic colors like Copper, Antique Gold, and Brass
Most of the ornaments are from previous years, but I also hand painted a batch of 3.5-inch shatterproof ornaments in terracotta, maui sand, and chocolate brown.
I was going to do a tutorial, but they are almost too simple. I mixed in about a ½ teaspoon of baking soda to a few tablespoons of paint to create some subtle texture. After the paint was dry, I dry brushed on a tiny bit of gold leaf metallic wax.
Nature-Inspired Christmas Tree Decorations
Beyond the bolder earth tone colors, I layered in a lot of different textures in neutrals and metallic amber hues. I have been collecting these for years, so it's hard to link out to the exact same product that I purchased.
However, if you are looking for some ideas on how to pull this type of tree together, here is how I layered this look:
Ribbon – I generally use at least one 4-inch-wide wired ribbon (similar to mine). Since those tend to be harder to find, I buy about 30-40 yards to have extra on hand. I never cut the wider ribbons since I change ribbon laying style a lot, but I will cut affordable, slimmer ones like a 2-inch ribbed grosgrain into 3-4 foot sections. It definitely makes using them easier.
Branches and Berry Picks – For this tree, I used 5 different kinds of large picks, with about 5-7 of each. I included eucalyptus, bronze berry branches, icy curly willows, mini-pinecone branches, and frosted champagne sugar berry branches.
A Few Themed Ornaments – While I chose three different kinds of stars to add to this tree, a few themed ornaments add interest when looking for different shapes. In previous years, I have used collections of woodland animals, gingerbread snowflakes, and large pinecones to change it up from just having balls on the tree.
Small Candle Lanterns – I stumbled upon these gems at Kirkland's clearance. They are about 8 inches tall with hook and large enough for a tea light. They are my favorite ornament to fill a larger gap, although they are quite heavy for an ornament.
Assorted Metallic Ornaments – The rest of the tree sparkled with some mixed metal baubles I already owned – some smaller muted gold balls and sparkly bronze ball ornaments, plus icy birch balls, and polar bear snow globes.
What order do I decorate a Christmas tree in?
Pro Tip: When it comes to decorating a Christmas tree, I use a 4-step layering method. Lights->Ribbon or Garland ->Floral Picks -> Largest to smallest ornaments. Layer top to bottom and inside to outer, nestling larger ornaments deeper into the branches. This gives them better support while also creating depth.
I have never been a fan of the lights on this tree. It tends to obscure the ornaments in photographs, so I took a picture of it unlit at first, but here is it lit up:
And this frosty and natural earth toned Christmas tree is a wrap! It's definitely one of my favorites because it is festive but with a non-traditional Christmas color scheme.
If you have questions, you can always ask in the comments below.
May it shower your holiday preparations with a touch of inspiration and joy. Merry decorating!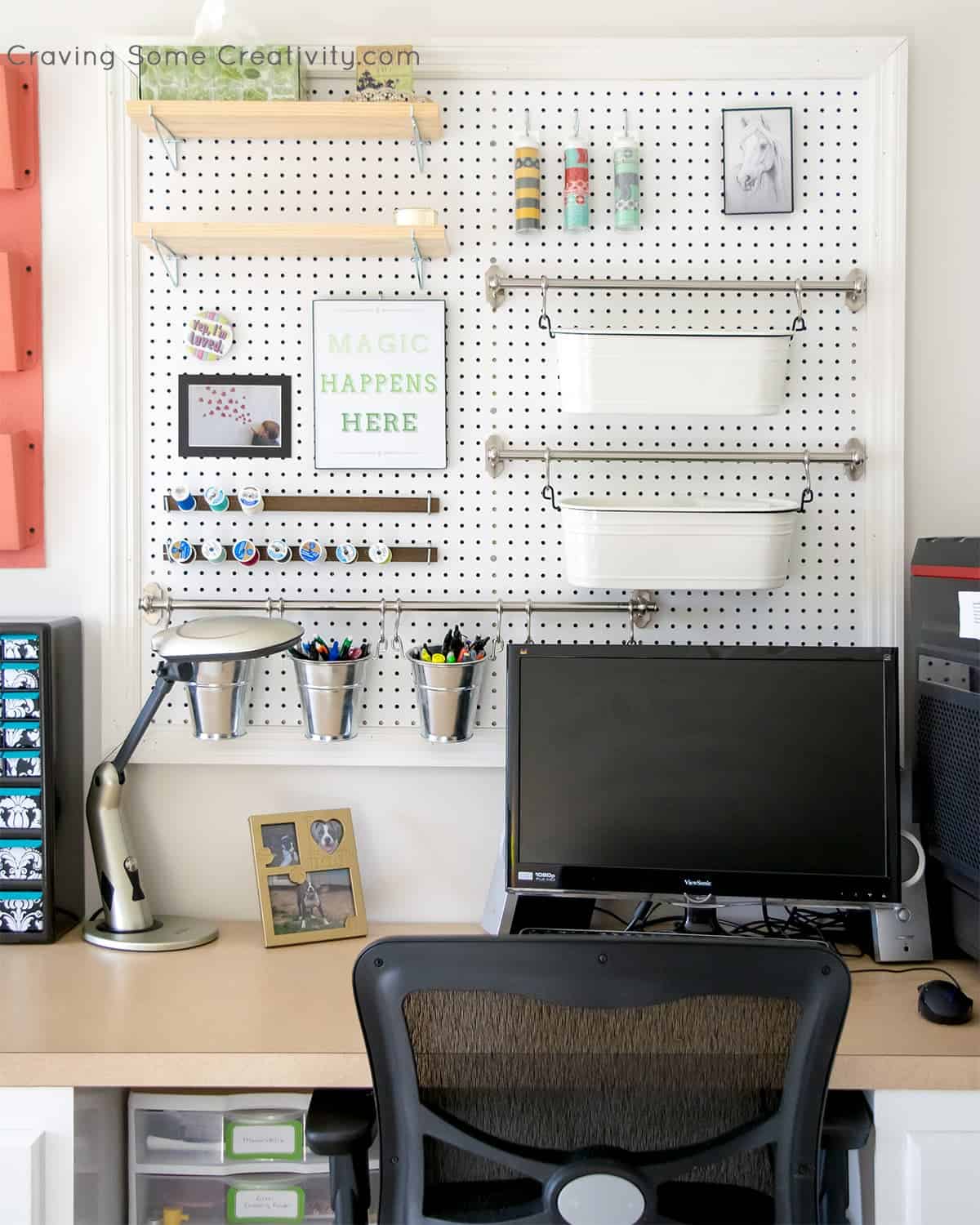 Grab our free series "Weekend Home Projects that will Transform Your Life"
Sign up below to receive updates including free printables, organization tips, home improvement projects, recipes and more!
More Christmas Decorations You Will Love
PS I love seeing your creations! Be sure to take a photo and tag #cravingcreative on Instagram! You can also stay in touch with me through following me on Instagram, Pinterest, and subscribing to the newsletter!