Use these tips and a simple step by step method for organizing Christmas decorations. Easy enough to tackle in one afternoon! Organizing holiday decorations THIS year makes decorating much easier NEXT year!
It isn't nearly as fun to put away all the Christmas decorations as it is getting it out. However, if you are intentional about organizing Christmas decorations now, you will thank yourself later.
I've been using this system for the past couple of years and it's worked unbelievably well. I hope you get a few tips out of today's post to put even more jolly into next year's decorating!
How To Organize Christmas Decorations
Step 1: Declutter and Purge
The perfect time to declutter seasonal decorations is before you put them all away. After all the Christmas decorations are up, you can easily see what is leftover. It can be tough, however, since we can have an emotional connection to some items, especially our Christmas items.
Categories of Decorations to Declutter
There are a few primary categories that help to declutter. I find that donating the items to find a better home makes me more likely to part with them if they are still in good shape.
Broken items beyond repair (or that you realistically will not repair), such as ornaments, strings of lights, etc. I can't stand finding one bulb that went out on a set of string lights!
Items that are worn out or no longer make you smile.
Items that don't have a place.
Stuff you avoid, for whatever reason, from putting up year after year (color schemes, odds and ends, hard to put up, etc.)
Step 2 – Make a list and Check It Twice!
Our house has changed a bit each year. During the holidays, I always have a ton of new ideas, but not the budget or time to pull them off. This is where the list comes in and you will LOVE this trick! It saves me money and time every year.
On a sheet of paper, write down any items such as:
Craft or decoration ideas for next year (and supplies needed) – if you have an inspiration picture, clip it on.
Items that broke and need replaced (ornaments, lights, etc.)
Items that you are on the verge of purging (if you don't use it the next year – you know what you gotta do!)
Now that you have made a list – keep it around until step 4.
Step 3- Purchase sturdy bins similar in size
One of the smartest things I ever did was to get all these boxes in the same size, which made them stackable. Having boxes all the same size makes everything seem more organized and efficient as well.
I love how durable these are, and they protect items from water. The 27 gallon size is manageable for moving but roomy enough for larger items.
However, the boxes look bigger than they are after the top is inserted. If I were to do it again, I would purchase these boxes.
Not everything may fit in a one-size-fits-all container. I do have a few boxes outside of these for especially large outdoor decorations. I also have a special gift wrapping box for my year-round wrapping items.
How To Organize Storage Bins?
I know this is going to sound strange but bear with me – I don't believe in categorizing items by type. For the most part, I categorize Christmas Decorations by WHERE they BELONG.
For instance, I don't lump all ornaments together. Everything for one Christmas tree goes in the same bin or bins. This method also makes it super easy to do one room at a time rather than pulling down ALL the decorations from the entire house at once or searching for one particular item.
Tips for Packing Items away:
Pull out the batteries (they can corrode over time and ruin items).
Save original packaging to put items away.
Label boxes by room or category and be specific.
I don't re- fluff my tree every year, especially the flocked one. I stand the tree upright in the basement and use a thin plastic tarp wrapped around and secured at the top with a zip tie or a canvas cover.
For ornaments, I use padded shoeboxes or those apple containers you get at Costco/Sam's Club. They are perfect!
For stringed items like beads, ribbon, and lights, I wrap them around a piece of cardboard and put in a gallon sized zip-lock bag to keep from getting tangled.
Step 4. Label, Label, Label
I make my labels super specific so that I don't go rummaging through several bins labeled "holiday decor" to find a candle or ribbon. I printed out some cute tags on white card stock and wrote out the contents of each bin. If you want to be able to switch them out easily, use with a clear holder like these from Amazon.
You can snag my cute tags too!
Click here to download free printable bin labels!
Step 5: Bury the List
This step is super short, but super important. Choose 1 main box and lay your list from Step 2 inside it. If you think you will forget where you put it, add it to the contents list on the box.
Now forget about it until at least October. I pull my list out in October and as I am out shopping or planning for the holidays, I have this handy list that helps me make sure I have what I need for decorating and crafts. So much less stress!
More Organization Ideas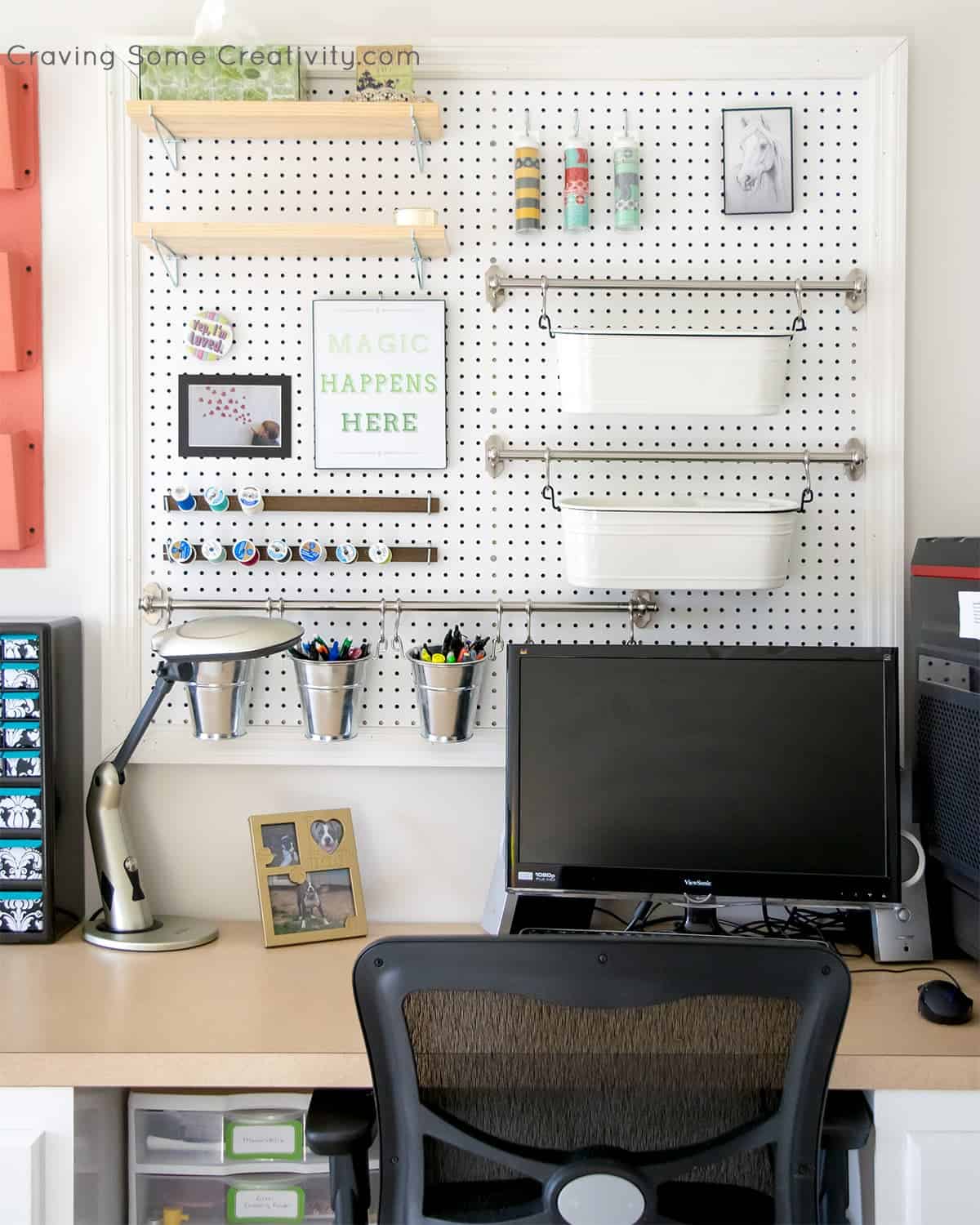 Grab our free series "Weekend Home Projects that will Transform Your Life"
Sign up below to receive updates including free printables, organization tips, home improvement projects, recipes and more!
More Organization Ideas