Decorate for Christmas on a budget with these Free and Cheap Christmas decorating ideas! From cheap DIY Christmas wreaths to simple centerpieces, there are plenty of budget-friendly decorations to choose from.
While adding a few new Christmas baubles can make older decor pop, being budget minded requires a few edits. Must resist the urge to buy every cute thing!
If you have been wanting to add Christmas cheer to your home for the holidays but the list is longer than the budget (or you just like to make it fun!), these 70 ideas will help.
They are festive, simple, and best of all affordable or even free! There are so many ideas, I broke them up into categories for easy browsing.
From simple centerpieces to DIY scrap signs and recycled clothes, here are the best ideas for just about every style, taste, DIY-skill level (including none), and budget. It also allows you to get creative stretching your decor year-round, to get the most value for your money.
Cheap Christmas Decor Ideas
Browse these tried-and-true Christmas decorating ideas for some thrifty inspiration. Bonus: No need to be super crafty to execute these ideas.
1. Cheap Scented Candles
A house that smells like Christmas is instantly cozier. Best place to get cheap candles – thrift stores and the dollar store. Add in some fragrance oils to the melted wax. Mega money saved!
Fragrance oils perfect for the holiday include Gingerbread (my favorite!), Christmas Wreath, French Vanilla, Wintermint, and Hot Chocolate.
---
2. Repurpose Bottles
If you've been spending a large part of the holidays playing host, there's plenty of festive ways to recycle those empty wine bottles. A coat of paint and a few accessories can instantly transform ordinary bottles into glamorous decor.
Use as candle holders.
Paint bottles to resemble your favorite Christmas character like a snowman or Santa.
Cover bottles with twine or burlap.
Thread small strands of lights inside bottles.
Use as vases for fresh flowers and greenery.
Print custom holiday labels or tags.
3. Use Sheets as A Tree Skirt
I have done this for years! No need to splurge on opulent tree skirts that will soon be covered with gifts. Break tradition and save some money. Spare white sheets, tablecloths, and/or faux fur blankets make an excellent and economical alternative to tree skirts.
4. Pillows & Throws
Creating a cozy home is my primary goal. Nothing says cozy like a warm throw and throw pillows.
When selecting throw pillows, mix in no more than one seasonal pillow with a few year round favorites. Or buy/sew pillow covers rather than purchasing new pillows. This eliminates storing bulky pillows that get used two months out of a year.
Tip: Keep pillow sizes consistent so you only need pillow covers and switch them out. Save storage space and money!
5. Candy
Candy canes are the quintessential cheap Christmas decor item. Hang them from garland, wreaths or tree branches. Or tie bunches with ribbon to use in table settings or for other sweet touches of festivity.
Any Christmas candy can double as decor when displayed in a pretty jar or glass. My seasonal favorites include m&ms, peppermints, and Hershey's kisses.
6. Repurpose Shipping Boxes
Sometimes in my holiday haze, I'll find myself eyeing decorative boxes in the gift wrap aisle. Then it dawns on me how many free ones arrive through my front door this time of year. Package deliveries- the gift that keeps on giving!
Repurpose your shipping boxes for gift wrapping needs. Or wrap the outsides and fill some with fresh-baked goodies for friends and neighbors. Don't forget to thank your postal worker.
7. Decorate with Wrapped Gifts
There's no rule stating wrapped gifts must be placed under the tree. I like to tuck some in unexpected places to add touches of merriment around the room.
Light on wrapped gifts this year? Wrap empty shipping boxes (see #6) and stage them as decor.
8. Scrap Wood Decorations
Reclaimed wood crafts add instant rustic charm to your holiday decor. Almost every household has some form of scrap wood hanging around. From clothespin snowman ornaments (no hooks needed), to wood pallet Christmas trees, these projects are perfect penny savers in any scale.
Here's an array of project ideas to choose from this season:
9. Dollar Store Decor
These nutcrackers are my favorite find this season! At $4 each from Dollar General, they are a steal. Budget friendly finds like this allow me to indulge my Christmas decorating habit without breaking the bank! You don't even need to DIY them.
10. Clip Natural Elements from Your Yard
Pine trees, boxwoods, branches, magnolia, and holly are common backyard finds. Go foraging in the great outdoors for fresh clippings to make wonderful cheap Christmas decorations. Fresh clippings last longer than store bought and don't cost a dime! Spritz your clippings daily with water for extra longevity. Though do check for bugs.
Decorating ideas with yard clippings:
Put clippings in a vase for a nature-inspired arrangement.
Fluff worn-out garland or add depth to artificial trees with clippings from the yard.
Tuck your clipping into Christmas ribbon for an instantly elegant DIY napkin ring.
Tie clippings with twine to plain pillar candles.
11. Stringed Lights
Twinkling Christmas lights are the best backdrop for everything and dollar store strands are perfectly cheap Christmas decorations. While trees, garland and outdoor spaces commonly get the light bright treatment – there are many other creative ways to use stringed lights to set a mood.
Gather branches and string with lights for a "Charlie Brown" tree effect.
Use lights inside of Mason jars or wine bottles for an easy centerpiece
String through the chandelier or lanterns for a touch of unexpected whimsy.
12. Cheap Ornament Balls
If there's a Swiss Army knife of Christmas decor, it has to be ornaments. Purchase some inexpensive ones from any big box retailer or dollar store and let your imagination run wild! Here's some inspiration to get you started:
Make ornament topiaries.
Tuck into greenery on the mantle and around the house.
Collect some in apothecary jars or decorative bowls for low-cost decor.
String from curtain rods with clear fishing line.
Tuck them into lanterns. I use these lanterns year-round.
Tie to a nametag with a piece of pretty ribbon to create a DIY placeholder.
13. Inexpensive Wreath Ideas
Seasonal wreaths can be uber expensive, but you can make one for much less! Adorn cabinets, doors or windows with your creation.
Here are some amazing, affordable wreath ideas:
Drop Cloth Wreath
Cheap ornament balls (non-glass)
Glue Styrofoam balls to make a Snowball Wreath
Paint gathered pinecones and string together
14. Handmade Ornaments
Unpacking the homemade ornaments is my favorite part of dusting off the Christmas decorations each year. As we reminisce about each ornament, it's like a little stroll down memory lane. Handmade ornaments are more than just budget friendly, they are miniature time capsules. Try a few of these ideas this season.
Paint the tips of pine cones. Add glitter and hot glue a ribbon to the tops. Super cheap and pretty!
Draw designs on wood slices for the perfect kid's craft project.
Make salt dough ornaments. Paint, add glitter and/or gemstones.
DIY advent calendar ornaments will have thoughts of sugarplums dancing in your head.
Seasonal clippings + a cinnamon stick + hot glue = a Christmas tree inspired creation.
15. Grab some Firewood
A setup of fire logs exudes cozy, even if you don't have a wood burning fireplace. Place a small stack near the entryway or living room. Baskets of fragrant logs make great accompaniments for a warm winter vibe.
Pro Tip: Make sure logs are completely dry, and don't show any signs of pests.
16. DIY Paper Decorations
Harness your inner Buddy the Elf and create an indoor winter wonderland with paper snowflakes. These classic gems are versatile enough to use on windows, walls or nestled into other decor.
Make 3D stars with this template – use as garland, ornaments, or a tree topper
Paper Snowflake chains for garland
Paper snowflake ornaments or decorations on the windows
Giant paper cones for a modern look
A mini-forest of origami Christmas Trees
17. Believe Sign
Greet holiday guests with a preview of the magic that awaits behind closed doors. Front porch signs like this one are welcoming way to carry your seasonal decor through to outdoor spaces. Welcome Santa with a DIY sign made from a reclaimed board and a bit of outdoor paint.
18. Wrapping Paper
Recycle leftover wrapping paper, or highlight your favorite pattern with these creative DIY ideas.
Make gift tags with scraps.
Line serving trays with wrapping paper for a jolly effect.
Make a thrifty table runner with your favorite roll of wrapping paper.
DIY your Christmas bows with leftover paper, rather than purchasing pricier options.
19. DIY Holiday Card Tree
Turn Christmas cards into free Christmas decoration ideas! Create a unique display to highlight season's greetings with a few easy to find household items. This is also a wonderful way to revisit old Christmas cards.
There are many creative ways to craft a holiday card tree, so choose something that makes sense for your space. This clean-line DIY display is lovely for a large foyer or hall. Have an idea that worked well for you?
20. Dollar Store Cookie Cutters
There's lots of fun ways to incorporate cookie cutters into budget savvy seasonal decor, even if you can't bake!
Make your own tea light candles
Make handmade clay ornaments
DIY Cookie Cutter Wreath
Display in apothecary jars
Use them directly as ornaments on a small tree or a kitchen tree.
21. Set up a Hot Cocoa/Coffee Cart
Who doesn't love a cup of piping hot cocoa with extra marshmallows on a cold winter's day? Not only is a coffee bar easy to throw together on a budget, but it's practical!
Use a 3-tiered stand, a rolling bar cart, or a serving tray to create the perfect morning nook or post-dessert gathering area.
Oh, and if it's Tiered tray decor ideas you're after? We've got BUNCHES of them for you!
22. Pomander Balls
Pomander balls are a kid-friendly Christmas craft that smell great. Place them in a pretty bowl for a thrifty centerpiece display.
23. Use Books as Holiday Decor
I have an admitted soft spot for Christmas books. I used to thoroughly enjoy reading holiday stories to my son in his younger years. Put them to use this holiday season by easily incorporating them into your seasonal decor. What a novel idea!
Stack color coordinated books into a holiday shape like a snowman or Christmas tree
Display Christmas classics on the mantel or coffee table
Shred discarded Christmas book pages to use as filler in clear plastic ornaments
Cover books in wrapping paper and tuck them around the house
24. Last Year's Sweaters
Have the kids outgrown their old sweaters? Use them to add a touch of unique nostalgia to holiday decor.
Kid's always coming home with one mitten? Create a colorful mitten garland.
Wrap a scarf around a wreath form for an easy touch of warm elegance.
Old sweaters can be repurposed into seat cushion or pillow covers.
Sweater vase cozies – Cut the sleeves off of worn sweaters and put a vase down in them!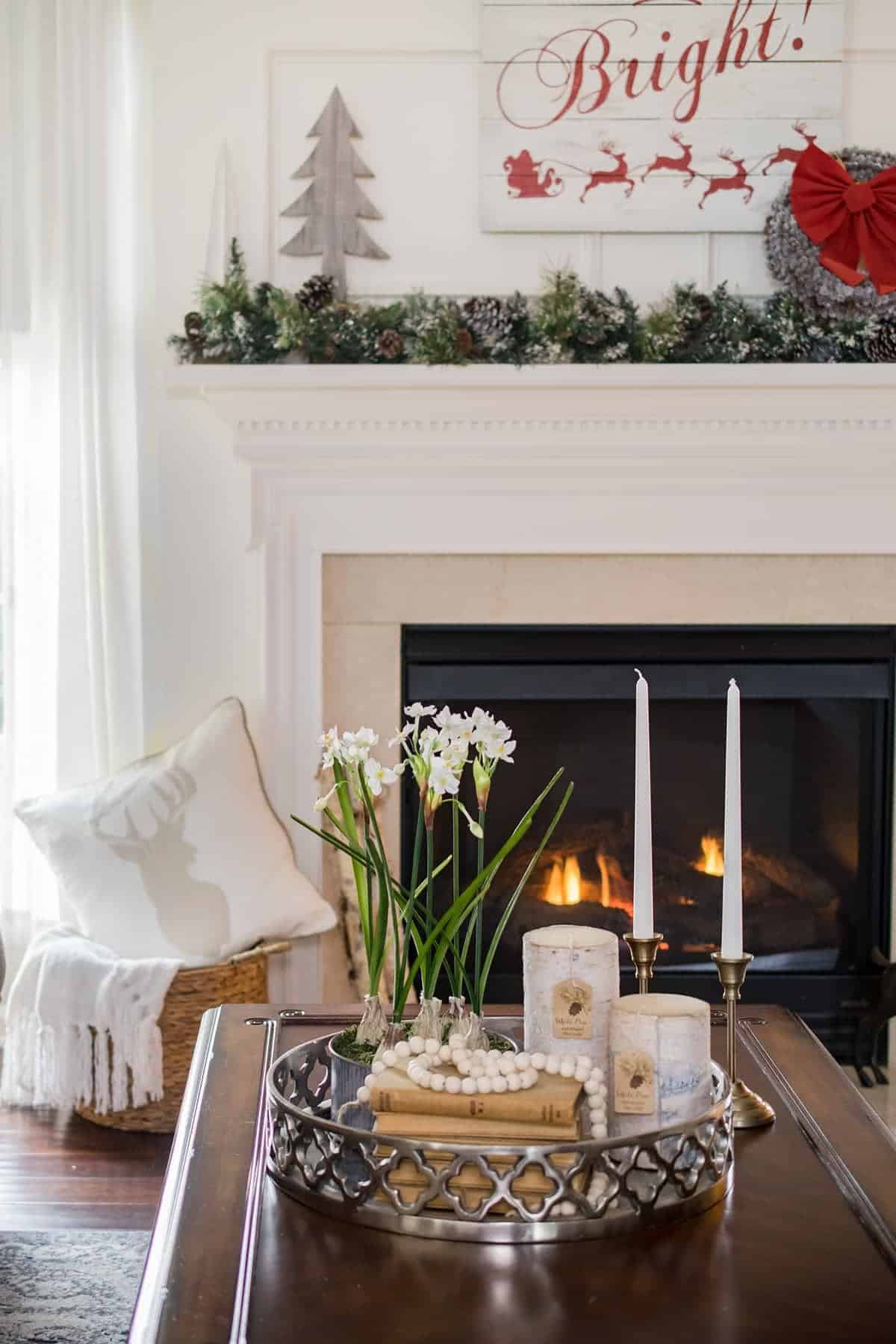 25. Grow a Houseplant
Now that our fall mums have long since shriveled up to brown dust, it's time to get into the holiday spirit with some winter-blooming favorites. Seasonal classics like holly bushes and mistletoe get a lot of attention during Christmas. But there are other unique plants that thrive in cold climates and complement holiday decor.
Buy bulbs early for a cheap but beautiful and long-lasting effect.
Amarylis
Poinsettia
Christmas Roses
Paperwhites
Rosemary
Christmas Cactus
Grab our free series "Weekend Home Projects that will Transform Your Life"
Sign up below to receive updates including free printables, organization tips, home improvement projects, recipes and more!
More Christmas Decorating Ideas