70 free or cheap Christmas decoration ideas to make it easy to deck the halls! From Christmas wreaths to place settings and centerpieces, find affordable inspiration for every style and skill level.
If your holiday decor wish list is bigger than your budget, you're not alone.
The good news? It is possible to deck the halls without spending a small fortune. In fact, I've rounded up 70 free or cheap Christmas decorating ideas to provide a festive refresh to your existing decor. Creativity saves the day!
From simple centerpieces to DIY repurposed materials, I've included inspiration for most styles, budgets, and crafting skill level (including none). Ideas are grouped by category for easy browsing.
Cheap Christmas Decor Ideas
Browse these tried-and-true Christmas decorating ideas for some thrifty inspiration. Get creative by finding ways to stretch your decor year-round to get the most value for your money.
Bonus: No need to be super crafty to execute most of these Christmas decorations on a budget!
---
2. Repurpose Bottles
Repurpose ordinary glass bottles for touches of holiday whimsy. This Wine Bottle Centerpiece Tutorial is a perfect example of how a few simple accessories can instantly transform "trash" into treasure.
Wine Bottle Holiday Decor Ideas:
Use as candle holders
Paint your favorite Christmas character like Santa, Rudolph, or a troupe of winter carolers.
Cover bottles with twine or burlap for a rustic vibe.
Print custom holiday labels or tags for gifting or bar decor.
Use an etching kit to add quotes or designs.
Thread small lights inside them.
Use as vases for flowers and greenery.
3. Use Sheets as A Tree Skirt
Why splurge on an opulent tree skirt when it's covered by gifts? Spare white sheets, tablecloths, or faux fur blankets make an excellent and economical alternative.
4. Pillows & Throws
My primary goal for every season is to create a cozy ambiance. And nothing says cozy quite like a cuddly blanket and throw pillows.
When selecting throw pillows, stick to the golden rule of less is more. Mix one seasonal pillow with a few perennial favorites. Purchase, or sew, pillow covers to use with existing pillows. This eliminates storing bulky items that only get used two months each year.
Tip: Purchase throw pillows in consistent sizes to make swapping out pillow covers simple. Save storage space and money!
5. Candy
Candy canes are the quintessential budget-friendly Christmas decor item. Hang them from garland, wreaths or tree branches. Bunches tied with ribbon make festive table settings.
Any type of Christmas candy can double as decor when displayed. My seasonal favorites include M&Ms, peppermints, and Hershey's kisses.
6. Repurpose Shipping Boxes
Skip the expensive decorative boxes, because free boxes arrive through my front door at rapid-fire rate this time of year. But you can do more with them too!
Repurpose shipping boxes for gift wrapping! Stack them up with ribbon for decor or fill with baked goodies for friends & neighbors. Don't forget to thank your postal worker!
7. Decorate with Wrapped Gifts
There's no rule stating wrapped gifts must be placed under the tree. Personally, I enjoy tucking gifts in unexpected places to add touches of merriment and cute tags around the room.
Light on wrapped gifts this year? Wrap empty shipping boxes (see #6) to stage them as decor.
8. Scrap Wood Decorations
Reclaimed wood crafts add rustic charm to your holiday decor. From clothespin snowman ornaments to wood pallet Christmas trees, these projects are perfect penny savers.
More scrap wood ideas to choose from:
9. Dollar Store Decor
These dollar store nutcrackers were my favorite find last season. I paid less than ten dollars for the pair. Budget friendly finds like this allow me to refresh my Christmas decor without breaking the bank. No DIY required!
10. Clip Natural Elements from Your Yard
Go foraging in the great outdoors for fresh clippings and branches to make natural Christmas decorations that don't cost a dime. Pine trees, boxwoods, magnolia, and winter holly are common backyard finds.
Decorating ideas with yard clippings:
Put clippings in a vase for a simple yet chic arrangement.
Fluff worn-out garland or add depth to artificial trees with clippings from the yard.
Tuck your clipping into Christmas ribbon for an instantly elegant DIY napkin ring.
Tie clippings with twine to plain pillar candles.
Tip: Check any foraged foliage for bugs before bringing indoors. Spritz your clippings daily with water for extra longevity.
11. String Lights or Fairy Lights
Twinkling Christmas lights are the best backdrop for everything.
Gather branches and string with lights for a "Charlie Brown" tree.
Use lights inside of jars or wine bottles for an easy centerpiece.
String the chandelier or lanterns for unexpected whimsy.
12. Cheap Ornament Balls
If there's a Swiss Army knife of Christmas decor, it has to be ball ornaments. Purchase some inexpensive ones from a dollar store and let your imagination run wild!
Make ornament topiaries.
Tuck into greenery on the mantle and around the house.
Collect some in apothecary jars or decorative bowls for low-cost decor.
String from curtain rods with clear fishing line.
Tuck them into lanterns. I use these lanterns year-round.
Tie to a nametag with a piece of pretty ribbon to create a DIY placeholder.
13. Inexpensive Wreath Ideas
Seasonal wreaths often sport a hefty pricetag but you can make one in about 45 minutes! Adorn cabinets, doors, barstool backs, or windows with your creation.
Drop Cloth Wreath
Cookie Cutter Wreath with Ribbon
Plastic Ornament Ball Wreath
Styrofoam Snowball Wreath
Painted Pinecone Wreath
14. Handmade Ornaments
Unpacking homemade ornaments is my favorite part of dusting off the Christmas decorations each year. I take a little stroll down memory lane as we unwrap each ornament.
Handmade ornaments are more than just DIY Christmas decorations; they are miniature time capsules. Try a few this season:
Paint the tips of pinecones. Add glitter and hot glue a ribbon to the tops.
Draw designs on wood slices for the perfect kid's craft project.
Make salt dough ornaments.
Seasonal clippings + a cinnamon stick + hot glue = Christmas Tree Ornament
15. Grab some Firewood
A setup of fire logs exudes cabin cozy, even if you don't have a wood burning fireplace. Place a small stack near the entryway or living room. Baskets of fragrant logs create a warm winter vibe.
Tip: Check that firewood is completely dry and doesn't show any signs of pests.
16. DIY Paper Decorations
Harness your inner Buddy the Elf and create an indoor winter wonderland with paper snowflakes. These classic gems are versatile on windows, walls or nestled into other decor.
Make 3D stars with this template – use as a garland, ornaments, or a tree topper
Paper Snowflake chains for garland
Paper snowflake ornaments or window dressings
Giant paper cones for modern trees
A mini-forest of origami Christmas Trees
17. Front Porch Welcome Sign
Greet holiday guests with a preview of the magic that awaits behind closed doors. Front porch signs are a welcome indoors and outside! Welcome Santa with a DIY sign made from a reclaimed board and a bit of outdoor paint.
18. Wrapping Paper
Recycle leftover wrapping paper or highlight your favorite pattern with these creative DIY ideas:
Make gift tags with scraps.
Line serving trays with wrapping paper for a custom effect.
Make a thrifty table runner with your favorite roll of wrapping paper.
DIY your Christmas bows with leftover paper instead of purchasing pricier options.
19. DIY Holiday Card Tree
Turn Christmas cards into free Christmas decorations! Create a unique display to highlight season's greetings with a few easy to find household items. This clean-line DIY display is lovely for a large foyer or hall.
20. Dollar Store Cookie Cutters
There's lots of fun ways to incorporate cookie cutters into budget savvy seasonal decor, no baking required!
Make your own tea light candles
DIY Cookie Cutter Wreath
Display in glass vessels
Use as ornaments on a small tree or a kitchen tree
21. Set up a Hot Cocoa or Coffee Bar
Who doesn't love a cup of hot cocoa with extra marshmallows on a cold winter's day? Not only is a coffee bar easy to throw together on a budget, but it's practical!
Use a tiered tray (we have lots of ideas here), a bar cart, or a serving tray to create the perfect morning nook or post-dessert gathering area.
22. Pomander Balls
Pomander balls are a kid-friendly Christmas craft. Place them in a pretty bowl for an aromatic and thrifty centerpiece display.
23. Used Books
I have an admitted soft spot for Christmas books. Incorporate your favorite holiday classics into your seasonal decor. What a novel idea!
Stack color coordinated books into a snowman or Christmas tree.
Display Christmas classics on the mantel or coffee table.
Shred discarded pages for as filler in clear plastic ornaments.
Make a book advent calendar.
Cut books into accordion Christmas trees.
24. Last Year's Winter Wardrobe
Have the kids outgrown their old sweaters? Use them to add a touch of unique nostalgia to holiday decor.
Is someone always missing a mitten? Create a colorful mitten garland with the lone survivors.
Wrap a scarf around a wreath form for an easy touch of warm elegance.
Repurpose old sweaters into seat cushion or pillow covers.
Sweater vase cozies – Cut the sleeves off of worn sweaters and put a vase down in them!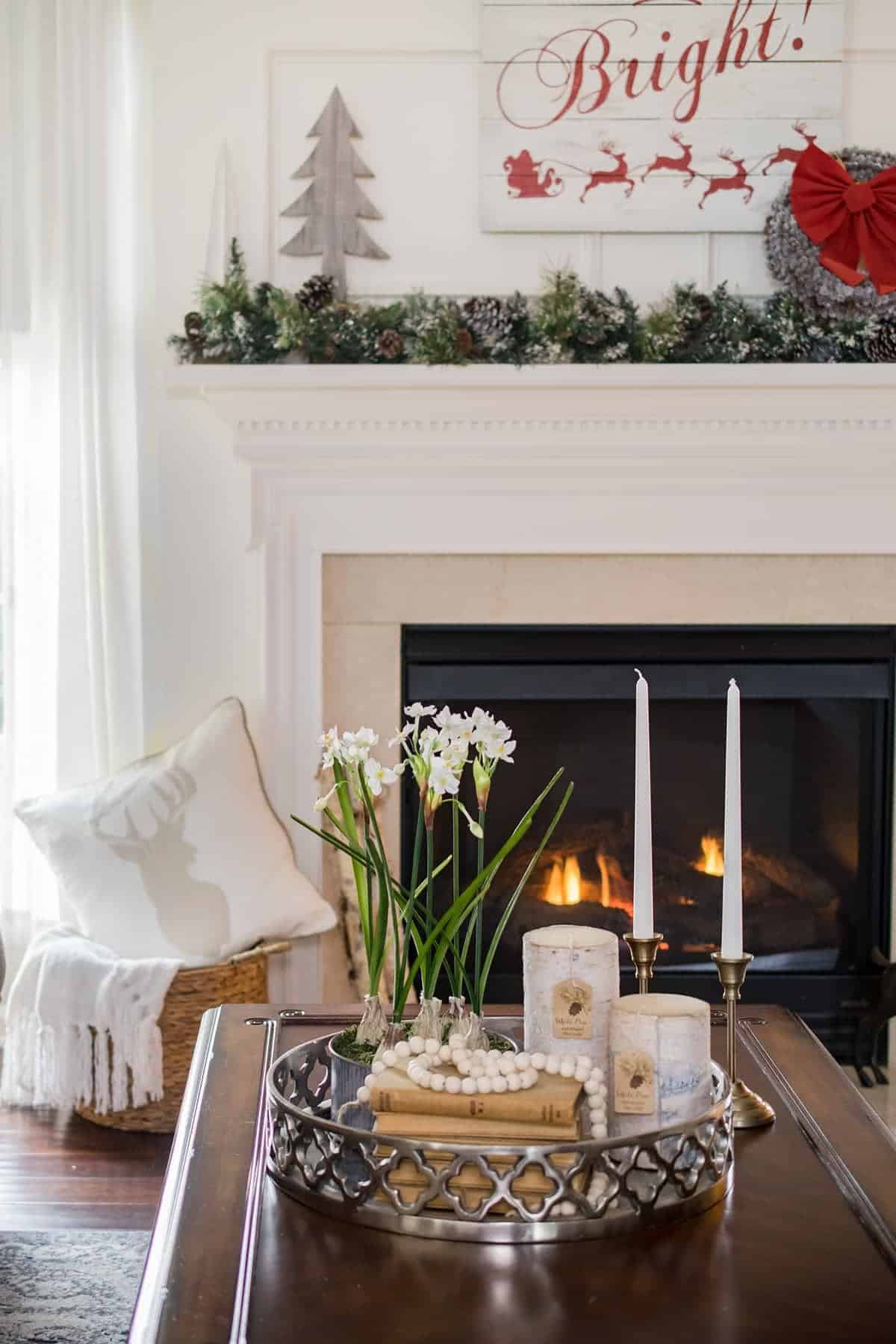 25. Grow a Houseplant
Seasonal classics like holly bushes and mistletoe receive the lion's share of acclaim during Christmas. But don't overlook other favorites that thrive in cold climates and make great cheap Christmas decorations on a budget. Bonus: Winter-blooming plants make great gifts!
Hardy Winter Houseplants:
Amarylis
Poinsettia
Christmas Roses
Paperwhites
Rosemary
Christmas Cactus
Tip: Buy & plants bulbs early for affordable decor that lasts all winter long.
FAQ's
How to make cheap Christmas decorations look expensive?
To make cheap Christmas decorations look expensive, consider using metallic spray paint, adding embellishments like ribbon or faux gems, and arranging them in an elegant and cohesive way.
How do you make easy Christmas decorations?
To make easy Christmas decorations, you can create paper snowflakes, hang string lights, or arrange ornaments in a decorative bowl. Many of the ideas listed in this post would make for great easy Christmas decorations.
What are some easy Christmas crafts to make with kids?
Some easy Christmas crafts to make with kids include creating paper plate ornaments, decorating gingerbread houses, or making handprint reindeer cards. They would pair well with the budget-friendly DIY Christmas decor shared above!
How can I make Christmas special without money?
An easy way to make Christmas special with little or no money would be through cheap and free Christmas crafts. Check out your local Buy Nothing page on Facebook for some gifted items to make the season special on a tight budget!
How can I make Christmas fun without gifts?
Making Christmas decor and crafts would be a great way to make Christmas special as a family without gifts.
How to make a magical Christmas?
The key to a magical Christmas all comes back to the love and warmth shared in your own home. Add to that with some homemade Christmas decor and you'll feel the cozy, festive feeling all season long.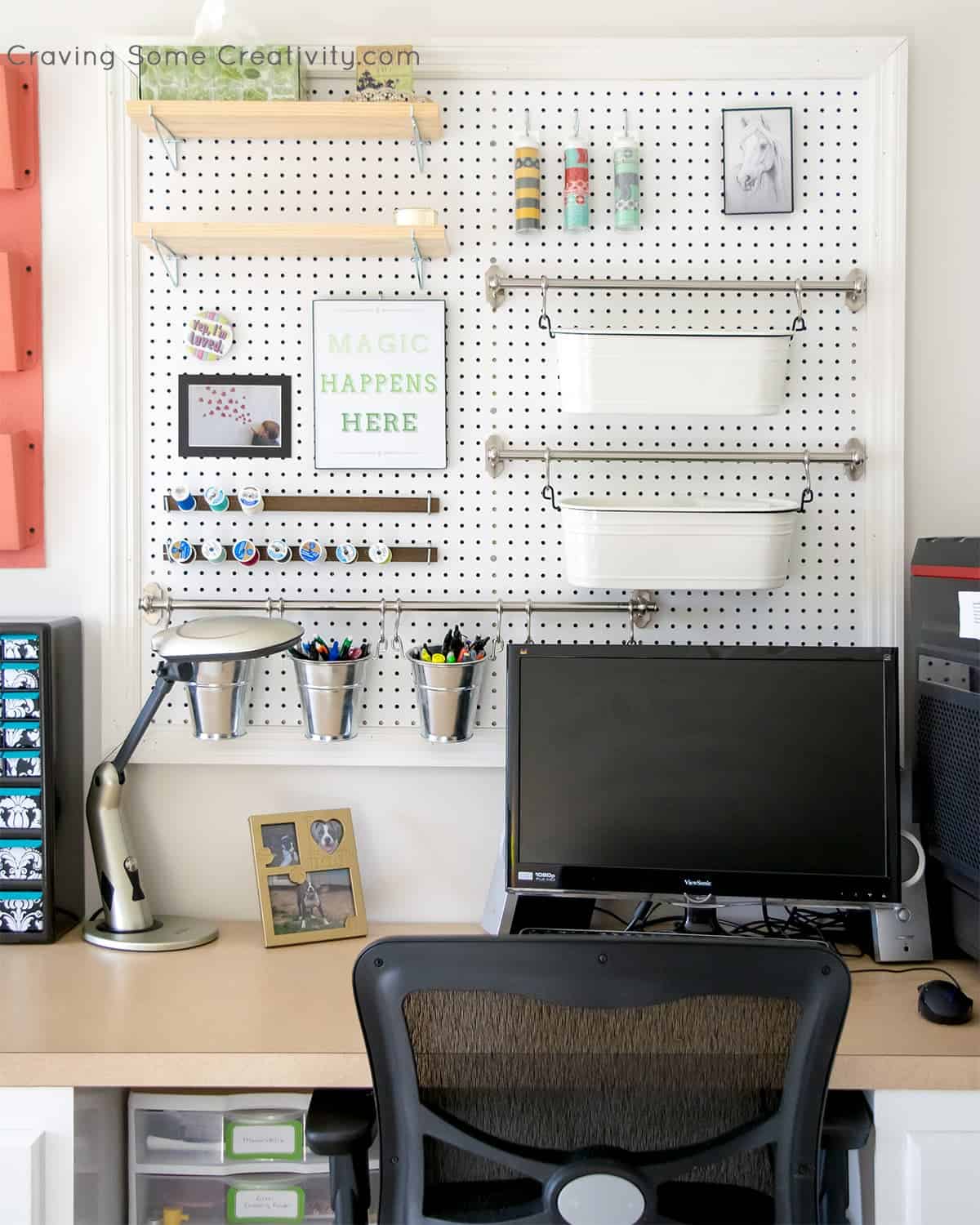 Grab our free series "Weekend Home Projects that will Transform Your Life"
Sign up below to receive updates including free printables, organization tips, home improvement projects, recipes and more!
More Christmas Decorating Ideas