Surprisingly, today's article came from 2 readers' questions about 3-tiered stands. Where to find 'em? Can they be DIYed? How to style 'em? Keep those questions coming and if there is something you would like to see on the blog, be sure to let me know with an email or in the comments.
3 – tiered trays are popular and seen everywhere nowadays and I completely understand why! These popular trays are very resourceful in practically any room of your choice. You can use them in your bathroom, kitchen, craft room, and office. They can also be used to serve your favorite foods on any special occasion. Here are some Beautiful ideas to decorate, DIY , and get the best use out of your 3 – tiered trays.
Pin It for Later:
Running out of cabinet space? Use a 3 tiered stand to store small dishes like this stand from Vintage Farmhouse Finds
A personal favorite way  to store craft supplies to keep them in arms reach like this stand from Mish Mash.
Want to DIY your own 3 tiered stand on the cheap? The Happy Housie has a Dollar Store Tutorial
How about an adorable coffee bar at Christmas or any time of year?
Photo: Elle Decor
Isn't this Christmas themed dessert stand gorgeous?
No counter space in the bathroom? No problem! From Garden Boys & Me.
If you are a fan of galvanized trays check out these beautiful ideas by Refresh Restyle
Create your own jewelry tray the DIY way from Making It In The Mountains
Display beautiful perfume or soap bottles like this from Sweet Parrish Place
                                         3 tiered stands can be used seasonally (especially Christmas) to create beautiful decorations like this one  by Creative Mammas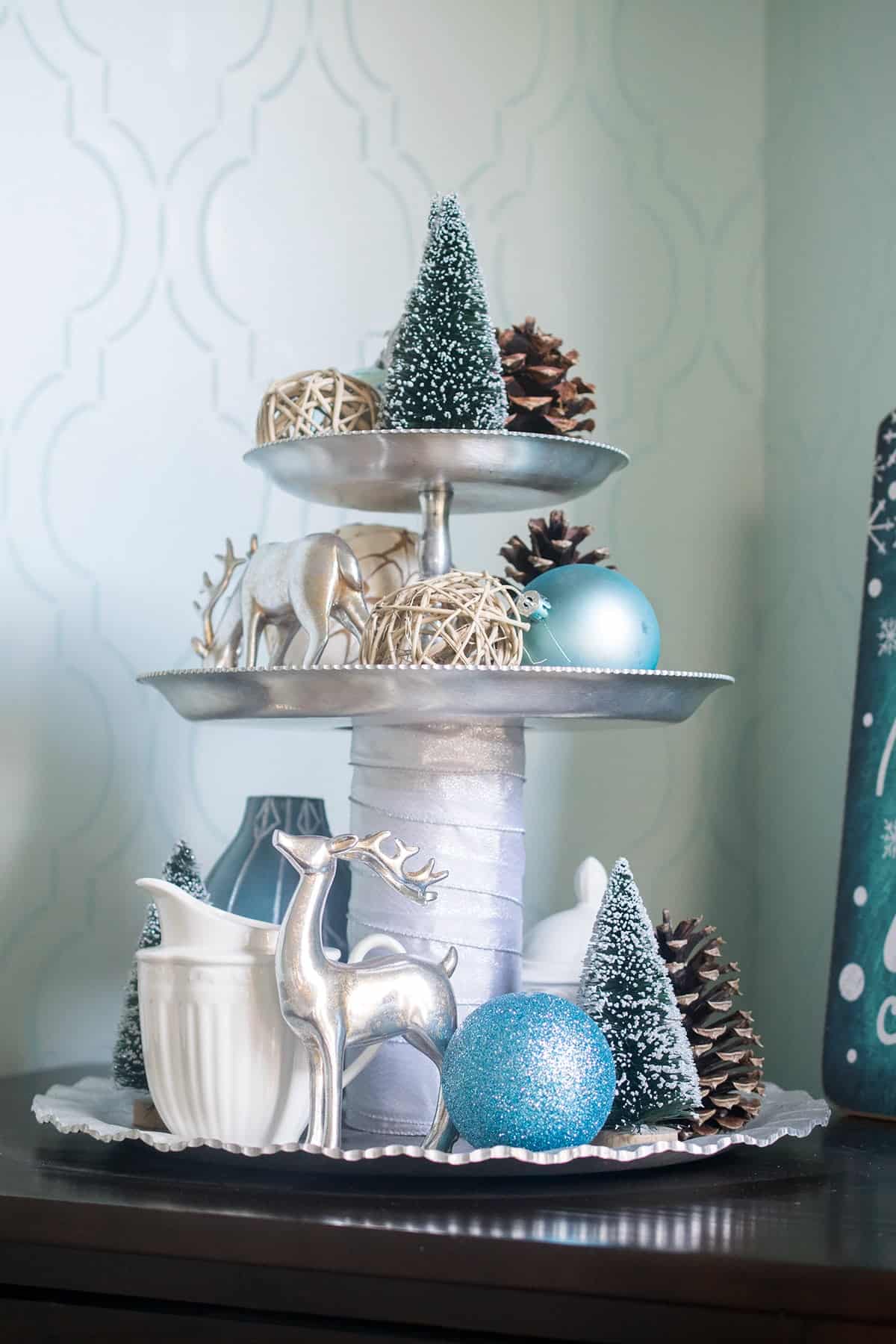 Or this winter wonderland theme from our Christmas Dining Room Home Tour
Use a galvanized tray to serve drinks and snacks outdoors! This tray from Pottery Barn
Looking for more ways to use these trays as display and organization? Check out these!
But what if you don't have a 3-tier display stand?
Almost all are under $50!
Click on the number corresponding below
Do you have a tiered serving tray? Do you style it or only use it for parties? I just bought one myself so I would love to hear your ideas!