Add a touch of whimsy to your décor with a styled 3 tiered serving tray. Tiered trays are an easily adaptable and functional way to display seasonal collections and treasured nick-knacks, or to add clever storage to small spaces!
Today's post was inspired by two readers' questions about 3-tier serving stands. Where to shop 'em? Can they be DIY'ed? How to style them?
These popular trays are very resourceful in practically any room of your home. Use them in your bathroom, kitchen, craft room, and office.
Or style them for special occasions and serve your favorite foods or beverages with flair. Here are some beautiful ideas to decorate, DIY , and get the best use out of your 3-tier stands. These selections are stylish, functional and will easily transition between design plans.
Organize All The Things
Small on space but big on design ideas? 3-tiered trays are the solution you've been seeking. Keep small items handy without sacrificing critical storage by going vertical.
1. Office or Craft Supply Organization
Who couldn't use one of these to keep all the small office supplies organized? This craft supply idea from Mish Mash stores a bevy of craft supplies within arms reach. A home run idea for home school or homework stations!
2. Tiered Tray Organization in the Bathroom
These trays are also excellent in the bathroom! Store bathroom toiletries stylishly with this brilliant grouping by Garden Boys & Me.
Create a luxe landing spot for a cologne collection or pretty storage for makeup and brushes. This tiered tray even has adjustable sides for large and small bottles!
3. Ideas for in the Kitchen
Whether creating a resting spot for sponges & soaps or making dessert dishes readily accessible, these kitchen organization ideas knock it out of the park.
A fall farmhouse style tiered tray display is a stylish way to save cabinet space. This spring floral theme from Etsy inspires spring brunch vibes.
Add a touch of elegance to the mundane. 3-tiered trays instantly dress up even common household items. Hosting overnight guests? A well-stocked coffee bar generates morning buzz or this refreshment stand from pottery barn is easy for guests to pick what they need.
4. More Ways To Style Trays for Organizing
Eliminate morning mayhem with a handmade entry way organizer to give keys, chargers and spare change a nesting spot. Think beyond decor; these trays are handy for any household!
Put a new spin on your charcuterie board; serve it on a tiered tray for easy elegance.
Create a cereal bar stocked with spoons, bowls, cups, and small baked goods or fresh fruit.
An easy and accessible jewelry stand on the night stand.
3-Tiered Stand Seasonal Decor Ideas
These stands are perfect backdrops for seasonal decorations. They easily make a beautiful centerpiece, coffee nook, or display for your favorite perennial collector's items.
1. Christmas 3-Tiered Stand Decorating
A cocoa or candy bar is a merry addition to any coffee nook. Greenery and a collection of sparkly ornaments instantly add a touch of holiday cheer to any space.
This farmhouse style displays exude cozy Christmas vibes. I can almost hear the sleigh bells jingling!
Who's ready for a trip to the tree farm? Here is another super cute farmhouse inspired tray that is full of nostalgia. Source: Etsy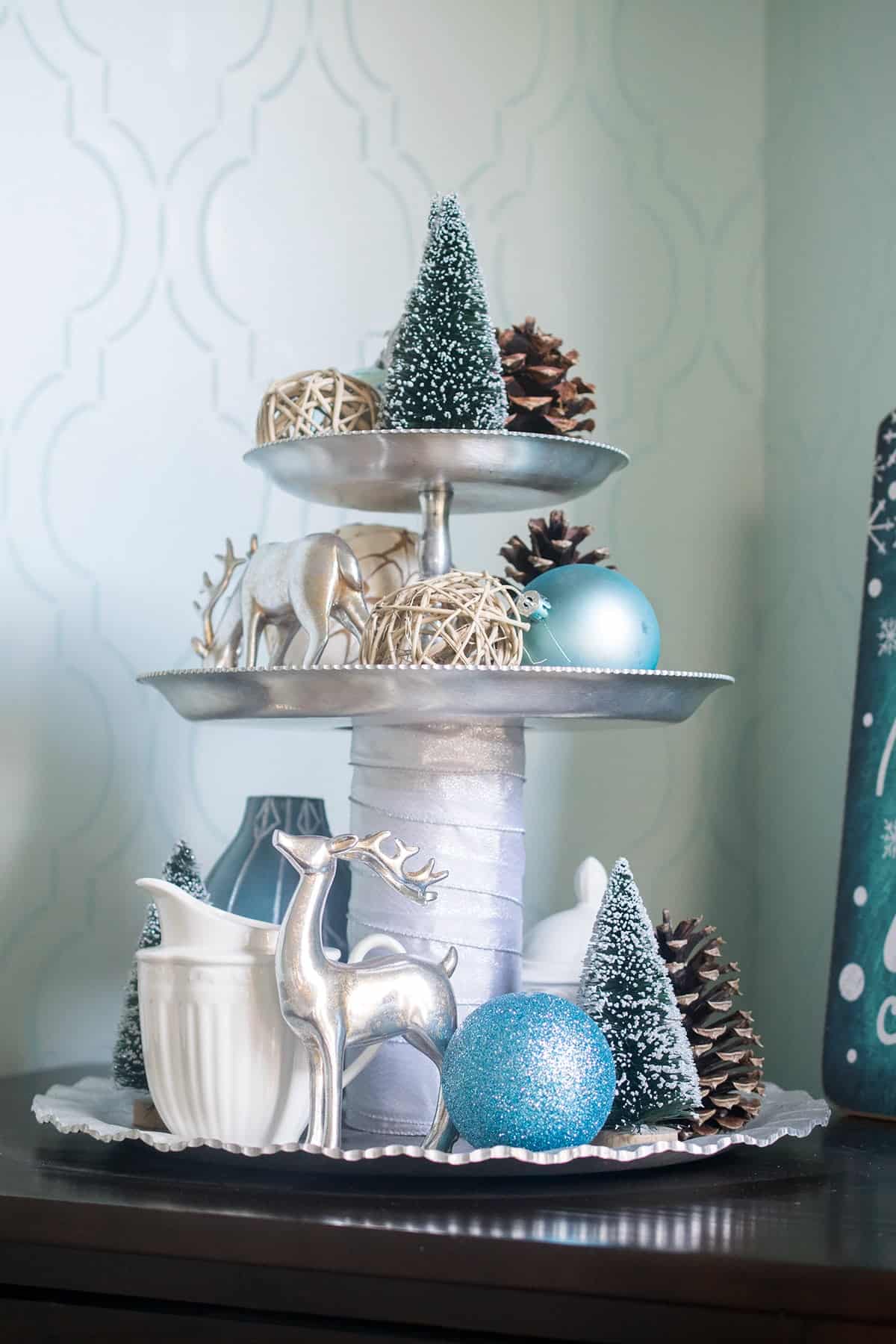 A winter wonderland theme is a great idea to keep decor relevant long after the tree is taken down. Snow friends, woodland creatures, and pretty palettes of blues & whites add a dose of winter cheer to any main gathering area.
2. Fall Decorating
Create a fall holiday centerpiece with understated items like white china, pumpkins and bright seasonal blooms. The harvest season is bountiful when it comes to display ideas. It's as easy as well…pie!
4. Spring Decorating
Until further notice, celebrate everything! These clever little displays make it oh so simple to swap out seasonal decor.
Transition easily from one season into the next without much fuss. As Valentine's Day heads your way, keep your winter greenery handy. Add sweet treats, hearts, and a few dollar store items. Voila! A brand new motif for a brand new holiday.
5. Summer Decorating
I'm a big fan of dining al fresco during warmer months. Eliminate the need for outdoor counter space by incorporating a tiered tray. Style your tray as a serving bar, or use it as an appetizer tower. Get creative and let your imagination run wild.
But what if you don't have a 3 tier server stand? Never fear, shop our favorites!
Click Photo to See Product
DIY Your Own Tiered Tray
Feeling inspired to design your own 3-tiered tray? For someone who's always budget-conscious and loves a good makeover story, repurposing is the perfect solution!
Looking for more beautiful display and organization ideas? Check out these!
Do you have a tiered serving tray? Do you style it or only use it for parties? I just bought one myself so I would love to hear your ideas!
More Decorating Ideas