The countdown to Christmas is about to start! One of our favorite ways to savor the season is with a 25 Days of Christmas calendars, and these adorable DIY Christmas tree advent calendar ideas will make the season even more memorable. Each passing day is filled with the promise of fun activities, family, and presents —what's not to like?
Why Christmas trees? Because they are one of the most fun ways to do these calendars. The numbers perfectly align and they don't have to take up any space either.
So, I have rounded up some of my favorite advent calendars you can make, several in less than an hour!
Advent traditionally begins the fourth Sunday before Christmas, making it last for about a month. However, most modern traditions begin on the first day of December and use December 1st to the 24th or 25th to celebrate.
The Advent Season represents the start of a church calendar (also called a liturgical calendar) and marks the four weeks leading up to Christmas and the birth of baby Jesus. The word 'advent' means coming in Latin.
What to put in an Advent Calendar?
There are many celebratory ways to countdown to Christmas Day. Some calendars only countdown the days, while others have small fillers or trinkets to celebrate each day. The most common fillers include small sweets, bible verses, handwritten messages, and small trinkets or activities. You can be very creative with your homemade Advent calendar display.
I actually use our advent calendar to get myself organized. Using my Christmas Bucket list, I plan out Dec 1-24 and all of the things I want to accomplish from decorating the tree to charitable activities.
DIY Advent Tree Ideas
While an advent calendar doesn't have to be shaped like a Christmas tree, I am a huge fan of them! There are many styles to help you count down the days, like these examples:
This easy to build Advent Calendar is actually made from paint sticks! Both affordable and super cute, you can see the full tutorial for this Farmhouse Advent Calendar here.
The Countdown tree deserves a special shoutout. It is actually a 25 Days of STEM learning experience full of experiments and fun activities for the kids. Discover the many great STEM activities for kids for your own 25 days of Christmas STEM Activity Ideas.
How fun and modern looking is this Countdown Calendar?! Get the full tutorial for this PVC Pipe Countdown Calendar from Dukes & Duchesses. If you're on a budget this Holiday you'll love this almost free diy punch out advent calendar idea. Save your toilet paper rolls and you've got this awesome Advent Calendar Christmas Tree from Toilet Paper Rolls that is affordable and festive!
An absolute classic! This Wooden Advent Calendar is made out of some scraps and a pallet. The tutorial even gives you perfect measurements. Not only is it a beginner build, but it will hold up for years to come!
Advent Christmas Tree Ornaments
Another way to make a Christmas Tree Advent calendar is to make numbered ornaments in small boxes that you put on the actual tree. I completed a very similar project and have included step by step instructions for this project.
Like most, we have family visit us every Christmas and I wanted to do something special for them. I was inspired by an advent calendar I saw a long time ago with treats in little boxes for each day.
My version is slightly different because rather than each day, I have a treat box for each family member (all 18 of them), but it works both ways easily and I will show you how!
Putting the presents on the tree…now that is thinking outside the box! (Haha!- forgive me. Bad jokes are also a family trait.)
DIY Present Ornaments
Supplies
Instructions
Hot glue the ribbon on the bottom of the box in a cross with the ends inside the box. Repeat for the top.
To make a bow, cut a length of ribbon about 1 ½ the width of the box. Fold in half and crease. Put a dab of hot glue along the crease. Lay out flat and bring each end into the center and press into the glue (be careful not to touch the glue though!)
Take a second shorter length of ribbon and wrap around the center of the bow perpendicularly. Put a dab of hot glue on the back side where the ends are. Attach bow to box with more hot glue.
Either write the names with a metallic paint pen or attach wire names. I poked a few tiny holes into the box lid and sewed the names on using the hanging wire.
To hang, poke two holes on either side of the ribbon on one end of the box or in the corner. Loop the hanging wire through the holes and tie in a knot.
To add to the family theme of the tree, I also made these simple ornaments with a few family pictures. You may not recognize these 3 gentle souls but that tiny guy is my sweet son almost 14 years ago. Gosh, he is growing up so fast!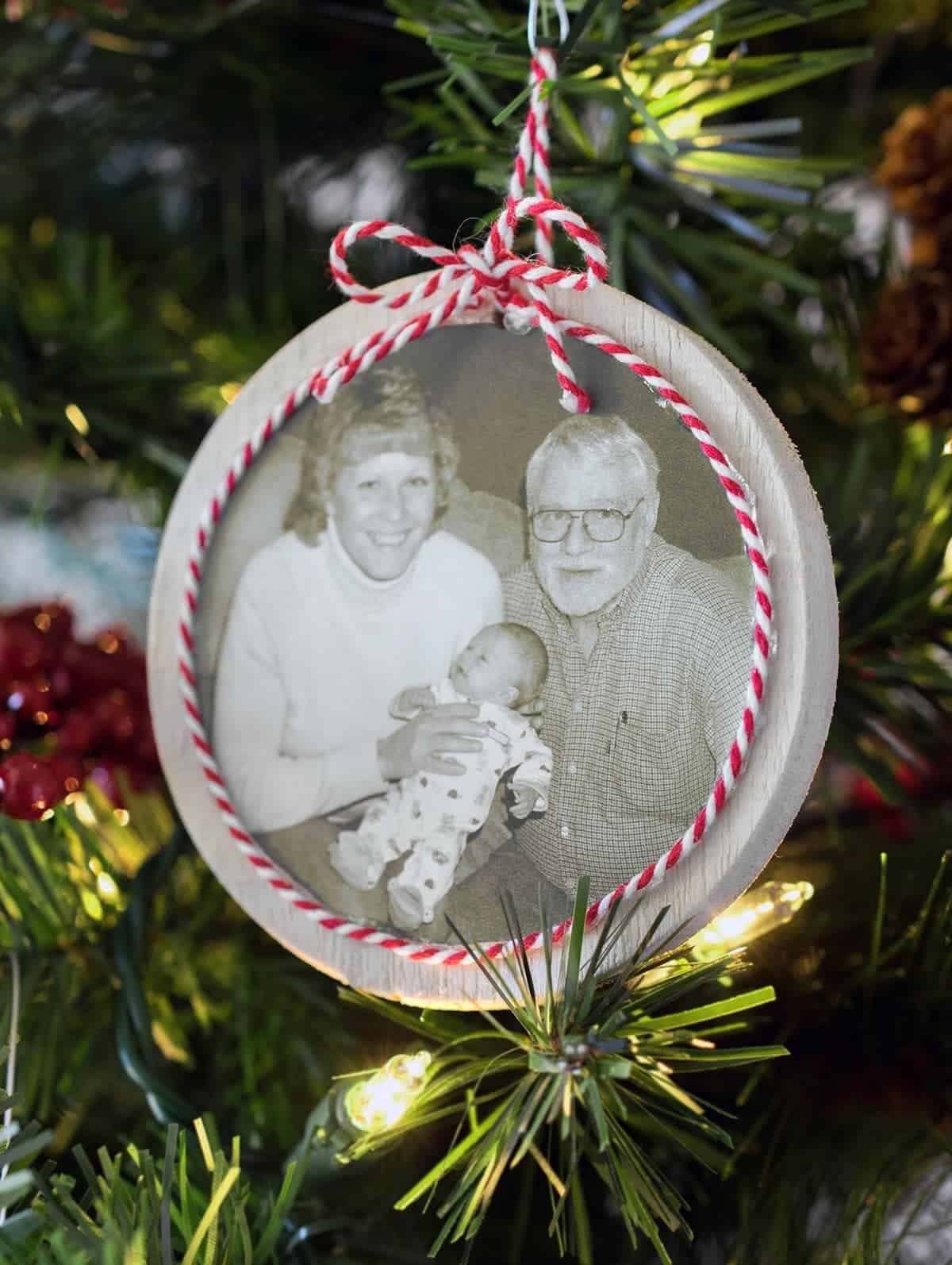 I bet you have some awesome and unique family traditions during the holidays. I am always so curious about how other families celebrate. Share them with me in the comments below! The more unique, the better!
Looking for more Christmas tree and decorating ideas? Check these out: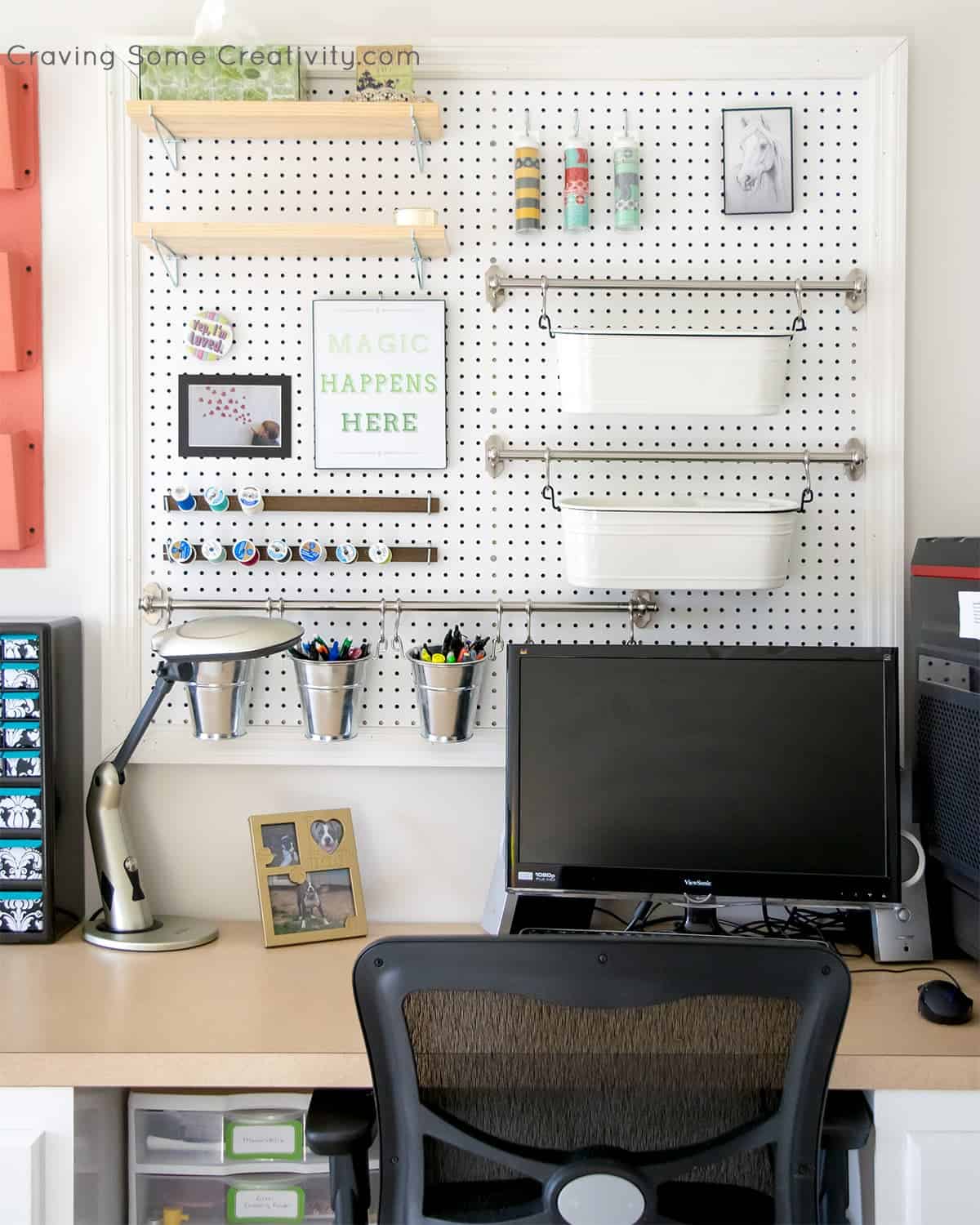 Grab our free series "Weekend Home Projects that will Transform Your Life"
Sign up below to receive updates including free printables, organization tips, home improvement projects, recipes and more!
More Christmas Ideas:
PS I love seeing your creations! Be sure to take a photo and tag #cravingcreative on Instagram! You can also stay in touch with me through following me on Instagram, Pinterest, and subscribing to the newsletter!