Frosted tree with snowflake ornaments, pinecones, and mercury glass baubles come together for this Christmas Winter Wonderland Scene. Welcome to my 2022 Holiday Living Room!
Better late than never, I suppose. Every year I try to get all of the tree trimming done extra early so I can photograph it and post it on the blog in early to mid-November. However, this year proved to have some unforeseeable problems.
Regardless, the winter wonderland inspired decorations are up and it's going to be a great holiday season!
After sharing my Red and Gold Christmas Tree a few weeks ago and all the Christmas Kitchen Decor, I went in the completely opposite direction for the main tree and mantle.
Christmas Winter Wonderland Decoration Ideas
Our old tree broke last year, so I had to buy an all-new tree and stand. While I was hesitant to get a flocked tree, I love the look of this frosted tree and it sheds much, much less. Plus, it's reminiscent of the winter conifers around the nearby ski resorts.
I didn't have much of a plan going into this. Instead, I borrowed much of what I needed from our Woodland Christmas tree. Reuse and repurpose!
Check out My other 2022 Holiday Decor
Hunter Green and Navy Holiday Decor
My initial inspiration came from our living room rug. Each year I try to work red and green into this room. Honestly, I've never been satisfied. This year I wanted to try something different. I decided on green and blue. Although I didn't have time to completely finish it, I'm happy with how it turned out.
I've had some blue berry decorations and navy balls stashed for some time waiting for the right color scheme to go with them. Love it!
For a neutral base, I used white ribbon with gold glitter feathers on it. Unfortunately, I didn't have enough, so I wove another white ribbon through the tree. I always add the ribbon first and then add the largest ornaments in to fill holes.
For this Christmas winter wonderland color scheme, I stuck with mostly whites, browns, and a little champagne gold as filler. My favorite new addition are these geometric white ornaments. I love to add a variety of shapes; these were perfect.
Snowy Christmas Mantle
I wanted the mantel to coordinate with the new tree. First, I purchased an arched mirror to replace the DIY Pallet Sign. I flanked each side with groupings of coordinating wintery trees.
My original intention was to replace the pinecone garland that I've used in years past, but I ran out of time. Instead, I gave it a light flocking and added some coordinating hunter green and silver baubles, as well as silver bells.
The ornaments came primarily from Hobby Lobby, At Home, Michael's, Big Lots, and HomeGoods.
These little village houses from the Target Dollar Spot are so adorable! They remind me of gingerbread houses. Wouldn't they be cute with little battery tea lights in them?
Have a spot that needs a little sparkle? Bowls and glass ornaments are your best friend, and fairy lights have superpowers, I tell ya!
While this year's celebration won't be as big and bountiful as year's past, I am thankful for improving health and being surrounded by caring family. Happy holidays to you and yours, I hope Santa leaves something good for you under the tree.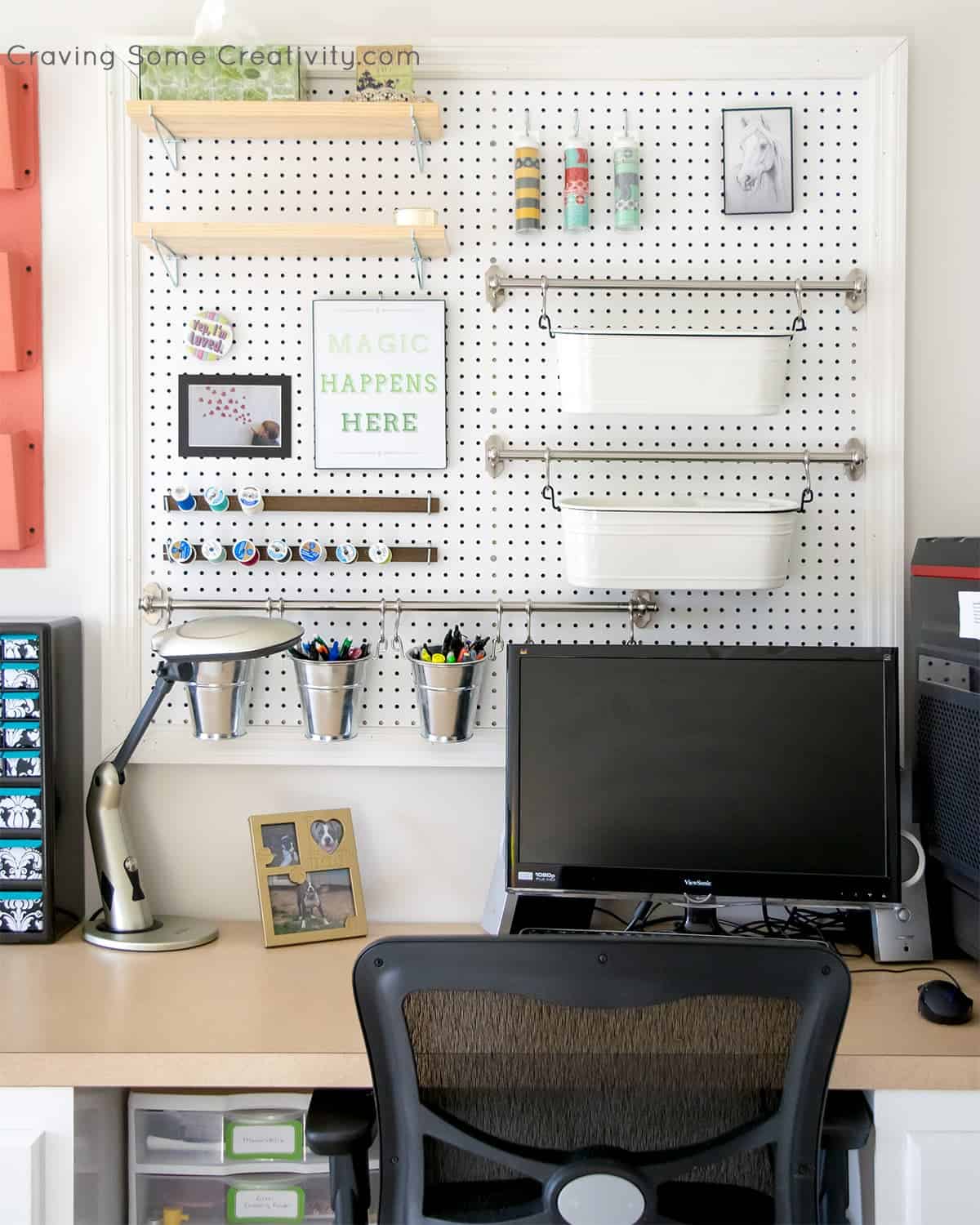 Grab our free series "Weekend Home Projects that will Transform Your Life"
Sign up below to receive updates including free printables, organization tips, home improvement projects, recipes and more!
More Christmas Decorating Ideas
PS I love seeing your creations! Be sure to take a photo and tag #cravingcreative on Instagram! You can also stay in touch with me through following me on Instagram, Pinterest, and subscribing to the newsletter!