Creating a festive tree with hints of burgundy, red and gold Christmas tree decorating has never been easier! Lots of practical tips just in time for the holidays.
Inspired by my new gingerbread ornaments, this year's cozy red and gold Christmas tree is complete, and I am thrilled to show it off! Each year, I decorate two trees with a new theme while trying to improve my skills. To be honest, this one is my favorite ever!
Before diving in though, I have to say… I often don't feel that I come even close to some of the talented designers out there. And that's ok. I'm still going to be proud of my little corner, and everyone should be proud of their unique celebrations too.
Whatever you do, however you decorate or celebrate, this time of year is magical because of the season means in our hearts.
Even though I would never dare to call myself a great designer, I hope you find some great ideas and inspiration for your tree this year! From the order to decorate a tree to cheap Christmas ideas, I'm sharing tips and tricks I have learned over the years.
2022 Cozy Red Gold Tree
My health the last few months has not been the best, so I had to adjust my expectations and decide where to best spread the holiday spirit. So, I focused on spreading joy with all of our keepsake ornaments that we collect each year. So many memories!
I try to work with what I have — repurpose, restyle, and re-room decor, to mix and match for new creations each year. For example, this tree utilizes many of the ornaments from my Rustic Woodland Christmas tree and the gingerbread ornaments I made last year.
Other items included on this tree are large pinecones, burgundy ball ornaments, a few gold ornaments for a little sparkle, and all of our keepsake ornaments. I also used my favorite wired gold ribbon and some dark red grosgrain ribbon.
Gold Christmas Decorations
This tree's main holiday theme is red and gold, but I use lots of neutral colors like browns, whites, and metallic taupe to weave the two main colors together. For gold Christmas tree decorations, I used a large gold ribbon prominently weaving it throughout the tree. For more golden texture, I added berries, glittery gold balls, and gold mercury glass ornaments.
I echoed the gold through the room by adding more gold holiday decorations including gold balls in a bowl and a golden wreath. There is not a cozy fireplace or mantel in this room, so we decorated the entertainment center below the TV.
If you have sentimental ornaments or decorative items that don't match your theme or color scheme, use them anyway. Treasure them. Family, friends, and memories are what's most important during the holidays and year-round.
I tucked many of our sentimental ornaments on the tree and I find it charming. For a few of the blue ornaments, I hung them more towards the back.
Cheap Christmas Tree Decoration Ideas
Pinecones
Decorate large Styrofoam balls.
Don't worry about decorating every side of the tree perfectly.
Clay gingerbread ornaments.
Salt dough ornaments.
Floral picks from your yard.
Scrap Wood or Pallet Signs
Homemade Paper Snowflakes.
Glittery ornaments make everything sparkle a bit more.
Faux poinsettias branches or Magnolia flowers.
Make Decorative 3D stars (template and tutorial here.)
Most of the decorations on this tree have been collected for many years- some are 40 years old! – so I don't have sources for many of them, but I have linked what I can.
As I mentioned above, all of the gingerbread ornaments on the tree were made by me. You can learn more about how to make gingerbread ornaments here. I can't get over how realistic they are and the smell is divine!
The key to this tree, for me, is adding just a touch of dark red ornaments and keeping the other colors more neutral. Simplicity is the best for this color scheme. I added glittery gold ribbon and red ribbons that I cut into 3-foot sections. This made them easier to place or change if needed.
10 tips for Decorating a Christmas Tree
Go BIG with ornaments. My largest ornaments are 7-inch balls, but I have a variety of sizes. I don't buy tiny ornaments for large trees.
Don't decorate using only balls. A tree should be at least 30% ornaments of other shapes. These lanterns are one of my favorites, but they are a bit heavy.
Lay flat ornaments like snowflakes or flat stars last and on the branch tips.
A color scheme is a good start, but don't be super matchy-matchy.
This blogger is my favorite for the holidays, and he has a great tutorial on how to put ribbon on a tree, although it still takes a lot of practice, and I don't feel I have perfected it yet.
6. The best advice I have been given is to look at ornaments based on their texture. A simple tree can be beautiful by varying texture. This particular tree has a ton of texture from sparkly mirrored stars to rustic wicker balls. I love the juxtaposition of those being wildly different.
7. The right tree for your style makes all the difference. Our lush and full 7.5ft Christmas tree lends itself to a maximalist, slightly messy style.
8. Save time by getting pre-lit. After all, the best part is sitting under the warm glow of the lights.
9. I love layering a tree skirt underneath a collar, but you can use a variety of items to put your tree in including an Extra-large planter pot, a picnic basket, or a large crate.
10. Don't use large hooks! Ornaments dangling from long hooks is not visually pleasing – you want to see the ornament, not the hook for it. For all of my ornaments, I fold the hooks over the branches, so they are about an inch long. I also cut long strings off of new ornaments and use the 1-inch hooks or floral wire.
Christmas Tree FAQs
Now that you know some of my favorite decorating ideas, here are some questions people often ask.
Should a Christmas tree match your room?
I tried for years to force red in my living room which has a blue rug and blue and green accents. I was never quite satisfied with the cohesiveness, but you don't have to exactly match your living room color scheme. 
In what order do you decorate a tree?
Fluff the tree completely first. To decorate, start with lights (unless pre-lit), then ribbon, then ornaments in order largest to smallest, then beaded garland or floral picks if you use them. Use the largest ornaments to fill in gaps and place back into the branches for fullness.
What does a red Christmas tree symbolize?
For Christianity, red is traditional choice that symbolizes the blood of Christ during crucifixion. Other meanings have also been adopted in modern times including bravery and the fact that red contrasts brightly against the cool winter hues like green, whites, and blues. 
What color goes with red for Christmas?
Gather inspiration from patterned wrapping paper, art, or keep it simple with neutral shades. Muted versions of bold colors usually work best together such as evergreen inspired greens and navy blues. To complement red ornaments, I like to use brown or taupe, whites, and shimmering metallics such as gold, antique brass, and silver.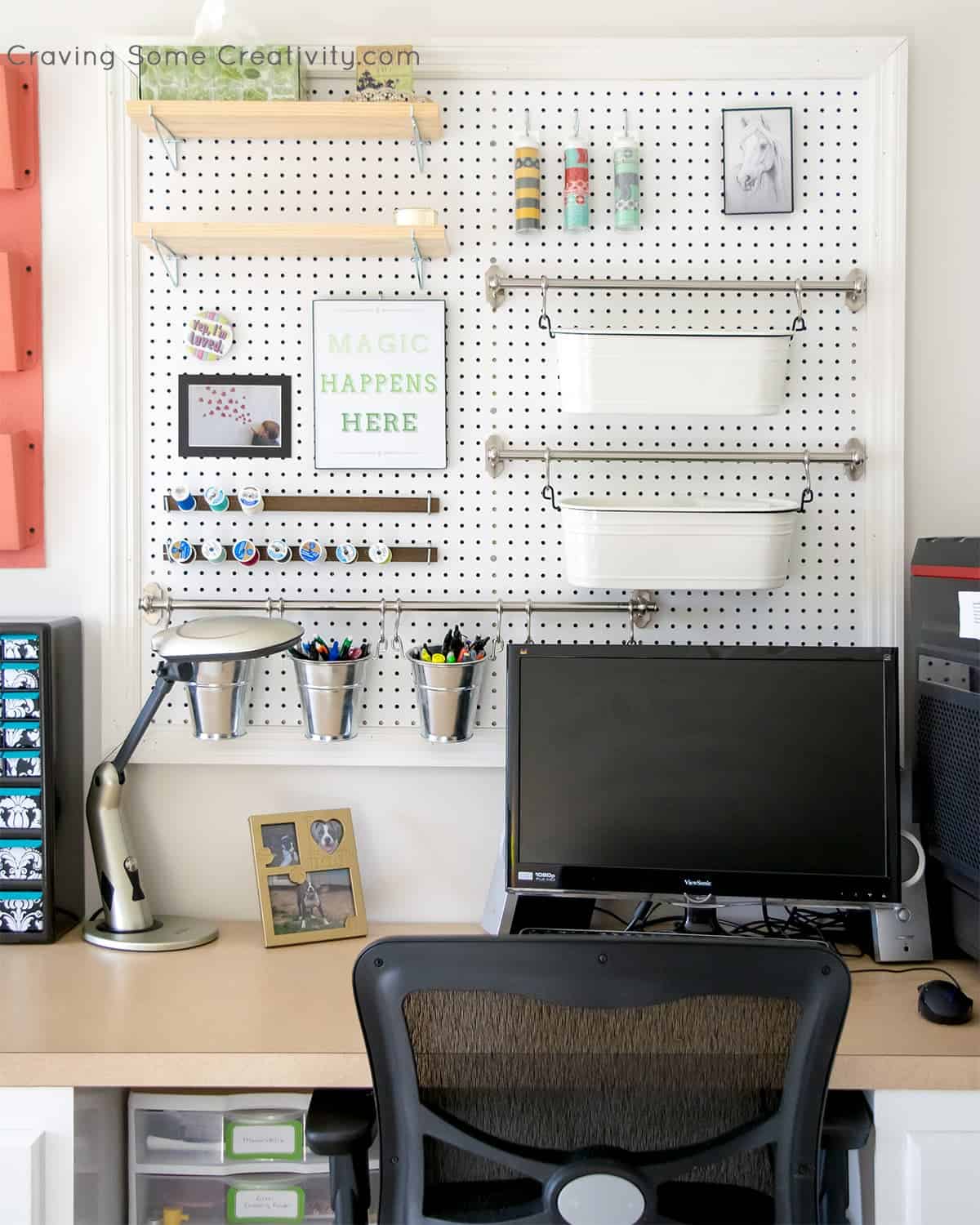 Grab our free series "Weekend Home Projects that will Transform Your Life"
Sign up below to receive updates including free printables, organization tips, home improvement projects, recipes and more!
More Christmas Posts to Browse
PS I love seeing your creations! Be sure to take a photo and tag #cravingcreative on Instagram! You can also stay in touch with me through following me on Instagram, Pinterest, and subscribing to the newsletter!