These Carmelitas Cookie Bars have 3 layers of goodness with an oatmeal base, a layer of caramel, and a generous sprinkling of chocolate chips. They're the perfect carmelitas recipe for any lover of caramel chocolate chip cookie bars.
We are a cookie loving family! Out of all of the desserts we make, cookies are the favorite and. honestly, we usually stick to the simple chocolate chip, because chocolate is the best. However, sometimes we like to get creative and try other things like new mixins and making cookie bars. During the holidays, we started testing out this Carmelitas Recipe, and made it a few times since then to perfect it as well as appease the requests.
Now, honestly, I have no idea why they are called Carmelitas, which is usually an affectionate reference meaning "little caramels". I know this because my nickname in high school was Raquelita and it kind of stuck for many years until I was married. I was actually developing a salted caramel cookie bar when I stumbled on these and I adjusted what I was working on because chocolate chips are a perfect pairing to buttery caramel.
I made and photographed these oatmeal carmelitas at the same time I did the Caramel Apple Crisp Bars and Crispy Peanut Butter Balls. Because I can't have that many sweets in my house, I gave a plate out to each of the neighbors and the feedback was amazing. Everyone had a different favorite, but they all ranked very high. Everyone knows that all of our recipes go on the blog, so no need to ask for it, but they did rave.
Carmelitas Recipe Notes
The main choice you have in this recipe is what caramel to use. I generally use caramel nibs, because the flavor is rich and buttery just like carmel should be. However, I have actually made it in a pinch with caramel sauce you get to put over ice cream. While I will admit the pre-made sauce is much easier to make, the caramel flavor isn't quite as pronounced. They are still amazing though so choose which ever method you want you. Here are the three methods and how much I have tried:
Caramel Bits – 1 ½ cups plus ⅓ cup whipping cream. Directions in Recipe.
Caramel Squares– 32 squares plus ⅓ cup whipping cream. Same directions as in Recipe below.
Caramel Sauce (the kind you squeeze over ice cream) – 1 ½ cups caramel topping plus ½ cup flour. Whisk in a small saucepan and bring to a slight boil, stirring constantly. Boil 1-3 minutes. If you use a thicker jarred variety, if it is thick enough, you may just need to zap it in the microwave a few seconds to pour over the carmelitas.
My baking pan size is 8×10, but for the sake of uniformity, I made this recipe as an 8×8 so the bars may be a bit thicker. I actually think this is a good thing! If you let them completely cool, the caramel shouldn't ooze from everywhere when you pick them up. Oh, they will be sticky and deliciously gooey, but they shouldn't be overly messy. However, I highly recommend eating at least one after it's been warmed up a few seconds in the microwave. Divine!
Frequently asked questions:
Can I use quick oats in this recipe?
You can use either quick or rolled oats. The quick oats have a finer texter that stick together and form a more dough-like texture. Traditional rolled oats have more of a course, rustic bite to them. Whichever texture you prefer is perfectly fine.
Can Carmelitas be frozen?
These bars can be baked and frozen once cooled. I recommend cutting them and individually wrapping each bar to prevent them from sticking together. Just pull them from the freezer and set out and room temperature to thaw.
Are there any variations of these cookie bars I should try?
These are terrific as is, but a few suggestions I have found are adding nuts like pecans or walnuts. The saltiness compliments the sweet so well if you do not like overly sweet desserts. Another option is adding coconut to the topping. I have not tried it myself, but it reminds me of a delicious variation of one of my favorite Girl scout cookies. Yum!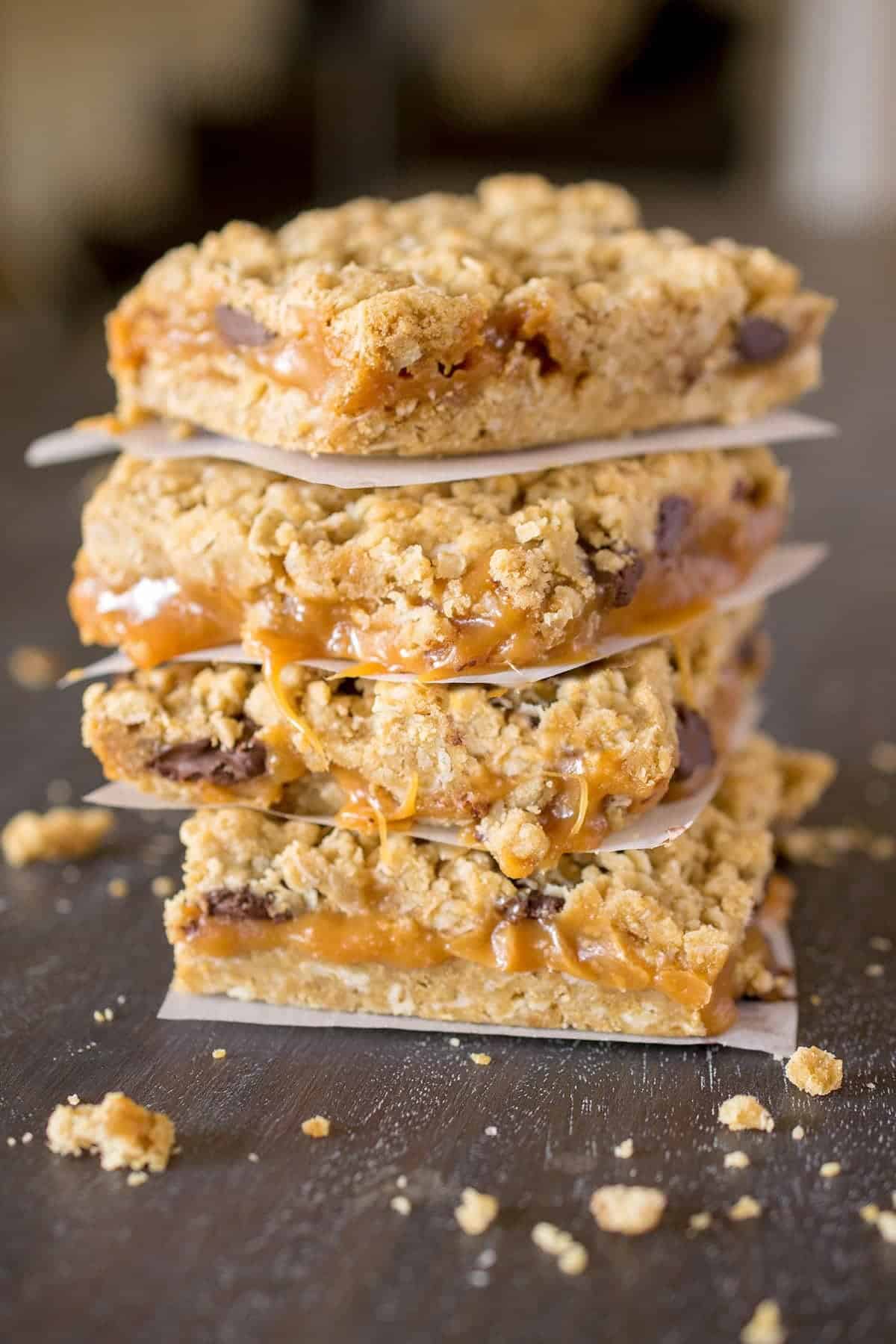 For more great chocolate dessert recipes, check these out
Gourmet Chocolate Candied Apples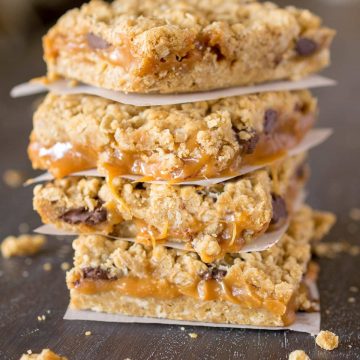 Carmelitas Cookie Bars
These Carmelitas Cookie Bars have 3 layers of goodness with an oatmeal base, a layer of caramel, and a generous sprinkling of chocolate chips. They're the perfect carmelitas recipe for any lover of caramel chocolate chip cookie bars.
Print
Pin
Rate
Ingredients
Oatmeal Cookie Bars
¾

cup

Butter

softened

¾

cup

Brown Sugar

1

cup

flour

1

cup

old-fashioned oats

1

teaspoon

baking soda
Caramel Sauce
1 ½

cup

Caramel Nibs

⅓

cup

Whipping Cream

6

oz

chocolate chips

any variety you prefer
Instructions
In a large mixing bowl, combine butter, brown sugar, flour, oats, and baking soda. Press half of the oatmeal mixture into the bottom of an 8×8 pan. Bake at 350 degrees for 10 minutes.

In a small saucepan over low heat, add the caramel bits and whipping cream. Stir until smooth. Sauce will thicken as it cools so I recommend waiting a maximum of only 1-2 minutes before pouring over the oatmeal crust that was pulled out of the oven.

Sprinkle chocolate chips over the caramel and oatmeal crust. Crumble remaining oatmeal mixture over the pan. Return to oven at 350 and bake for 15-18 minutes or until the edges crisp. I usually see the caramel bubble up on the outside. Allow the cookie bars to completely cool before cutting and serving.
Nutrition
Serving:
50
g
|
Calories:
333
kcal
|
Carbohydrates:
54
g
|
Fat:
12.8
g
|
Saturated Fat:
8
g
|
Cholesterol:
29
mg
|
Sodium:
320
mg
|
Potassium:
114
mg
|
Sugar:
12
g
|
Calcium:
600
mg
|
Iron:
0.2
mg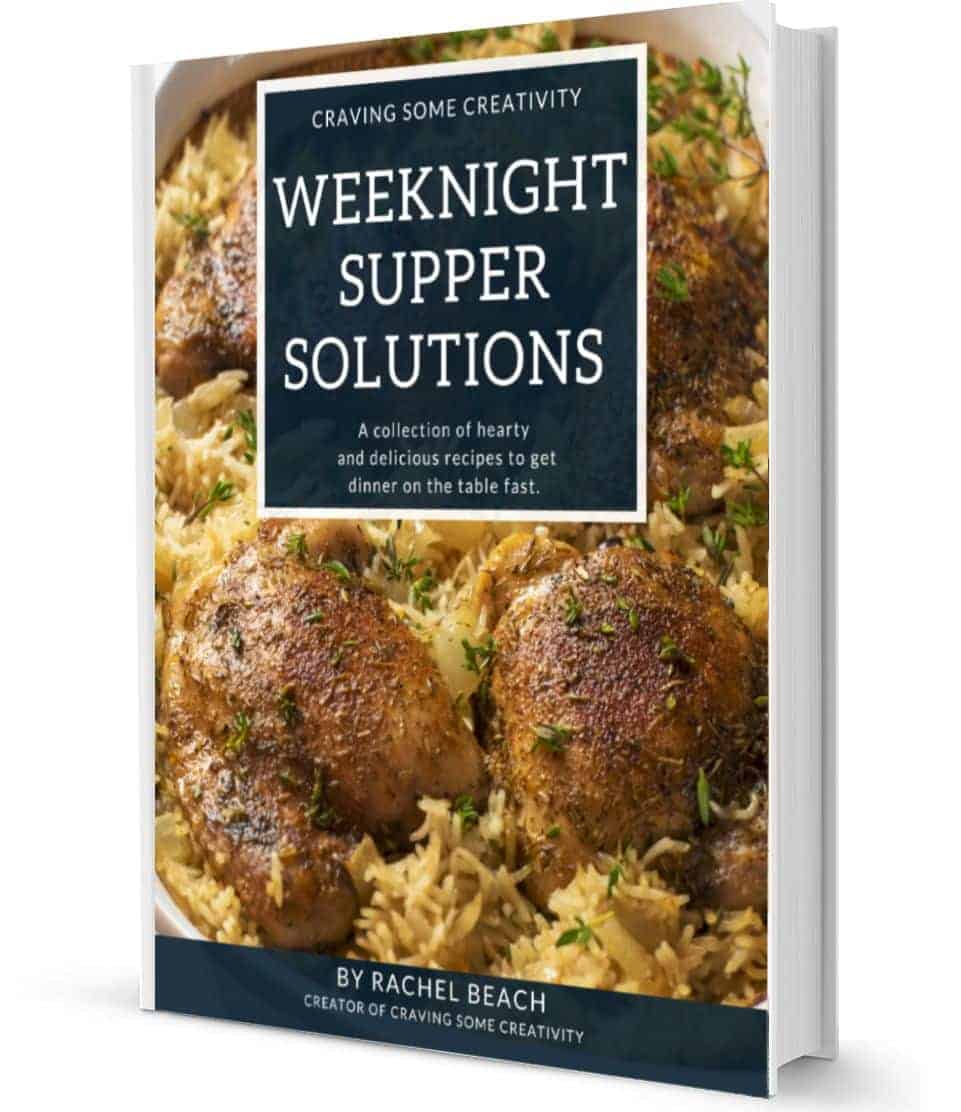 Not Sure
What's For Dinner?
Signup for recipe updates and get a free cookbook of Easy Weeknight Supper Solutions!
More Delicious Recipes!