Painting furniture white without yellowing or bleed-through can be tricky. Here you will find the best tips and tricks with my no-fail method while getting that timeless finish.
I am a huge fan of painting furniture to create a home that gives your home a uniquely-you touch. Although styles comes and go, white is one of the most most versatile colors for furniture. It's fresh and simple, and works with any style from farmhouse to eclectic boho. And it's, by far, my most requested choices from clients.
However, of all the furniture makeovers, painting furniture white can be one of the trickiest. There are several reasons for this from yellowing over time to tannins and stains seeping through a perfectly lovely paint job. But today, I am sharing my no-fail method that I have developed over years with lots of satisfied customers (even years later!)
This thrifty find had seen better times:
This dresser has all the problems! Knotty pine, stickers all over it, you name it. In short, it's an excellent candidate for showing the no-fail method for painting furniture white.
Here it is after receiving the DIY makeover –
Recommended Supplies
Paint Brush
Sandpaper 220 and 120 grit
Sanding Blocks 80 or 120 grit
Wood Filler – Only for imperfections or filling old hardware
Paint trays
Paint
Protective Topcoat
Pro Tip #1: While you can use a base white or pre-mixed white, choosing a white shade will have better coverage when painting furniture white. Always ask to have the can shaken at the store. Paint can settle in as little as a few days.
Best White Paint Colors for Furniture
DO NOT USE WALL PAINT FOR PAINTING FURNITURE! You really get what you pay for here. There are a few brands of paint that I recommend for painting furniture.
I have an in-depth post on the best paints for furniture that I recommend and why. Because there isn't just one brand to use for all situations.
However, sometimes the hardest choice is Which color white to use? The most popular paints for white furniture from my clients include:
Benjamin Moore Advance Chantilly Lace – a lovely creamy white that's pretty neutral
BM Advance Decorators White – a slightly cooler white with a touch of grey
BM Advance Alabaster – a white with a taupe undertone
BM Advance Super White – very bright white that falls to the cooler shades
Sherwin Williams Emerald Line Pure White – very versatile bright white
Sherwin Williams Emerald Line Snowbound – a touch of grey and warm with a slight pink undertone
Behr Cabinet Paint Polar Bear – warm white with just a touch of pink
Fusion Mineral Casement – a warm creamy white but not bright white, yellow undertones
Fusion Mineral Picket Fence – a truer, brighter white
This particular dresser is painted in Benjamin Moore Advance in "White" with a Matte Sheen. My store has a pre-mixed white, but you can mix anything from their color selection.
Pro Tip #2 – My go to brands of paint are guaranteed to never yellow. Even years later and in direct sun, these have never yellowed. These include Benjamin Moore Advance, Fusion Mineral, and General Finishes.
How To Paint Furniture White
There are step-by-step instructions including prepping included at the bottom of this post that you can easily print off. I am putting in-depth tips here and recommendations.
Step 1: Prep and Sand
For the most part, the process for prepping furniture for painting white is the same as any other color. If you are interested in the best method for prepping and cleaning furniture including all the considerations, I would recommend our in-depth guide on how to paint a dresser.
There was a little repair work to this furniture transformation. First, obviously we sanded all of the stickers off. There was also a horizontal trim piece between the drawers which we removed. And the worst part was an extremely annoying groove along the top of the dresser. I think it's only function was to collect nasty dust and grime. It certainly wasn't decorative. I filled that in with wood filler to get a completely smooth top.
Step 2: Priming
The single most important step when painting furniture white is to use a quality stain-blocking primer. The right primer will prevent stains bleeding through and help your coverage.
Primers that work well to cover stains include Kilz Premium, Kilz Restoration, and Zinsser BIN primer. I dislike Zinsser because it's gummy and doesn't level well at all. Kilz restoration is generally overkill unless you are sealing in heavy stains and odors (cigarette smoke, rust, previous water damage).
Pro Tip #3 – The primer that has my absolute recommendation for painting furniture white is Kilz 3 (not the original). If I have heavy tannins like knotty pine, I use a clear shellac over the knots or stains and then prime.
For priming, you generally only need 1 brush coat or 2 thin coats if sprayed. Wait for the primer to completely dry, usually 24-48 hours, before painting. If you see bleed-though, prime that area again, but only if it is fully dry after 24-48 hours.
For this dresser, I thinned and sprayed the primer as well as the paint.
Step 3: Painting
Now you have prepped, primed, and picked out your paint. But there is one big decision to make: Should you spray, brush, or roll your paint?
Painting with a Sprayer: This is going to give you the smoothest finish. It looks factory finished rather than hand painted. It takes about 10 minutes to do a coat of paint including the drawers. The coats tend to be lighter with a sprayer but you get even coverage and no brush marks! Also, so much faster than painting with a brush. I have a really great guide on how to use a paint sprayer for cabinets that is applicable here as well.
Brush/Roll Method: I love this method for a hand painted look, or sometimes I just don't want to get the sprayer out and do a whole setup with tarps for smaller projects. You can see our guide to painting without brush strokes and our project on how to paint banisters for techniques to get the smoothest finish with a brush. I have also listed a few quick tips below.
Pro Tip #4- No matter which paint you choose, white will generally require more coats of paint. White has the least coverage because of it's lack of pigment. I usually use 1 coat of primer, and 2-3 coats of furniture paint, and 1-2 coats of clear poly topcoat.
Step 4: Add a Protective Top Coat
When painting furniture white, I highly recommend a protective topcoat like a water-based poly. Benefits of a clear topcoat include:
Less likely to scratch.
Prevents paint from staining from spills and rubs.
MUCH easier to clean and scrub the furniture.
White painted furniture will look new for much longer.
The topcoats that I use are guaranteed not to yellow. Period.
I have a list of the best topcoats and why here. On this particular dresser, I used Benjamin Moore Stays Clear.
That being said, there are two paints that I sometimes do not use a topcoat with – Benjamin Moore Advance in Satin, and Fusion Mineral.
Examples of Fusion Mineral – My entertainment center and painted bathroom vanity are painted in Fusion Mineral with no topcoat. I painted our kitchen island in Fusion Mineral with a Stays Clear Topcoat- It's near bulletproof and super easy to clean!
Examples of Benjamin Moore Advance – My painted staircase banisters are painted in Benjamin Moore Advance in satin and have held up beautifully. As you might imagine handrails are a very high traffic surface and they look great even a few years later.
Pro Tip #5 – You can mix sheens. One of my favorite techniques is to use a matte paint and a satin topcoat. It gives it a very durable protection but isn't as shiny as a satin paint. I generally like to apply in thin coats with a sprayer.
This is a kid's dresser, and my son can seriously damage some furniture, so I need the absolute best protection. This dresser received two thin coats of the Benjamin Moore Stays Clear and you can see the sheen-
Quick Tips for Painting Furniture
Always roll larger surfaces. Some paints like a dense foam roller, but most prefer a microfiber roller. (The dense foam sometimes leaves air bubbles).
Always brush in the direction of the grain.
Don't back brush after the paint has started to dry. If there are small mistakes, you would be better served sanding just that little area before the next coat.
You DO NOT need to sand between paint coats.
Get the right tools. A few extra dollars will save you a lot of heartache and frustration. I have a helpful post on painting without brush strokes here. I prefer fine taklon brushes.
Tape off any edges you don't want painted such as inside doors.
Eventually, we are going to replace the weird ball style feet with something that better fits the style of the dresser but that is a someday project. For now, this DIY dresser makeover is done! This dresser is going in my son's room, and he has a ton of bold colors going on, so I didn't want the furniture to compete with the overall color scheme and the graphic prints that I have planned to go in there.
Frequently Asked Questions
What is the best white paint for furniture?
My most requested white paint colors from clients are:
Benjamin Moore Advance Chantilly Lace
Benjamin Moore Advance Decorators White
Benjamin Moore Advance Alabaster
Benjamin Moore Advance Super White
Sherwin Williams Emerald Line Pure White
Sherwin Williams Emerald Line Snowbound
Behr Cabinet Paint Polar Bear
Fusion Mineral Casement
Fusion Mineral Picket Fence
What paint do you use for furniture?
You need to use a highly durable, enamel or alkyd type paint. Do not use latex wall paint! You can read about why I choose these furniture paints, but my go-to lines are usually Benjamin Moore Advance, Fusion Mineral, or General Finishes.
Should I use a brush or roller to paint furniture?
A roller is best for large, flat surfaces because it is faster and easier to get a smooth coating. Use a brush for details and edges. Always brush first and then roll.
Do I need to sand between coats of paint?
No, sanding between coats is completely unnecessary whether you spray or brush. If you have imperfections or brush strokes, you can sand just before the last coat for the smoothest finish.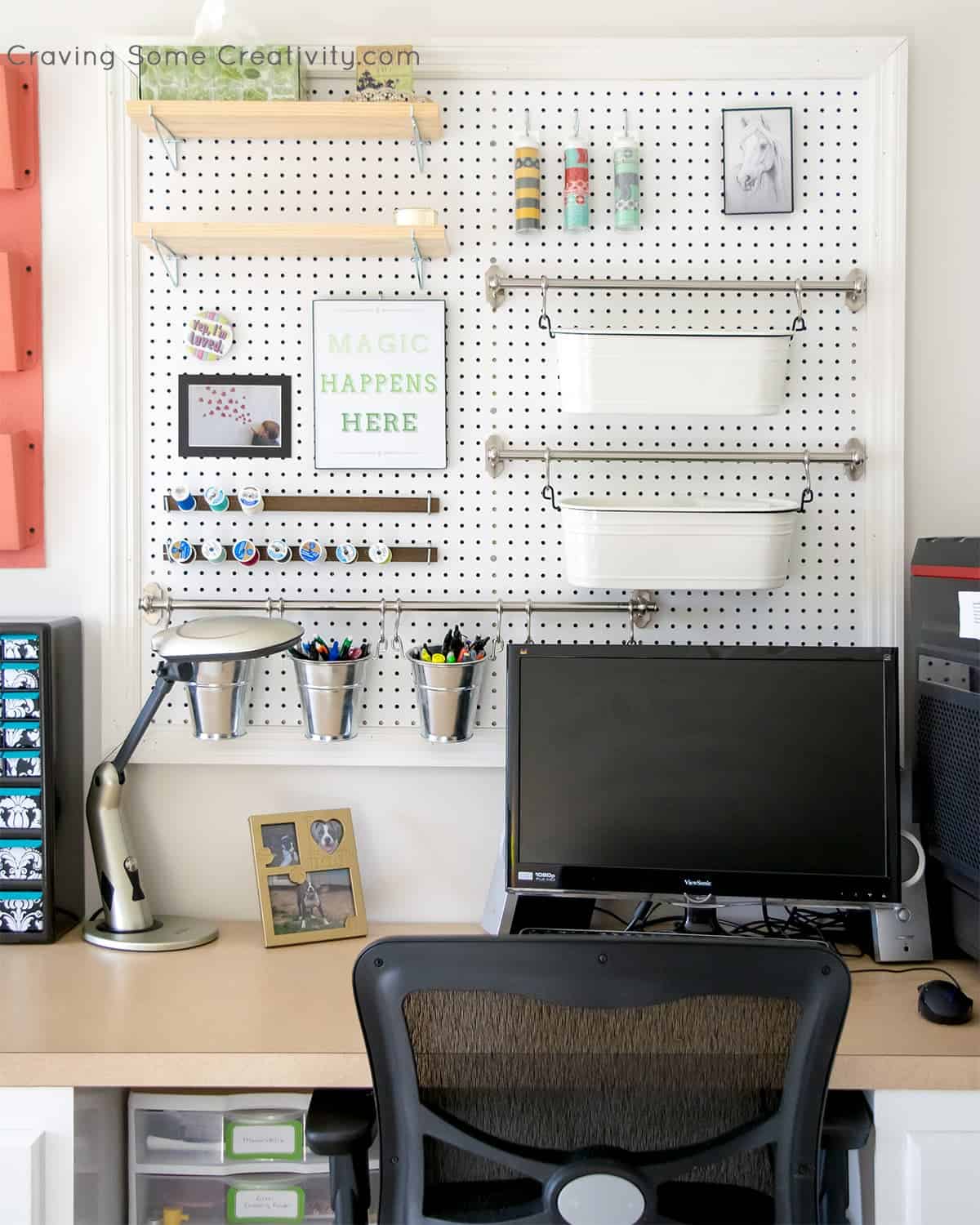 Grab our free series "Weekend Home Projects that will Transform Your Life"
Sign up below to receive updates including free printables, organization tips, home improvement projects, recipes and more!
Check Out Other Furniture Projects
PS I love seeing your creations! Be sure to take a photo and tag #cravingcreative on Instagram! You can also stay in touch with me through following me on Instagram, Pinterest, and subscribing to the newsletter!
How To Paint Furniture White
The no-fail method for painting furniture white. Get a timeless, smooth finish that will last and never yellow.
Print
Pin
Rate
Supplies
Sand paper

220 and 120 grit

Sanding Blocks

80 or 120 grit

Wood Filler

Only for imperfections or filling old hardware

Paint

Protective Top Coat
Instructions
Remove doors and drawers. Unscrew hardware.

Clean using Tri-Sodium Phosphate or a mild degreaser for getting any grime and dirt off. Repair scratches with wood filler.

Sand any glossy varnish or coating off. You do not need to sand every bit of previous stain or paint off if it is in good condition. Sanding is going to give the best bond, and always sand high traffic surfaces such as table tops, around doorknobs, or dresser tops. Use an orbital sander with 120 grit to make this much easier. Vacuum and wipe all dust off of the panels before priming.

Prime the cabinets with a quality primer. Kilz Premium (not original) is my general go-to primer. For white, use 2 coats of primer. Allow to dry 24-48 hours.

Paint the dresser with at least 2 coats of paint. You can use either a paint sprayer or brushes and rollers. If brushing, brush with the grain and always from one end to the other. If paint starts to dry, don't go back over it.
Notes
Guide to Cleaning Furniture for Painting
Knots – use a shellac based primer
Gooey stuff/adhesive – I like Goo Gone for gooey messes, but make sure to clean off with a degreaser or teaspoon afterwards to remove any residue.
Grease stains – clean with a good degreaser like Simple Green to break up what you can.
Permanent Marker/food coloring/other – Clean as best you can with teaspoon and then prime at least two coats.
More Tips for Painting Furniture
Get the right tools. A few extra dollars will save you a lot of heartache and frustration. I have a helpful post on painting without brush strokes here. I prefer fine taklon brushes.
Tape off any edges you don't want painted such as inside doors.
Use a lint free -microfiber roller across all flat or large surfaces for the smoothest finish.
You will get the best results if you brush details or corners then roll before the paint has time to dry.