Remember this thrifty steal of a dresser?
It was one of our thrifty craigslist finds.  Today I am sharing the new and improved version of this old dresser!
This post contains affiliate links to the products I used for this project for your convenience. For more information, see my disclosure page.
It actually isn't completely done because we are going to replace the weird ball style feet with something that better fits the style of the dresser but that is a someday project. For now, this DIY dresser makeover is done! This dresser is going in my son's room and he has a ton of bold colors going on so I didn't want the furniture to compete with the overall color scheme and the graphic prints that I have planned to go in there. I love the ecclectic, "found" look but sometimes you gotta edit. Just a bit.
There was a little repair work to this furniture transformation. First, obviously we sanded all of the stickers off. There was also a  horizontal trim piece between the drawers which we removed. And the worst part was an extremely annoying grove along the top of the dresser. I swear that it's only function was to collect nasty dust and grime. It certainly wasn't decorative. I filled that in with wood filler to get a completely smooth top.
We used 3 coats of primer, 3 coats of furniture paint, and 2 coats of Benjamin Moore Stays Clear Acrylic Polyurethane. Why in the world did we have so many layers? Because we painted this old dresser with a paint sprayer. It takes about 10 minutes to do a coat of paint including the drawers which were separated from the base for spraying. I sanded after even numbered coats (2, 4, 6) because my layers were thin but it made everything so nice and even. The coats tend to be lighter with a sprayer but you get about the same even coverage and no brush marks! Also, so much faster than painting with a brush.
For this piece, I decided to try out Valspar Furniture paint. I like using water based paint (not latex wall paint) and this product was just ok for me. It went on smooth and it does seem durable but the coverage was really lacking in my opinion. Now, I did paint this dresser white so that deserves some forgiveness. I had used this before on some cabinets for a client and I knew the coverage problem going in. Rather than having so many coats, I used the 3 coats of primer (cost saving tip!). I think I will go back to my new favorite paint from Prairie Colors after this project.
The clear coat from Benjamin Moore turned out even more beautiful than on my craft room cabinets. If you remember those got a super heavy coating and came out more glossy than I wanted. I used a lighter coat on these and the smaller furniture sprayer better atomizes the paint for fine projects. Overall, I am super happy with this project and so glad it is done.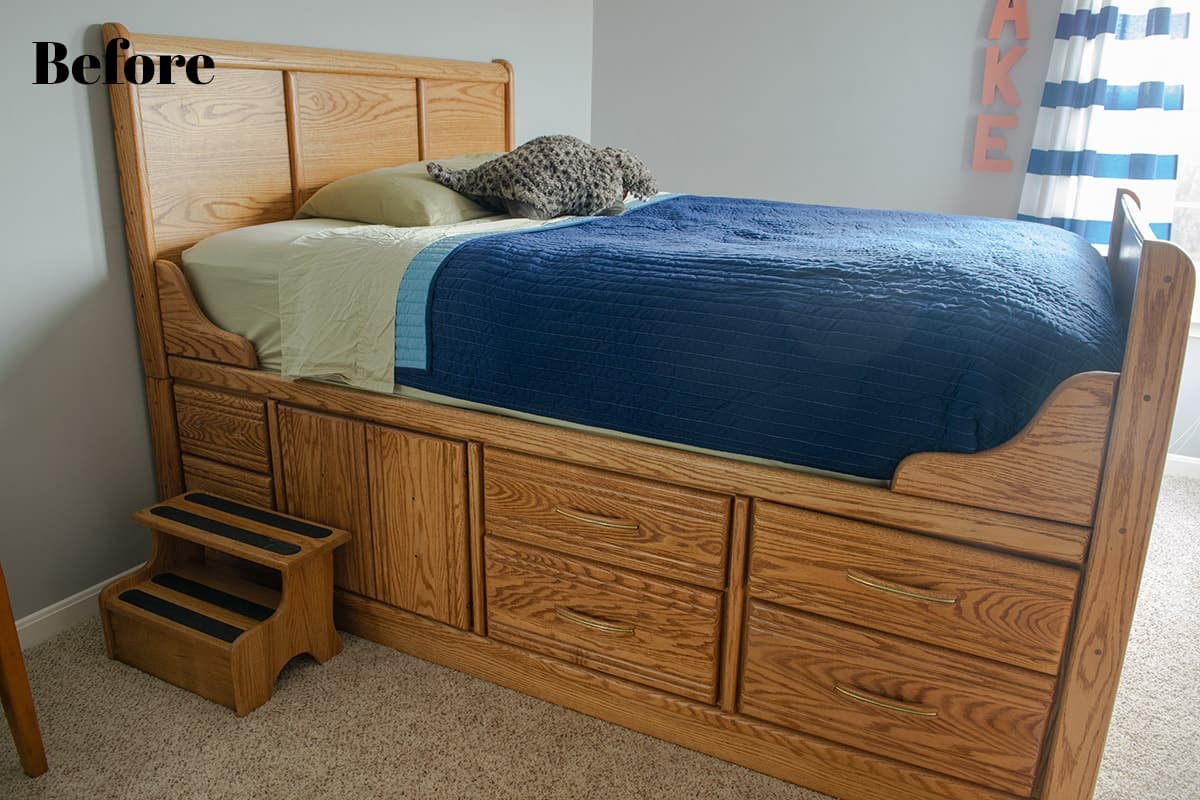 Soon, I will be sharing the after of this bed and it is even more amazing of a transformation so stay tuned! I know I showcased one of my finally finished projects, but I would love hearing about reader projects even more. I have refinished several pieces in all kinds of ways and I love to read comments, questions, and definitely before and afters from readers. Keep sharing them with me, friends!
Have a great day!
More DIY furniture makeovers: