Looking for the shortcuts to the best christmas decorating ideas? This list has all the details for the best selection of holiday entertaining and decorations!
Well, it's officially the mad dash of the holiday season, right? It sure feels like it gets earlier and earlier every year, so I have put together this list of Christmas Entertaining and Decorating must-haves so you can be ahead of the game!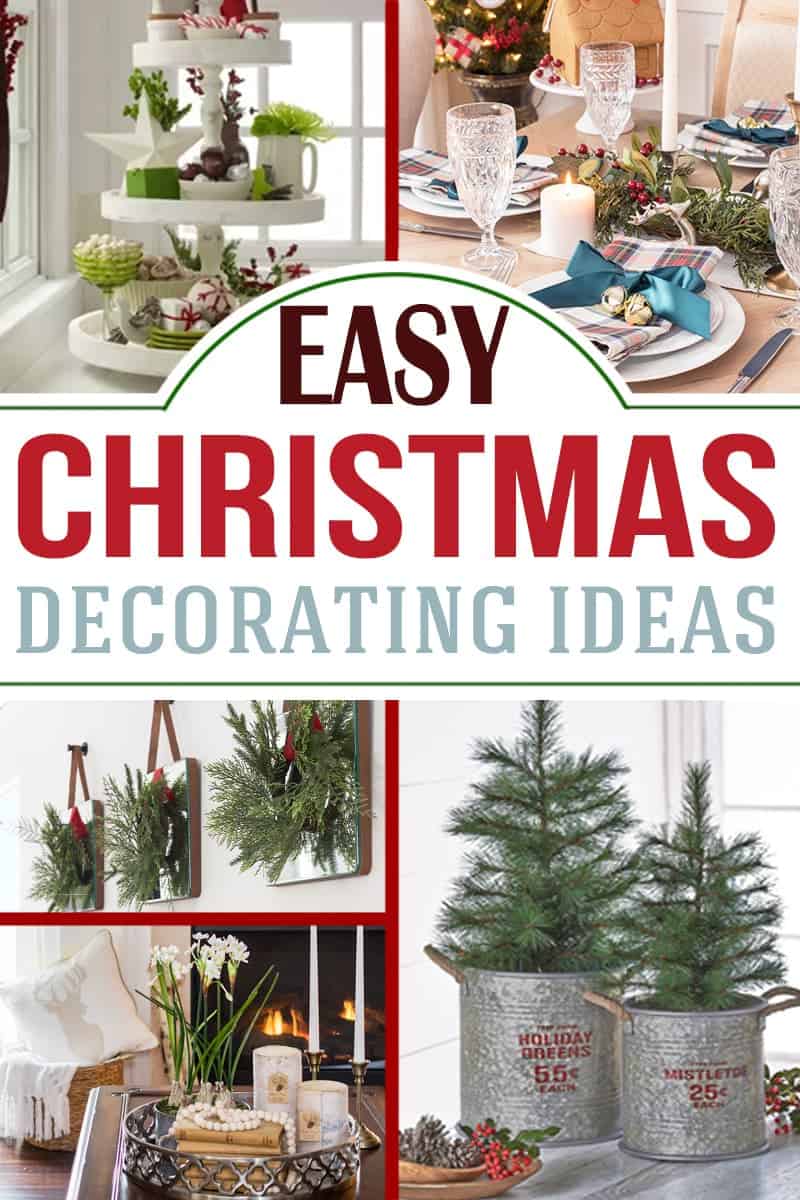 *Some of these may not be available out of season, but I update the list every year so stay tuned! You can also check out our Woodland Christmas Tree and Christmas Home Tour. for more inspiration.
1. The Best Artificial Garland
I was on a serious hunt last year for garland. I wanted full, fresh looking, and affordable. While I did get them on sale last year, they did go fast so don't wait till after Christmas to order. Here are some of my favorite choices for very realistic and very full garland:
Garland Hack: To create more texture and still get that fresh pine smell, clip some greenery from around the yard (or florist) like pine trees, italian ruscus, boxwood, or olive tree leaves.
2. Letterboards are so fun!
How fun is this retro letterboard? I have one just waiting to go up on the gallery wall this season. Although not specifically for Christmas, add these red letters and you can make cute merry messages all season long. Makes a great Christmas Countdown for the kiddos too. They also come in many different colors, shapes, and trims like these:
3. A Touch of Nostalgia
Christmas and nostalgia go hand in hand. It is the time of year that we should all marvel at things that bring back memories. Here are a few ways to add some nostalgia to your Christmas decorations:
What creates that sense of nostalgia and Christmas spirit for you? I am sure you can find beautiful ways to incorporate them!
4. Modern Family Pajamas
Family pajamas are so cute and suddenly seem like the most brilliant idea for the holidays, but you don't have to be stuck with the comical elf looking ones. We bought these modern plaid ones that we can wear all winter long. Or these super cute Grinch family Pajama set.
I find the onesie style pajamas hilarious too, but my family wouldn't go for it. If yours is more adventurous, this flapjack pajama set is hilarious!
5. Budget Christmas Dining and Entertaining Must-Haves
I don't have a huge budget each year for Christmas decorating so I am always stretching and building. Here are some of the tips I use to keep my entertaining budget for Christmas low:
Multi-purpose plain white plates that work year round.
Goblet style glasses are beautiful year round, but extra special during the holidays!
If you use plate chargers, keep them neutral or metal. Accent instead with festive napkins or cut some greenery to make napkin rings
Make a centerpiece out of yard clippings, glass ornaments, and pillar candles at different heights. Layer different clippings for texture and height.
If you are looking for some more budget-friendly crafts to decorate the home, check these out:
6. Christmas Plaid is Everywhere!
Plaid prints and tartans have been making a huge comeback the last few years. Traditional Scottish tartans are beautiful and add elegance to Christmas decor. This is our tartan themed Christmas table:
If you want to mix in some plaid into your christmas decor, here are some of my favorite finds:
Click the photo to go to the item

7. Tiered Trays for Serving
I love tiered serving trays in all kinds of occasions. They make an elegant serving tray for hordaervs, toppings, or desserts. But they also make a great coffee bar for guests, or even a table centerpiece.
I wrote more about my best ideas for tiered serving trays here.
8. Modern White Christmas
Modern Neutrals are still very popular, even though other styles are shining too.
Most of these items are ones I already have in my home and I love things that will coordinate with a classic, slightly nostalgic style. Here are just a few of my favorite items from around the marketplace.

Use the arrows to check out more of my favorites. Hope you enjoyed these finds as much as I do!
Pin It for Later:
Grab our free series "Weekend Home Projects that will Transform Your Life"
Sign up below to receive updates including free printables, organization tips, home improvement projects, recipes and more!
More Christmas Decorating Ideas