Oven Roasted Rainbow Carrots is an easy and savory dish with aromatic herbs that intensify the natural flavor. Toasted pine nuts and fresh garlic provide balance for an unforgettable side dish that takes less than 5 minutes to prep!
Some foods have a public image problem. Kale and Brussels Sprouts are two that come to mind. But, if you are like me, today's recipe just might change your mind about roasted carrots!
For years I turned my nose up at roasted honey carrots and maple slathered vegetables. While everyone might argue that the best presentation of carrots is in my fan-favorite Carrot Cake Recipe, drowning vegetables in sugar has always been counterintuitive for me. Cue Oven Roasted Butternut Squash– it's the simplicity of it that changed my opinion about roasted veggies forever.
Roasted Rainbow Carrots is a simple six ingredient recipe that highlights their flavor while releasing natural sugars (oh, they are colorful to boot!). Caramelized carrots are tender, roasted pine nuts deliver delicious crunch. The fragrant herb blend provides balance between sweet and savory. You'll never cook carrots the same!
Ingredient Notes
Below is an overview of the simple ingredients you will need along with some notes for cooking this delicious recipe:
Carrots: Different colored carrots have varying amounts of certain nutrients, but they taste mostly similar. The rainbow makes it fancy, though. In fact, you could also use regular orange carrots.
Herbs and Spices: I use my own spice mix to get a savory variety and sometimes just what I am feeling that day. My absolute favorite herb for making any kind of roasted vegetables is Thyme. I use dried for speed. If substituting fresh herbs, double the amount.
The base flavorings are salt & pepper, and minced garlic (not powdered because this will make the oil cloudy and doesn't spread as well). You can also add 1 teaspoon or substitute additional herbs such as:
Basil
Oregano
Cumin
Rosemary
Pine nuts: I love these for the crunch and the nutty flavor works amazing with thyme. Substitutions include walnuts, almonds, sunflower seeds, pepitas, and hazelnuts.
How to Roast Carrots
These carrots are very pretty cut in half lengthwise and plated as a pile. However, they can be a little difficult to serve that way, so I cut them into two-inch lengths.
Mix the oil, garlic, and herbs in a large bowl and then toss the carrots in to coat evenly.
The secret to deliciously roasted carrots is to spread them out evenly in a single layer on a rimmed baking sheet. They can touch, but you want a bit of space if possible. This ensures the edges get a little caramelized.
Carrots take just 20 to 25 minutes at high temperature to roast fully. I like to turn them over with a spatula to allow both sides to crispen. Pine nuts take very little time to toast, so when the carrots are near done, I toss the pine nuts over top and wait 2-5 minutes more while in the oven.
Serving and Storage ideas
What to serve with roasted carrots? One of the best things about this simple dish is how versatile it is! There are so many glorious uses:
Add it to an autumn pasta like stuffed shells, alfredo, or angel hair pasta.
One of my favorite toppings for Oven Roasted Salmon, cod, or halibut.
A fancy looking side dish for roast chicken, pan seared pork chops, and grilled chicken.
Pair with other roasted vegetables or potatoes.
Toss them into a salad.
Make a buddha bowl with it with roasted chickpeas, greens, red onions, quinoa, and sesame seeds. Top with a drizzle of creamy tahini sauce.
Storing leftovers: Store any leftovers in an air-tight container in the fridge for 3 to 4 days. I do not recommend freezing them.
Reheat: Place in a 425°F oven for 10 to 12 minutes until warmed through. You can also warm a single serving in a microwave for about 30 seconds. Stir and heat another 15 to 20 seconds, if needed.
Recipe Tips
Use convection bake if you have it. During convection, air circulates constantly throughout, which is ideal for getting crisp, golden brown edges on roasted vegetables like potatoes, zucchini, and butternut squash. If you use it, do note that the cooking times will shorten.
Parchment paper prevents sticking. An even better option is a baking mat like this one.
Use a metal sheet pan. The outer edges always crisp better in a dark metal pan as opposed to a glass baking dish.
Toss them in the oil before putting on a baking sheet. This ensures each one is fully coated and less likely to dry out. I use a large mixing bowl and whisk the oil and spices. Then I add the cut-up carrots and toss the bowl until everything is well coated.
Don't crowd the veggies on the baking sheet. For the best results, spread the carrots into a single layer with a little space in between each one. This allows the heat to better circulate for crispier edges.
FAQs
Do rainbow carrots taste different?
The taste is different even though it might be a very subtle between the colors. For example, purple carrots are slightly sweeter than orange carrots. The small difference is more noticeable when eaten raw rather than cooked.
Do carrots need to be peeled before roasting?
Carrots need scrubbed well before roasting, but peeling is by choice. I don't like to peel them because it's easier to keep the carrot pieces the same size (the tiny end is less likely to overcook). However, my family likes them better peeled.
Why are my roasted carrots hard?
The secret to properly roasted carrots is making them the same size.  Undercook areas will be tough and dense, while overcooking them makes them dry and over wrinkled. Overcook them, and they're dry and wrinkled.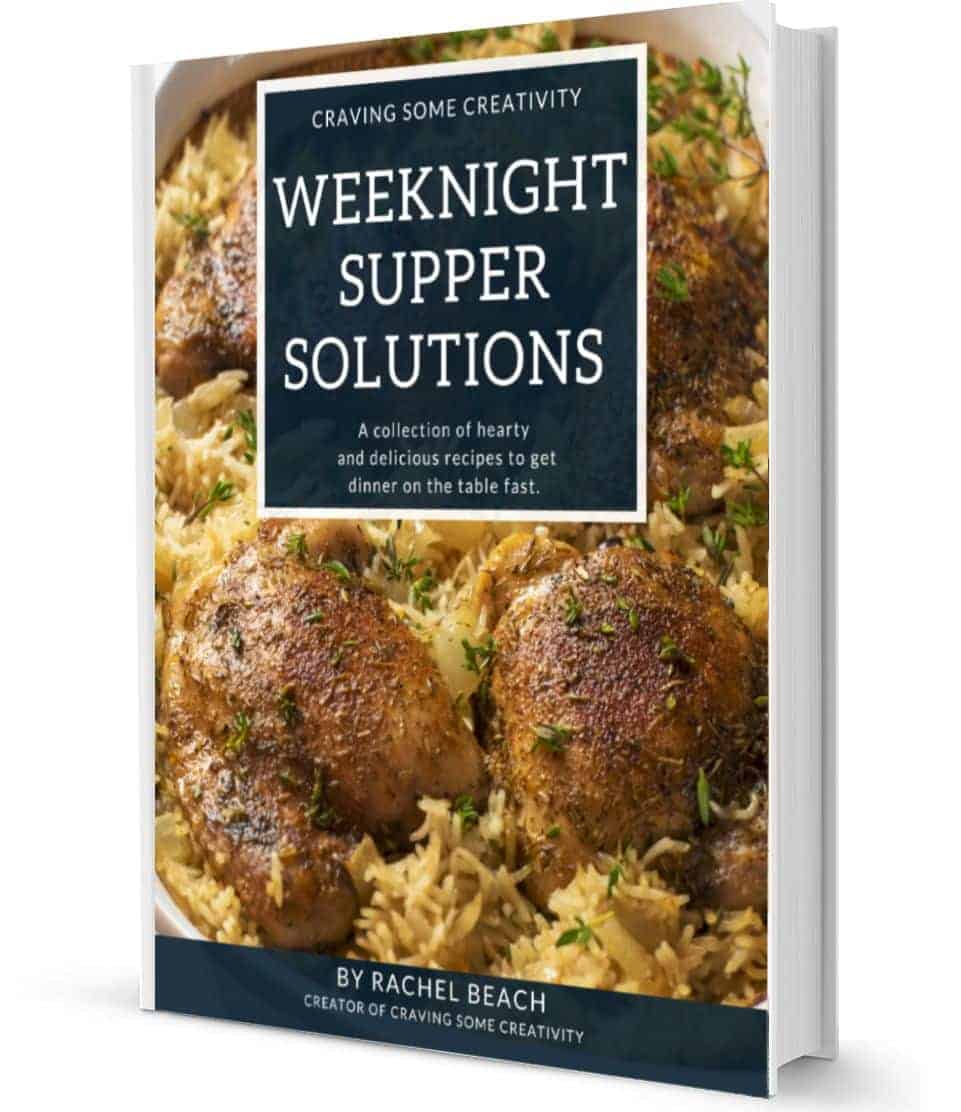 Not Sure
What's For Dinner?
Signup for recipe updates and get a free cookbook of Easy Weeknight Supper Solutions!
More Delightful Sides
PS. If you make this recipe, leave a COMMENT AND A STAR RATING in the comments section at the bottom and be sure to take a photo and tag it #cravingcreative on Instagram! I appreciate you for taking the time to read about me and my family recipes. 
Roasted Rainbow Carrots
Oven Roasted Rainbow Carrots is simple and savory with aromatic herbs that intensify the natural flavor for an easy, tender vegetables. Toasted pine nuts and fresh garlic provide balance for an unforgettable side dish that takes less than 5 minutes to prep!
Print
Pin
Rate
Ingredients
2

pounds

Rainbow Carrots

Peeled, if desired. Remove tops and bottom tips to make them evenly sized.

2

tablespoon

Olive oil

Safflower or Grapeseed oil can be substituted

1

teaspoon

Thyme

Dried

2

teaspoon

Parsley

Dried or fresh

2

cloves

Garlic

minced

½

teaspoon

Salt

¼

teaspoon

Black Pepper

¼

cup

Pine Nuts

½

teaspoon

Oregano

Dried. You can use rosemary, basil, or cumin instead.
Instructions
Preheat the oven to 425 degrees Fahrenheit. Line a rimmed baking sheet with parchment paper or silicone mat. Carrots should be cut into even thickness, about 2-3 inches long.

In a large bowl, stir the olive oil, herbs, garlic, and salt & pepper. Toss the carrots well so they are evenly coated and spread onto the baking sheet into a single, even layer with a little space between each carrot.

Roast about 12-15 minutes and then turn over with a spatula. Continue roasting another 10 minutes or until the edges start to brown or wrinkle.

Toast the pine nuts. This can either be done by skillet or oven. For skillet, heat a dry skillet over medium-high heat and add nuts. Watch closely and stir frequently to prevent burning, until fragrant and starting to darken, about 3-5 minutes. For oven, I toss them in on the same sheet pan about 5 minutes before the carrots are done.

To serve, place the carrots on a plate or platter, sprinkle with extra thyme or parsely, if desired.
Notes
Parchment paper or a baking mat makes for easy clean up and the carrots won't stick.
Don't crowd the pan! Not enough space in between will steam the veggies and make them soggy instead of roasting them to caramelized perfection. Use two pans if necessary.
Oil-free? Use a splash of veggie broth instead to help the spices stick to the carrots and line the baking sheet with parchment paper to prevent sticking. They may take a bit longer to caramelize, but they will eventually brown nicely.
Storing leftovers: Store any leftovers in an air-tight container in the fridge for 3 to 4 days. I do not recommend freezing them.
Nutrition
Calories:
165
kcal
|
Carbohydrates:
23
g
|
Protein:
4
g
|
Fat:
8
g
|
Sodium:
165
mg
|
Potassium:
19
mg
|
Fiber:
4
g
|
Sugar:
4
g
|
Vitamin A:
214
IU
|
Vitamin C:
24
mg
|
Calcium:
6
mg
|
Iron:
6
mg