And that's a wrap, folks.
OUR TRANSITIONAL – MODERN CLASSIC BATHROOM RENOVATION IS DONE!
Yes, I am yelling in glee, haha, like I can't believe this is real. Really, I can't, someone pinch me!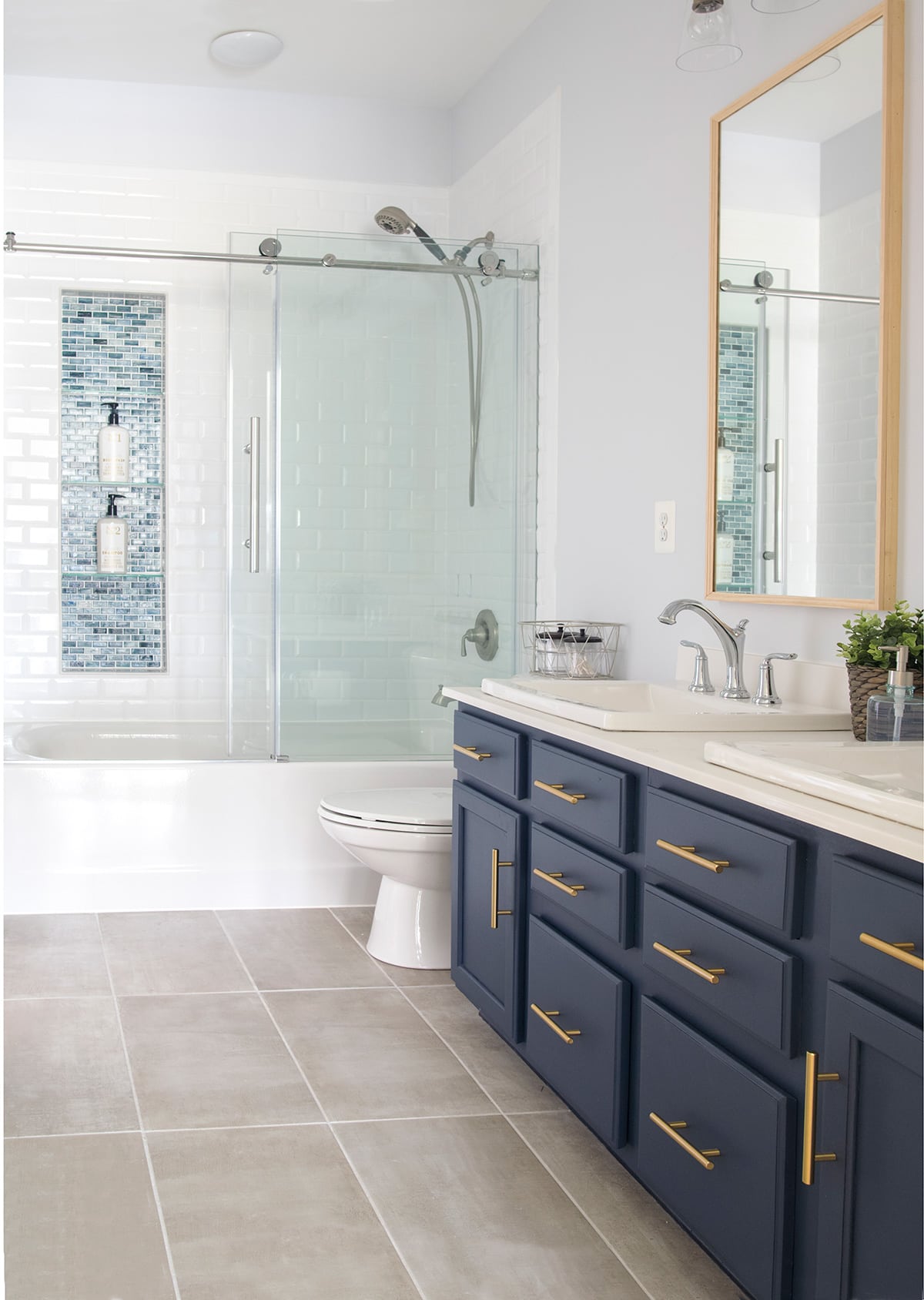 Let's step back a bit to look at how it looked before…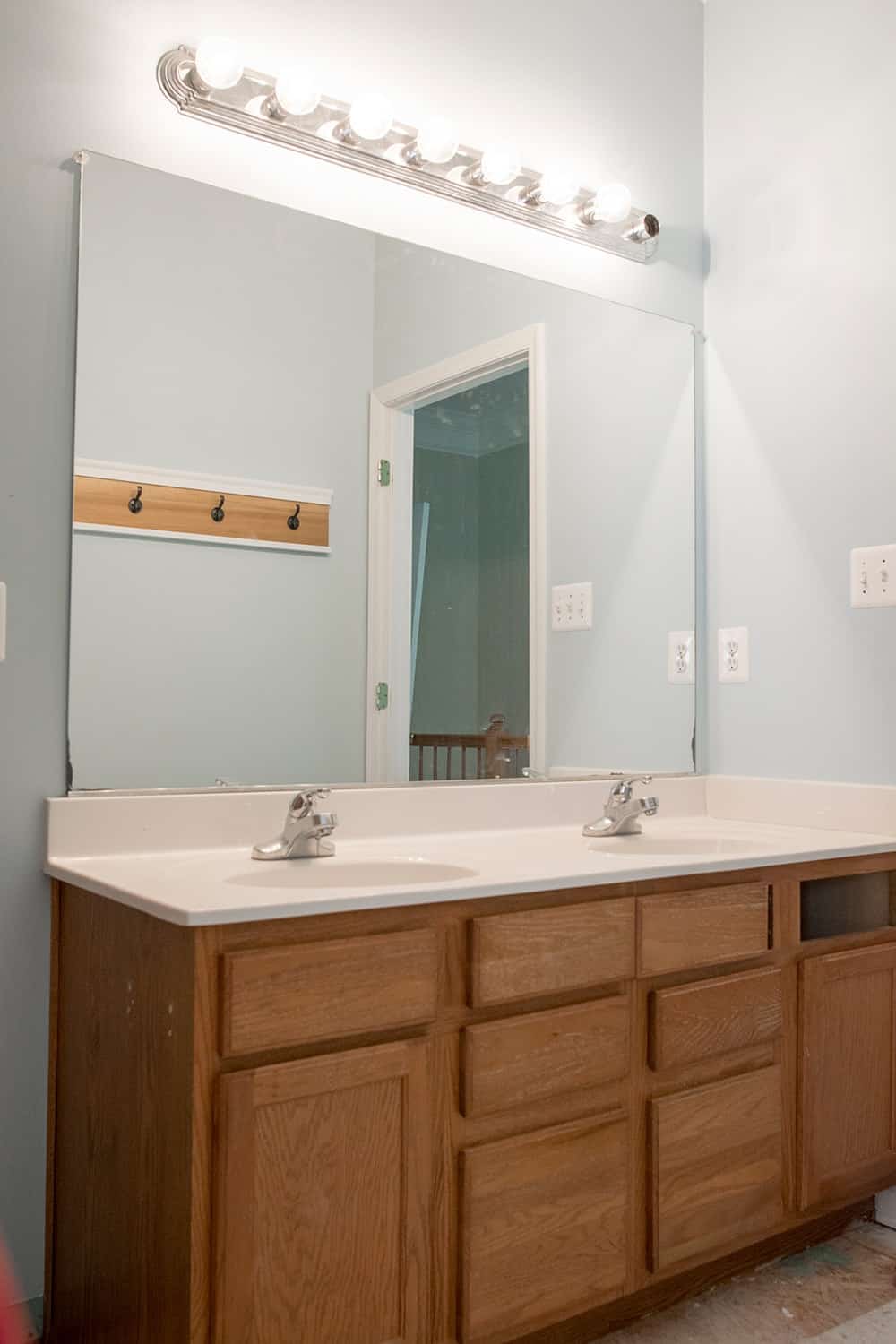 Now you can see why I am so very excited! This is a bathroom that my son and I share, but it's also the guest bathroom. And, yes, our renovation was entirely done ourselves including the tiling, plumbing, and, well, everything. It may look like a lot, but taking things step by step (and hours of videos and manufacturer questions, lol) is always best practice.
I have included the sources at the bottom of this post if you see anything you like.
Ok, Let's start with the shower.
Bye Bye bottles of soap everywhere and getting knocked off the side.
Hello, storage! The shower niche was by far the hardest way you could ever try to do a shower niche (it's almost 5 feet tall and completely custom), but oh, the storage! I've never seen one done like this, so we took every precaution to build it and make sure it was absolutely sealed.
For the rest of the shower, we used beveled edge subway tile in white. You can see how we planned and worked with this specific tile here. Although I can't decide a favorite item, these glass shower doors have got to be in the top 3. They slide so smoothly and look so chic.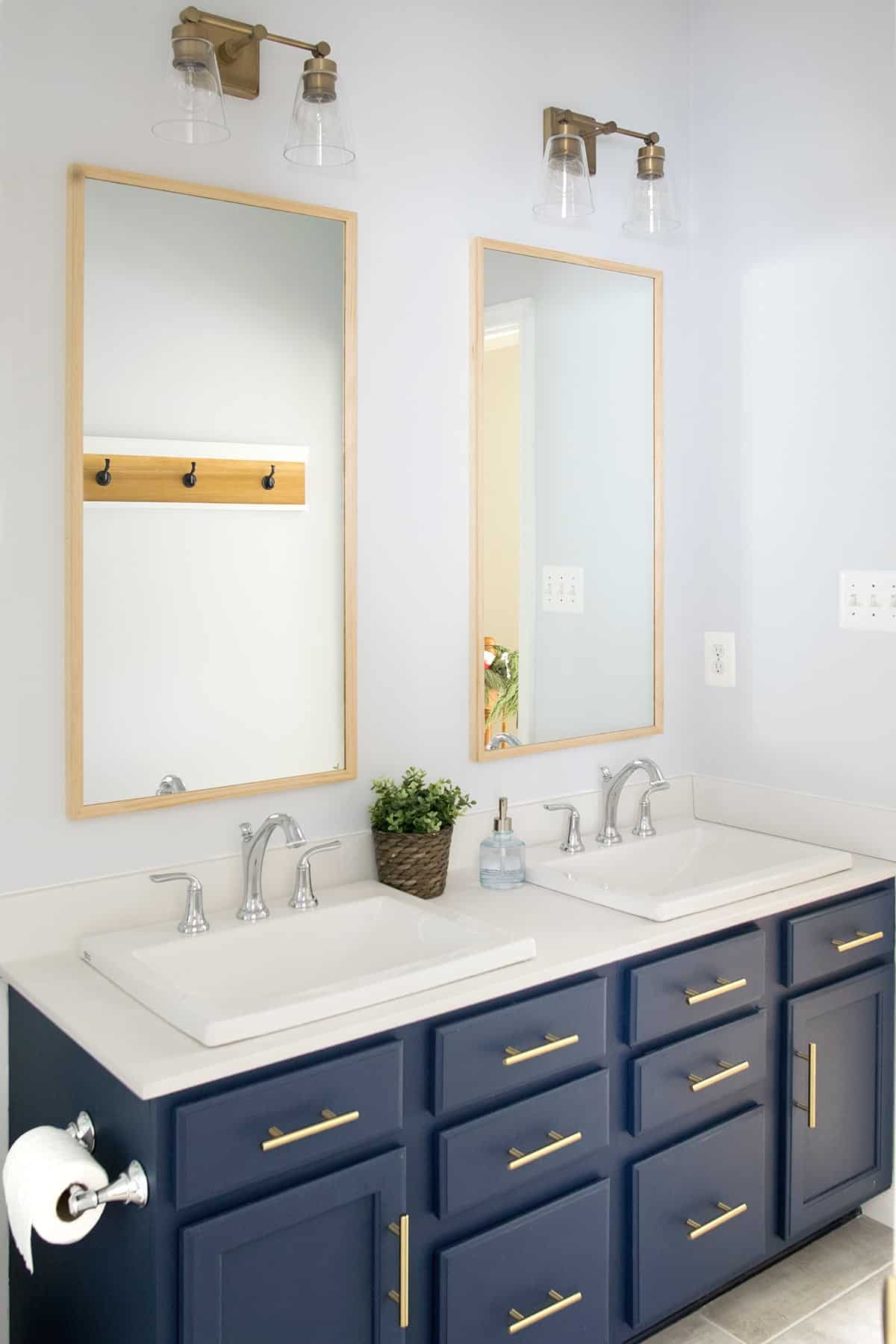 Now the vanity. As I spoke about in the post about how to paint a vanity, this is actually the original builder-grade oak vanity. I painted it in my favorite matte furniture paint in midnight blue.
For the mirrors, we actually cut the old, huge mirror into two segments and then backed and framed them. Serious cost saver!
Oh, and that floor! I wanted a textured, natural looking floor, but for whatever reason I wanted to avoid wood tile flooring and most stone. Enter porcelain concrete printed stone. It's textured and beautiful and looks so natural in the space. There were also a huge range of shades to choose from.
For the sinks and faucets, we decided on these from American Standard and they have a wonderful vintage and modern detailing. I won't in this post, but we go into a lot of detail about why we chose these sinks and faucets here.
The vanity lights were actually one of the first items I picked out for the space. They perfectly embody both the classic vintage aspects and the modern shaping that I wanted.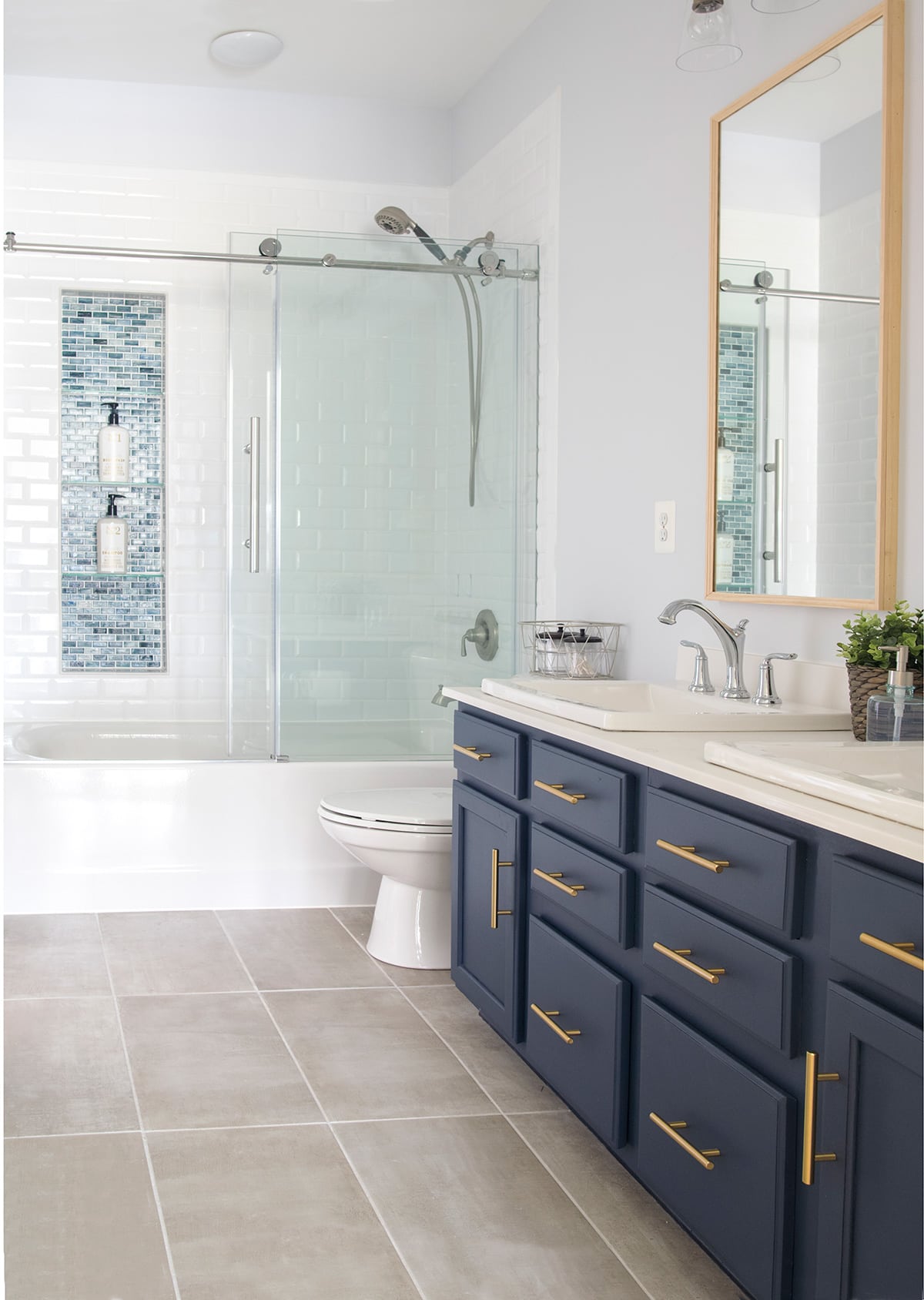 Well, there's our modern classic bathroom makeover. While I may add some shelves over the toilet or the wall switch eventually, there is no timeline on that and I am perfectly happy with how it is today. I am thinking it's time for a glass of wine and a long soak to enjoy the view.
What do you think of our new bathroom space?
Shower
Beveled Edge Subway Tile (with white unsanded grout)
Glass Shower Niche Tile (no longer available)
Grey Ceramic Tile and Pencil Tile (Shower Niche walls)
Enamel Bathtub (we researched this for days and posted a guide here, only available online)
Tub Faucet and Handle in Chrome Finish with 8-inch widespread holes
Paint
Wall Color – Benjamin Moore Ice Cubed Silver
Vanity
Other Fixtures
Accessories
Total Budget spent: $3,815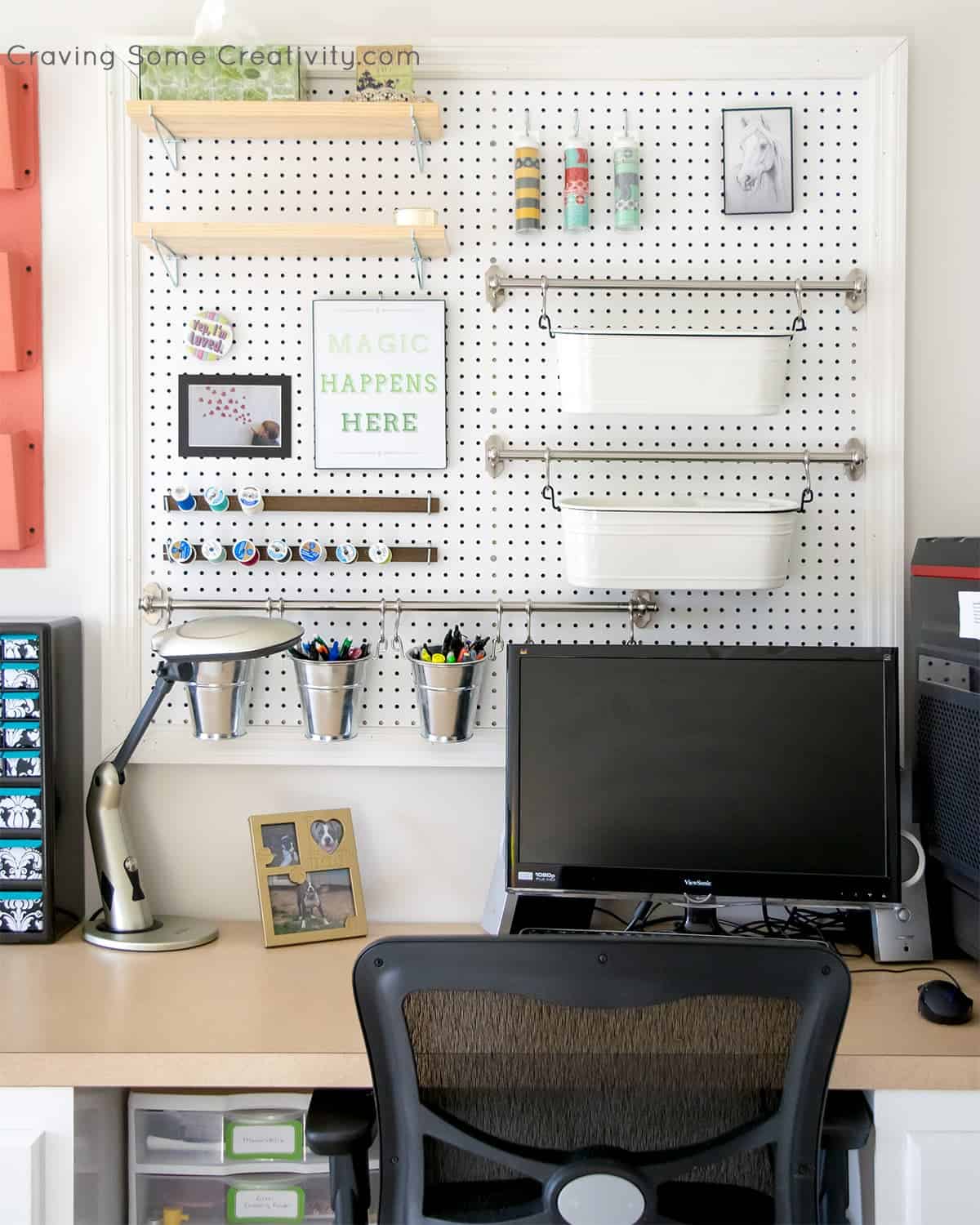 Grab our free series "Weekend Home Projects that will Transform Your Life"
Sign up below to receive updates including free printables, organization tips, home improvement projects, recipes and more!
More Room Reveals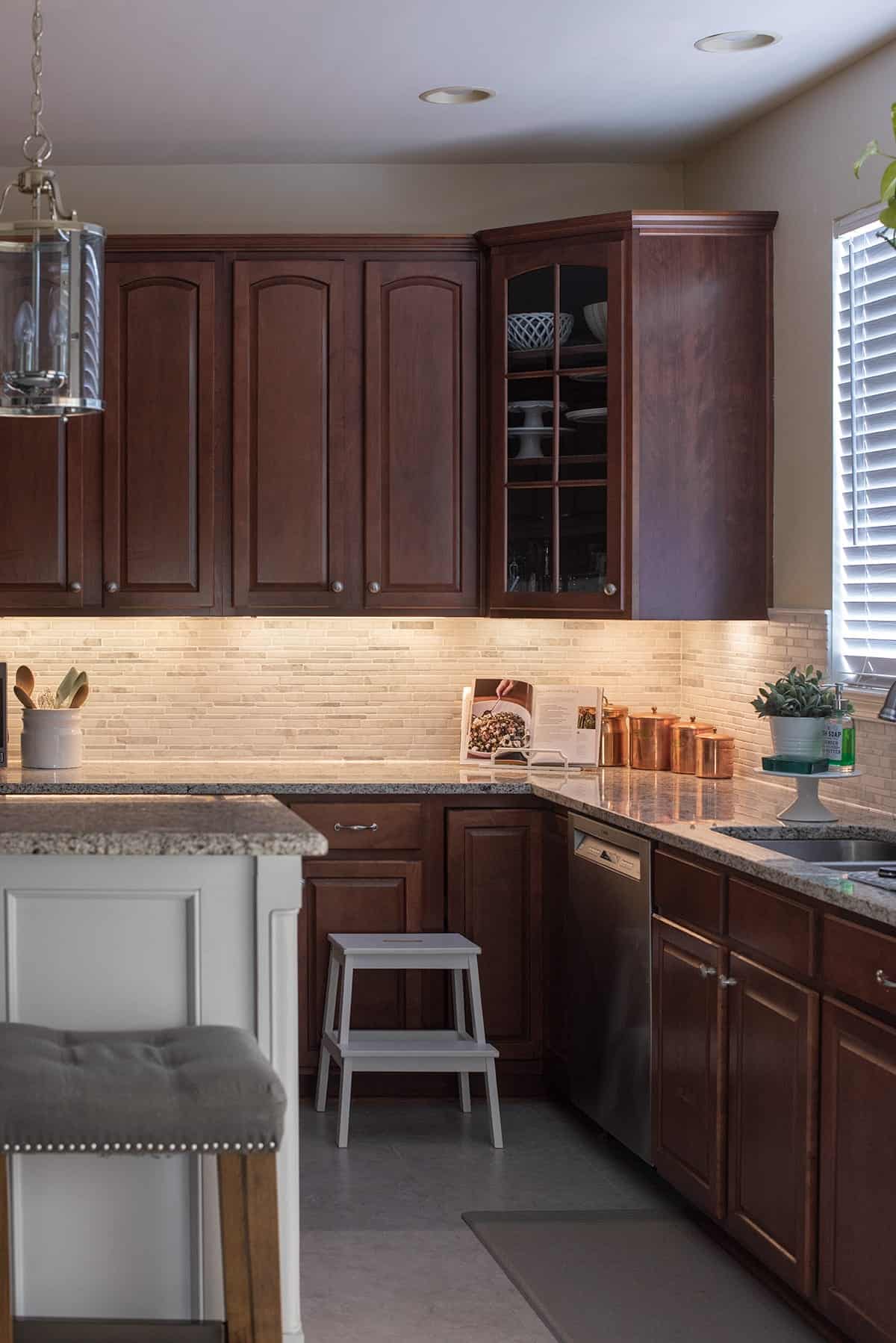 PS I love seeing your creations! Be sure to take a photo and tag #cravingcreative on Instagram! You can also stay in touch with me through following me on Instagram, Pinterest, and subscribing to the newsletter!