Make a 3D paper star perfect atop the Christmas tree or other festive crafts. This family friendly paper project takes less than 15 minutes. Tutorial includes simple step-by-step instructions and two different star templates in a variety of sizes.
I'm a big enthusiast of family-friendly paper crafts. Especially when they're holiday themed! Paper projects are a festive and inexpensive way to spread holiday cheer. I've featured some of our perennial favorites on my Christmas bucket list like this tutorial on how to make a three-dimensional star.
A few years ago, after fruitless searches for the perfect Christmas star to adorn our family tree, I decided to make my own. These easy yet elegant 3D paper stars have so many uses as ornaments, mantle decor, or festive garland.
You can also purchase different paper patterns and colors for inexpensive Christmas decorations or for any occasion. Red, white, & blue stars are the perfect choice for a July 4th party theme. Create silver and gold stars to ring in the New Year! Or make a few precious mobiles for decorating a nursery.
Supply List
Heavy Weight Cardstock or other heavy paper that can be folded
Template (links below)
Scissors
String or raffia for hanging
Tissue Paper
Decorating Materials – spray paint, mod podge, stamps, glitter, scrapbook paper, etc
Hole Puncher (this one is my favorite and doesn't hurt your hands)
Paper Protector (optional). I use this to avoid finger smudges while working with layers and inks.
Dry Adhesive – Glue strips or Glue dots (don't use wet glue!)
Paper Stiffener
Free 3D Paper Star Templates
There are two templates to choose from depending on your preference.
Click on the links below to download the free files to make your own 3D paper star projects.
Notes:
The

Individual Arm 3-D Star Template

is what I chose to make my tree topper. Each arm is stamped, and the pattern doesn't extend to the other arms.
The

Full Front 3-D star Template

is a bit easier to work with. However, you'll only have the option of decorating the whole side at one time.
How to make a 3D Star out of paper
You'll find printable step-by-step instructions at the bottom of this post. I include this area in the post for additional notes, tips, and variations.
Step 1 – Cut out the templates and trace lightly. You'll need two full front patterns or 5 individual arms.
Step 2 – Decorate template. Fold before spray painting or adding dimensional elements because paint could possibly crack.
I layered two stamps: a script stamp and a flourish stamp to create my Christmas tree star topper. After stamping the images, I rubbed a bit of the ink around the edges to create a distressed look. After stamping the flourish, I covered the entire flourish pattern in dimensional glitter glue. The Stickles brand is wonderful to work with because of its very fine tip.
Step 3 – Fold both the center lines and tabs as directed. For straight folds, gently score the fold lines by using a ruler and a craft knife. Burnish the edges, (run your fingernail across them), to create crisp lines.
*If you plan to hang your star, punch a hole as directed below in "How to Hang a Star."
Step 4 – Add adhesive to all tabs. Caution: Using wet glue may cause the project to stretch and buckle. Use either glue dots (as illustrated) or permanent double-sided tape. Press well.
Tip: If using the individual arm template, shape the arm and stick the tabs to the appropriate side firmly. Shape each individual arm before assembling the full star.
Step 5 – Attach tabs to other pieces. Stuff the arms with tissue paper to increase strength.
Step 7 – Spray with a paper stiffener or aerosol starch if desired. Test that this step is cohesive with the types of materials you used.
How To Hang the 3D Star Ornament
As a regular ornament:
Punch a hole in the top tip and thread ribbon through before adding adhesive to either template. Or tape the thread inside the top arm and fold around it so that the thread comes through the tip opening at the very top.
As a tree topper:
To attach the star from the center back, punch two holes in the back. Thread stiff ribbon or string through the holes and tie to the top of the tree. Another popular idea is to insert a small rod from the bottom (inside corner of arms) to the top tip and clip the rod to the treetop with a few strong clips similar to a hair clip.
More Easy DIY Christmas craft ideas
Our finished 3D paper patterned star looked radiant upon our tree. Share your original creations!
Happy Holidays!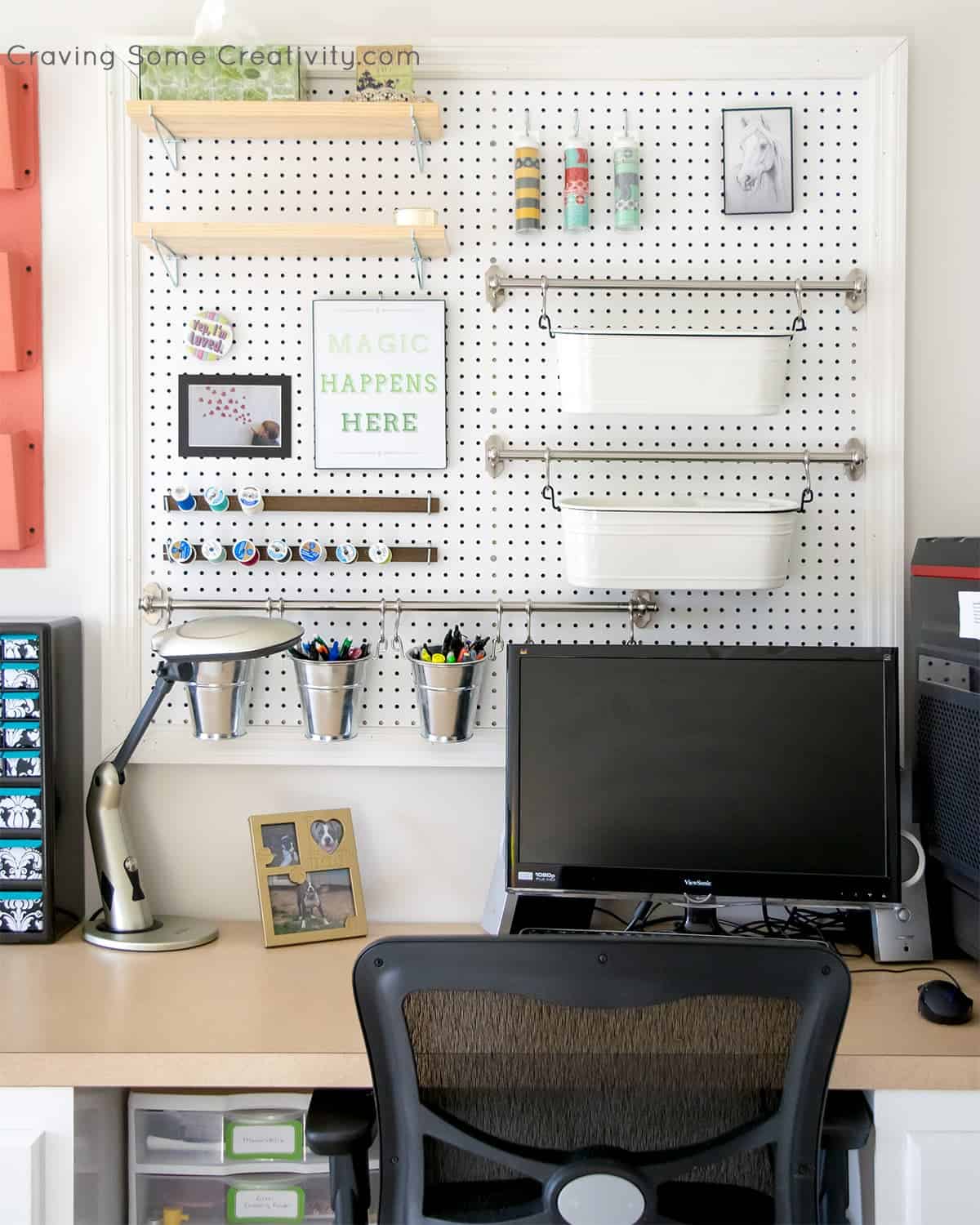 Grab our free series "Weekend Home Projects that will Transform Your Life"
Sign up below to receive updates including free printables, organization tips, home improvement projects, recipes and more!
More Christmas Crafts and Projects
PS I love seeing your creations! Be sure to take a photo and tag #cravingcreative on Instagram! You can also stay in touch with me through following me on Instagram, Pinterest, and subscribing to the newsletter!
3D Paper Star
Learn how to make a paper 3D star. A simple Christmas decoration, kids' craft, or festive garland, this project takes less than 15 minutes with folded heavy cardstock.
Print
Pin
Rate
Supplies
Heavy Cardstock

Decorating Materials

Stamps, paint, glitter, etc.

Dry Adhesive

Double sided tape or glue dots

Tissue Paper

For added rigidity

Spray Starch

Optional – stiffens paper

Template

linked in notes below.
Instructions
Cut out the templates. For a double-sided full front star you'll need two templates. For a single arm star you'll need 5 arms. Trace lightly with a pencil over heavy weight paper to preserve paper.

Fold both the center lines and tabs as directed. Gently score the lines using a craft knife and a ruler for crisp folds.

Add adhesive to all tabs. If you're using the individual arm template, shape the arm and stick the tabs to the appropriate side firmly so that each individual arm is shaped before assembling the full star.

Attach tabs and stuff the arms with tissue paper to increase strength.

Spray with a paper stiffener or aerosol starch, if desired.
Notes
Find the templates for the 3D stars here: