How to Make A Striking Charcuterie Board – Our shortcuts for your next party platter that won't cost a lot!
The holiday season is here! My favorite part about this season is spending time with family, good friends, and good food. So it's no surprise I love hosting, and I've always got a few tricks up my sleeve to make spending time with friends and family as effortless as possible. Today, I wanted to share one of my secret weapons: a killer charcuterie board.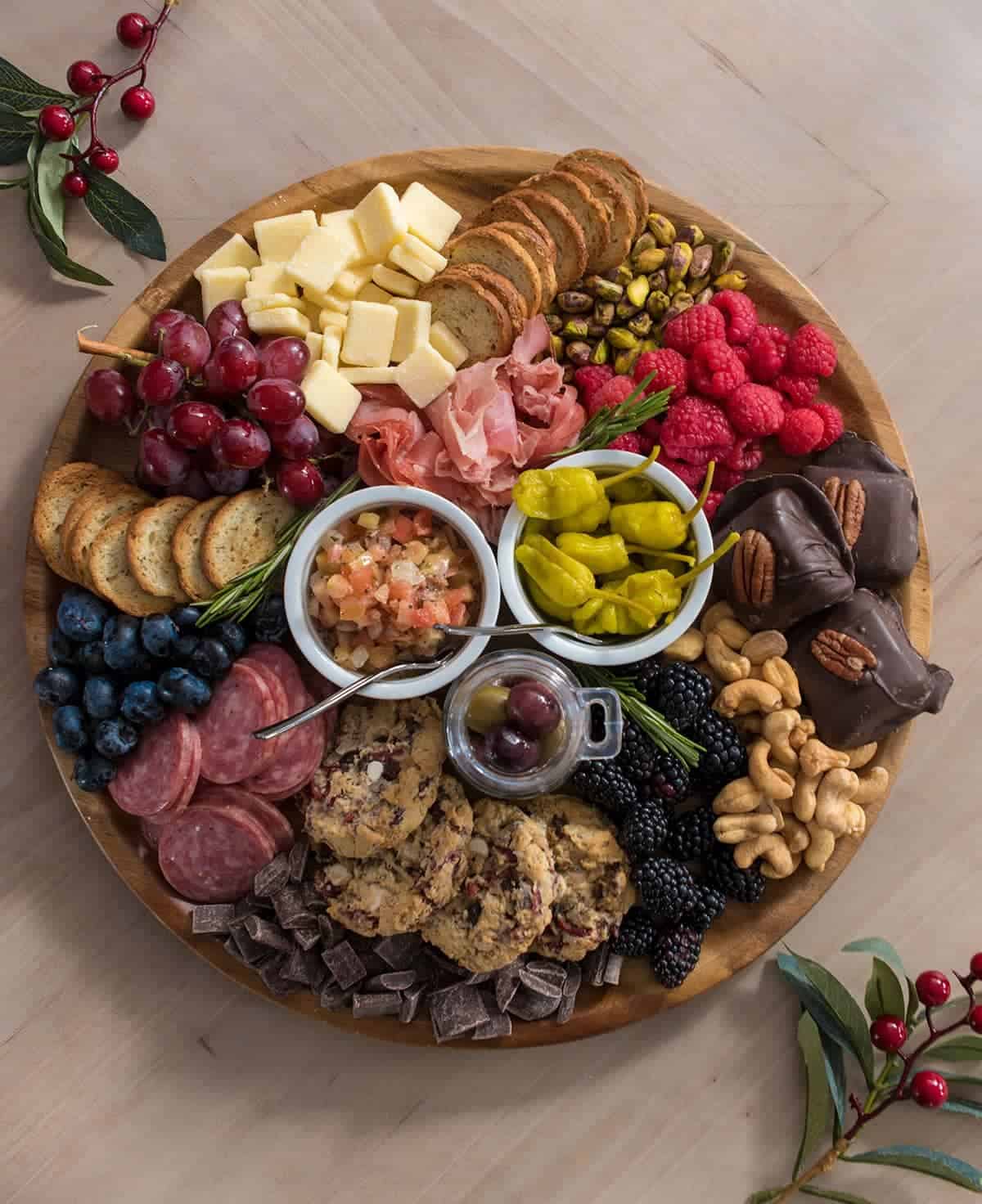 A charcuterie board is essentially a board filled with finger snacks – cured meats, cheeses, fruits, crackers, veggies and more. No matter the crowd, it has a little something for everyone. However, having all that variety can come at a big cost. I have easily seen platters go over $100, so here are my tips for making a charming charcuterie board that won't break the bank!
SHORTCUT TO AN EASY PARTY PLATTER!
The first trick is to avoid buying each ingredient individually. You will end up with a lot of waste while paying a lot more. There are ready-to-go snacking social platters, at only $10-$15, they are real savers. Located in the deli section, they are chef curated and made with unique flavor combinations and premium, quality ingredients.
Did someone say chocolate?!
Yep. They each feature a perfect all-in-one offering with five ingredients per platter. There are a few different options that may include salamis, prosciutto, cheeses, artisan crackers, and even snacking chocolate.
They make preparation quick and easy too! The elegant flip and serve design means simply flip, open the container, and peel off the plastic. Each compartment is already set up to dig in, or use the bottom tray to serve.
It doesn't get much easier than that!
ADDING VARIETY WITHOUT BREAKING THE BANK
Now let's say you need a larger board or want the full experience. It's really simple. First, start with a serving platter. Wood trays with a slight lip are often used but any serving platter looks beautiful.
For a bit of color, I like to add whatever fruits or veggies are on sale. Bite-sized fresh or dried fruits work great. If you want convenience, use fruits that don't require cutting – like berries, figs, grapes, or dried cranberries.
Lastly, raid the pantry for any staples that would be good. I bet you have at least 3-4 in there right now!
By using snacks and staples already in the pantry, this entire platter cost me $24! It looks much more expensive though, doesn't it?
Frequently asked questions:
What type of wood platter should I use to make a charcuterie board?
Any type of non-porous wood is the way to go to prevent any contaminants seeping into the wood. Maple, Teak, Olive, American Cherry, and Acacia are commonly used.
How do you seal your cutting board for a charcuterie platter?
You can seal the cutting board for your charcuterie platter using a food grade mineral oil. The oil should be applied to the board and allow to sit for one to two days. Wipe off any excess oil and your board is ready for use. This process should be done every couple weeks to a month depending on the type of wood. It may change color or feel dry to the touch to indicate that it needs to be oiled.
What are some other ingredients I should try on a charcuterie board?
For this tray I used mixed nuts (I separated them), leftover holiday cookies, olives, and hot peppers. But there are so many other ways to make a great party platter including:

candy canes
popcorn
pretzels
granola bars (cut into bite sized pieces)
dried fruits
dips and dip mixes
baked goods
veggies like snap peas, baby carrots, pepper strips, or cucumber
flavored oils – take some olive oil and add spices or cracked pepper
baguettes
bruschetta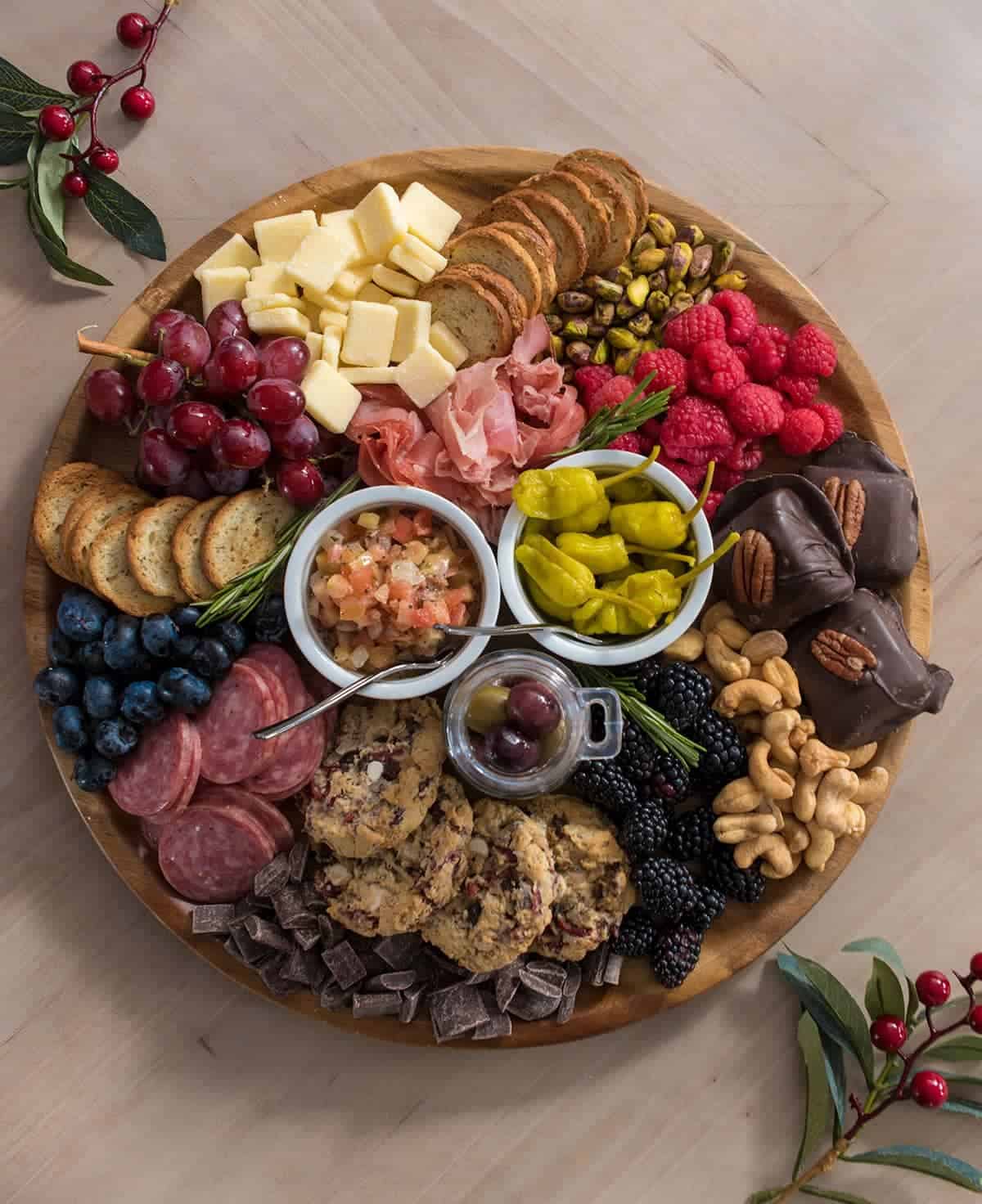 And that's it, my friends! You have my tips for creating a super convenient, fun appetizer for your guests or party this year that won't put a dent in the wallet.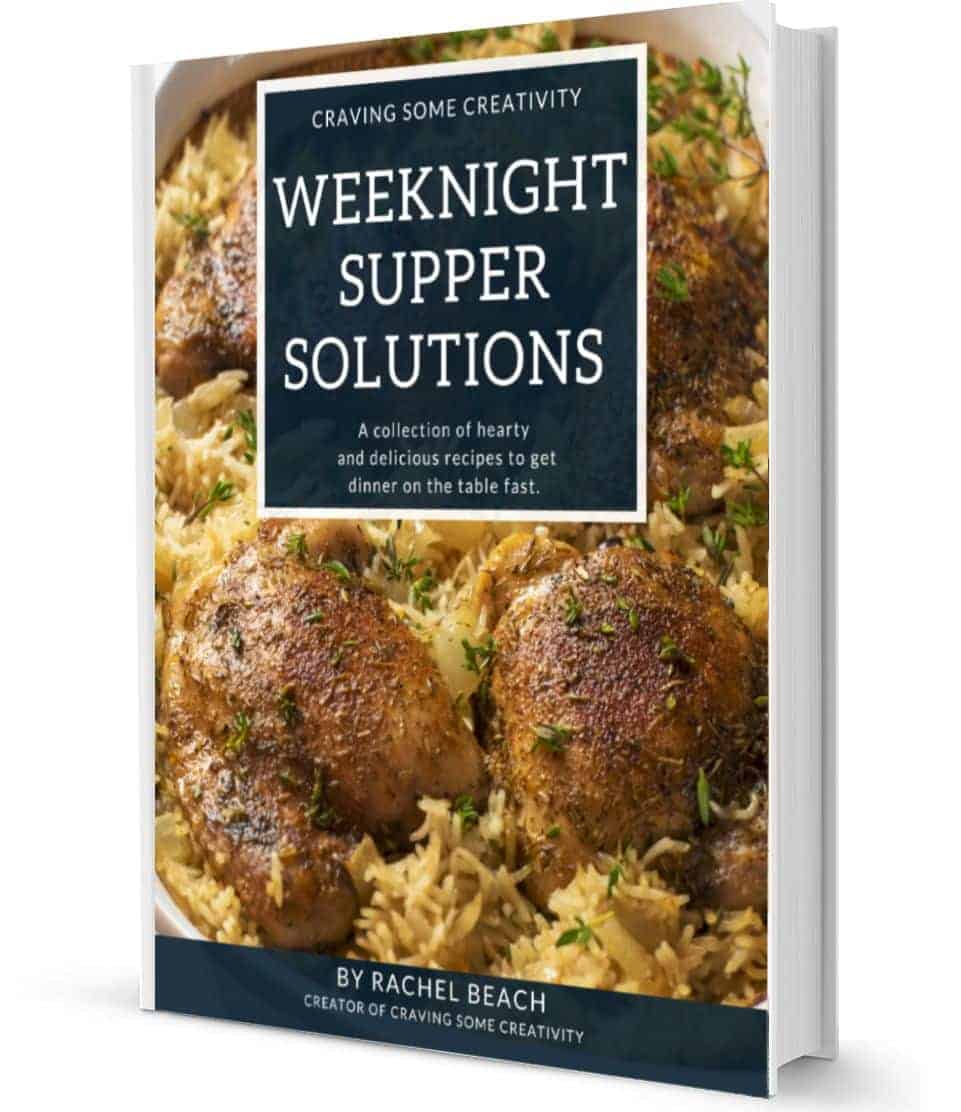 Not Sure
What's For Dinner?
Signup for recipe updates and get a free cookbook of Easy Weeknight Supper Solutions!
More Entertaining Ideas