Hot chocolate cookies capture the essence of a warm cup of cocoa on a cold winter's day. Rich cocoa and semisweet chocolate is tempered by gooey marshmallow pillows for an indulgent treat worthy of any cookie monster. Be the buzz of the next holiday cookie exchange!
As a self-professed cookie recipe queen and recovering chocoholic (haha, not really!), nothing makes me happier than fresh-from-the-oven chocolate cookies.
Remember how magical a warm cup of cocoa seemed on a chilly day? This hot chocolate cookie captures the very essence of childhood in every indulgent bite. Velvety marshmallows offer a swirl of sweetness to temper rich cocoa flavor. I have a feeling that once you sink your teeth into these melt-y, eternally chewy, rich, Hot Chocolate Cookies, you might want to break out some cozy blankets.
While most of us love the standard such as Chocolate Chip Cookies, Monster Cookie Bars, Coconut Oatmeal Cookies, and Oreo Balls, these are a pretty fun twist on a classic! Hot chocolate cookies are perfect for your holiday cookie exchange or winter office party.
Ingredients and Substitutions
I built this recipe around using the simplest ingredients from your pantry! Below is an overview of what you will need to make these with notes to making the very best Hot Chocolate Cookies.
Flour. All-purpose flour is my preference, but you can substitute wheat flour for a 1:1 substitute. There are also some great 1:1 gluten free flours out there if you are sensitive to gluten.
Chocolate Chips. I typically choose a chocolate chip brand that I like to eat straight out of the bag! Dark chocolate is usually my preference, but your favorite will be the best to use in any cookie recipe.
Cocoa Powder. Using Unsweetened Natural Cocoa allows you to control the amount of sugar best.
Sugar. A mix of white and light brown sugar is used. Dark brown sugar has more moisture in it from the molasses. Using dark brown sugar may give cookies richer flavor, but they'll also be flatter.
Vanilla Extract. Only Pure Vanilla Extract for me personally, no imitation stuff. I like to use my homemade vanilla extract, but a good quality store-bought like Neilsen Massey lends a warm, earthy undertone that can't be beat.
Butter. Only UNSALTED when baking. Salt does add something to cookies, but we already have it measured perfectly.
Baking Soda and Baking Powder. Fresh leavening ingredients are critical to properly risen cookies. If your baking soda is over two years old (unopened) and six months old (opened), get some new stuff.
Eggs. Fresh, large whole eggs. I have seen fudgy chocolate cookies that make them eggless and skip the baking powder without changing the other ingredients, but I have not made them myself.
Marshmallows in Cookies
What marshmallows to use in cookies?
Mini-Marshmallows. When I was experimenting with this recipe, we could only find were these mini-marshmallows. Plain or colorful one's are perfect. You will need to cut them in half however to put into the freshly baked cookies.
Freeze-dried bits. The BEST option is these marshmallow bits. You don't need to cut them, and they tend to hold their shape better. These are the same type of marshmallows as you would find in Marshmallow Lovers® Cocoa.
Top with Chips & Marshmallows AFTER Baking.
When I first tried these cookies, the mini marshmallows pulled an impressive disappearing act during baking. To counteract this, a few placed chocolate chips and marshmallows into the tops of the cookies immediately after pulling them from the oven. The cookies will still be warm and soft, so the toppings should begin to melt so they look as though they were there the whole time! (See step 3 in the photo collage below.)
My Secrets to Perfectly Baked Cookies
Once you have the perfect ingredients, there are a few dependable tricks I like to use for the perfectly baked results.
Secret #1-Soft, Unsalted Butter. I always like to use unsalted butter in any of my baking recipes. Not only does it affect the flavor, but it can also affect the texture in your cookies.
It is also really important to make sure your butter is completely softened. The best way to go about it is by leaving it on the counter to come to room temperature on its own. You can even put it out the night before for ease!
Make sure your dough is smooth and completely blended. If you still see little chunks of butter when you cream the butter and sugars, your butter may not have softened enough. Allow the mixture to sit for ten or so minutes longer and mix them again. Do not move on to the next steps until it is smooth and creamy.
Secret #2-Room Temperature Batter. Although some recipes call for chilling the dough, I've found I get the best results by getting straight to scooping. I also don't mind one less step! The cookies come out more uniform in shape and I always get the perfect texture.
Secret #3. Use a Cookie Scoop. I use a slightly rounded scoop (4 cm or 2 tablespoon size) or a flat 5 cm, 3 tablespoon size with a spring-loaded wire scraper on the handle. The dough comes out of the scoop easily, and results in round, perfectly sized cookies. Game Changer!
Storing and Freezing
Leftovers: Store them in a well-sealed, airtight container at room temperature. To keep them soft, try adding a slice of bread to the container, but don't lay it directly on the cookies. I use a layer of parchment paper in between to prevent the marshmallows from sticking. Marshmallows exposed to air may start to get a bit stale after a day or two, but they are easy to remove.
Freeze: If you've baked a huge batch, you can easily freeze them for later! After baking, allow cookies to cool completely. Place them in a freezer-safe zip-top storage bag. They last about 8 months. To thaw, allow them to sit on the counter until they come to room temperature.
Freezing the Dough: Chill the cookie dough balls in the refrigerator for at least 1 hour. Place the cold cookie dough balls into a labeled zipped-top bag. Label the bag with the name, month, and the baking temperature and place the bag in the freezer. Freeze cookie dough for up to 3 months.
More Deliciously Sweet Recipes
FAQs
Can you use hot chocolate powder instead of cocoa powder in cookies?
Hot cocoa is really just a mixture of sugar and natural cocoa. If you use hot chocolate powder, use ¾ cup and reduce the white sugar by ¼ cup.
What chocolate is best for baking cookies?
Chocolate that you like to eat straight out of the bag always produces the best cookies. It could be milk chocolate or dark, although most prefer semi-sweet because it highlights the sweet, buttery flavor of the cookie dough.
How long do cookies last?
According to the USDA, Bakery or homemade cookies can be stored at room temperature 2-3 weeks or two months in the refrigerator. Baked cookies can be stored in the freezer for 8-12 months.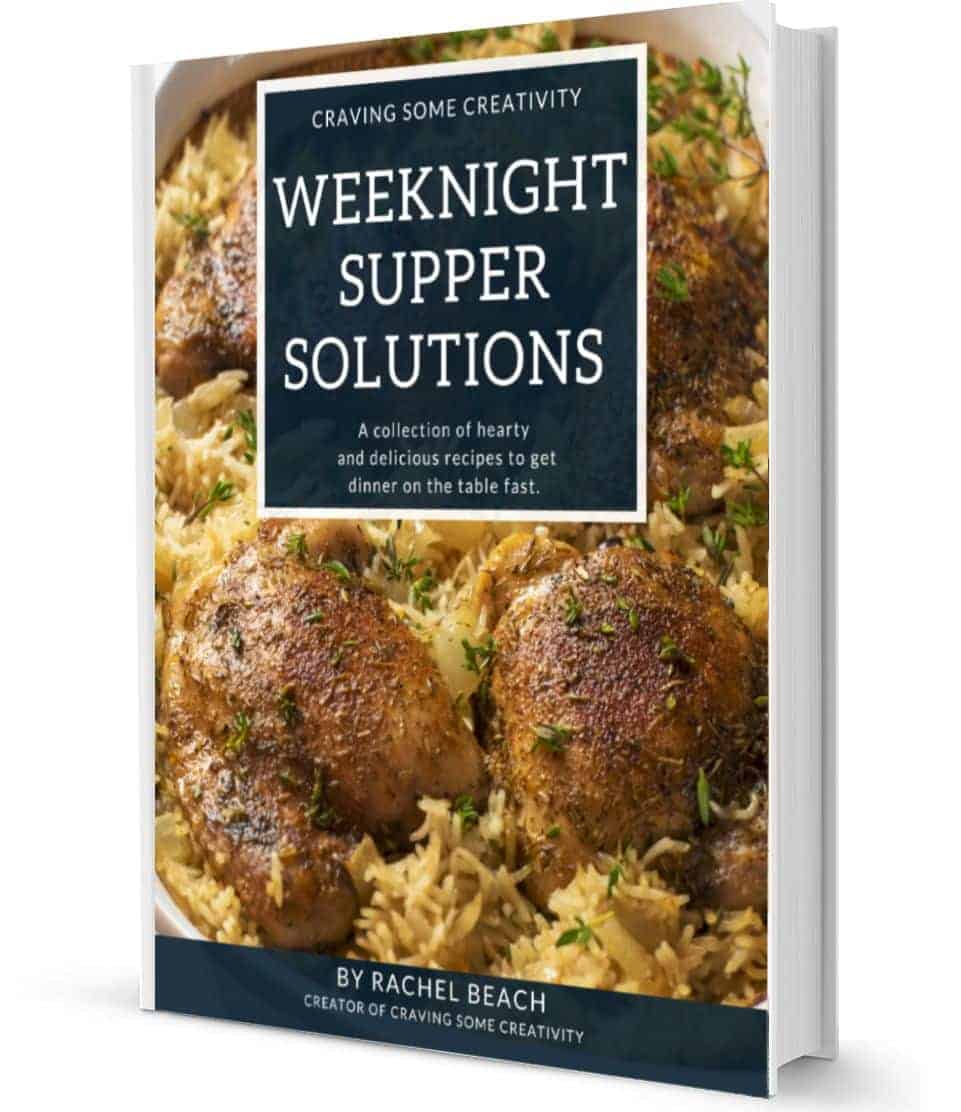 Not Sure
What's For Dinner?
Signup for recipe updates and get a free cookbook of Easy Weeknight Supper Solutions!
More Yummy Cookie Recipes
PS. If you make this recipe, leave a COMMENT AND A STAR RATING in the comments section at the bottom and be sure to take a photo and tag it #cravingcreative on Instagram! I appreciate you for taking the time to read about me and my family recipes. 
Hot Chocolate Cookies
These Hot Chocolate Cookies are everything you love about a rich cup of marshmallow topped hot cocoa in a deliciously crispy, but chewy baked cookie!
Print
Pin
Rate
Ingredients
2

Cups

All-purpose Flour

1

teaspoon

Baking Soda

½

teaspoon

Baking Powder

1

Cup

Unsalted Butter

room temp, 2 sticks

1

Cup

Light Brown Sugar

½

Cup

White Granulated Sugar

2

Large Eggs

1

teaspoon

Vanilla Extract

½

Cup

Unsweetened Natural Cocoa Powder

2

Cups

Chocolate Chips

1

Cup

Mini-Marshmallows

***See Note

½

tsp

Salt
Instructions
Pre-heat oven to 350 degrees F.

In a medium bowl, add flour, baking powder, baking soda, cocoa powder, and salt. Stir until combined.

In a large bowl or mixer, add butter, brown sugar, and white sugar. Beat at medium-high speed until creamy and fluffy. Add eggs, one at a time, and vanilla and mix until well incorporated.

Add dry ingredient mixture to egg mixture, ½ cup at a time, and mix slightly between additions. Scrape the side of the bowl and mix until consistent. Do not overmix. (The point of mixing in smaller portions is to keep the flour from puffing into the air.)

Set aside ½ cup each of marshmallows and chocolate chips. Stir in the rest of chocolate chips and marshmallows.

Using a cookie scoop, drop dough onto an ungreased cookie sheet about 2 inches apart.

Bake cookies in preheated oven for 10-13 minutes. While cookies are in the oven, cut the mini marshmallows in half.

When cookies are finished baking, gently nestle remaining, cut marshmallows into the tops of each cookie and sprinkle with reserved chocolate chips. This should be done immediately after pulling from oven while cookies are very hot.
Notes
Marshmallows
This recipe is built around mini marshmallows, but if you can find the super miniature marshmallows (the tiny kind you use in hot chocolate) you can substitute these instead. Use 1-1 ½ cup and stir them all into the dough rather than adding some after baking. Chocolate
Instead of chocolate chips, you could use 12 oz of coarsely chopped chocolate candy bars. Storing
Store them in a well-sealed, airtight container at room temperature. To keep them soft, try adding a slice of bread to the container, but don't lay it directly on the cookies. I use a layer of parchment paper in between to prevent the marshmallows from sticking. Marshmallows exposed to air may start to get a bit stale after a day or two, but they are easy to remove.
Nutrition
Serving:
1
cookie
|
Calories:
238
kcal
|
Carbohydrates:
26
g
|
Protein:
3
g
|
Fat:
10
g
|
Saturated Fat:
7
g
|
Trans Fat:
0.5
g
|
Cholesterol:
35
mg
|
Sodium:
131
mg
|
Potassium:
55
mg
|
Fiber:
2
g
|
Sugar:
24
g
|
Vitamin C:
1
mg
|
Calcium:
38
mg
|
Iron:
1
mg