Make a beautiful spring table with these Simple Easter Table Decor Ideas! When planning the ultimate Easter Menu, make sure to keep some room for the centerpiece to elevate the celebration. From bunny crafts for the kids to make to full tablescapes, these decorations will delight you and your guests alike.
After a long slump with the winter grays, the birds start singing, the buds of the cherry blossom trees started poking out, and the first warm rays of sunshine come out in all their glory.
It's like a fresh beginning and just in time for Easter. I get to play hostess this year for our friends and family. So, I've been on the hunt for pretty ways to set the table and keep the kids entertained. Many of these Easter table decor ideas are fun for the kids to make to help out!
Easter Table Decor
Definitely do not leave everything to the last-minute. Complete some items such as decorating, setting the table, and menu planning/shopping, at least a few days before. This will give you time and flexibility for any obstacles that may arise.
Easter brings so many activities during the day such as church festivities, egg hunts, and general mayhem with so many kids around. Of course, you want to be present, not stuck in the kitchen missing the action. Create a simple menu with your family's classic favorites. This brunch table from Jenny Cookies has a simple menu for brunch that is heavenly!
Go Natural with Green and White Decorations
Creating a festive table doesn't have to be elaborate or require a huge shopping trip. For most table decorations, I often shop our house. Items like faux or real greenery add a freshness and mix-and-match candlesticks are good for every occasion. This natural bunny table from Home with Holliday is so cute because it keeps everything simple and festive.
Simple menu printouts elevate this table and helps to get the celebration organized. Tantalizing descriptions also set the scene for making guests feel welcome and excited about what is to come!
Both casual and elegant, these folded bunny napkins are an adorable way to dress the table. Add some simple flower arrangements and eggs sprinkled around the table as if left by a certain folkloric furry visitor.
Easter Centerpieces
Spring is a time of growth and fresh vibes. Great centerpieces take that inspiration from a variety of sources by mixing old and new with repurposed antiques, farmhouse nostalgia, and French Provencial accents.
Faith is an important component of Easter that is often overlooked in today's commercialization of holidays. This centerpiece is a celebratory statement and gentle reminder about the hope of salvation.
What about a bird's nest for a centerpiece? This dyed robin egg tutorial is so pretty and you could always use the eggs that the kids dye every season.
Although we have a separate table for the kids, this isn't that dreaded "kids table" you may have been subjected to as if you were some societal outcast.
You may have a separate table or not, but you can liven up a child's place setting that is both entertaining and functional. For our kid's table, I added my pinwheel centerpiece that I made from last year. What kid doesn't love pinwheels?
A classic and easy to make centerpiece, these topiaries are great because they are not only beautiful but easy to put together. Since they don't take up a lot of space, they can be stunning on entry way tables or the coffee table as well.
Tiered trays are a great way to create festive centerpieces! They are also easily moveable in case they are in the way. We have tons of ideas for year-round tiered tray decor.
DIY Craft Easter Ideas
Break out the simple supplies and make one or more of these beautiful DIY easter decorations! It's a wonderful way to celebrate the season and get some crafting done with the kids.
What a fun idea with decorating an Easter Dough bowl with garden beauties and these lovely baking soda and cement bunnies. Get the full tutorial to make your own cement bunnies here.
These recycled plastic bottle planters are so adorable! Self-watering planters that are fun to make with the kids, these planters are the perfect size for a cactus or succulent and can be used long after Spring is over.
If you are doing a buffet style table, these carrot utensil holders are super cute and useful, especially if you have a buffet or picnic style celebration planned.
Kid Friendly Table
This table that I did years ago includes brown craft paper "tablecloth" and markers for the kids to draw on the table as they wish. They are washable, of course, just in case little Ashley wants to draw on her clothes.
I traced around standard forks and knives with a pencil and then used a white paint pen to outline them. thought they also reinforced the idea that it was perfectly ok to draw on the table until dinner arrived.
These cute bunny table settings are a double treat as a small favor and include a surprise inside. I used a few small toys such as spinning tops, mood rings, magnet word puzzles, stickers, or finger puppets.
I generally find place-cards to be a bit too formal, but having a little sweet treat is a great idea. You can put these cute daffodil candy cups on the plates to make everyone feel special.
Wishing you a happy and stress-free Easter Holiday!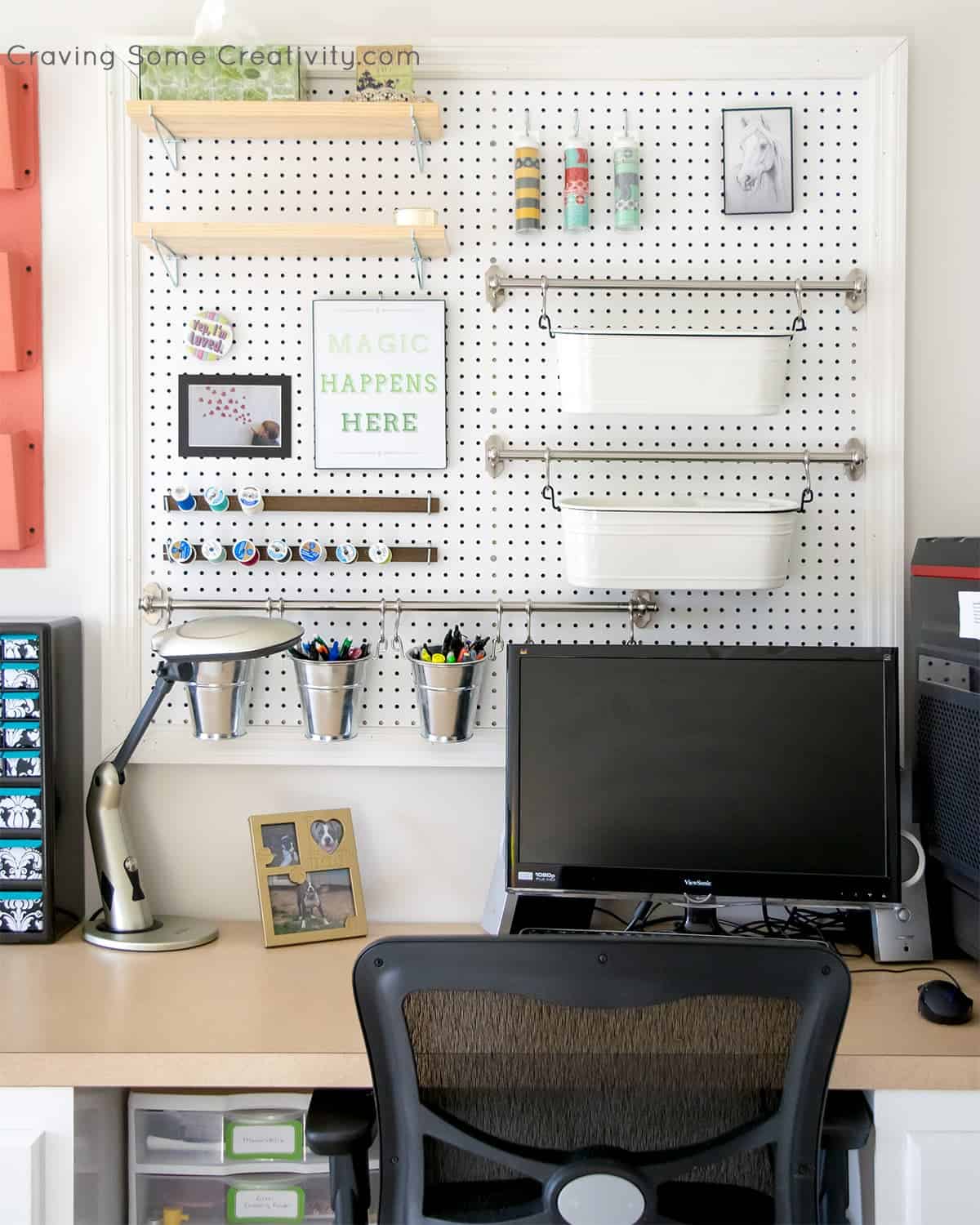 Grab our free series "Weekend Home Projects that will Transform Your Life"
Sign up below to receive updates including free printables, organization tips, home improvement projects, recipes and more!
More Great Kid's Crafts and Fun
PS I love seeing your creations! Be sure to take a photo and tag #cravingcreative on Instagram! You can also stay in touch with me through following me on Instagram, Pinterest, and subscribing to the newsletter!