Simple and delicious watermelon margaritas – this easy summer cocktail is super refreshing. Make a pitcher and serve to a crowd! Includes instructions for margaritas over ice and frozen.
After all of the hard work, sweat, and tears renovating my parent's house, you can find this gal sipping on some Watermelon Margaritas. All summer long. I think I've earned it.
Best Watermelon Margarita Recipe
Fresh watermelon margaritas are the perfect cocktails for breezy summers. They're easy and delicious, like summer should be. Throw the ingredients into a blender and serve in a salted rim glass. It's like the adult beverage version of crock pot cooking!
These can be served on the rocks or blended and served frozen (I'm giving directions on both!).
Benefits of Watermelon
Watermelon is a summer ingredient with benefits far beyond its juicy flavor! Some key nutritional factors:
Increases hydration.
Relieves muscle soreness.
Lowers inflammation.
Aids with weight loss.
Rich in vitamin A, vitamin C and Potassium.
Contains compounds that may help prevent cancer and improve heart health.
So basically this margarita is like drinking a healthy smoothie, but with tequila. At least that's what I'm telling myself, as I'm sipping one poolside with my chips & salsa. Anyone have a poolside they'd like to volunteer?
Ingredient Ideas and Substitutions
Here is an overview of what you will need and notes on substitutions.
Seedless Watermelon – Get the juiciest, ripe watermelon you can find.
Watermelon Liqueur – Bols Watermelon Liqueur is probably the best but I also know not every liquor store carries it. (I had ran out when I updated this post, and couldn't find it either!) Substitutions include DeKuyper Watermelon pucker schnapps, Mr Stacks Watermelon Schnapps Midori, and even Triple sec in a pinch. The fresh watermelon will still be the overall top note.
Tequila – I would generally recommend a medium level tequila brand. Gold or blanco is fine, but I won't waste an aged anejo (dark tequila) on a mixed cocktail.
Lime or Lime Juice – I use fresh lime juice which has less sugar, but Rose's Lime Juice or even margarita mix works for speed.
Sweetener (Optional) – The necessity of a sweetener is dependent on personal tastes and, frankly, how good and fresh the watermelon is. You can use honey, granulated sugar, or agave syrup for sweetner.
Sugar or Salt Rimmer – Although there is a specific rimming salt, most coarse kosher salts will do (Himilayan is really pretty). For a sugar rim, I use the colored sugar crystals from the baking aisle, but you can use granulated sugar in a pinch. It is more likely to dissolve and won't be as pretty though.
How To Make A Watermelon Margarita
For Frozen Watermelon Margaritas:
Freeze the watermelon. You want it frozen solid preferably.
Blend. Add all the ingredients into a high speed blender. Add a handful of ice cubes and blend again until smooth.
Rim glasses with salt or sugar.
Pour into your margarita glass. Enjoy!
For Watermelon Margaritas on the Rocks:
Blend. Put the fresh watermelon, lime juice, Tequila, and Watermelon liqueur in a blender with no ice and blend until smooth.
Rim glasses with salt or sugar. Add ice into the glass.
Pour into your margarita glass. Enjoy!
How To Salt Rim a Margarita
You probably didn't know I was a bartender and cocktail waitress for nearly 10 years. It was a blast! In fact, I loved it so much I continued working Football season for years after graduating college.
Salt rimmers are very convenient but you don't need one. It's actually super easy to rim a glass at home, and you can feel all fancy with those pretty glasses.
Step 1 : Start with a plate or shallow bowl of lime juice. Gently dip the rim of your glass in. Gently swish it around to let the juice climb the sides. Alternatively, you may generously moisten the rim with a wedge of lime.
Step 2: Use a second plate or shallow bowl and mound the dry rimming ingredient up. With the glass at an angle, dip the edge of the rim into the mound and move around the edge, pushing the rimming ingredient onto the edge.
We used coarse sea salt for this recipe. Other commonly used rimmers are sugar, colored sugar crystals, and tiny candy sprinkles. Feel free to get creative! Mix up your own special spice blend.
Quick Tips From My Bartending Days
How To Measure Alcohol: When I worked as a bartender, we used a jigger or a 4-count free pour technique (4 count = 1oz) with a pour spout. For the free pour, we had to take weekly blind tests to make sure our counts weren't too spaced out though. At home, if you don't have a jigger, 1oz equals 2 tablespoon
How To Make a Watermelon Margarita for One: 2oz Tequila (4 tablespoon), 0.5oz Watermelon Liqueur (1 tablespoon), 1teaspoon lime juice or 1 squeeze of a lime, 3-5 oz watermelon juice depending on how strong you like it. Mix in a cocktail shaker and serve over ice.
Don't let summer pass without trying some of my other favorite drink recipes
FAQs
How do I choose a ripe watermelon?
The quality of your melon makes all the difference. When shopping, look for the yellow spot. If the spot is creamy, it's a sign of ripeness. Other signs of ripeness: the watermelon should feel heavy for its size and make a deep hollow sound when you thump it.
What tequila should I use?
You can use whichever tequila you prefer, including gold or silver. Make sure the bottle is 100% agave or blue agave for the best, smoothest flavor without taste altering additives that increase the chance of a hangover. There are many affordable options.
Do I have to freeze the watermelon?
I get it, Margaritas stat! Frozen watermelon uses less ice, which leads to less watered down drinks. However, you can either make these on the rocks or add ice into the blender with the watermelon.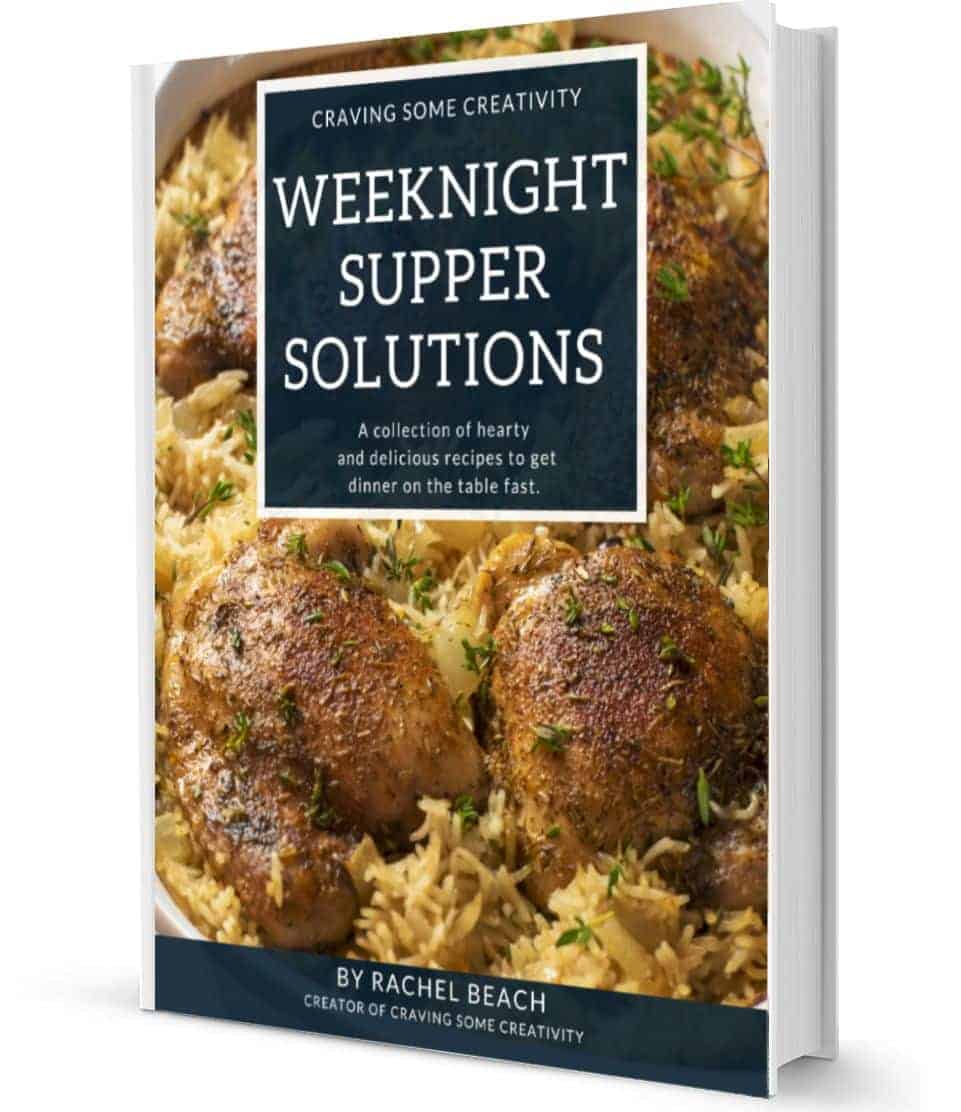 Not Sure
What's For Dinner?
Signup for recipe updates and get a free cookbook of Easy Weeknight Supper Solutions!
Check Out More of Our Favorite Cocktails
PS. If you make this recipe, leave a COMMENT AND A STAR RATING in the comments section at the bottom and be sure to take a photo and tag it #cravingcreative on Instagram! I appreciate you for taking the time to read about me and my family recipes. 
Frozen Watermelon Margaritas
Simple and delicious watermelon margaritas – this easy summer cocktail is super refreshing. Make a pitcher and serve to a crowd! Includes instructions for frozen and over ice.
Print
Pin
Rate
Servings:
4
large glasses
Equipment
Blender for Frozen Drinks

Salt Rimmer

Margarita Glasses
Ingredients
Watermelon Margarita Mix
½

cup

Tequila

Your favorite blanco or gold brand.

¼

cup

Bols watermelon liqueur

Substitutions: Watermelon Pucker or Schnaps, Midori, or Triple Sec

¼

cup

Fresh lime juice

Substitution: Rose's Lime Juice

1

tablespoon

Agave necter. or 4 teaspoon of sugar

Optional, depends on the sweetness of the watermelon

4

cup

Cubed watermelon

1.5

cup

Ice
Garnish
Lime juice

For rimming

Lime wedges, watermelon slices, or basil leaves
Instructions
For frozen, freeze the watermelon cubes at least six hours on a metal baking sheet. Skip for iced cocktail.

Rim the glasses. If you don't have a glass rimmer, you can use two small plates. First dip the glass upside down into lime juice. Then dip the glass and swirl it around on a plate with margarita salt.

In a blender, add the tequila, watermelon liqueur, watermelon cubes, and lime juice. Blend until combined. For more sweetness, add the agave nectar or sugar to your preference.

For frozen margaritas, add the ice into the blender and blend until completely smooth. For margaritas on the rocks, add ice to glasses.

Pour blended cocktail into the glass. Enjoy!
Notes
How To Make a Watermelon Margarita for One: 2oz Tequila (4 tablespoon), 0.5oz Watermelon Liqueur (1 tablespoon), 1 teaspoon lime juice or 1 squeeze of a lime, 3-5 oz watermelon watermelon juice depending on how strong you like it. Mix in a cocktail shaker and serve over ice. How To Measure Alcohol: When I worked as a bartender, we used a jigger or a 4-count free pour technique (4 count = 1 oz) with a pour spout. For the free pour, we had to take weekly blind tests to make sure our counts weren't too spaced out though. At home, if you don't have a jigger, 1oz equals 2 tablespoon
Nutrition
Calories:
126
kcal
|
Carbohydrates:
8
g
|
Protein:
1
g
|
Fat:
1
g
|
Sugar:
7
g