I am so excited to share the completed craft room makeover today! Hubby and I worked hard on it all summer long. And let me tell you – it feels gratifying! But first, let's take a step back in time to February.
Isn't that scary? Messy, messy even though that room is actually clean. I just had NO WHERE to put anything. I honestly did most of my crafting on the floor and I bet some of you know that experience well.
The opposite wall (not pictured) is my husband's desk and office space to do what he wants with. Ok, moving on to the craft room makeover finale! Are you ready for this??
The New Craft Room Makeover:
And another angle:
Obviously, this craft room makeover was no weekend project as everything in this room was either DIY transformed or custom-built. In fact, the only item purchased as is was the office chair, I think.
The main driver of my design is that I wanted an artist's office with craft supplies on full display, not tucked away in cabinets and boxes. Because my supplies are quite colorful in themselves, I chose not to pick a specific color scheme and just use what I love. Otherwise, I kept everything mostly neutral and light to take advantage of the window light.
Craft Supply Organization
So, let's start with all the wall organization units, shall we?! On the far corner, I made my son an art station with a gallery wall and a special space for his supplies. You can read more about how I did that on my post children's art display.
If you saw my Craft Room Inspiration post, you know that I really wanted a wall organizer for all of my craft supplies. I wanted to display my art supplies and utilize their rainbow of colors. Hubby and I designed and built this wall unit. It's very simple and I love it! Here is the tutorial on how to build a DIY wall organization unit.
Reusing Old Items in New Ways
I included several new and old pieces to suit my needs. The black multi-drawer organizer is one I swiped from the garage and wallpapered it.
The vibrant coral sorter consists of 3 mail sorter bins and a MDF backer board, which were spray painted. I added the "Ludicrous ideas just need good plans" quote which is one I came up with at like 2am after reading 100's of quotes by other people and finding nothing. For a DIYer, that quote "gets it", lol.
The counter tops are recycled from our old kitchen renovation (as in free, ya'll!).
More Craft Room Organization Ideas
In order to get outlets on top of the desk without breaking into the wall, we built these boxes. I added some storage caddies into holes created with a large hole saw.
The last area is my computer area and pegboard. A pegboard was one of the first items I knew that I wanted for the room. I added some Ikea storage bins to hold my adhesives, pens, pencils and a few items that are special to me. Like most pegboards, I can rearrange the items in case I need more room to grow. If you would like to build your own, we have a full tutorial for making your own pegboard organizer.
I don't think any craft room makeover is complete without some Ikea storage. Their no frills, boxy gloriousness is perfect for storage. I put my scrapbooks on the bottom shelf and the bins hold fabric, ribbon, punches, and vinyl supplies.
On top of the cabinet is a vignette with cherished mementos. My jungle animal cabinet began life as a Burger King dessert display case. I was really into animals growing up, especially exotic ones. While it was painted in high school, I can't believe it has survived so long.
Under the desk and countertops are these paper sorters to organize cardstock and scrapbook paper. Love the rainbow!
Painted Oak Cabinets
However, the biggest DIY project was the cabinets. We found a contractor on Craigslist that did kitchen renovations and we purchased 13 oak cabinets for $325. Since I only needed four base cabinets, so the rest went to the garage for wall organization.
I've painted furniture before, but these cabinets need to be ultra-durable. With at the time a 6-year-old and his art supplies, I knew that white was really risky. I mean the kid was up at 7am every morning pretending to be the loudest ninja in history. Seriously, he is superb at explosion sound effects.
If you are interested in learning more, I have a step-by-step tutorial for how to paint oak cabinets.
Where did my inspiration for this room come from? These articles show you how:
Click here for more inspirational craft room ideas!
Craft Room Makeover Price and Source List
Cabinets – these were a craigslist find from a kitchen renovation. We purchased 13 cabinets for $325. I only used 4 so my cost was $100.
Paint and Stain – $125. The wall color is Valspar Asiago.
Counter tops – FREE (recycled from our own kitchen renovation)
Wall Organization Materials– $30 for poplar art display wood and accessories, $58 for pegboard and hanging brackets, outlet apparatus, and craft supply organizer (all custom built)
Ikea Organization – $130 – for Kallax and pegboard organization supplies
Wooden Crates – These are similar to mine
Clipboards – $7
Mail sorter and backboard – $36
Drafting office chair – birthday gift but originally $283 (Total splurge but absolutely worth it!)
TOTAL- $591 not including the birthday chair
It's such a dream now and I feel inspired and comfortable in my new room! I sit here typing up this post and looking around in awe. I can't help but smile and, dare I say, beam with a little DIYer pride. What do you think? Do you have a dedicated space to craft and call your own?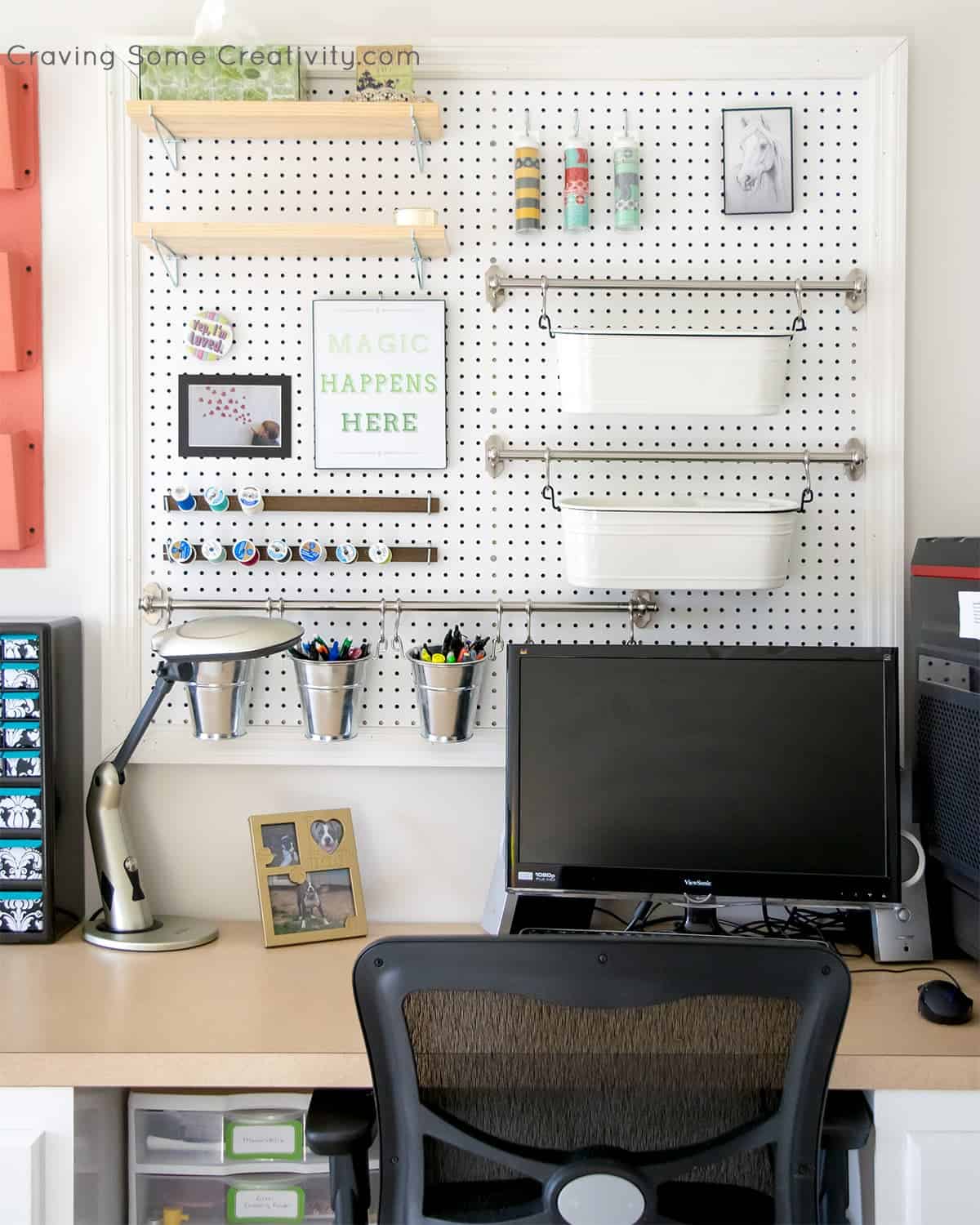 Grab our free series "Weekend Home Projects that will Transform Your Life"
Sign up below to receive updates including free printables, organization tips, home improvement projects, recipes and more!
More DIY Project Ideas
PS I love seeing your creations! Be sure to take a photo and tag #cravingcreative on Instagram! You can also stay in touch with me through following me on Instagram, Pinterest, and subscribing to the newsletter!