The Office Reveal is finally here! I cannot believe we pulled this off in six weeks (actually 5 in real life, haha). This was my first time completing the challenge and I am so glad I did. My husband loves how the patriotic office turned out and I hope you do too!
In case you missed the amazing tutorial on how to paint a refrigerator (aka The Beer Safe) and How to paint laminate Funiture, you can still find both.
First, let me remind you of how the area looked before we started. It is a his-and-hers office and you can see that in my craft room makeover.
It was kind of just a hodge-podge mess of spare parts and no purpose. Nothing about it worked for my husband at all. First, I developed a plan which I showed in the Week 1 original post. I definitely feel like my inspiration and plans were well executed to create a masculine office fit for a man who loves his country and his heritage. Oh, and we came in on budget of $600 by re-purposing and using a lot of paint.
And without further adieu, welcome to the man's new masculine patriotic office area!
The antique desk is probably my favorite aspect of the office. I just love that we got to use a piece that already had so much history as it belonged to my husband's father. You can see more about how we painted the desk and polished the brass hardware in these posts.
This room is so narrow that it was very difficult to photograph. I am literally standing on my own desk to show you an overview of the room layout. For anyone who did a bathroom for this challenge, you have my sympathies!
My husband actually came up with this idea to do the world wall clock display. He chose the cities based on places that meant something to him, so I went with that. It went very well with the military inspired decor that I pulled up from the basement.
And, of course, the mini fridge was my biggest challenge to overcome in this masculine office. Originally white, I had no idea how to aesthetically incorporate it into the office makeover. I detailed how we painted the refrigerator and added a dial to give it an antique safe look.
Of course, this office serves as a place for my husband to be inspired by the heritage and patriotism that run so deeply in his family. Although he supports the military directly through his career choice, he is the product of 4 direct generations of Navy pride and service. I am still trying to collect photographs of all of the family members who served, but I will eventually be able to make a proper collage for display.
We purchased these shelves to hold some of his precious mementos and for extra storage. He was really happy to have an area to finally display HIS stuff. Through re-purposing and digging through his boxes, I was able to keep my budget around $550.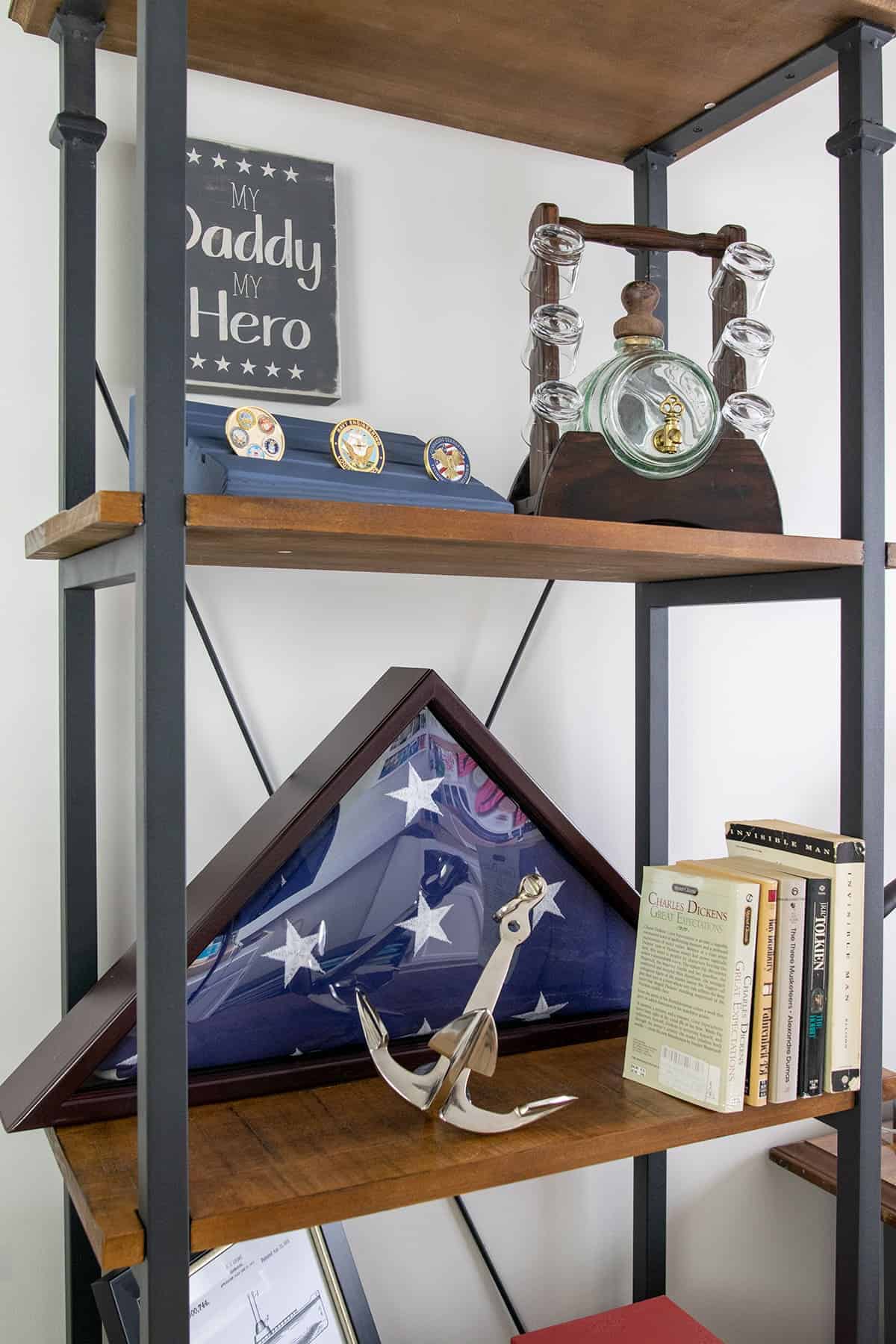 More of Our Room Makeovers to Inspire
Most of the purchased and repurposed accessories got the DIY treatment to create a cohesive patriotic theme. I am very proud of the hand painted American Flag and my son's gift to christen the office. Every piece on display truly reflects the man I love. And, boy, is he spoiled!
I hope you liked it! Let me know what you think!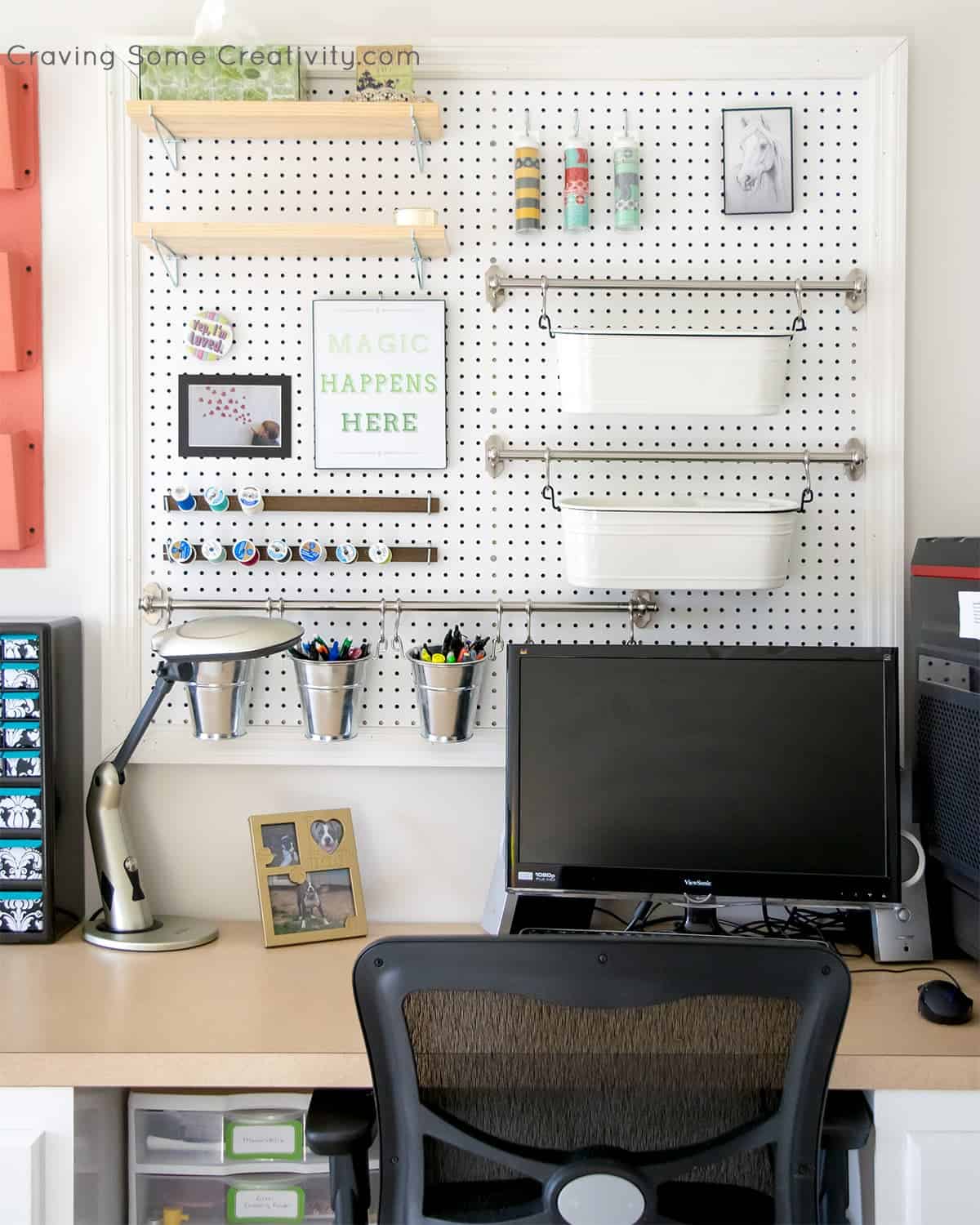 Grab our free series "Weekend Home Projects that will Transform Your Life"
Sign up below to receive updates including free printables, organization tips, home improvement projects, recipes and more!
More Makeover Reveals From Our Home
PS I love seeing your creations! Be sure to take a photo and tag #cravingcreative on Instagram! You can also stay in touch with me through following me on Instagram, Pinterest, and subscribing to the newsletter!