A bold, colorful pre-teen boys bedroom makeover with red and blue accents.
Being a "boy-mom" is one of life's greatest adventures! But if, like me, you didn't grow up with brothers, being a boy-mom has its own set of crazy, unexpected surprises and challenges. A few months ago, my dear husband casually asked me if I had noticed the hundreds of black marks and fingerprints on Blake's bedroom ceiling and walls.
Wait, what?! We have 9 foot walls!
But sure enough, every place that could be reached was covered in little fingerprints. To get to the ceiling, he also used his headboard as a platform to literally dive into the bed. We spent hours trying to clean them off, but they weren't budging.
Time for new paint and a plan. (Sources included at the Bottom of this post.)
When I'm remaking any room, I usually start with a color palette that might be used elsewhere else too. In a boy's bedroom, so there is more room for additional pops of bright or primary colors. It's all about balance here, and you don't want to go overboard. If using bright accent colors, stick with 1-2 colors and spread them around the room to create little pockets of joy that draw the eye around the room.
For Blake's room, I wanted a design that is easy to incorporate, colorful, and hopefully would grow with him into his teen years, but also something that I could easily change if his tastes went into a totally different direction.
For the color palette, I chose Behrin Tidal, Morocco Red, and Planetary Silver. To get the best adhesion possible, we washed the walls with teaspoon (tri-sodium phosphate) before painting.
Bye dirty fingerprints!
I love the storage of a captain's bed but nightstands don't work well. I've been looking for a solution for a long time when I finally thought to put IKEA Kallax bookshelves on either side to hold what he needed like books, a clock, and a reading lamp. They also make the bed feel cozier.
So, while this post and tutorial will bookshelves beside the bed, we also have lots of creative ideas available for bedside tables!
While I am really hoping he learned his lesson about smearing dirt on the walls, I live in boy-mom reality. I know that jumping on the bed or putting fingerprints on the wall is just too tempting when Mom isn't looking. And to be really honest, dark colors have a tendency to show marks even more. So we made sure the paint and furniture were scrubbable and easy to clean.
I am hoping the baseball bats deter him from climbing on the headboard again. I've gotten comments that from those that fear the bats falling off the wall, but they are lag screwed into the stud. He could hang off of them and they won't budge (shhh, don't tell him that though!).
As you can see, even though we used two competing bright colors, we balanced them by simplifying the space with small accents around the room. For example, I wanted to add a bit more red in an accent wall without competing against the Tidal Blue, so I repainted the stripe with Morocco Red on the opposite wall as an accent. The white and light gray of Planetary Silver helps to unify the room overall.
I used the leftover paint and simple patterns like plaid or stripes so that my son could create his own art for his room! We had so much fun doing a few different designs and then picked our favorites for the room.
Check out our other inspiring DIY Painting projects:
My sweet, energetic boy is loving his room. We are gearing up for his flag football playoff game this weekend, but I have a feeling he's contemplating next season's sport in here or what his big summer adventure will be. I wish I could borrow some of that energy!
Little by little, and with a few simple projects, we will get there, but I'm finding more time and joy lately in his room. Giant forts and flashlight story telling are the best! After all, they grow so fast, don't they?
Bedroom Decor Sources
Click the links below to find our sources for this makeover.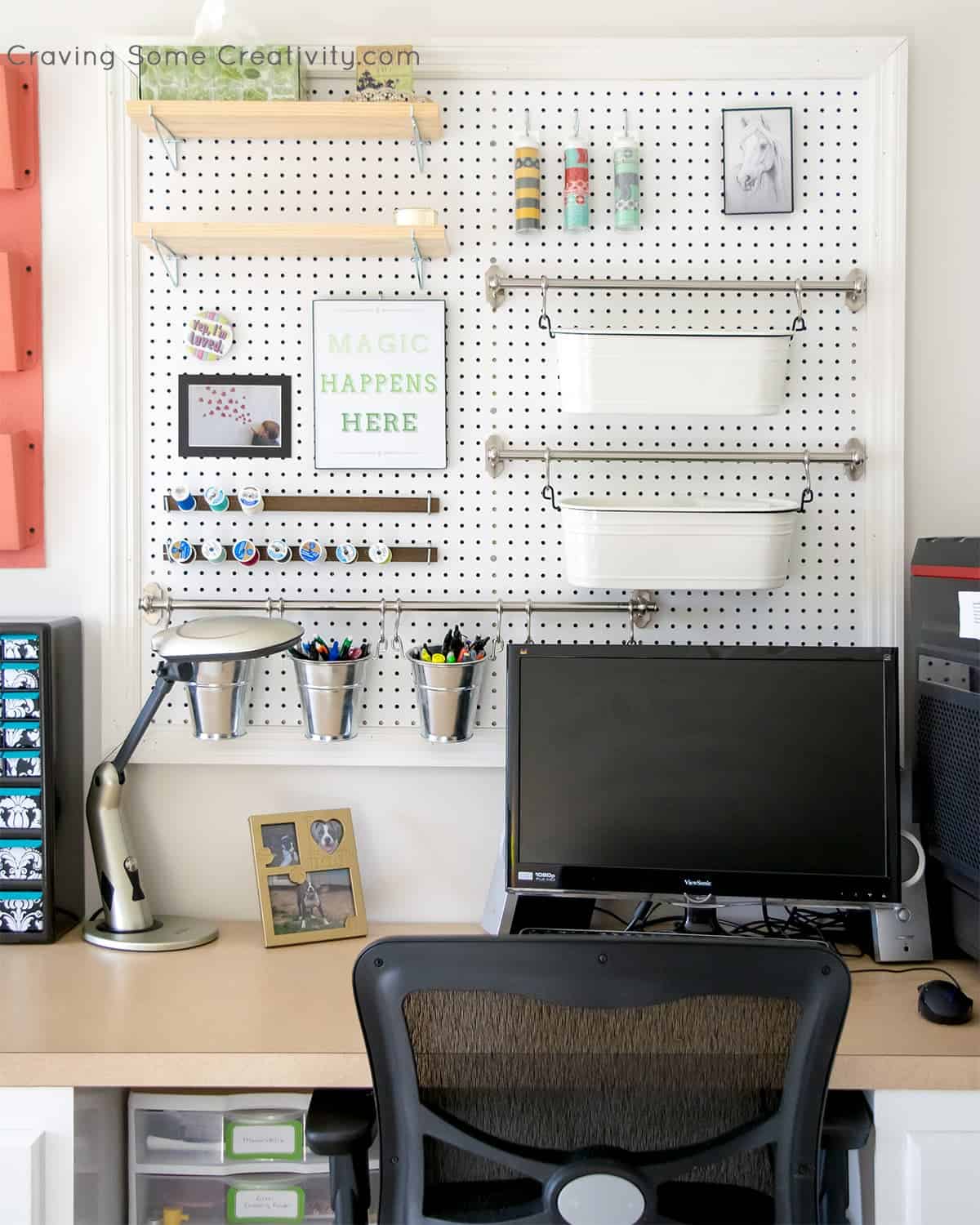 Grab our free series "Weekend Home Projects that will Transform Your Life"
Sign up below to receive updates including free printables, organization tips, home improvement projects, recipes and more!
More Home Makeovers
PS I love seeing your creations! Be sure to take a photo and tag #cravingcreative on Instagram! You can also stay in touch with me through following me on Instagram, Pinterest, and subscribing to the newsletter!