I am sharing out living room makeover reveal and 5 unique ways to start a room makeover. A mix of traditional and bohemian, this living room décor uses faux greenery, neutrals and eclectic accents for year round styling.
Our living room is our gathering place – for conversation, a thrilling movie, or to cuddle when someone is sick. In short, it's a space for living!
While I usually focus more on function and home improvement than design, I have done dozens of room makeovers over the years for clients, friends, and in my own home. And the core "needs list" for every space is usually the same – less clutter, and more put together. In all of those makeovers, everyone always asked me, "But where do I start?"
So today, while sharing our current living room, I thought I would share the 5 ways that I start a room makeover.
1. A Layout that fits the space
One of the first ways I usually look at a room is deciding how I want to use the space. Do I imagine myself sitting cozy watching a movie? Maybe a place to put down a cup of tea after a long day? Or maybe a place to put all the kid's toys that they are going to play with?
One of the things that often stick out to me is furniture that is either the wrong size for a room, laid out wrong, or too heavy feeling. I also am a firm believer in leaving a balance of negative space – not every wall needs to be covered.
The former dark couches made the room feel smaller and more closed in, so I went lighter. With our family, no way I could do white or cream colored, and I can't afford leather, so I opted for a lighter gray and compromised with white accent chairs. With the large entertainment center and oversized chairs, I paired a glass table so the room wouldn't feel too heavy.
2. Ambiance
Even before I think about color schemes or styles, I like to first put a Pinterest board together around and examine how all my inspiration photos make me feel. Cozy, clean, airy, moody, sophisticated, vibrant?
For example, I still wanted patterns and fun, but with a feeling of fresh, simple, and serene.
I wanted to keep everything simple this time around and the coffee table uncluttered, so I created scale with large coffee table books and hid the remotes in a pretty box.
I used to have a real fiddle leaf fig, but we were total fr-enemies. Leaves would turn brown no matter what I did or didn't do. At times, I actually felt an air of patronizing superiority coming from that plant. I kept the fresh vibe by using an artificial fiddle leaf fig, but also hardier houseplants too.
I wanted as much seating as possible since we entertain often. But the space needed to feel inviting, so some cozy blankets and throws and lots of chairs helped to create a space everyone could gather around and chat.
2. Architecture
The best rooms always have a feature that deserves to be highlighted – a fireplace, ceilings with beams, built in bookshelves, or maybe a bay window.
Sometime just before one Christmas, I suddenly decided to add some dimension to the fireplace mantle by adding some trim boxes and a heavier mantel piece. It matches the look of the entertainment center without taking away from it as the focal point.
4. The "No Compromise" Items
Like most real living rooms, we have to decorate around the TV and speakers. However, my husband has a thing for BIG TVs. He doesn't like golf or cars or other expensive hobbies, so if he saves his pennies for a big tv, I can't say no to that.
This entertainment center was a thrifty find a few years back, and it could not be more perfect for this room. You can see the before and after in my painted entertainment center makeover.
5. Accent with Personal Items Unique to You
I can't even explain how tired I am of Instagram perfect, sterile rooms decorated in nothing, but soulless but cute Target finds. (I still love you, Target, I do!)
To me, a house isn't a home unless it reflects the things in my life that bring me joy. Yes, sometimes that does include a cute IKEA faux plant, but it's so much more than that.
Much like my craft room organization makeover, my living centers around what I want to display. I didn't want to have to pack something away because it was "the wrong color" or, heaven forbid, "dated". Hello, I would never have kids if that were the case, lol.
I could display things collected over a lifetime that I truly loved like my grandmother's Saki set, childhood books, family photographs or my husband's treasured awards.
Mixing traditional furniture with global accents was the overall guiding principle. I am not a matchy-matchy kind of girl, so the accents brought in enough color and pattern for the room to feel casual.
Want More Home Design Advice?
Before
I can't believe how much the living room has changed!
Sources and Materials
Everything else was purchased at either Home Goods, Target, At Home, or a personal item.
There is SO MUCH more to actually designing a room, but now you have the tools to start with a solid foundation.
My mission is to be helpful, so I hope I've done that!
I'd love if you would join the Creative Club, so you never miss a post.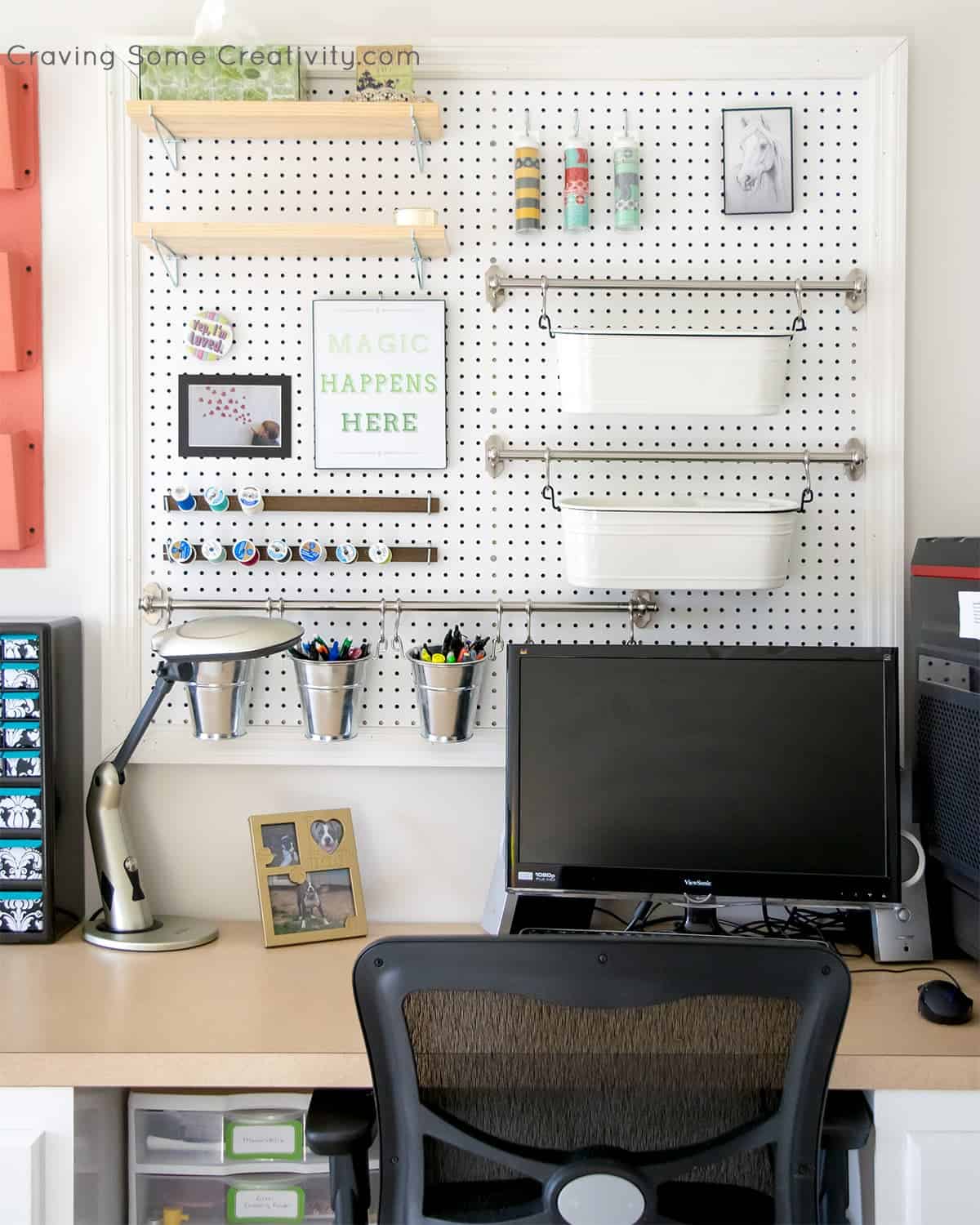 Grab our free series "Weekend Home Projects that will Transform Your Life"
Sign up below to receive updates including free printables, organization tips, home improvement projects, recipes and more!
More Home Makeovers
PS I love seeing your creations! Be sure to take a photo and tag #cravingcreative on Instagram! You can also stay in touch with me through following me on Instagram, Pinterest, and subscribing to the newsletter!