Learn how to paint garage doors with this step-by-step tutorial. It is an affordable project that will boost the curb appeal of your home!
If you have been following along with our remodeling of my childhood craftsman style log cabin home, you know we have given this home some love with one of my favorite makeover tools: paint! After re-staining the house exterior, painting the concrete and foundation, and laying a new walkway we set our sights on painting the garage doors to give them a more modern look that pops against the brown and white.
Step By Step Instructions
Step 1: Prep for painting
A simple pressure washing is all you need. We have done well with this pressure washer, but if you do not have one, you can use an exterior house wash and a hose. Use a scrub brush for any grime or loose paint. Make sure to let the doors dry completely before you begin painting.
Step 2: Tape off edges using painter's tape
Prevent mistakes and bleeding onto the outside trim or brick, windows, and any hardware that you are unable to remove with painter's tape. Make sure the surfaces are completely clean and dry so that it adheres correctly.
Step 3: Do I need to prime before painting?
Generally, garage doors do not need to be primed before painting. Most paints today specify that they are a paint + primer combo, so that should be enough.
If you can answer "No" to ALL of these questions, then you can definitely skip priming:
Have the doors NEVER been previously painted? (Answering "Yes" means that they have never been painted)
Am I substantially lightening or darkening the color (i.e. going from white to dark blue)?
Is the door I am painting smooth and shiny? (paint probably won't stick to it well)
Does it have stains that are likely to seep through the paint?
The lightening of a color, especially to white, often takes a few coats. It may be in your best interest to buy a quart or gallon of primer, which is generally much cheaper than paint.
Step 4: Paint
Use a high quality 2-inch sash brush to paint any crevices and inset panels in your garage door. Paint the flat surfaces of the door using a small, thin roller.
Allow paint to dry about four hours before applying a second coat. Be sure to check the instructions on your can of paint for specific drying time as it may vary.
10 Tips for Painting Garage Doors
Do not paint in direct sunlight or if the door is hot to the touch.
Don't paint if the humidity is above 70% generally or the temperature is below 40 degrees F – these values vary and are usually listed on the paint can.
A small, thin roller make it easier and faster to paint the flat panels of the garage door. We used a brush to paint the crevices.
We used a satin or semi-gloss finish. Satin or semi-gloss is generally easier to maintain and wash than a flat. We used a satin as a happy medium so that it would not reflect too much shine.
It took 2 gallons for us to cover both sides of these two doors with two coats of paint.
Use a high-quality exterior paint that is weather and fade resistant.
Tape everything off that you don't want to get paint on.
To get into the areas covered by the outside frame, we gradually lifted the door and painted in the open corners.
Let it dry with the door fully open (to also avoid the sunlight).
If you like decorative windows, these carriage style door kits are a really fun and super easy addition.
It's a big difference! What do you think? I love the pop against the rest of the brown and white exterior. I think it gives the door a touch of class amid the rustic charm.
Take a peek at some of our other easy DIY projects to spruce up the garage:
FAQs and Expert Tips
Can I use these same steps if my garage doors are made of a different material?
These particular doors we were painting are made of wood, but the tips are the same if you have metal, composite, or wood garage doors.
Do I need to sand wooden garage doors before painting?
Sanding is not necessary. You will need to be sure that all the dirt and grime is removed so that finished paint looks as even as possible.
What are some ways to maintain a wooden garage door?
Your doors are exposed to all types of weather and heat. Be sure to inspect it often for marks or rotting areas. Wood, in particular, can attract certain pests that other materials do not. Prevent buildup of moisture and dirt that can cause damage by periodically cleaning the surface with a mild soap and water solution and a rag.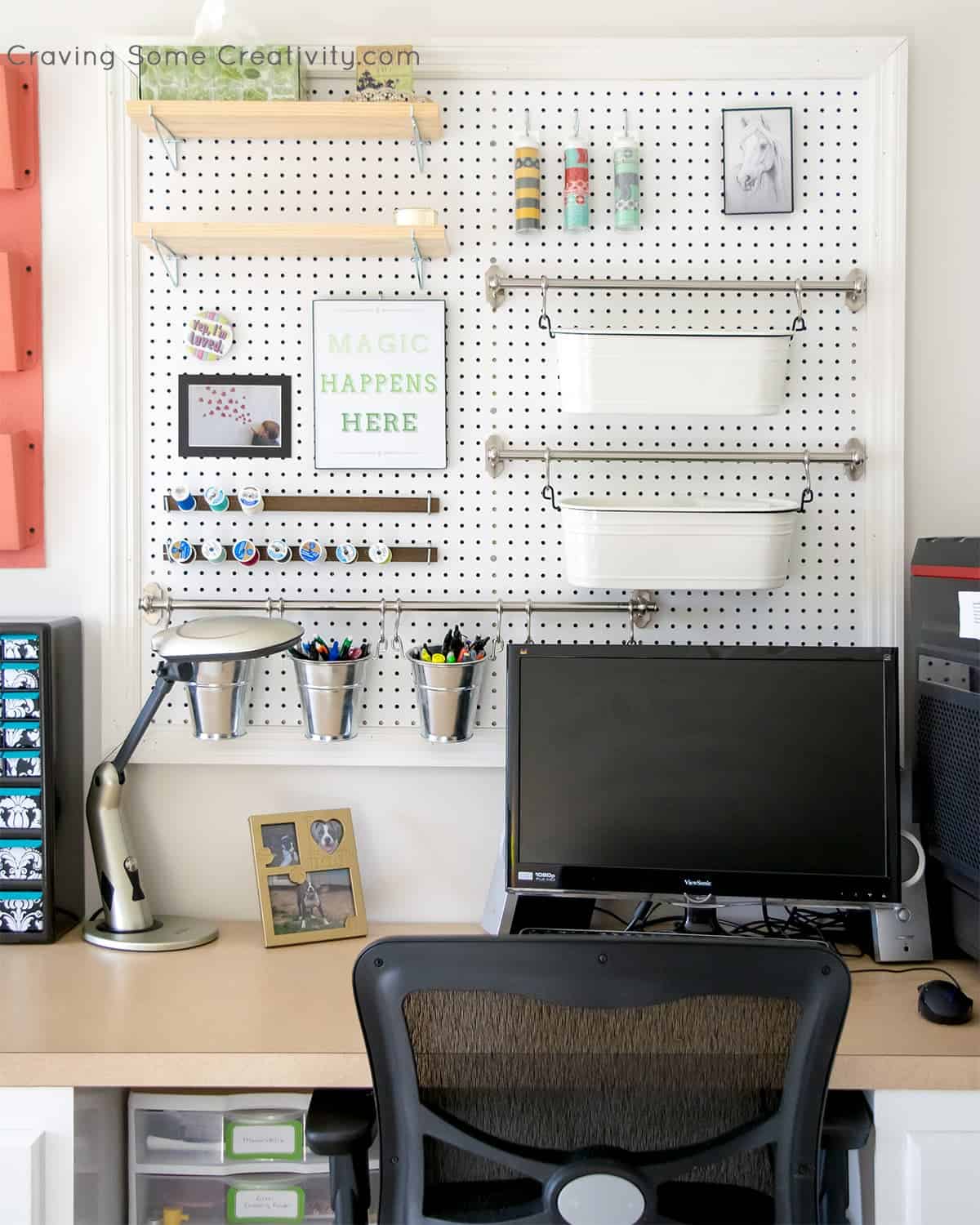 Grab our free series "Weekend Home Projects that will Transform Your Life"
Sign up below to receive updates including free printables, organization tips, home improvement projects, recipes and more!
More Exterior Projects
PS I love seeing your creations! Be sure to take a photo and tag #cravingcreative on Instagram! You can also stay in touch with me through following me on Instagram, Pinterest, and subscribing to the newsletter!
Painting Garage Doors
A step-by-step tutorial on how to paint garage doors like a pro.
Print
Pin
Rate
Tools
Paint Tray

Small Paint Roller

2-inch Paintbrush
Supplies
High Quality Exterior Paint

Painter's Tape
Instructions
Clean garage door surface with pressure washer or hose. Use a brush to remove any loose paint or buildup.

Tape off edges, windows, and hardware with painter's tape to prevent bleeding.

Determine whether or not priming is necessary. If needed, apply primer to entire surface before painting.

Apply paint to inset panels and around trim using a 2-inch paintbrush. Using a paint roller, apply paint on all flat surfaces on garage door. Allow to dry according to suggested drying time listed on your paint product. Repeat process with second coat.
Notes
Should I sand the garage doors?
Generally, Sanding is not necessary unless you have glossy garage doors. You will need to be sure that all the dirt and grime is removed so that finished paint looks as even as possible.