Although design trends come and go, mixing old and new styles is one of the best ways to keep your home looking fresh without spending a fortune. For the last few weeks, we have been working on a long-overdue project in the main floor powder room. Today, I am partnering with Frog Tape to show you how a disaster can be easily fixed with color.
Have you ever had a decorating vision in your head,
and then something, somewhere gets lost in translation,
and you wonder what in the world were you thinking?!
Such is the story of our bathroom…

This is our bathroom circa 2015 (the yellow looks much brighter in person, trust me). I vividly remember the day we put up the yellow paint. At the time, I was horrified knew it was all wrong, but we needed to get the rest of the house done and I just didn't know what to do with it. While I was able to make it sort of cute, that was not the look we were going for in the house. We added marble floors last year and the yellow made the floor look dingy and dirty. 2 years later, and I finally figured out that it was time to start back at the drawing board.
Thank goodness it's just paint! Paint can be so instrumental to the overall feel and design of a room, and can lead to a pretty great transformation.
More and more lately, I have been inspired by the classic beauty of the colonial and federal homes that frequent my area around DC. Their stately elegance in architecture and design is truly timeless. From Mount Vernon to the historic Victorian homes that frequent our nation's capital, there is a ageless love here for beautiful moldings and architectural details adorning every facet of a home. Of course, I am lucky to live in a contemporary colonial, so I decided to play with that by adding some traditional wainscoting and crown molding to the bathroom. I chose this style of wainscoting because it would match our dining room. I give a more in-depth tutorial on how we installed picture frame wainscoting here.
Quick tip: I find it easiest to paint bottom to top. This means that I painted the baseboards and wainscoting first, then the wall color, and finally the crown molding. I have noticed that I get straighter, clean lines this way. My trim paint is satin (a little glossy) so I gave it at least a day to fully dry before putting tape on it.
Another tips I love is to protect the floors by using Frog Tape.. You guys know I have loved this stuff since the day I used it for my son's bedroom stripe design, after being frustrated with other brands. It really does make the best sharp and clean lines.
Honestly, it is extremely difficult to test a color in a small space with no windows like this bathroom. The overpowering yellow would taint anything we tried to test. So this was sort of a blind pick. We chose Benjamin Moore Winter Lake, a muted medium blue color.
As soon as the paint was dry on each step, we relished in pulling the tape off!
Quick Tip: After putting the tape down where you want it, always burnish the edge of the tape you will be painting against just before you paint. Simply run your finger across it end to end with some pressure. This will help the edge best adhere completely and give the best crisp line.

BOOM! Now that is classy. You can the sources of our decor items at the bottom of this post, but there a few special mentions. I keep extra towels wrapped in a wine rack that I absolutely love. Also, the plants are fake plants from IKEA.
One last side by side:
(Click the photo to find the product)

If you liked this before and after, check out the other rooms I am most proud of!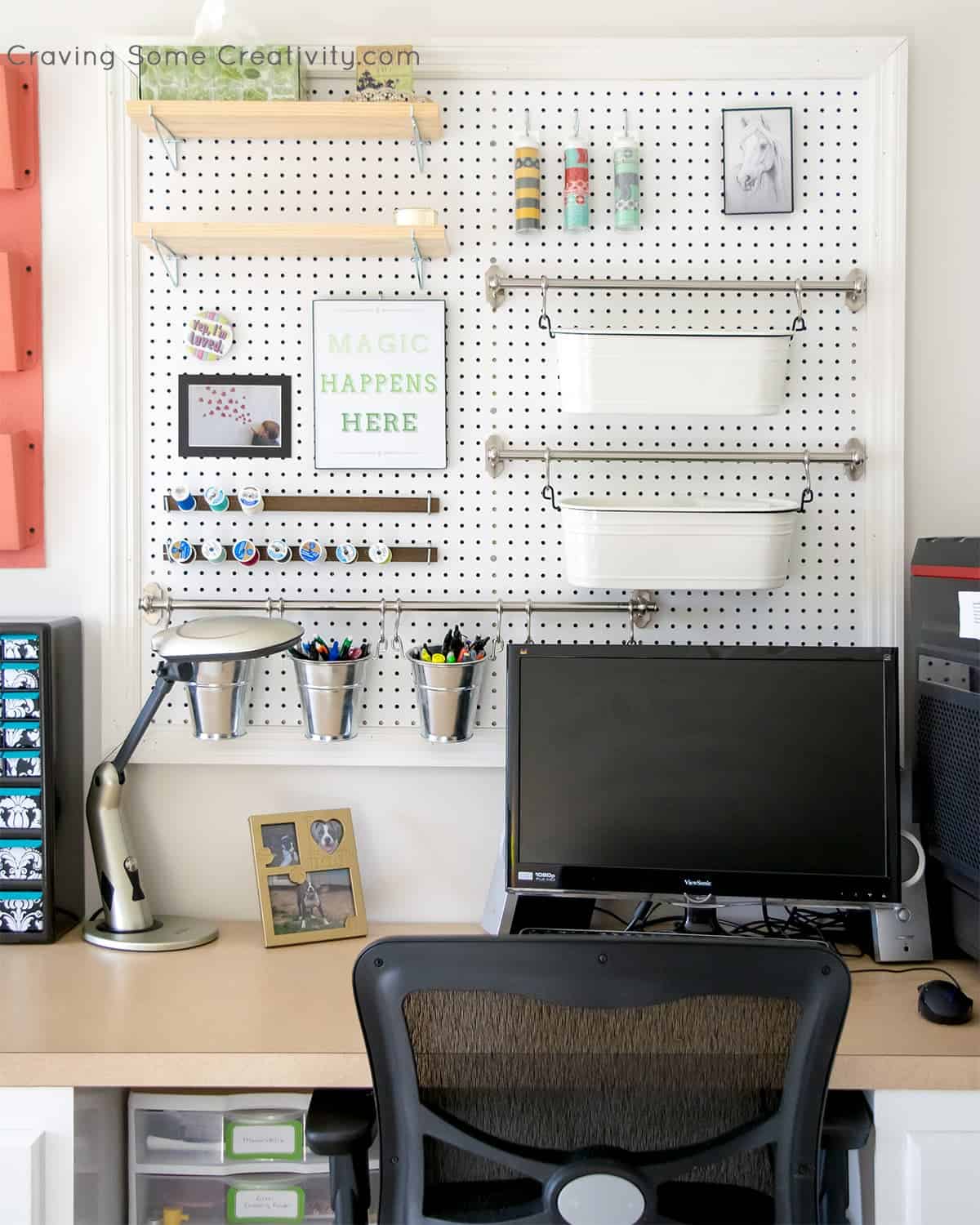 Grab our free series "Weekend Home Projects that will Transform Your Life"
Sign up below to receive updates including free printables, organization tips, home improvement projects, recipes and more!
More of Our Bathroom Renovations