Ready to make your family's after-school or home school routine a bit less stressful? An organized homework station is the answer! I've included easy tips for small spaces and multiple kids so everyone can have a quiet, supervised space to study.
It's back to school time again and along with that comes a flood of emotion. While its sad to see our babies growing up, my inner organizing dork gets a boost of excitement. Create a cheerful space with these homework station ideas to inspire learning, even if you're short on space!
A homework station is an inviting area that is dedicated to learning, homework, and informal learning like arts and crafts project. Although the kitchen table will suffice for a quick review or a worksheet, we've found it's nice to have a homework zone where school supplies, books, and school calendars can have a dedicated place of their own. This cuts back on clutter and distractions.
I was inspired to write this post because of what I've learned from our frustrations with my son's severe ADHD. At first, homework hour was a stressful experience full of tears (mine), yelling and every possible distraction under the sun. No exaggeration – 20 minutes of homework regularly took almost 2 hours. The material was never the issue. Home school moms, you have my admiration!
That's where a dedicated space and equitable ground rules saved the day (and my sanity!)
How To Setup a Homework Station
I've learned a lot over several incarnations of our homework space. Creating a basic homework station area is simple and effective with these tips below:
Choose a quiet area. The biggest chance of success is to limit distractions. Preferably with a handy outlet for a laptop, or charging accessories like headphones. For my son, I find that headphones with music (on loop) works wonders.
Stock it with necessities. My son is the king of wasting time looking for misplaced items. Before official homework time, I ask if he has everything he needs to minimize the chances of him getting up from the desk.
Set a routine. Same time + Same space = Success. I personally give my son a short break after school before we get down to business.
Keep 'em close. While we must balance distractions, young children especially need supervision and usually help.
Minimize your own distractions. When my son was in elementary school, I couldn't continue working from home during homework time. It wasn't fair to ask him to stay focused, when I myself wasn't focused on his questions. So I placed a tiny desk in our kitchen. That way I had both eyes on him while I washed dishes or prepped dinner. I was available, yet still productive.
Homework Station Supplies
Below is a handy list of supplies that are sometimes useful.
Pens and pencils
Loose leaf paper for scratch paper or notes
A timer or clock
A folder with pockets
Calculator
1 box of color pencils or crayons
Computer and charger
Calculator
A planner (checklists are the lifeblood of this house!)
Craft supplies as necessary – glue sticks and scissors are examples
A comfy chair

Homework Station Setup Ideas
Finding the right space is often the most challenging part! I've included some inspirational ideas below to get focused. You don't need to have an elaborate space, but these are great jumping off points to inspire your creativity.
Nooks & Crannies
While most of us don't have room for a dedicated office, there's usually space to spare like under the staircase, an unused closet, or an awkward alcove. These centrally located spaces are often quiet and can be quite magical.
A small closet can be transformed into a useful desk space. Source: This Old House.
The unused space underneath a staircase like this desk is also perfect for using as a small homework station. This design utilizes fun lines and strokes to make it visually interesting.
Homework Stations that Foster Creativity
I honestly believe that adding a little creativity to the space fosters the desire to learn and leads to great ideas. Classrooms are full of stimulating decorations for a reason.
Here's a few creative concepts to enhance your learning environment:
Inspirational quotes on a paintable chalkboard from Dawn Nicole add a touch of whimsy and keep students motivated during tough assignments.
A simple wall Children's art display like the desk above allows kids to hang their accomplishments and past artwork.
Add a splash of color or maybe some wall flash cards.
On-the-Go
While these beautiful spaces are awesome, sometimes we just need a simple option like this portable homework station.
More portable homework station ideas:
Use a bath caddy to hold supplies so you can grab and go.
A tiny desk and rolling cart makes it easy to move supplies where you need them, when you need them.
I love my car seat organizer for homework on-the-go. It's a lifesaver when I have to run errands.
This fold away desk vault in a box is brilliant!
Room for Two (or more)
If you have more than one child, figure out how they learn best. Do they prefer to study together? Try setting up the desk so it can accommodate everyone. A collaborative study area is less isolating.
I'm a big fan of this option. Everyone has dedicated space and no one is encroaching on the other's turf.
This desk utilizes a stacking bookshelf to create two separate work areas and provide ample storage for each user. To save space, you could also have the desks face each other with the bookshelf between them.
This study zone melds learning and fun. It's an especially fantastic space for large families. The multi-functional area can accommodate everything from homework, to art projects, and amazing Lego builds.
During my own work hours, I share a space with my son. Our craft room makeover project had to include key elements like tandem workspaces, ample organization elements and creative ways to display our greatest hits!

PRO TIP: Peg Boards are excellent additions to any Homework Station. They allow you to customize your storage and wall display without limits. Here's how we built a DIY pegboard organizer.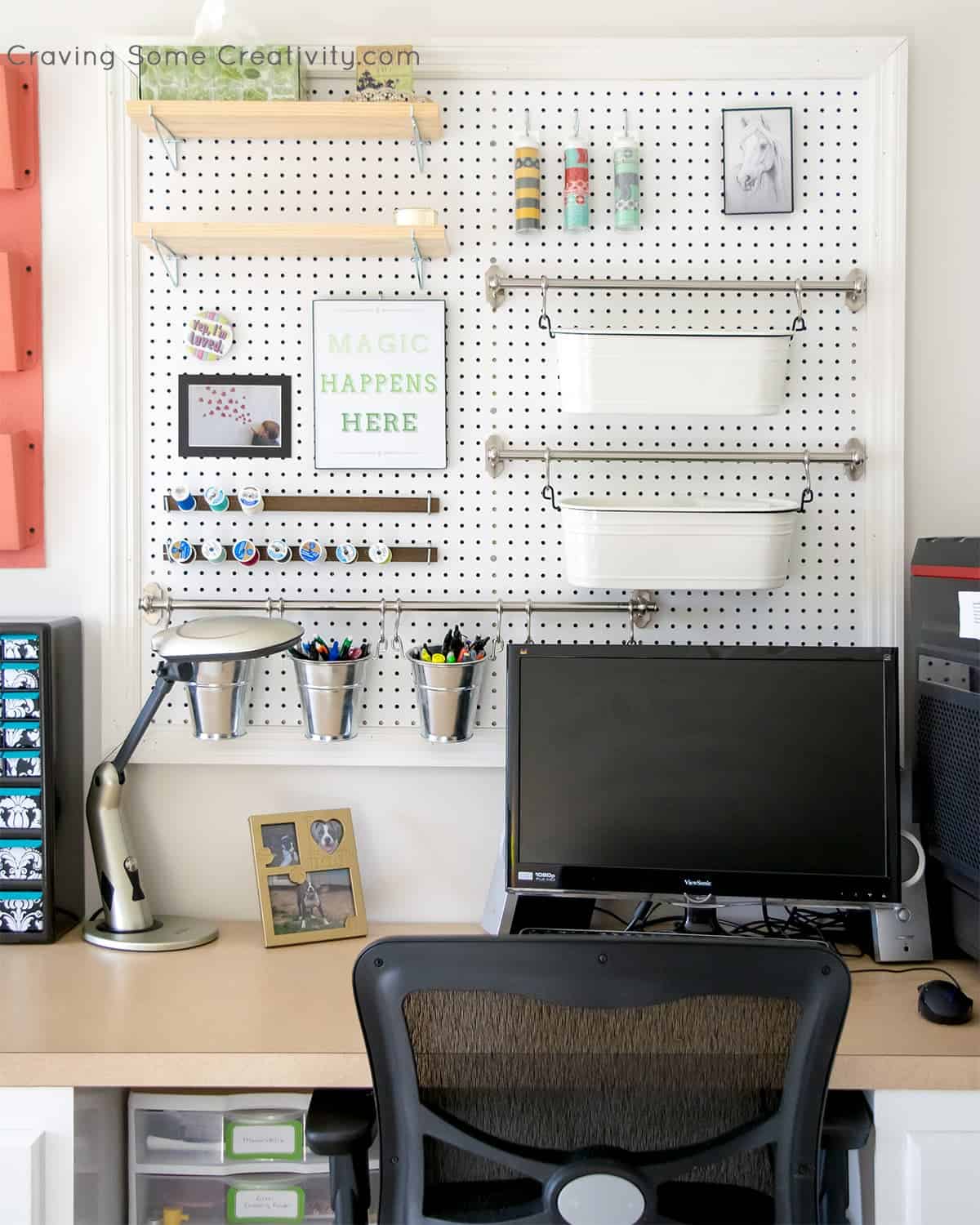 Space Saving Solutions
House a homework nook in even the tiniest space. These space saving desks are brilliant!
Wall Mounted Desk
A wall mounted desk takes up so little space and is sturdy.
Get It Here
Ladder Shelf
A ladder shelf desk is a nice option to pull double duty as a bedside table and study station in a small dorm room.
Get it at Amazon
Wall mounted
This super convenient wall mounted floating desk closes up easily for a dorm room or tiny space.
Get it on Amazon
Space Saving Shelf Desk
If you just need a small space to set a laptop near an outlet, this shelf desk is very convenient and affordable.
$80 on Amazon
Do you have a dedicated studying area in your home? What's your top tip for handling the daily homework assignments?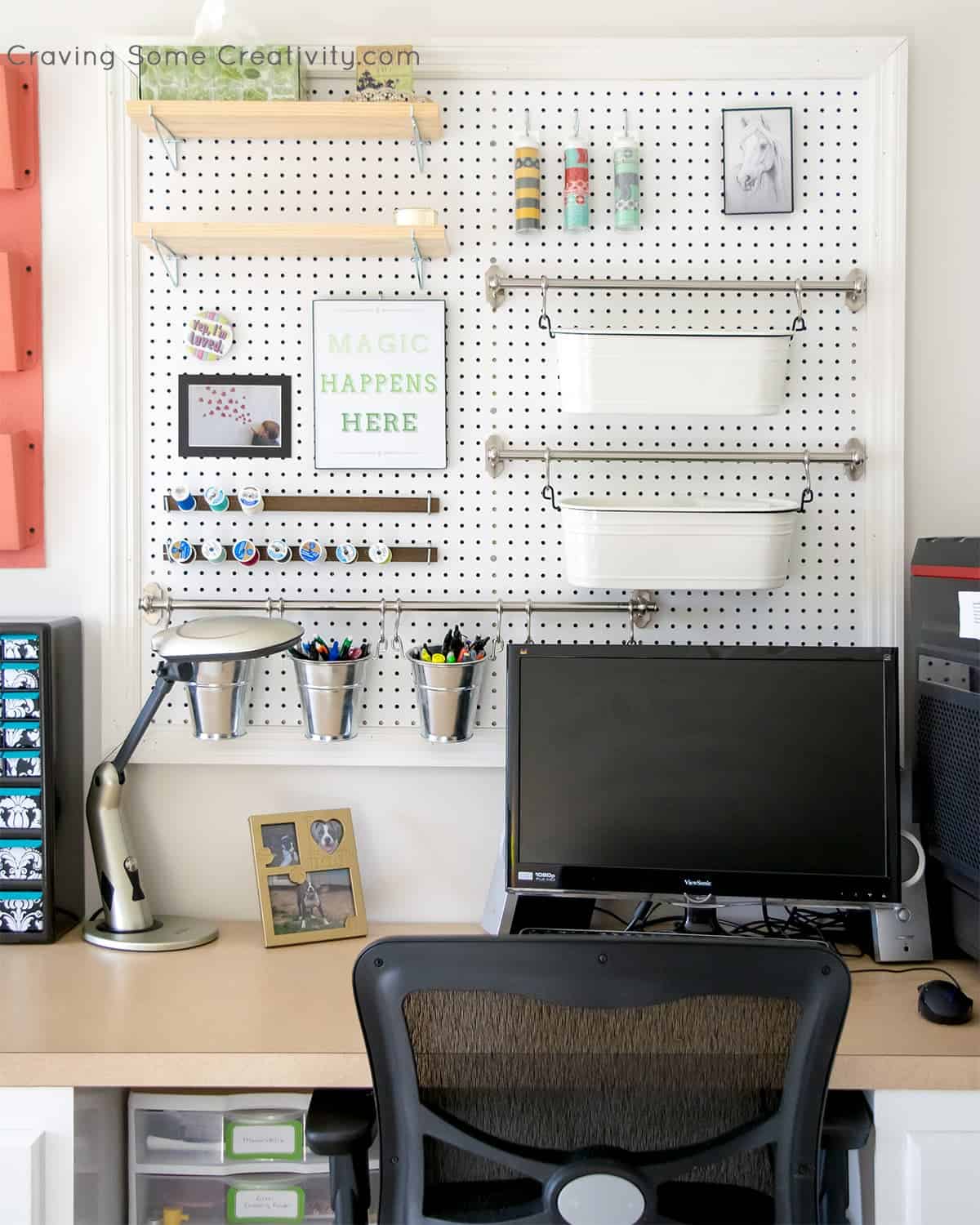 Grab our free series "Weekend Home Projects that will Transform Your Life"
Sign up below to receive updates including free printables, organization tips, home improvement projects, recipes and more!
More Ideas You May Enjoy
PS I love seeing your creations! Be sure to take a photo and tag #cravingcreative on Instagram! You can also stay in touch with me through following me on Instagram, Pinterest, and subscribing to the newsletter!