Tame that closet beast once and for all! The BEST tips for Small Linen Closet Organization including what to purge, creative use of space, make laundry easier, and keep items in easy reach.
Getting the linen closet organized has been on my to-do list forever, but the bigger projects and life-in-general always seem to get in the way. After being literally hit in the face by the avalanche of towels left behind by my dear son, I decided enough was enough.
Do you feel the same way? Ready to tame that closet beast?
I actually loooove to organize a space. In fact, I have worked hard to get makeovers and perfect functionality on our pantry organization, building a custom closet, and killin' it with the laundry room organization makeover.
Know what I love even more? A space that stays that way! If you have a linen closet that needs some love, here are some tips that helped us get ours under control:
Linen Closet Organization #1 : Purge
This may seem obvious, but we all have little things that are just hanging out in our closets with no actual use. Expired cold medicine? Check. 18 towels in 6 different colors or shredded ends? Got that (or did).
With regards to the linen closet here are a few ideas of things you should purge:
Pick a towel color and stick to it – this actually helps more than being just visual.
"Dog" Towels – we all have to keep at least a few towels for giant spills, washing the dog, muddy children, the floor, etc. However, you don't need more than 3 and it is easier to not mistake them if they are a different color or kept in a separate bin.
Sheets with no partner – The bottom sheet always seems to wear out first, but I had a whole stack of lonely top sheets.
Expired Medicines and toiletries – yes, check the dates.
Rule of 3 – If you have more than 3 of the same item, you probably won't get to it before it expires. Toss!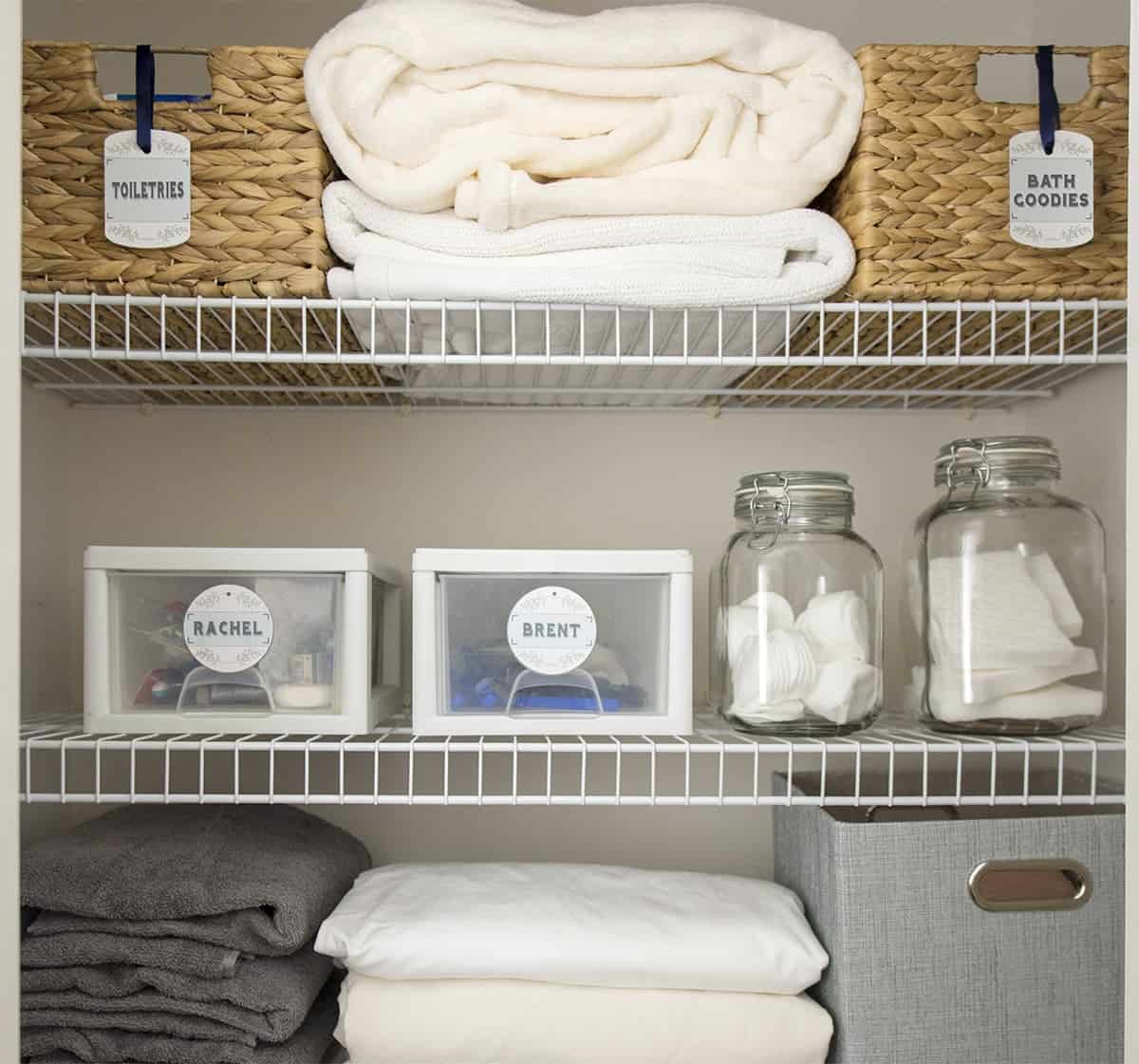 Organization Tip #2: Baskets and Bins
Baskets and storage bins have become my best friend and the different styles I found work so well together. I wanted a clean and crisp vibe, but not completely monochromatic either. A grey, white and natural color palette is what I settled on to create the look. It would make it easy to match baskets for a cohesive look like these water hyacinth baskets.
If I am being honest, I need labels in my life, because I can never remember where I put things and I feel so lost. Labels are like a friend I haven't seen in forever waving me over to the cool girls lunch table. Seriously.
If you like these labels, I actually have them as free printables in our subscriber library. Sign up for all our updates and freebies at the bottom of this post.
Organization Tip #3: Level Up!
This is a pretty novel tip that I recently learned. I was scanning Pinterest for some inspiration after my first attempt didn't look quite how I wanted. A weird realization hit me after comparing all of the prettiest linen closets:
All the shelves were organized by height!
What I mean by that is that each shelf contained items of the same height. Towels were stacked next to bins of the same height. Jars were all of the same height. And on and on. It made each shelf look like a curated collection rather than a cluttery mish-mash.
Organization Tip #4: Creative Use of Space
This is the tip that saved my closet. We put all of those bottles of "stuff" in one of these handy door organizers. Total game changer.
This organizer is solid, items don't roll over or clink. I wish I had it years ago!
The pockets are deep and pretty wide too.
You can find all of the sources I used here: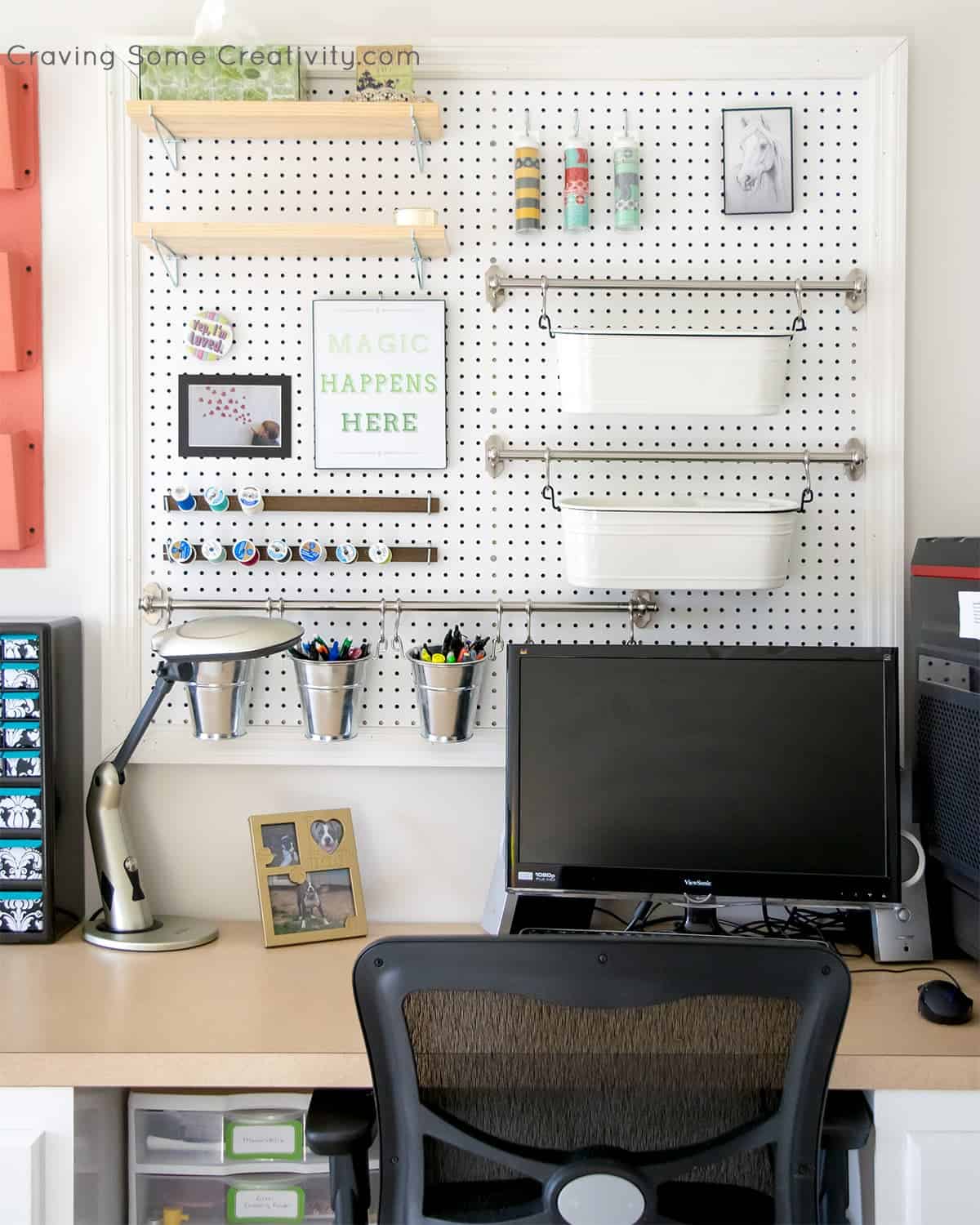 Grab our free series "Weekend Home Projects that will Transform Your Life"
Sign up below to receive updates including free printables, organization tips, home improvement projects, recipes and more!
More Organization Ideas
PS I love seeing your creations! Be sure to take a photo and tag #cravingcreative on Instagram! You can also stay in touch with me through following me on Instagram, Pinterest, and subscribing to the newsletter!