A wood deck can last decades with the right maintenance. This deck needed a bit of restoration, but you can easily bring the shine back with the right tools!
It's the summer of big remodeling projects! In fact, we restored not 1 but 3 decks this year, and started working on a fourth. They range in condition from well maintained to severely neglected. Whew that is a LOT of decks to refinish!
Why do I have so many deck projects? For the last 3 weeks, in addition to our own home projects, we have been helping to renovate my childhood home to get it ready for sale next year – so many emotions with that!
However, even with very different conditions of the decks, the process remained the same, so today I wanted to share how to restore an old deck or restain a new one.
I am partnering with Wagner SprayTech, and although this post is sponsored, I love their paint sprayers because they have made my DIY life so much easier!
How To Prep A Deck For Stain
The first step is to repair or replace any boards that are rotted, severely warped, or cannot be saved. Also, replace any nails or screws that have popped up from the boards. Apply them at new angles to have them grab new wood.
Next clean the deck and remove any peeling or chipping stain. If using the same brand of stain and color as before, complete removal of the previous stain is not necessary.
For weathered wood with lots of cracks and splinters, I recommend a product like Behr Deckover to fill those cracks and resurface the deck. The surface still needs to be properly prepped as with any restaining.
We pressured washed the deck, and then scrubbed off any peeling stain with a deck scrub brush. If all of the stain must be removed, I recommend renting an orbital deck sander. A few hours of that and the stain is gone.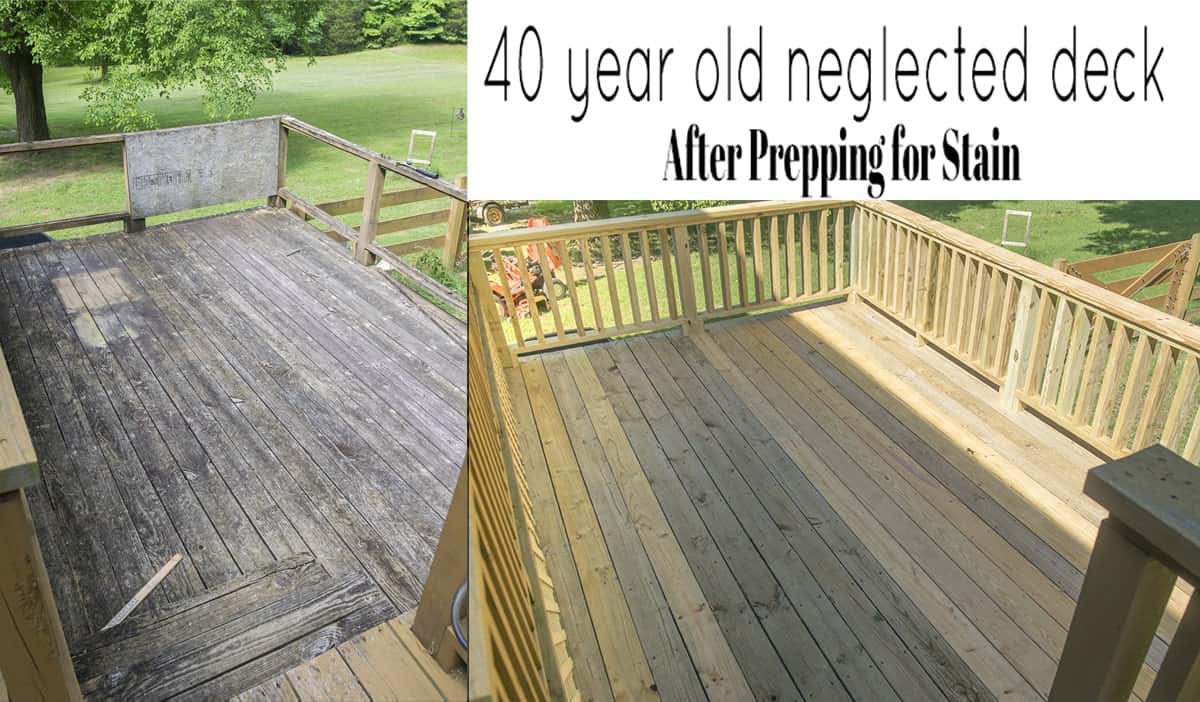 Finally, the entire deck was cleaned with deck brightener to remove all mildew and gray wood for a fresh surface to stain. We didn't have to do this on the well maintained deck, because the wood surface was in good condition.
Tips for Staining an Old Deck
Now the deck is ready for staining. For large projects like decks, I seriously recommend using a quality paint sprayer. It cuts maybe 50-80% out of the work time. On our own raised deck where a ladder will be required, we are using the Wagner Control Pro 130 sprayer, which has a 25 foot hose and holds up to 1.5 gallons of stain in the tank. What I most love about this particular sprayer is that the tank can be left safely on the ground as we work up high. No lugging paint up a ladder!
I started by staining the railing and working the stain in with a brush. This helps catch any drips and, for transparent or semi-transparent stain, will help the stain penetrate the wood. Once the railings were completed, we worked on the walking surfaces and side walls.

Last year we boarded up the sides and added water diverters to create a storage space under our own deck. If you want to see how we did that, you can check out this post on creating a shed under the deck.
In all, I did 2 coats in a weekend and even got to add some new trellises to the side. It looks refreshed and beautiful again!
Frequently asked questions:
What paint sprayer should I use when restoring an old deck?
Different paint sprayers can be a better choice depending on the project at hand. You can check out my complete list of paint sprayer recommendations here.
Can I use a floor sander on my deck?
Floor sanders are specifically designed to sand completely flat surfaces. Deck boards generally have a slightly curved surface, so you would end up with an uneven result. I used an orbital sander, but you could also use a belt sander for a project like this.
How often do I need to stain my deck?
It depends on the type of stain you're using. If you have a semi-transparent stain, you will probably need to refinish your deck every two to three years. If using a solid color wood stain, your deck should be good for about ten years. If your wood is beginning to look patchy, discolored, or showing signs of deteriorations, it's time for a fresh coat. Another sign it needs to be re-stained is if the wood fails to repel water.
Because it looked so good, we were inspired to create a small garden space around the deck and summers are going to be great out here!
Grab our free series "Weekend Home Projects that will Transform Your Life"
Sign up below to receive updates including free printables, organization tips, home improvement projects, recipes and more!
More Home Improvement Projects