Brownies are one of my favorite indulgent treats. Not that these all-star brownies need any help in the taste or texture department, but it is fun to change it up once in a while. Thus, I give you Peanut Butter Brownies! Marbled and full of flavor, these brownies are definitely a winner.
We love cookie bars and brownies around here as we head into the fall baking season like Carmelitas, Apple Crisp Bars, and Strawberry Cheesecake Rice Krispies.
I had a girls night out a few weeks ago and since I was making brownies for hubby, I asked everyone to describe their perfect brownie. Whoa! That caused quite the passionate debate as everyone described and then defended their own version. Chewy? Cakey? Fudgy? Nuts or no? After that I am sure of two things. First, everyone seems to have a different opinion, and second, almost everyone's Grandma/Mom made the best. Who would have ever thought the little brownie would stir up so much controversy?
So how would I describe these? Well, they are definitely leaning on the fudgy side but they have texture and won't fall apart in your hands. I would not call them gooey or crumbly (cake-like) like some other variations can be. The top of my classic brownie recipe gives a nice shiny layer that hints to the dense heaven that is just below the surface. That's just how they should be in my humble opinion. And, well, there is the peanut butter ribbon that perfectly accents the chocolatey-brownie flavor without overwhelming it.
Oh, and these bad boys are over an inch thick! Mine were an inch and a quarter but I know it may vary a slight bit. So let's get to the recipe, shall we?!
Peanut Butter Brownies
Marbled and full of flavor, these peanut butter brownies are definitely a winner.
Print
Pin
Rate
Ingredients
3

Eggs

8

tbsp

Butter

1 stick

1 ½

cup

semi-sweet chocolate chips

divided

1

cup

white granulated sugar

½

tsp

vanilla extract

1 ¼

cup

All Purpose Flour

½

tsp

Baking Soda

¼

tsp

Salt

¼

cup

peanut butter

creamy
Instructions
Preheat oven to 350 degrees F. Grease and 8×8 pan.

In a large mixing bowl, beat eggs. Add in vanilla and sugar. Mix together. In a different medium bowl, combine flour, baking soda, and salt. In a small saucepan, melt the butter over low heat. Add 1 cup of chocolate chips and stir until fully melted.

Add the melted chocolate to the egg mixture and cream together. Add in the dry ingredient mixture and mix until smooth. With a spoon or flat spatula, stir in the remaining ½ cup of chocolate chips.

Pour the brownie batter into the greased pan. In a small bowl or cup, heat the peanut butter in the microwave for about 15 second and stir until smooth and slightly runny. Using a spoon, put very small dollops of peanut butter over the surface of the brownie batter. About the size of a dime or nickle. Using a knife, marble the surface of the batter in a random pattern. Gently shake the pan to create an even surface. Put in the oven. Bake for about 35 minutes or until the center comes out clean with a toothpick. Do not over-bake- brownies will continue to cook a tiny bit during the cooling process.
Notes
*I use the jiggle test as well. If the brownie batter jiggles in the middle when you move the pan, it isn't ready.
Nutrition
Serving:
1
square
|
Calories:
400
kcal
|
Carbohydrates:
47
g
|
Fat:
21
g
|
Sodium:
252
mg
|
Sugar:
30
g
|
Calcium:
30
mg
|
Iron:
2.9
mg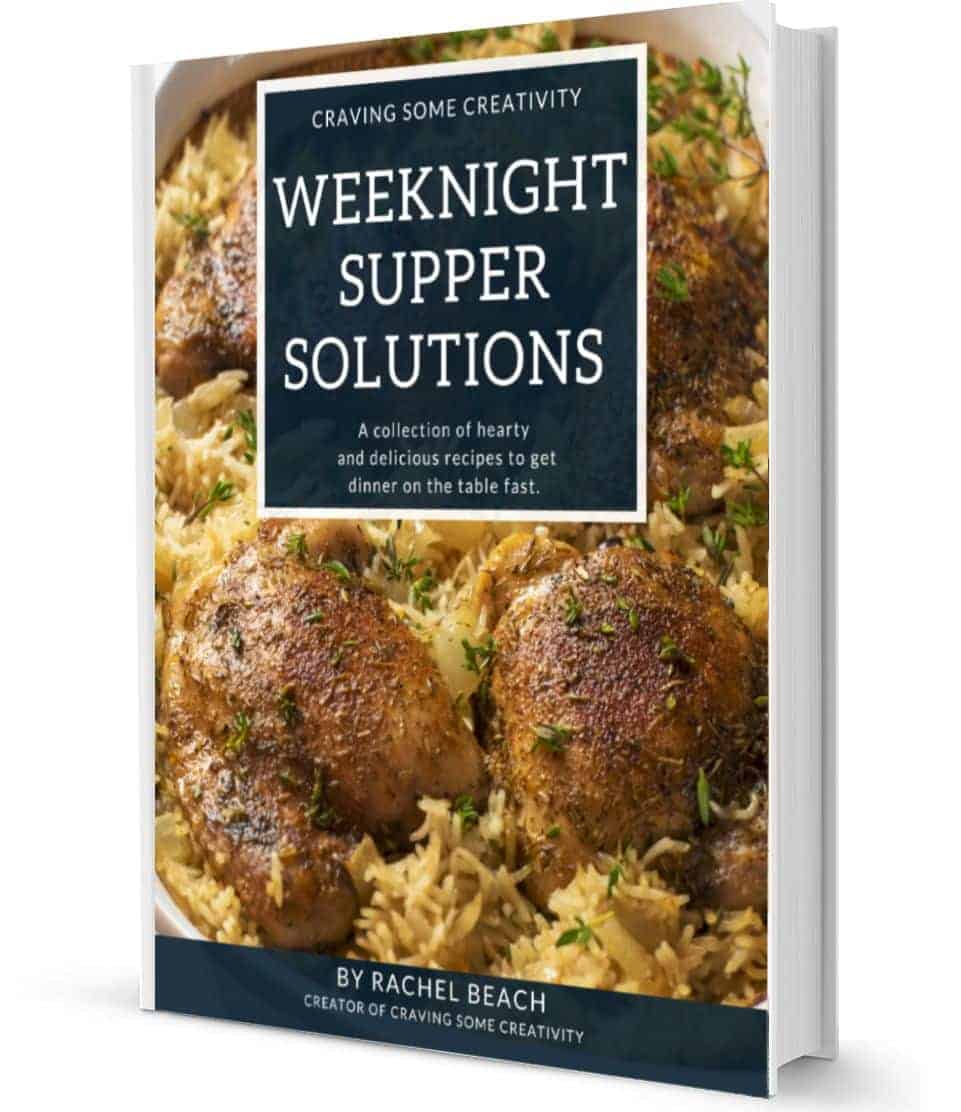 Not Sure
What's For Dinner?
Signup for recipe updates and get a free cookbook of Easy Weeknight Supper Solutions!
Our Newest Recipe Videos
More Great Dessert Recipes