Do you have a project that you just aren't sure what to do with…yet? A project that just screams potential, but the reality looks much duller? Maybe the right idea hasn't hit you yet, or you don't have the confidence to just dive in.
Today's project is like that. Thinking outside the box? I don't even know where I put that proverbial box. But some projects have to wait for the right Aha! moment.
Let me back up a moment…
Old Metal Trunk Makeover
Last summer, my mother-in-law gifted me this dumpster find. Yes, she actually found this metal steamer trunk next to the dumpster and thought of me. She knows me so well!
It's a Korean War Era army military footlocker. And, obviously, from the picture, it saw some battles of its own. Although she was excited to see what I would do with it, it sat and sat in lieu of other projects. Ones I had actual ideas to complete, but it did whisper to me that it was waiting patiently.
How to Strip Painted Metal
The first step was stripping all the nasty layers of paint to see what we had. I used this heavy-duty stripper to remove the layers of enamel and paint. That stuff does not play around!
Paint strippers come in different forms, but the steps are the same. If interested, I have step by step guides to painting metal outdoor furniture and stripping wood furniture with great tips to get started.
Pour the stripper into a container and work in a well-ventilated area.
Using a chip brush, apply a thick layer, allowing the chemical to react with the paint and bubble (follow the directions on the stripper).
With a rag or scraper, wipe and remove the liquid, along with the unwanted paint, repeating as necessary. Toothbrushes work well to get into crevices, but don't use anything that may gouge or damage the underlying metal.
I cleaned the metal trunk afterward with mineral spirits and used a good rust remover. For the handles, I Ieft them in their current condition. Doesn't it already look a ton better?
Painting Bare Metal
The trunk was banged up quite a bit. I used automotive bondo to fill in some of the larger dents. This step is necessary since I am covering the top with a paper material, but not entirely necessary if one is only painting.
Tips for painting bare metal:
I love my HomeRight spray shelter. It helps with overspray and less dust.
Painting must be done when conditions are between 30-80% humidity (40-50% is best) and temperatures above 50 degrees.
Use an appropriate primer like Clean Metal Primer Spray.
You can spray, brush, or use a metal spray paint.
I primed the trunk and used Oil Rubbed Bronze to give it a metallic finish.
Covering a Metal Trunk
Because the trunk was so beaten up, I knew that a paint job alone would not be enough to make this steamer trunk sparkle. That's why I decided to cover it in this vintage map. Note: My exact one seems to be no longer available, but the link is pretty close, and it is custom sizeable.
I used 2 sizes of this map to create the look. The top of the trunk is one complete map of the world with the border removed. However, the sides are a version that I custom sized to my needs. I added up the total dimensions of all four sides and cut out each part between the black metal rivets.
With the map, creating the template was the hardest part and took several hours. I used a craft knife to cut around the handles and locks. There is also a row of decorative bumps on the front of the trunk (see photo below), where I used a hole punch.
Tips for sealing the paper cover:
I first sealed the paper with a few light coats of spray sealer on both sides.
A spray was used first to avoid any of the paper stretching.
I brushed mod podge on the trunk where I wanted to adhere the map. Mod podge works like a glue and sealer. It is thicker, so this kept the edges from rolling.
After the map was adhered and completely dry, I brushed the top side with a few more coats of mod podge, drying in between, to further seal and make it more resistant to scratches and water.
Although it is water resistant and well-sealed, I use coasters and am careful about water on it.
Final Touches
To add function and make it easier to move while full, we added casters to the bottom. This was done by drilling a hole in each corner to add the casters.
At first, I just loved the steamer trunk style, but I didn't know what I would actually do with it. When my son saw my map plans, he begged to have it in his room. He actually promised to keep his toys off the floor if he could have it! Giant indestructible metal box and clean floors?! Sounds like a winner to me!
I took a plain cookie sheet and lightly sanded and painted it in chalkboard paint. I used velcro strips it to hang it inside the top of the box. This cookie sheet served a few purposes.
It's magnetic so he can add pictures or mementos. The trunk itself is not magnetic.
The cookie sheet comes out easily and he can use it to draw or to keep his Legos at bay. #ForeverFindingLegosInTheWierdestPlaces
I can write subtle reminders to him about his promise to clean up.
It's just fun!
So clearly, this was a pretty big project even though we finished it in about 4 days. However, looking at where we started with the trunk, I wouldn't have known what it would be at first. It was just a hunch and a vision.
More furniture transformations
Waiting until the right idea is sometimes the best course of action, but I hope that you also challenge yourself to get the project done and not sitting in a remote corner of the basement.
If you are still unsure, I always love reading emails and questions from readers so feel free to ask in the comments below or email me.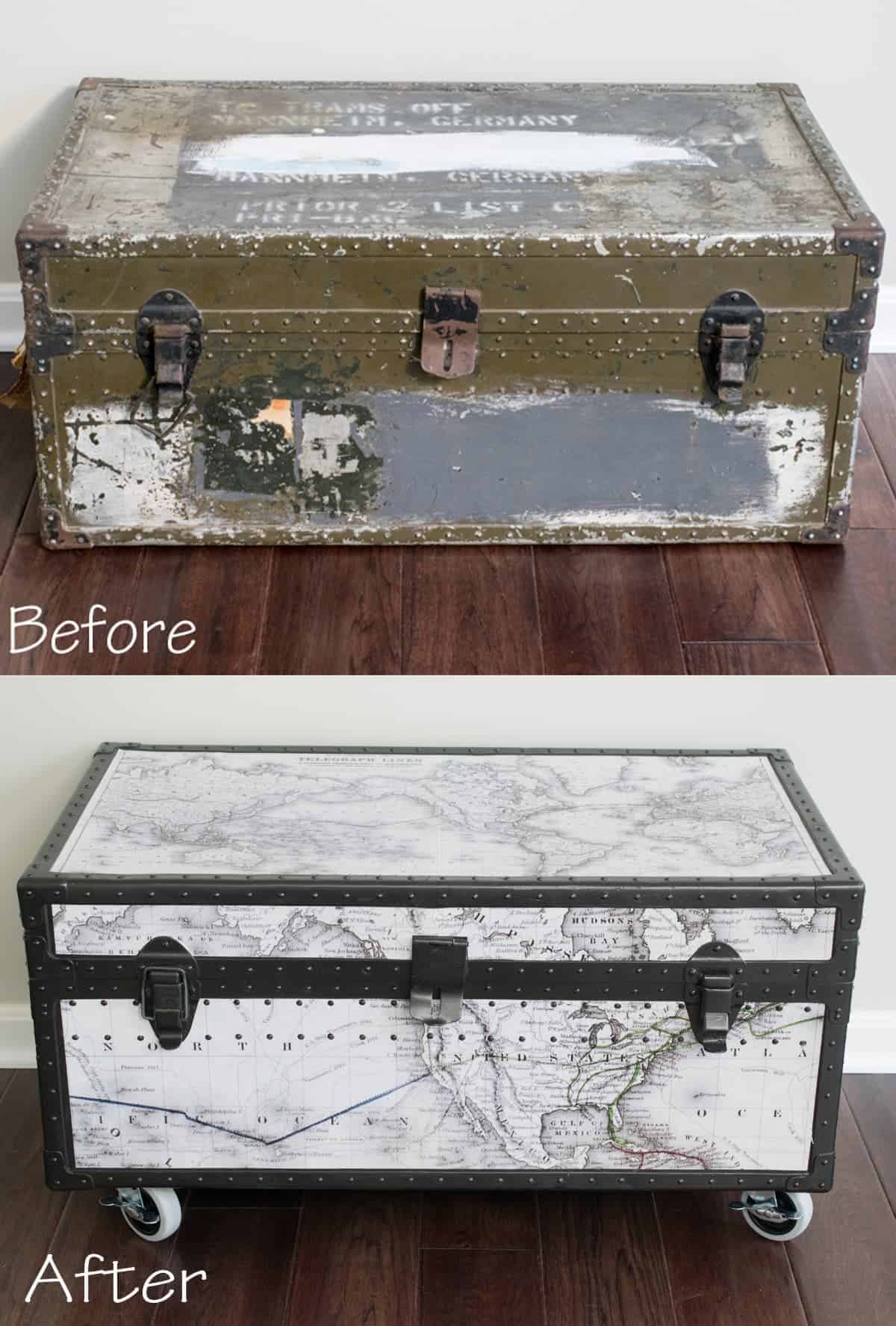 I hope you enjoyed this project and are inspired to share your newest painted furniture projects with me. Have a great weekend!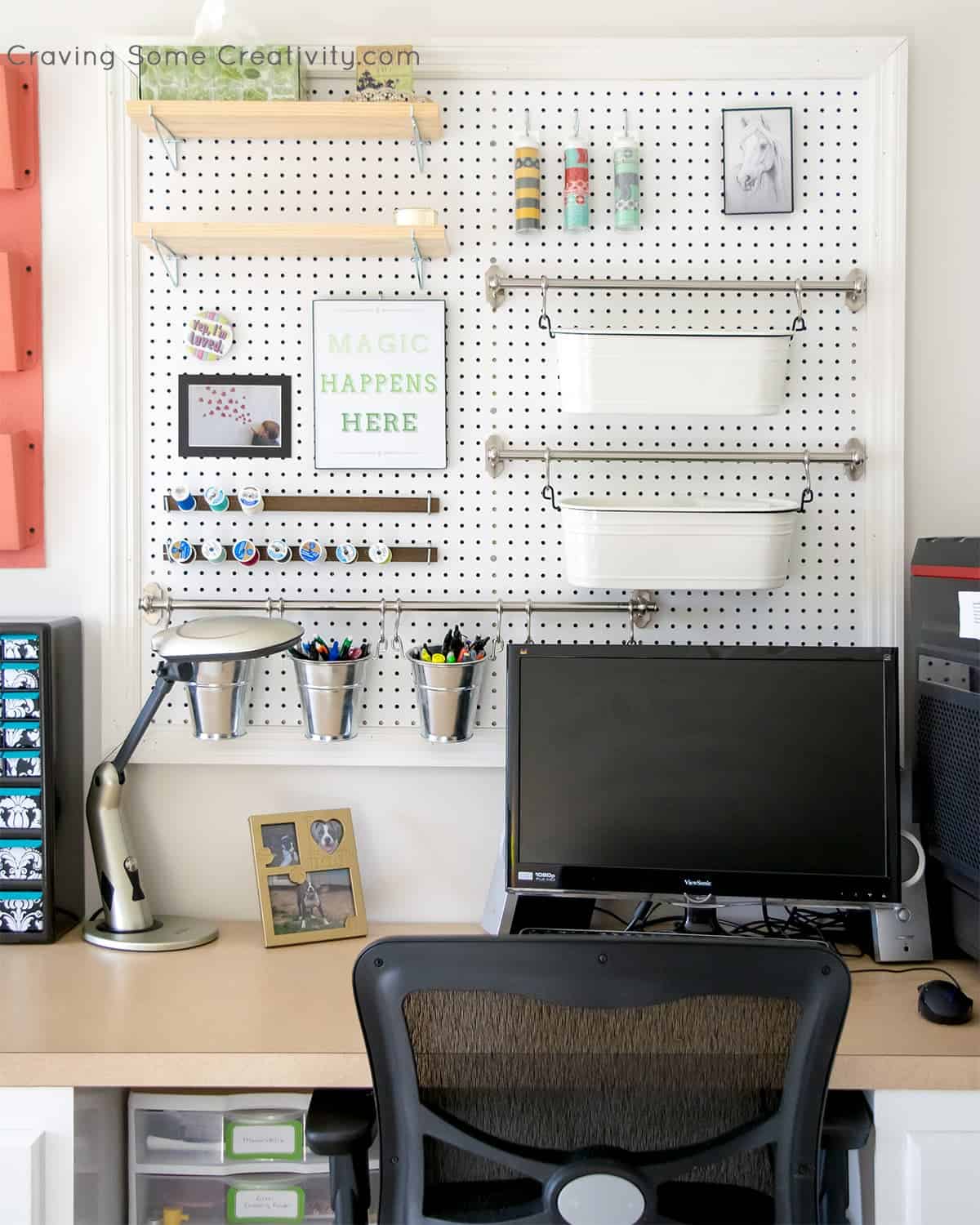 Grab our free series "Weekend Home Projects that will Transform Your Life"
Sign up below to receive updates including free printables, organization tips, home improvement projects, recipes and more!
More Interesting Furniture Before and After Projects