Do you have a project that you just aren't sure what to do with…yet? A project that just screams potential but the reality looks much duller? Maybe the right idea hasn't hit you yet, or you don't have the confidence to just dive in.
Today's project is like that. The challenge of DIY and stretching our skills is always something me and hubby strive to do. Thinking outside the box? I don't even know where I put that proverbial box. But some projects have to wait for the right Aha! moment.
Let me back up a moment…
Last summer, my mother-in-law gifted me this dumpster find. Yes, she actually found it next to the dumpster and thought of me. She knows me so well! It's a Korean War Era military footlocker. And, obviously, from the picture, it saw some battles of its own. Although she was excited to see what I would do with it, it sat and sat in lieu of other projects. Ones I had actual ideas to complete, but it did whisper to me that it was waiting patiently.
I racked my brain until the box whispered to me again (yes, projects talk to me). The first step was stripping all the nasty layers of paint to see what we had. I used Heavy Duty Stripper to get the layers of enamel and paint. That stuff does not play around! I cleaned it afterward with Mineral Spirits and used some rust remover for the handles. Doesn't it already look a ton better?
Beyond the 4 layers of paint and rust, the trunk was banged up quite a bit. I used automotive bondo to fill in some of the larger dents. Then I set about painting it. This project also gave me my first chance to use my new homeright spray shelter. The weather was not cooperating with me during this project. Who has 85% humidity in January? I had a very tight window in which it dropped enough to spray paint. I used Clean Metal Primer Spray and Oil Rubbed Bronze to give it a metallic finish.
To add function and make it easier to move while full, we added casters to the bottom.
Because the trunk was so beaten up, I knew that a paint job alone would not be enough to make this baby sparkle. That's why I decided to cover it in this vintage map. And because I am pretty much obsessed with maps and globes. I used 2 sizes of this map to create the overall look. The top is one map of the world and the front and sides are a version that I custom sized to my needs. The map cost me less than $50, which was a bargain compared to what else I could find.
With the map, creating the template was the hardest part and took several hours. Each piece is cut individually and I used a hole puncher to get around the decorative bumps on the front. Like I said, slow process! Then I sealed and then mod-podged the map to each side of the trunk.
Oh, but we aren't done yet! I haven't even talked about the inside yet. At first, I just loved the piece but I didn't know what I would actually do with it. When my son saw my map plans, he begged to have it in his room. He actually promised to keep his toys off the floor if he could have it! Giant indestructible metal box and clean floors?! Sounds like a winner to me!
But it was still missing something, that fun factor on the inside. I took a plain cookie sheet and lightly sanded and painted it in chalkboard paint. I used velcro strips it to hang it inside the top of the box. This cookie sheet served a few purposes.
It's magnetic so he can add pictures or mementos. The trunk itself is not magnetic.
The cookie sheet comes out easily and he can use it to draw or to keep his Legos at bay. #ForeverFindingLegosInTheWierdestPlaces
I can write subtle reminders to him about his promise to clean up.
It's just fun!
So clearly, this was a pretty big project even though we finished it in about 4 days. However, looking at where we started with the trunk, I wouldn't have known what it would be at first. It was just a hunch and a vision. Waiting until the right idea is sometimes the best course of action, but I hope that you also challenge yourself to get the project done and not sitting in a remote corner of the basement. Sometimes it isn't just an idea that you may be waiting on, but the confidence to fulfill that vision. I struggle with it sometimes too but finding that quiet time to just look at the potential of a piece or project. The vision will come and with your confidence of knowing what and how to finish a project will too. I promise! If you are still unsure, I always love reading emails and questions from readers so feel free to ask in the comments below or email me.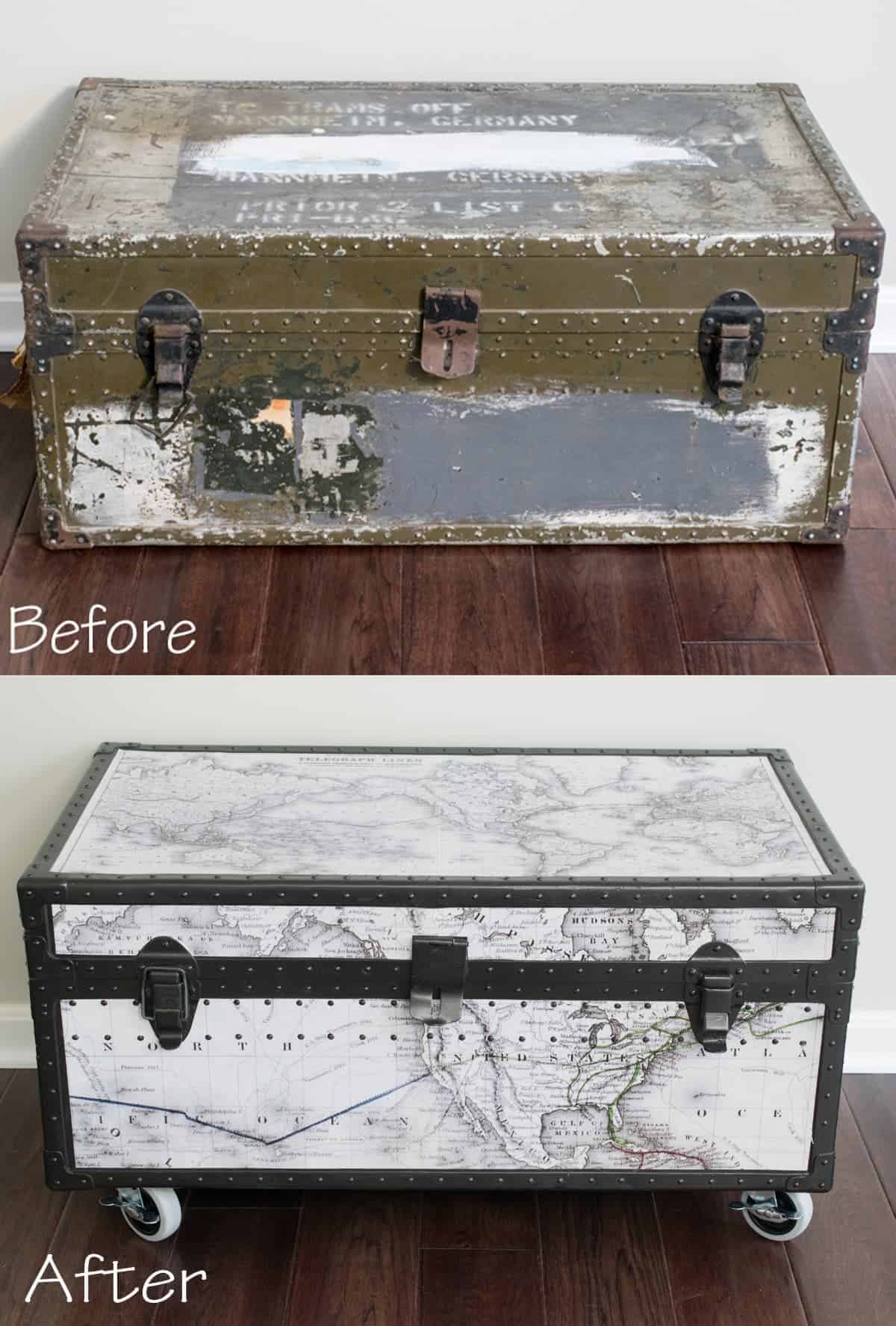 Want to see more furniture transformations? Check these out!
I hope you enjoyed this project and are inspired to share your newest painted furniture projects with me. Have a great weekend!
Grab our free series "Weekend Home Projects that will Transform Your Life"
Sign up below to receive updates including free printables, organization tips, home improvement projects, recipes and more!
More Interesting Furniture Before and After Projects