Oh, this is so bittersweet. My little man just turned 8 years old a few weeks ago. Where did the time go?! I swear he was just a toddler. They just grow up so fast and with so many home projects going on, we haven't thrown him a real kid's birthday party since he turned 5. I love parties and pretty soon, he won't want a cutesy kid's party. Oh, that day might actually bring on the tears. But, for today, he is still my sweet little guy whose energy I could only dream to have. Of course, all this means that I had to take the time to invite all his friends to celebrate his special day.
With the weather being iffy this time of year, we decided to schedule the party down at the local bowling alley. There are many benefits to throwing a party outside your home when you're talking about 17 rambunctious 8 year olds letting loose and having fun. However, the one downside was that the party needed to be set up in 30 minutes and everything cleaned up in less than 15. While the decorations can seem elaborate, I made sure that we abide by the house rules. And because Football season is over, I had enormous trouble finding football themed decorations in the store so most everything here was either made or came from Oriental trading company.
I built stadium seating for the cupcake by stacking 4×4 boards and folding black cardstock over them.
If you follow on instagram, you might have seen the SCORE letters as a little teaser. I bought the letters at Michael's and painted them up to look like varsity style letters. We used little screws to attach them to a board to sit up straight. I added the banner to mimic the varsity style as well.
One of my favorite items of the party was the Football favor boxes. I wanted to give a small thank you for coming so we sent each child home with a favor box with football themed goodies, a balloon, and a pom–pom. To tell the truth, I panicked when we had a few last minute RSVPs because I did not have enough favor boxes. We ended up making a girl themed favor bag with a different set of goodies and let the kid's decide which they wanted. It was the only way I could think to split them up.
Aren't the tables adorable?! I love how they turned out and it's all very simple crafts. The touchdown table runner is cut from felt and I used white tape to make the lines. I cut the "Touchdown" letters with my silhouette and regular vinyl, however this one is really cute if you can't make your own. A few pom-poms were added to keep the kids busy and having fun while the pizza arrived.
My IKEA buckets and grass always seem to find the cutest uses. The goal is made from popsicle sticks and painted yellow. I also cut out the #8 (for his 8th birthday) by tracing onto glitter cardstock. I originally planned to do mini chalkboards that leaned up against them but ran out of time to make them.
Overall, it was a smashing success! It was a decent amount of work to pull together and I am sort of thankful that it only happens once a year. Not only because of the work, which is really fun for me, but more because I don't want him to grow up any faster.
Looking for More Crafty Party Ideas? We have some great kid's parties!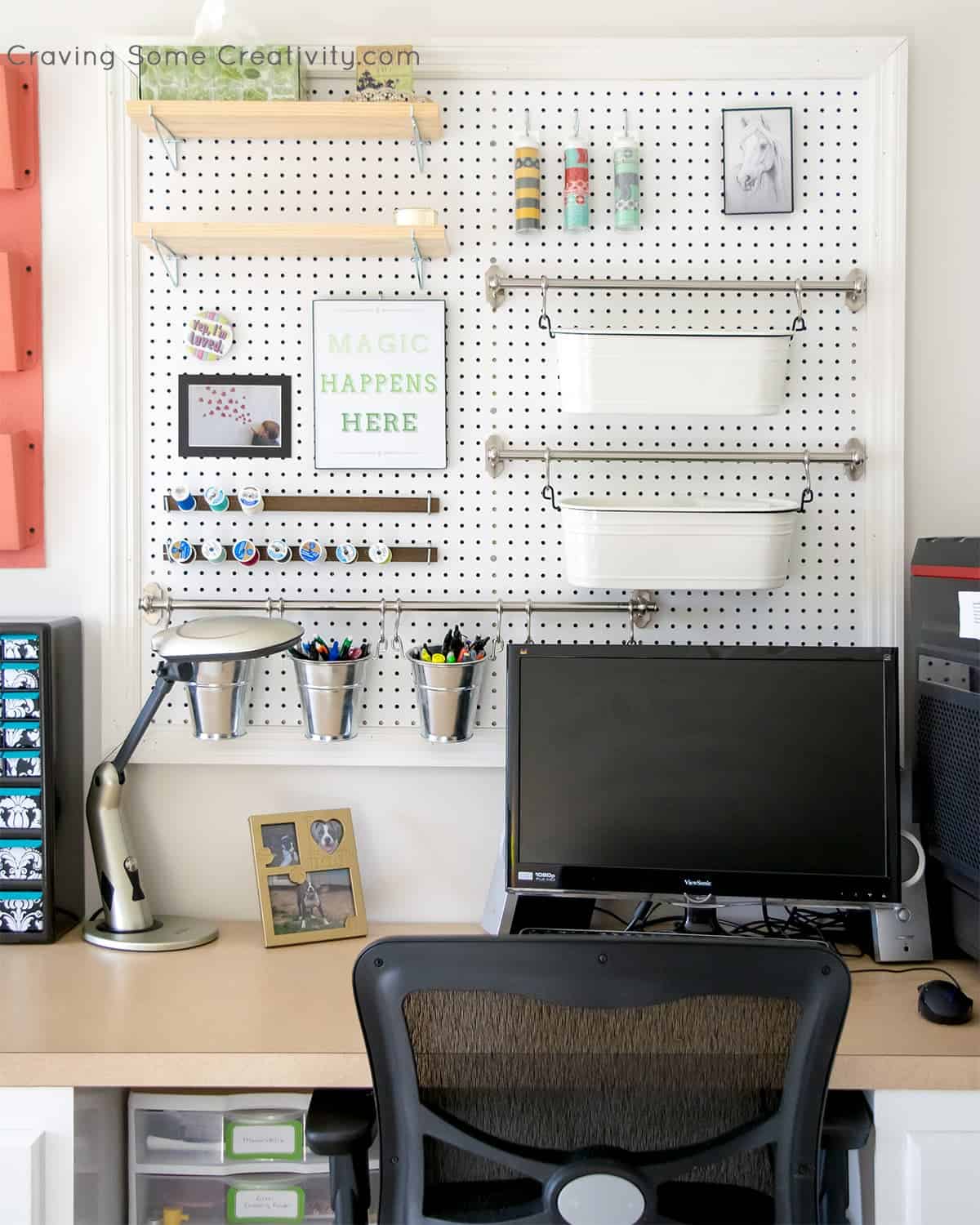 Grab our free series "Weekend Home Projects that will Transform Your Life"
Sign up below to receive updates including free printables, organization tips, home improvement projects, recipes and more!
More Party Ideas