Over 30 tasty fall vegetable recipes that are nutritious, delicious and comforting. From sweet potatoes to Brussel sprouts, if you're looking to try a new thanksgiving side dish or find a new favorite, these veggies will steal the show!
Though I enjoy cooking and baking any time of the year, there's something especially wonderful about fall cooking. The comforting smells of root vegetables and warm spices like cinnamon, nutmeg, and cloves get me every time. Given my love for these things, it's no wonder I crazy love autumn.
Check out these scrumptious ideas that come in all colors and comforts. From super simple side dishes, to cozy familiar. Get inspired by these Fall vegetable recipes. We like to try at least 1 new Thanksgiving side dish every year, but these recipes don't need to wait until Thanksgiving to try them all!
The categories are organized below by which vegetable you would like to use. Click the contents tab above to go to any particular vegetable including squash, carrots, potatoes, cauliflower and broccoli, Brussel sprouts, mushrooms, and corn.
Delicious Fall Squash Side Dish Ideas
Flavor packed fall squashes have a ton of varieties. The most popular include acorn, delicata, zucchini, and the uber popular butternut. Their simple yet incredible comforting of flavor makes a healthy, easy fall side dish.
Oven Roasted Butternut Squash
I think I look forward to butternut squash the most. It's so versatile with both savory and sweet recipes that are delicious. This Simple Oven Roasted Butternut Squash is my absolute favorite option.
---
Acorn Squash with Maple Almond Butter
The Perfect combination of sweet and savory! This Roasted Acorn Squash recipe an absolutely lovely addition to any holiday dinner, and it's simple enough to add some fun to any weeknight meal, too. As an added bonus, it's 100% Paleo and Gluten Free!
---
Broccoli Stuffed Spaghetti Squash
Broccoli Stuffed Spaghetti Squash is another great way to use festive fall squash. I love that it is filling without being as heavy as a traditional casserole.
---
Cheesy Spinach Stuffed Squash
My husband wouldn't consider squash very likeable. That is, until he tried this recipe for Spinach Stuffed Acorn Squash. Now, he requests it all year long, even when I tell him squash isn't in season at all. Now that it is, you can bet this will be requested often.
---
Roasted Delicata Squash
This Oven Roasted Delicata Squash Recipe is roasted with sweet maple syrup, butter, and sprinkled with ground cinnamon for a flavorful autumn side dish everyone will love. Gluten-free, vegetarian, and completely delicious, try serving this easy maple roasted delicata squash recipe with chicken, pork, or alongside this year's Thanksgiving dinner.
---
Squash Casserole with Ritz Crackers
Given my love of squash, this Yellow Squash casserole recipe is one of the most popular. It's buttery, flavorful, and you can use any squash or even zucchini if you wish. The crispy, buttery cracker topping is the perfect complement to the tender squash, and it is surprisingly simple to make.
---
Brown Sugar Butternut Squash
Brown sugar butternut squash with cinnamon is a sweet way to enjoy this fall and winter side dish. Learn how to cook butternut squash with this easy recipe and you'll be impressing everyone when you serve it as a side on your Thanksgiving or holiday table. The perfect substitute for sweet potato casserole!
---
Carrot Side Dish Recipes
The mighty carrot is one of nature's easy, healthy and affordable side dish options. From roasted carrot recipes to sweetly glazed, these are the only carrot recipes you'll ever need!
Oven Roasted Rainbow Carrots
Oven Roasted Rainbow Carrots with sweet maple syrup, tangy fresh orange juice, earthy cumin, and herby thyme. It's all a perfect combo to make these veggies tender and flavorful.
---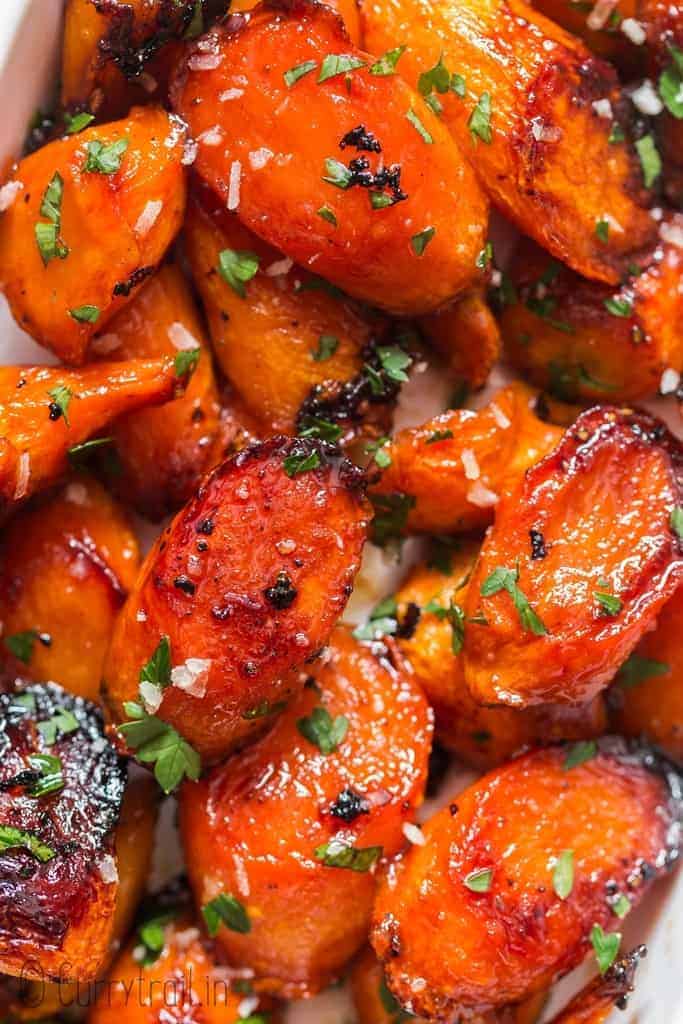 Garlic Honey Glazed Carrots
These honey glazed carrots are amazingly quick and easy to make. This is not your ordinary honey glazed carrots recipe. It starts with brown butter and garlic. Prepare for mind-bending flavors.
---
Roasted Carrots and Cranberry Salad
These Oven Roasted Brussels Sprouts and Squash with Dried Cranberries are made in one sheet pan, so clean-up is a breeze! They are the perfect side dish for your holiday meal.
---
Shaved Carrot & Sesame Salad
This Carrot Sesame Salad is easy to make, full of flavor and the perfect way to use up excess carrots sitting in your fridge. It makes a great side dish for just about any protein, and it's easy to prep ahead of time.
---
Potatoes
Potatoes are probably the most versatile fall vegetable (and, yes, it is technically a vegetable) because it goes with every type of protein and pairs perfectly with any other vegetable from the list. These recipes are both easy and comforting to make a perfect thanksgiving side dish recipe.
Cajun Oven Roasted Potatoes
Perfectly crispy outsides and tender middles, these Cajun oven potatoes are everything you could want in a side dish – super easy, fail proof, and perfectly seasoned in a zesty blend of spices. The spice mixture is Cajun based, but not spicy and, also, easily customized.
---
Potatoes Au Gratin
Talk about comfort food! Potatoes Au Gratin is creamy, delicious, and adds a bit of kick to the mix. It's easy, elegant, and a surefire crowd pleaser!
---
Stuffed Sweet Potatoes
If you are a fan of sweet potato casserole but want to try a little something different, check out this recipe that adds a crunchy buttered pecan topping. And the optional marshmallow drizzle takes it over the top.
---
Potato Boulangere
Potato Boulangere is a French potato & onion bake. Thinly sliced potatoes, rich onions, and it is actually very easy to make and creates a lighter alternative to creamy dauphinoise potatoes.
---
Roasted Garlic Mashed Potatoes
Whether you're looking for the perfect side for your holiday table or just something to complete your weeknight dinner, these Roasted Garlic Mashed Potatoes are a perfect choice. Just the right amount of garlic flavor and so creamy!
---
Cauliflower and Broccoli
Do you still make the same face you did as a child when presented with a plate of broccoli? We're here to change that. With these recipes, it's possible to enjoy broccoli and cauliflower if you know how to prepare it correctly. First tip – always go for fresh stuff, never frozen. It's perfect for steaming, sautéing, microwaving and great for stir-fry.
Loaded Cauliflower Casserole
It doesn't get much simpler yet delicious than this cauliflower casserole. Topped with bacon, cheese, and scallions, there won't be leftovers. My personal recommendation is to use Cracker Barrel Aged Vermont White Cheddar (in the brick). That particular cheese is just amazing for cauliflower!
---
Low Carb Broccoli Salad
This broccoli salad with bacon and sunflower seeds, made with a creamy homemade mayonnaise dressing, is so easy to make and is always a big favorite at potlucks and gatherings! Great for both summer and winter because of its comforting flavors and super easy to make ahead or transport.
Broccoli Slaw with Ginger Peanut Dressing
Crunchy Asian Slaw is the perfect recipe for your next potluck that takes only 5 minutes to make! A blend of coleslaw, edamame, and crispy rice noodles topped off with a tangy Ginger Peanut Dressing that sings with flavor. Simple and oh so satisfying!
---
Cauliflower Tabbouleh
Cauliflower Rice Tabbouleh ~ a twist on the glorious Middle Eastern cracked wheat salad, made low carb and grain free using cauliflower rice. This is a light, clean, and healthy vegan salad that's always a conversation starter.
---
Broccoli Honeycrisp Salad
Broccoli Honeycrisp Slaw ~ tender shredded broccoli stalks, impossibly crisp apples, sweet cranberries all combine with a creamy cider dressing to make one heck of a deliciously unexpected (and healthy!) fall salad.
---
Brussel Sprouts
Ah, Brussel sprouts, the small cabbage-like greens with an unwarranted bad reputation. When prepared correctly, their nutty, smoky flavor comes through for a sensational side dish. Definitely give these recipes a new try as it just might change your mind.
Bacon makes everything even better they say. Well, I have to agree with this fan favorite Bacon Brussel Sprouts. I serve it every Thanksgiving, in fact. Fast, flavorful and less than five ingredients that roasts the edges to crispy perfection!
---
Brussel Sprouts Gratin Casserole
This Brussels Sprouts and Bacon Casserole is loaded with crumbled bacon and smothered in a luscious cheese sauce. It's the perfect holiday side dish!
---
Maple Roasted Brussel Sprouts and Squash
This Maple Roasted Brussel Sprouts and Squash combines all the flavors of fall for one epic and easy fall entertaining recipe.
---
Brussel Sprout and Kale Harvest Salad
This vegan Kale and Brussels Sprout Salad is a quick and healthy side dish that pairs well with just about any main course. With its impressive presentation, it's the perfect lighter side to add to your holiday meal!
---
Mushrooms
For eating purposes, mushrooms are classified as a vegetable, although they technically in the kingdom fungi. No matter, they are amazing! Naturally nutritious and low calorie, these beauties soak up the flavor of anything that you season them with. Below are some of our favorite ways to serve up the beefy fall vegetable.
Easy Sautéed Mushrooms
Easy Sautéed Mushrooms Recipe bathed in an irresistible garlic butter sauce. Ready in under 15 minutes, learn how to cook mushrooms perfectly every time and serve this easy side dish with your favorite chicken, steak, or pork recipes.
---
Baked Garlic Mushrooms
These oven baked breaded garlic mushrooms are crispy on the outside, tender and juicy on the inside, and make the perfect starter, side or canapé.
---
My Sausage Stuffed Mushrooms are always a hit. They are a family favorite perfected over many years by my mother. They are also easily customizable.
---
Bacon Mushroom Risotto
A twist on an Italian classic., this is the perfect mushroom risotto recipe with crispy bacon, spinach, and a touch of Parmesan cheese to create a creamy, layered meal. This recipe feeds a crowd and is slow simmered with rich, flavorful ingredients that make it the perfect risotto recipe! Includes tips and step by step instructions.
---
Corn
Corn is the quintessential Thanksgiving side dish. Below are our favorite corn recipes including corn casseroles, creamed corn, corn on the cob, and new twists on this essential side dish.
Elotes (Mexican Street Corn)
Peak corn season lasts through September, but you can find it even later in the fall. A little unexpected punch is this Mexican Street Corn which has the creamy flavor of cotija cheese. Also, if spicy isn't your thing, add smoked paprika instead of chili powder.
---
From Scratch Creamed Corn
Make this easy classic creamed corn from scratch, and never buy canned again! Creamed corn is a simple and tasty Southern side dish, perfect to serve at the Holidays or your next summer BBQ!
---
Vegan Corn Salad
This Mexican Corn Salad is the perfect summer recipe! It's made with fresh corn that is loaded with smoky flavors from charring it on the grill. Then it's tossed together with a creamy and citrusy dressing and topped with vegan feta cheese.
---
Corn and Black Bean Salad
This festive corn and black bean salad packs a colorful rainbow of vegetables including corn, peppers, onions, cilantro, and dressed with a tangy, fresh dressing that takes 2 minutes to make. An easy salad that's the perfect side dish or dip for any meal!
---
Parmesan Air-fryer Corn
Air fryer corn on the cob is roasted to perfection and is full of Parmesan and butter flavor. Cook it with or without foil!
---
Here are a few quick tips for making easy fall meals:
Simple Roasted Vegetables like squash, carrots, cauliflower, and potatoes are one of my favorite fall side dishes. Toss cubed vegetables with a little olive oil, minced garlic, thyme, and parsley. Put on a baking sheet in the oven at 425 for about 20-30 minutes, and you have an easy and healthy side dish.
I keep a small window garden with fresh herbs that are easy to sprinkle on roasted vegetables:
Cilantro
Dill
Basil
Parsley
Chives
Thyme
Rosemary
Sage
Oregano
Mint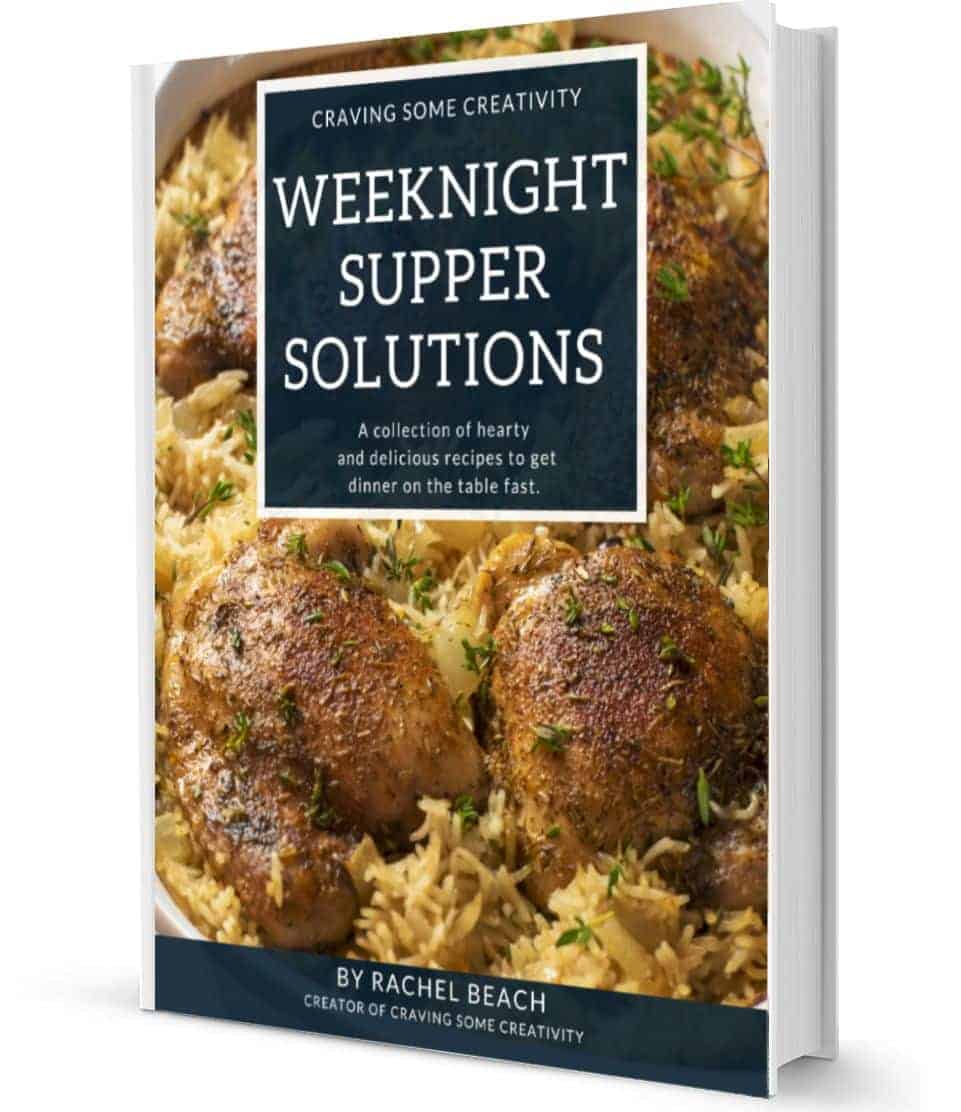 Not Sure
What's For Dinner?
Signup for recipe updates and get a free cookbook of Easy Weeknight Supper Solutions!
More Delicious Side Dishes