The Ultimate Kitchen Cleaning Checklist makes deep cleaning a breeze. Stay on top of the cleaning list before guests arrive with this step-by-step guide to achieving a spotless kitchen. Tackle the project with ease, and a handy printable checklist included.
We spend a lot of time in our kitchen between family life, recipe development, and entertaining. It's the heartbeat of our home; it really sets the vibe. And there's nothing more inviting than a freshly scrubbed kitchen.
While I do follow a cleaning routine, it's my husband who delights in a clean space. Typically, I save the deep cleaning tasks for the Whole House Spring Cleaning Checklist.
No matter how tidy your house appears to be, those corners and crevices have a sneaky way of collecting dust and grime. No judgment here-I don't know anyone who pulls out their refrigerator or organizes the spice rack the recommended amount.
This list covers a comprehensive kitchen cleaning. It's broken up into small easy to manage chunks, so you can move at your own pace. I've included a handy printable in the post, to maximize efficiency. Feel free to think of this list as a rough outline. If your kitchen could use more or less attention in a specific area such as cleaning copperware, tailor the list to your needs.
Gather your supplies, crack a window, and let's dive in.
General Tips For Kitchen Deep Cleaning
No matter how you choose to clean, there are some simple tips for general cleaning.
Start cleaning from the top of the room and work your way down. This will avoid dust and debris from falling onto your already clean surfaces.
Move everything off the counters to another room. This will give you more space to work with.
Don't start with the hardest or most time-consuming project. Have a quick win or two and then tackle the bigger cleaning items.
Dedicate a specific amount of time to cleaning.
Stay in the kitchen!! Inevitably I find things that don't go in the kitchen, and I get distracted as I put them away. Usually, I make a pile for those items as I am cleaning and then put them away later. This keeps focus.
Now let's go deep clean the kitchen!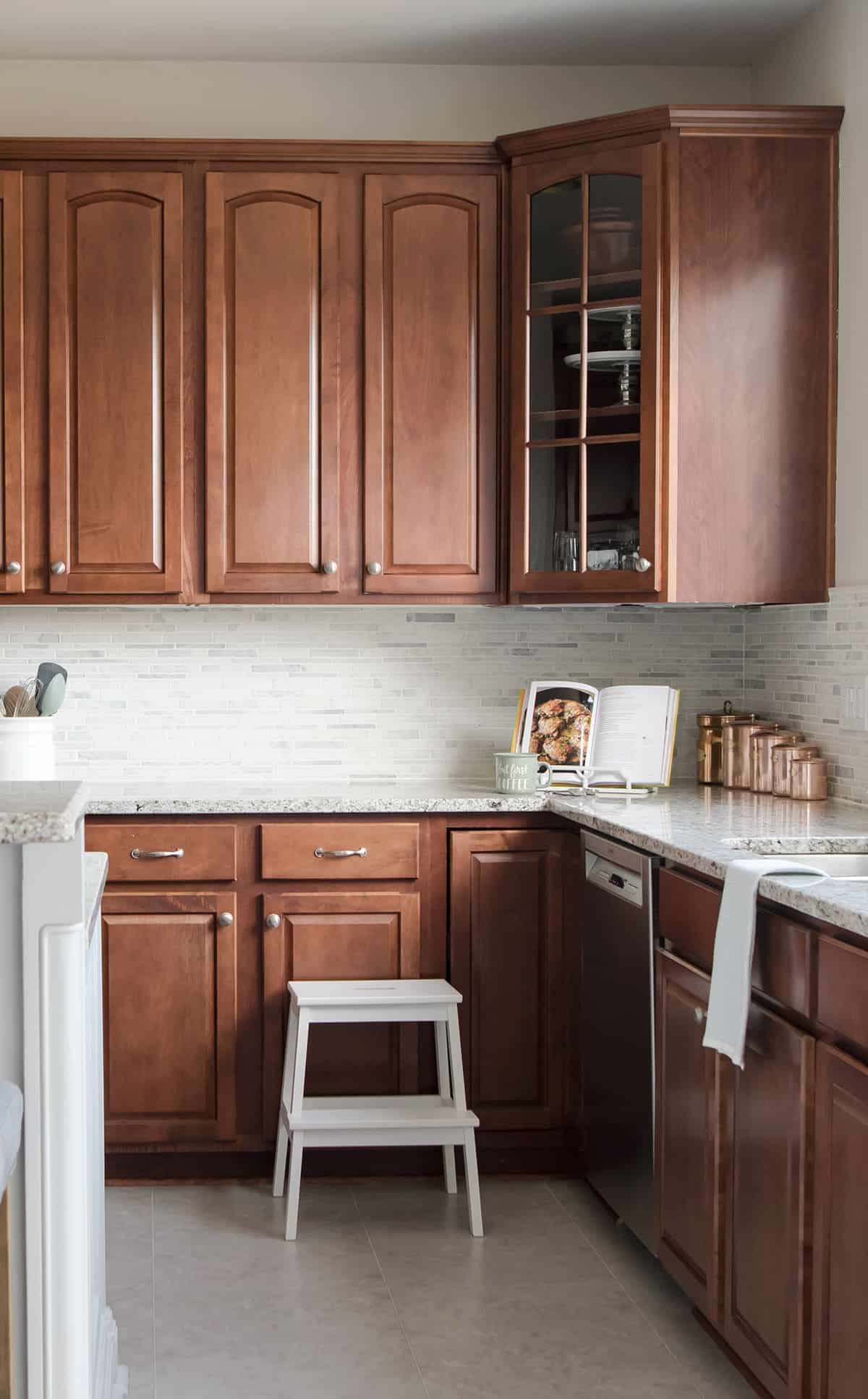 Start By Clearing a Space
You need space to clean and move items around or set them down. Take a few minutes to clear the counters and desk area, if you have one. I don't mean to start tediously organizing the bills pile, that will come later. Move them to another area, if needed, because this is just a quick once-over to get to the real projects.
Supplies for Kitchen Deep Cleaning
I have never used many cleaners, but a basic kit including window cleaner, degreaser or dish soap, floor soap, a toothbrush, and wipes or sponges. I also use a stainless-steel cleaner. Since I have a granite and marble back splash with white grout, I also seal them every six months.
A long-handled scrubber
A toothbrush
Touch-up paint
Knife or pipe cleaners or something to get in crevices well
Stainless Steel Cleaner (Optional, but this one is my favorite)
Window Cleaner of your choice
Degreaser or Dish Soap
Floor Soap
Cleaning Tip: I actually deep clean my kitchen with only water (even the windows!) and it's much cleaner, healthier, and easier than it used to be! You can read my full honest Norwex review here, but the window cloths are seriously magic.
Kitchen Deep Cleaning List
Light Fixtures
Replace any blown bulbs
Wipe off light fixtures, fans, and bulbs. Make sure the bulbs are off and cool when wiping.
Tops of Cabinets
If your cabinets stop short of the ceiling like mine, the tops are prone to collecting dust. Remove all items. I often use Press 'n Seal on the tops and you can just change it out when it gets dirty. If you don't have that, using a hand-held vacuum or duster, dry dust the tops of the cabinets to remove all dust and other loose particles. Spray with an all-purpose cleaner or degreaser and wipe down. Dust items as you put them away.
Vacuum or dust down any cobwebs.
Cabinets
Working from the top down, wipe down all cupboard doors and knobs.
I find that using a toothbrush to get into the corners of cabinets works very well.
Do the tops first and then the bottoms. The tops won't need as much cleaning.
Countertops and Stove
With everything removed, wipe the countertops and backsplash.
This is an excellent time to seal the countertops if it is on your maintenance list.
Once the counters are cleaned, wipe down items and return them to their spot.
This is also a good time to evaluate if you really need the can opener, juicer, etc out to use. Is in more in your way that it is convenient?
Walls and Doors
Working from the top down and one side of the room to the other, wipe down walls, trim, doors, light switches, and baseboards if you have them.
This is also a great time to do any paint touch ups to scratches and dings.
Sink and Disposal
Wipe down the kitchen sink and around the edges with a toothbrush. If you have a square sink, use the toothbrush to get into all of the little corners.
To fight odor-causing residues in the drain and disposal, I use this disposal cleaner specifically for the job. It's an easy-to-use tablet is designed for monthly use, or as needed, to scrub your disposal clean with a citrus scent. Works much better than lemons or ice!
How to use:

TURN ON hot water to a low flow
PLACE 1 tablet in the disposal
TURN ON disposal for 15-30 seconds. Foam may rise.
TURN OFF disposal
RINSE away foam and any residue down the drain.
Garbage Can
Pull out the trash can and empty. Using a hose, bathtub or whatever you have, clean out and degrease. If your garbage can is inside a cabinet, clean out the cabinet as well.
Appliances
Clean the dishwasher, microwave, fridge, and oven as needed.
If you have stainless steel appliances, use a polishing cloth and cleaner to remove fingerprints and streaks. I personally like this stainless-steel cleaner.
To clean the microwave, add a bowl of hot water and microwave for 2 minutes. Allow the steam to sit in the closed microwave for a few more minutes to make it easier to wipe.
Vacuum out the back of the refrigerator, where the coils are as directed with your unit.
If you don't have a self-cleaning oven, there are many commercially available products.
Food Storage
Clean out the refrigerator shelf by shelf. Toss any expired food and wipe shelves and drawers thoroughly.
If you have a pantry or food cupboard, remove all food items. Throw out any expired food or items you no longer intend to use. Wipe off shelves and wash mats if you have them.
Windows
Remove and wash any window treatments as necessary.
Dust and wipe down blinds. If the blinds are really dirty, I have been known to take them down and spray them off with a hose and hang to dry outside However, don't do this if you have real wood blinds.
Clean glass inside and out.
Flooring
Sweep and mop the floor as needed.
For a truly deep clean, consider moving the fridge and dishwasher or at least getting underneath it.
Shake out or vacuum area rugs and wash if necessary.
More Spring Cleaning Tips
Make Cleaning and Chores Fun
A thorough cleaning can be a chore, but it doesn't have to be torturous. That feeling of a clean kitchen is a great motivator and a job well done.
In our kitchen, I enlist the whole family to help to cut down on the time and to make it fun. We play music and I even promise a pizza night. Hey, the kitchen should stay clean for at least one day, right?
Printable Kitchen Cleaning Checklist
Now are you ready to get some cleaning done? Here is a handy printable list to get you started!
Here is a PDF version of the free checklist!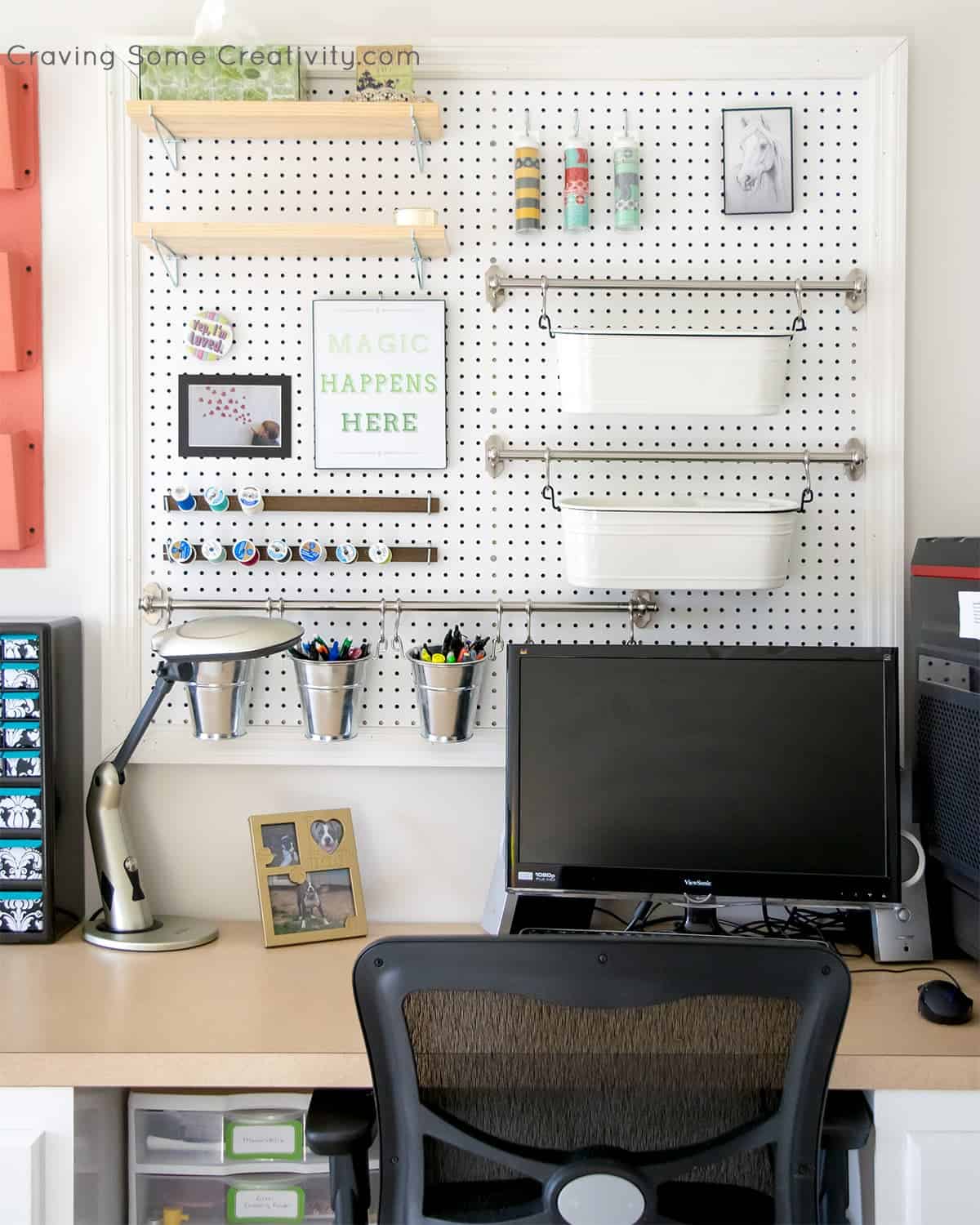 Grab our free series "Weekend Home Projects that will Transform Your Life"
Sign up below to receive updates including free printables, organization tips, home improvement projects, recipes and more!
More Helpful Cleaning Tips