A hearty, succulent Seafood Chowder recipe that warms the soul. Made in just one pot, the potatoes and onions are filling while the mix of fresh shrimp, mussels, corn, and a touch of cream make this soup beyond satisfying. Includes step by step instructions and variation ideas.
I am sharing my secret weapon seafood chowder recipe today! Not only is this comforting, creamy soup scrumptious, it's also stunningly beautiful. It adds that vibe of cozy elegance like no other and it cooks pretty fast to make it a great weeknight meal.
Eating fish on Christmas Eve is a long-standing tradition that stems from the Roman Catholic custom on the eve of feast days. Though not catholic, I am a sucker for traditions. Because it was so different from the traditional food fare often served here, I wanted to start as well, which has led to some good ideas on variations and a way to use up seafood leftovers perhaps from something like a Seafood Boil.
However, it is also one of my go-tos for guests who love seafood because it's much easier to make and uses less expensive seafood to stretch the dollar.
Ingredients and Notes
Below is an overview of what you will need to make this recipe. There are also some notes on substitutions if you need them.
Shrimp: Deveined and tails removed.
Mussels or Clams: You can use fresh or frozen mussels. For frozen, I usually cook them as directed and toss any sauce they came with. Clams are also a great addition that I sometimes use if they are in season. Clean and debeard them before tossing in the soup. The shells are what make this soup beautiful to serve, but you can remove the shells after cooking to make eating easier.

Bacon: This gives a nice smokey undertone while being a good substitution for any butter or oil.
Clam Juice: I usually find this in the soup section, but sometimes it's near the canned meat like tuna. I would highly recommend using clam juice, but if you absolutely can't find it you can use shrimp or seafood stock which will give a different flavor.
Veggies: The potatoes, corn, and onion provide a flavorful base while being filling and satisfying.
White wine: Any cooking or dry table wine you like works well. I try to use something that isn't too fruity.
Fresh Parsley (Optional): This is just a garnish that make the soup even prettier to serve.
How do I choose fresh mussels?
They are usually packaged in mesh at the seafood counter and still alive. they should smell salty like the ocean. Check the freshness tag and also make sure that the mussels are still tightly closed. If the shells are slightly agape, try tapping on them. If they close relatively quickly, it's fine. Alternatively, you can use frozen mussels or clams. Directions in recipe card.
How to Make a Great Chowder
A chowder is a type of soup that usually (not always) has a creamy base and chunky texture. A few of the more well-known versions include clam chowder, corn chowder, and this seafood chowder.
This chowder is extremely easy to build. I have included the full instructions in the recipe card at the bottom of this post, but here is a visual guide to how it comes together quickly!
Sauté the bacon until crispy.
Cook the onions in the bacon drippings.
Add veggies, broth and wine and cook until tender.
Stir in the seafood and simmer a few minutes until the mussels open.
Season to taste and enjoy!
Ways to Make It Your Own
You might want to change up some of the seafood options in this chowder, and that's perfectly ok. I change it up often as well depending on what's available at the supermarket and sometimes just out of desire to do something a little different.
Clams instead of mussels
Add chopped spinach in the very end to wilt.
Chopped fish such as cod, red snapper, or haddock
Fresh lump crab meat
Diced Carrots or Celery
Lobster
Recipe Tips
The chowder recipe is very chunky and full of texture. If you like your chowder a little creamier in texture, you can cut your vegetables smaller.
The shells make it more elegant, but they can be a pain for guests to remove after serving, so sometimes I remove them after cooking.
If fresh mussels aren't available, you can use frozen ones like these. I heat them in the microwave and discard the sauce if there is any.
Storage Suggestions
Store: Store the soup in a well-sealed, airtight container in the refrigerator. Lasts 3-4 days.
Freeze: As with most soups with dairy in it, I do not freeze this soup.
Make Ahead: This soup is wonderful for meal prep or leftovers. The dairy sometimes separates a little as it cools. Stir well as you heat it up over the stove or in the microwave.
More Creamy Soup Recipes You'll Love
Video Demonstration
Here is a video demonstrating the preparation and garnishing options for this delicious soup!
Frequently asked questions
How do you thicken seafood chowder?
The potatoes and onions provide a nice thick soup. However, to thicken the broth, make a slurry with either flour or cornstarch. Mix 1 tablespoon flour or cornstarch with ¼ cup of the soup broth and then add back to the soup and stir. To thicken an already cooked chowder, use potatoes or oyster crackers.
What do you serve with seafood chowder?
This soup is very rich and filling with the creamy base and all the hearty ingredients. My favorite thing to serve with it is a warm, crusty loaf of bread to soak up all the broth. Cheddar Bay Biscuits are also excellent. You can also serve it along a fresh salad or with a warm sandwich like a panini.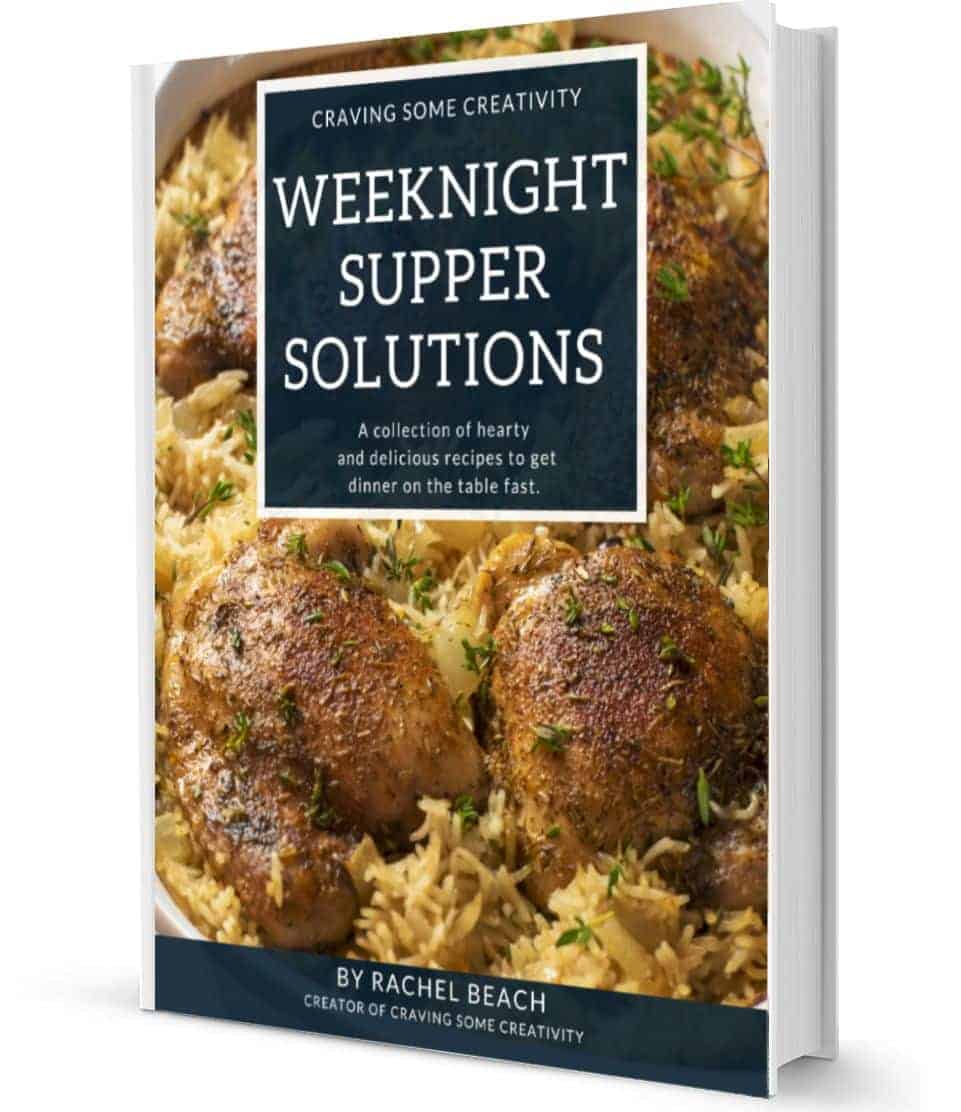 Not Sure
What's For Dinner?
Signup for recipe updates and get a free cookbook of Easy Weeknight Supper Solutions!
More Great Soup Recipes
PS. If you make this recipe, leave a COMMENT AND A STAR RATING in the comments section at the bottom and be sure to take a photo and tag it #cravingcreative on Instagram! I appreciate you for taking the time to read about me and my family recipes. 
Seafood Chowder Recipe
This Seafood Chowder recipe is made in just one pot with a mix of fresh shrimp, mussels, corn, and a touch of cream that is beyond hearty and succulent.
Print
Pin
Rate
Ingredients
4

strips

Bacon

chopped

½

Cup

Yellow Onion

diced

1

tablespoon

Unsalted Butter

1

tablespoon

All Purpose Flour

⅓

cup

Dry White Wine

24

oz

Clam Juice

usually 3 bottles

1 ½

cup

Potatoes

peeled and diced

1

lb

Large Shrimp

peeled and deveined

2

cups

Frozen Corn

15

Mussels

Fresh or Frozen* see note

½

cup

Heavy Cream

1

teaspoon

Thyme

dried

½

cup

Fresh Parsley

Garnish, optional
Instructions
Over medium heat, sauté bacon in a large pot until crispy. Transfer to a paper towel lined plate but leave the dripping in the pot.

In the same pot, add the butter and diced onion and sauté until translucent, about 5 minutes. Stir in flour and cook for 1 minute, stirring constantly. Add wine and boil for 1 more minute.

Stir in clam juice, corn, and potatoes. Bring to a boil, reduce heat, and simmer mixture until potatoes are tender. Around 8-10 minutes, depending on thickness of the potatoes.

Add the shrimp and mussels. Cook about 5 minutes or until shrimp are pink and mussels open.

Add cream and thyme to soup and heat through. Discard any mussels that don't open. Season with salt and pepper as necessary.

Garnish with crispy bacon pieces from the towel lined plate.
Notes
Notes on Mussels
For Fresh: They are usually packaged in mesh at the seafood counter and still alive. They should smell salty like the ocean. Check the freshness tag. If the shells are slightly agape, try tapping on them. If they close relatively quickly, it's fine. 
For Frozen: You can use frozen mussels like these. I heat them in the microwave and discard the sauce if there is any before adding to the soup.
Can't Find Mussels? Use fresh clams. Or substitute another seafood like crab, cod, snapper, or lobster. Be mindful of the cooking times as they may change.
Nutrition
Serving:
1
cup
|
Calories:
330
kcal
|
Carbohydrates:
17.3
g
|
Protein:
40.9
g
|
Fat:
9.2
g
|
Cholesterol:
181
mg
|
Sodium:
972
mg
|
Potassium:
567
mg
|
Fiber:
0.9
g
|
Sugar:
3.7
g
|
Calcium:
50
mg
|
Iron:
4.3
mg