It is no secret that I love baking. Last year was a big baking year and I used about an entire 16oz of my homemade vanilla extract. Store-bought pure vanilla is pretty expensive so I make my own. Today, I am sharing how to make vanilla extract at home too. Once you see how easy it is, experimenting with the various types of vanilla beans will seem like so much fun!
Cost analysis
McCormick's Pure Vanilla Extract (1floz size)- $5.84
Pure Vanilla Extract (16 fl oz size)- $12-$40 depending on quality
Homemade Vanilla Extract –
Vanilla Beans (5)- $15 (I buy 10 vanilla bean pods at a time but you can purchase 5 here)
500ml Vodka – 17.5 fl oz – $5.50
Under current prices, you can see that making vanilla extract at home is far cheaper and I will whole-heartedly say that you will get a much better product. I have done a side by side comparison of lower end vanilla extract and homemade vanilla extract before and the difference in aroma, vanilla flavor, and the aftertaste is very noticeable. I have never paid for the very high end to compare them.
How to Make Vanilla Extract
You will need:
5 vanilla beans from a quality vendor
1 500ml bottle of vodka
a knife
Tips on ingredients:
I use a 17oz glass bottle, but you could split it into 2 – 8oz bottles. Or you could just use the vodka bottle itself. I honestly bought the pour spout so the pictures would look a lot better than a Smirnoff bottle.This is also a wonderful gift to give at holiday time in dollar store airplane bottles.
I do not recommend a particular brand of vodka, but don't bother with something top shelf like Belvedere or Grey Goose. I, personally, buy a midrange vodka like Stoli or Smirnoff. I have heard others that do well using a cheap or well vodka. I sometimes mix my vanilla in things like ice cream and flavorings that won't be cooked so I buy a bit better than bottom dollar.
Many recipes will tell you to add 1 cup of vodka, and then add another cup after the first is gone. I do not subscribe to this theory because the first batch is good/super dark and the second batch is a little weak. So I just add it all at once.
Steps to making homemade vanilla extract:
Step 1- using a knife, split the beans down the center as shown above. You can either just open them or split the whole bean in half. Using your thumbs, pull apart the opening to expose the bean paste but do not remove.
Step 2- Put the vanilla beans in the bottle with the vodka.
Step 3- wait 4-6 weeks to allow the vanilla flavor to infuse into the vodka. I usually turn over the bottle or shake gently once a week.
Frequently asked questions:
Where can I purchase vanilla beans?
You can find vanilla beans at most grocery stores. They are located in the spice aisle with the extracts and other flavorings. They tend to be extremely pricey for the amount you get, but I assure you there is a ton of flavor in that tiny little magic bean. If you plan on making these as gifts, you will get a much better deal buying a larger quantity and you can find them here on Amazon.
What type of vanilla bean do I need to make homemade vanilla extract?
There are a few different varieties of vanilla beans. The most common is Madagascar Bourbon. Bourbon vanilla is synonymous with the vanilla flavoring and aroma that we are familiar with. Another popular variety is Tahitian which can also be used and you probably wouldn't know the difference unless you are a vanilla connoisseur. I have heard Mexican Vanilla beans being referred to as some of the best in the world if you can find a reputable vendor (there are not many apparently) or buy the beans directly, but I have yet to use these personally.
How do you store homemade vanilla extract?
Your extract to be stored in a sealed bottle in a cool, dry place like the pantry. Try to give it a shake about once a week or so. It gets better the longer it sits and will keep for years.
See how easy making vanilla extract is? I love this stuff!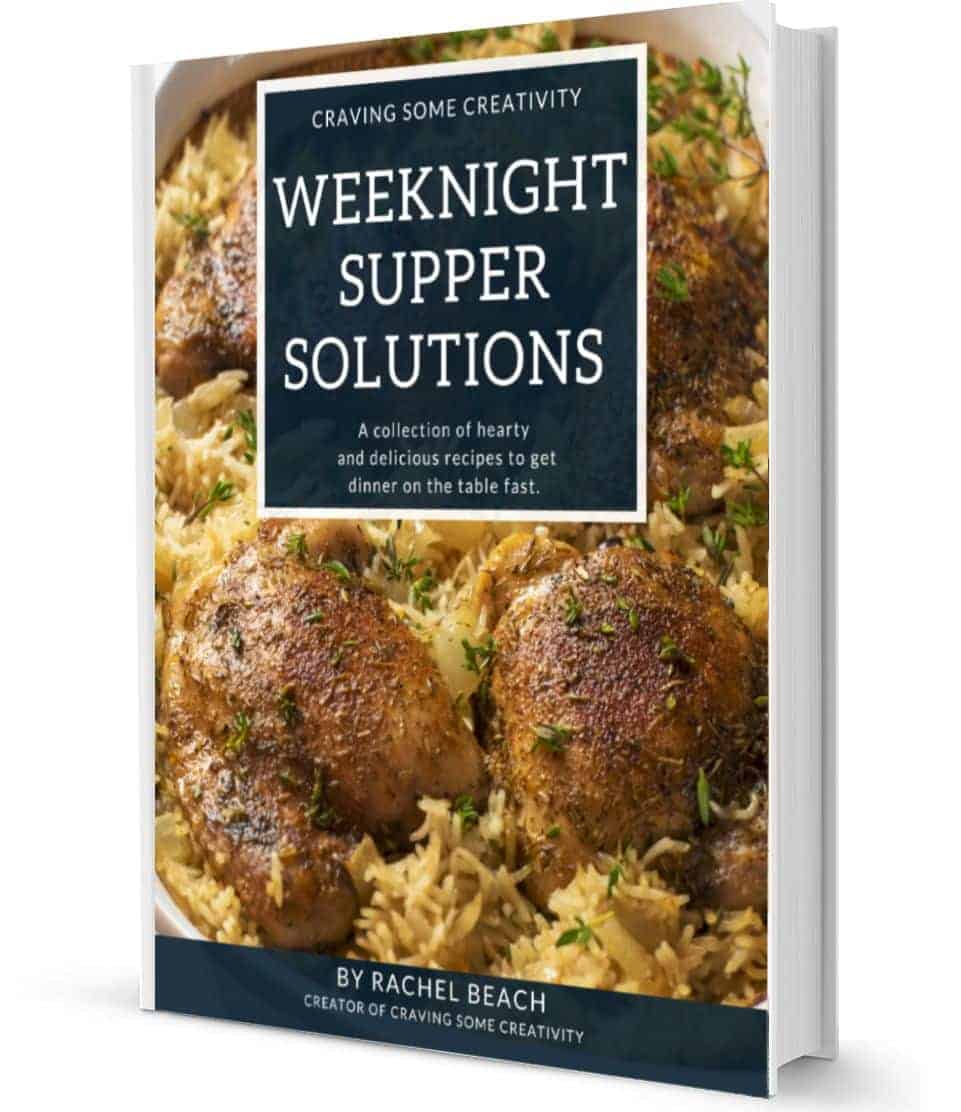 Not Sure
What's For Dinner?
Signup for recipe updates and get a free cookbook of Easy Weeknight Supper Solutions!
More Creative Ideas