Today's Pumpkin Cream Cheese Bread is an adventure in indulgent fall flavors! Pumpkin meets velvety cheesecake in this luscious sweet bread. The perfect dessert for your guests to swoon over at Thanksgiving or as a special treat to celebrate fall. Recipe includes step by step instructions and tips to make perfectly.
The BEST Pumpkin Bread Recipe!
This is the recipe that several years ago transformed me into one of those pumpkin recipe junkies. Absolutely.
While I won't say that I am gaga over pumpkin-flavored everything as other bakers appear to be, I do like it. But when I get to put pumpkin and cheesecake together, well, you got me there. I can't resist!
The bread is soft, moist, dense yet still fluffy, and it's nicely spiced. It's delicately sweet and it's always been a hit during the fall. In fact, it is my most requested recipe from family and friends.
What you will need
Below is an overview of what you will need to make this recipe along with notes on items I personally use.
Flour: I use all-purpose flour. I do sift it if it is particularly lumpy.
Pumpkin Puree: Use canned pumpkin puree usually found in the baking or pie filling section. Do not use pumpkin pie filling.
Sour Cream: You can use lite or regular sour cream, or Greek yogurt.
Sugar: This recipe uses both granulated white sugar and light brown sugar. Dark brown has more moisture in it, but I have used it before with success.
Vegetable Oil: Blended vegetable oil or canola will work, although I prefer the vegetable oil better.
Pumpkin Pie Spice: I make my own pumpkin pie spice mix for this recipe, but you can use store-bought if you prefer.
Parchment Paper: The parchment paper is option, but I find it much easier to lift the bread out of the pan easily rather than turning and dumping.
And here are my go-to ingredients for a never-fail crumb topping:
How To Make Pumpkin Cream Cheese Bread
I have a garden that supplies fresh sugar pumpkins, but I have tested this recipe with both fresh and canned pumpkin puree. The recipe below is adjusted to work with canned pumpkin. It is light, whipped, and moist, which sets up for the perfect cakey bread.
You will make the pumpkin batter separate from the cheesecake batter at first. Then layer them and marble gently to create the muddled luscious layers. You technically don't have to marble them together, but I like the look of it.
Layering the Pumpkin Bread
To get that nice, distinct and chunky layers, there is a specific technique.
Start with a small layer of pumpkin on the bottom – just enough to cover the bottom. Then alternate dollops of pumpkin and cream cheese filling. The cream cheese filling is thinner so it will spread a little. (Photo 1)
Lightly marble the top so you can fill in gaps and make it smooth. Make sure the edges are well filled. (photo 2)
Now dollop the rest of the pumpkin and cream cheese filling. (photo 3)
Lightly marble the top so you get an even, smooth top. Don't swirl too much because then you won't get chunky layers. (photo 4)
Add the crumb topping
The crumb topping adds a special texture to the top. It's as simple as mixing together sugars and butter to create the perfect crumbly topping. While it is optional, I highly recommend you try it at least once!
How to make Pumpkin Spice Mix
I usually make my own pumpkin spice for this recipe. It's really easy! In a small bowl, mix together:
1 teaspoon ground cinnamon
¼ teaspoon ground nutmeg
¼ teaspoon ground ginger
⅛ teaspoon ground cloves
Tips for Making the Best Pumpkin Cream Cheese Bread
Don't over mix the layers of pumpkin and cream cheese. You want them to have distinct differences. A few passes of the knife will do fine for marbling.
If you like extra cinnamon flavor, you can add it to the bread or in the crumb topping.
As hard as it is, resist cutting into it until it has cooled.
Use the brick style full-fat cream cheese, not the whipped or light versions.
Use pumpkin puree (usually in the canned section), not pumpkin pie filling which has sweeteners and spices added in.
If you love fall inspired desserts and dishes, check out our other recipes
The Best Easy Cheesecake Recipes
Frequently asked questions
Can I freeze pumpkin cream cheese bread?
Very easily! Let it first cool completely, then wrap it in plastic wrap and freeze. When you're ready to eat the frozen bread, set it on the counter overnight to thaw.
Can I omit the crumb topping?
yes, you certainly can and it doesn't make a huge difference other than the texture to the top.
How do I know that the bread is done in the oven?
You can check to make sure a toothpick comes out clean but I check most bread and cakes by touch. Once you get the hang of it, I find it to be a little more reliable than the toothpick test.
First, I jiggle the pan to see if there is any jiggle in the bread. If there is, give it 10 more minutes. Secondly, I press my fingertips very gently in the center. If the center feels spongy and springy, the cake is done.
Happy Baking!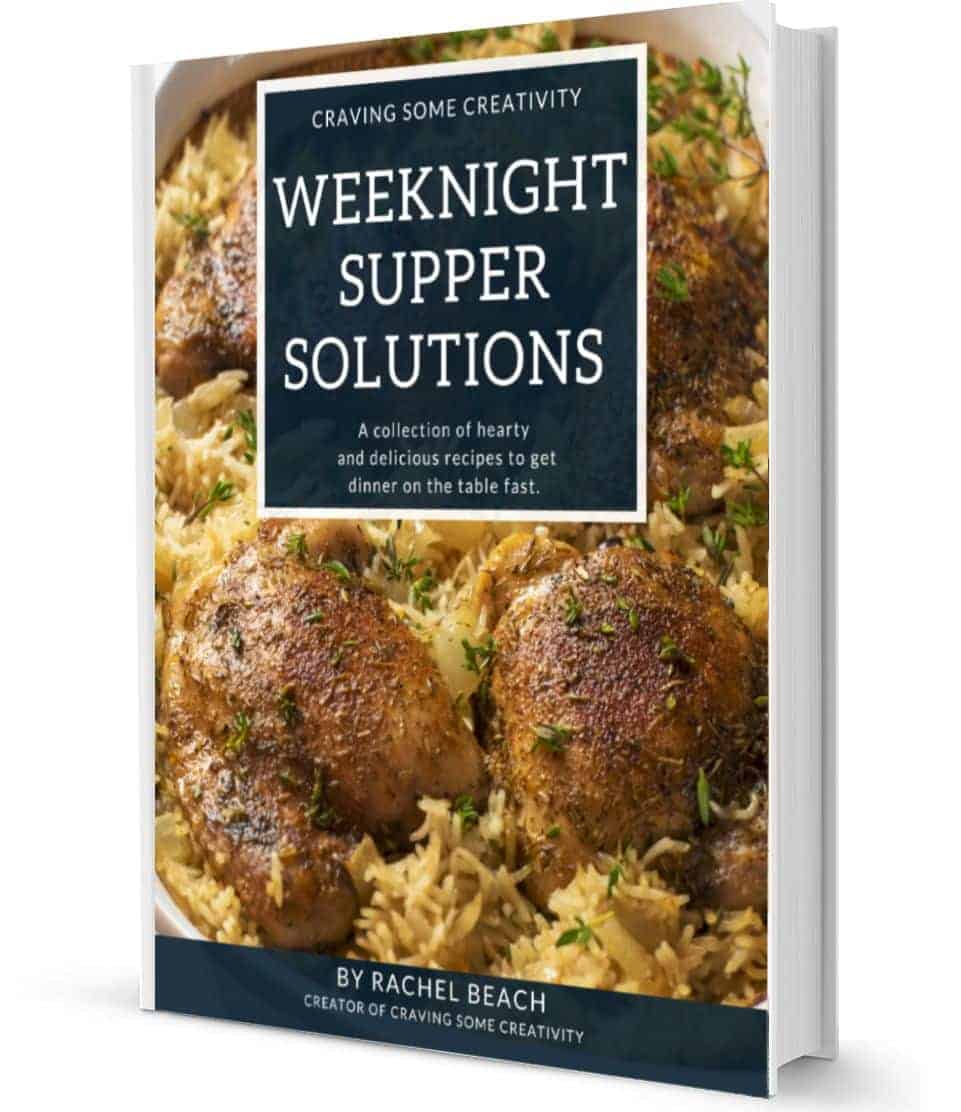 Not Sure
What's For Dinner?
Signup for recipe updates and get a free cookbook of Easy Weeknight Supper Solutions!
More Favorite Dessert Recipes
PS. If you make this recipe, leave a COMMENT AND A STAR RATING in the comments section at the bottom and be sure to take a photo and tag it #cravingcreative on Instagram! I appreciate you for taking the time to read about me and my family recipes. 
Pumpkin Cream Cheese Bread
Two fall favorite flavors – pumpkin meets velvety cream cheese in this luscious Pumpkin Cream cheese Bread
Print
Pin
Rate
Ingredients
Pumpkin Bread
1

Large Egg

1

cup

Canned Pumpkin Puree

not pumpkin pie filling

2

teaspoon

Vanilla Extract

½

cup

Light Brown Sugar

packed

¼

cup

Granulated White sugar

¼

cup

Vegetable Oil

¼

cup

Sour Cream

light is fine

1

cup

All Purpose Flour

1 ½

teaspoon

Baking Powder

½

teaspoon

Baking Soda

1 ½

teaspoon

Pumpkin Spice

¼

teaspoon

Salt

Parchment Paper

Optional
Cream Cheese Swirl
8

oz

Cream Cheese

softened to room temperature

½

cup

Granulated Sugar

2

Large Eggs

1

teaspoon

Vanilla Extract

5

tablespoon

All-Purpose Flour

½

teaspoon

Orange Zest

optional
Crumb Topping (Optional)
1

cup

All-Purpose Flour

3

tablespoon

Light Brown Sugar

2

tablespoon

Granulated Sugar

1

teaspoon

Baking Powder

6

tablespoon

Butter, melted

salted or unsalted
Instructions
Preheat the oven to 350 degrees F. Line a 5×9 bread loaf pan with parchment paper to make it easier to pull out.
Pumpkin Batter
In a mixing bowl, mix together the egg, pumpkin puree, and vanilla until smooth for the Pumpkin batter. Add the brown sugar and white sugar and mix until smooth. Stir in the oil and sour cream.

In a separate bowl, combine the flour, baking powder, baking soda, spices, and salt. Add the mixture into the wet ingredients batter, 1 cup at a time and mix between additions.
Cream Cheese Swirl Batter
In a separate bowl, make the cream cheese topping. Combine cream cheese and sugar. Use an electric mixer or stand mixer to beat until creamy. Make sure there are no lumps in the batter and it is smooth before the next step.

Mix in egg, flour, vanilla extract, and orange zest until smooth.
Crumb Topping (Optional)
In a small bowl, add the sugars, flour, baking powder and melted butter. With a spoon or your hands, mix the ingredients, breaking up any large lumps.
Layering and Baking
In a bread loaf pan (5×9), spread out just enough pumpkin batter to cover the bottom. Dollop spoonfuls of alternating pumpkin and cream cheese batter. Lightly swirl with a knife, making sure to push into the edges. Dollop the last halves of the pumpkin batter and cream cheese bread. Lightly swirl with a knife but do not over mix. You want some chunks.

Sprinkle the crumb topping onto the pumpkin bread batter. Very lightly press a little into the batter, just enough to keep them from rolling to the edges when baking.

Bake for about 45-55 minutes or until the cake has crowned and the center is clean with a toothpick or by touch. Remove from the oven.

Allow to cool for at least 15 minutes. When the pan is cool enough to handle, release the sides with a knife and either pull with parchment paper sides or turn over on a wire rack to completely cool before serving.
Notes
This recipe includes directions for swirling about half of the cheesecake mixture throughout the bread. If you desire it as only a topping, cut the cheesecake ingredients by half.
I check my cakes for doneness by touch. First, I jiggle the pan to see if there is any jiggle in the bread. If there is, give it 10 more minutes. Secondly, I press my finger tips very gently in the center. If the center feels spongy and springy, the cake is done.
Here is a basic recipe for pumpkin spice if you don't have any on hand:
1 teaspoon ground cinnamon
¼ teaspoon ground nutmeg
¼ teaspoon ground ginger
⅛ teaspoon ground cloves
Nutrition
Serving:
1
inch slice
|
Calories:
225
kcal
|
Carbohydrates:
27.7
g
|
Protein:
3.5
g
|
Fat:
11.5
g
|
Cholesterol:
36
mg
|
Sodium:
189
mg
|
Potassium:
197
mg
|
Fiber:
1.2
g
|
Sugar:
14.5
g
|
Calcium:
50
mg
|
Iron:
1.4
mg