Two fall favorite flavors – awesome pumpkin meets velvety cheesecake in this luscious marble pumpkin cake with cheesecake swirl. The perfect dessert for your guests to swoon over at your Thanksgiving dinner party or as a special treat to celebrate fall.
As of today, consider me having jumped on the pumpkin recipes bandwagon. I planted some sugar pumpkins this year that were ready about a month ago but I couldn't figure out just what I wanted to do with them. Thankfully, I learned that fresh pumpkins can be stored for a few months until the just the right idea hits.Of course, I am starting with a seriously swoon-worthy cake. While I won't say that I am gaga over pumpkin-flavored everything as other bakers appear to be, I do like it. But when I get to put pumpkin and cheesecake together, well, you got me there. I can't resist!
Let's talk a little about this marble pumpkin cake. I will say that my fresh pumpkins had more water in them than canned puree, so I included a picture of the bowl to show the consistency that the batter should be. The recipe below is adjusted to work with canned pumpkin. It is light, whipped, and moist, which sets up for the perfect cake.
In my experimenting, I had a hard time getting pictures because it would, ahem, disappear. Not sure how that happened. So weird. Maybe I should call it magic cake while I am at it. Anyways, one of the things I tried was that I swirled about half of the cheesecake mixture into the pumpkin cake and did the other half on top. The layered filling may sound a little complicated, but if you follow the instructions, it is easy to make (and you get the credit of being a baking savant!). And you may even make prettier swirls.
If you love fall inspired desserts and dishes, check out our other recipes
Happy Baking!
Print Recipe
Marble Pumpkin Cake with Cheesecake Swirl Top
Two fall favorite flavors – awesome pumpkin meets velvety cheesecake in this luscious marble pumpkin cake with cheesecake swirl.
Ingredients
1

large egg

1

cup

pumpkin puree

2

tsp

Vanilla

1/2

cup

packed brown sugar

1/4

cup

granulated white sugar

1/4

cup

vegetable oil

1/4

cup

sour cream

light is fine

1

cup

All Purpose Flour

1 1/2

tsp

Baking Powder

1/2

tsp

Baking Soda

1 1/4

tsp

pumpkin spice

1/4

tsp

Salt

Cheesecake Swirl Topping

1

egg

4

oz

cream cheese

softened to room temperature

1/4

cup

sugar

3

tbsp

Flour

1/4

tsp

orange zest
Instructions
Preheat the oven to 350 degrees F. In a mixing bowl mix together the egg, pumpkin puree, and vanilla. Add the sugar one at a time and mix until smooth. Mix in the oil and sour cream.

In a separate bowl, combine the flour, baking powder, baking soda, spice, and salt. Add the mixture into the wet ingredients batter, 1 cup at a time and mix between additions.

Cheesecake topping -

In a separate bowl, combine all ingredients and whip until smooth. I used a hand mixer.

In a 5x9 pan, layer dollops of half of the pumpkin batter and half of the cheesecake. Lightly Marble throughout. Layer the remaining half of the pumpkin mixture. Drop small dollops of the cheesecake over the top of the pumpkin layer. Using a knife, marble the cake by inserting the knife all the way to the bottom. This is different from only marbling the top layer.

Bake for about 45-55 minutes or until the cake has crowned and the center is clean with a toothpick or by touch. Pull out of the oven. When the pan is cool enough to handle, release the sides with a knife and turn over on a wire rack to completely cool before serving.
Notes
This recipe includes directions for swirling about half of the cheesecake mixture throughout the cake. If you desire it as only a topping, cut the cheesecake ingredients by half. It may seem like there is a lot of cheesecake topping but as it bakes, the pumpkin will bloom a bit. I check my cakes for doneness by touch. First, I jiggle the pan to see if there is any jiggle in the cake. If there is, it is not done. Secondly, I press my finger tips very gently in the center. If the center feels spongy and springy, the cake is done.
Nutrition
Serving:
1
inch slice
|
Calories:
225
kcal
|
Carbohydrates:
27.7
g
|
Protein:
3.5
g
|
Fat:
11.5
g
|
Cholesterol:
36
mg
|
Sodium:
189
mg
|
Potassium:
197
mg
|
Fiber:
1.2
g
|
Sugar:
14.5
g
|
Calcium:
50
mg
|
Iron:
1.4
mg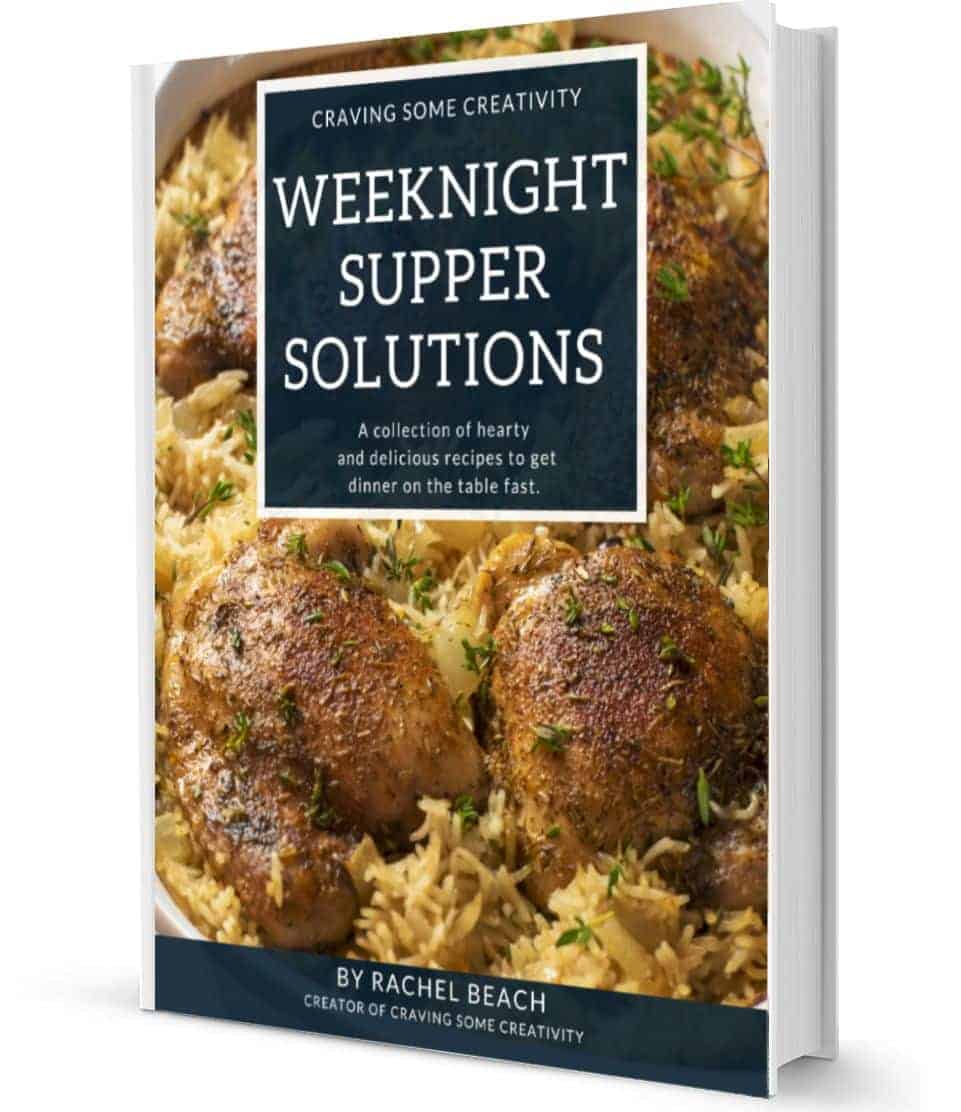 Not Sure
What's For Dinner?
Signup for recipe updates and get a free cookbook of Easy Weeknight Supper Solutions!
Our Newest Recipe Videos
More Favorite Dessert Recipes