Soft and fluffy, This Banana Chocolate Chip Muffin recipe couples banana and chocolate into a harmonious marriage of flavor. These moist, sweet muffins are the ultimate grab-and-go breakfast or snack. Quick prep with common kitchen ingredients and they freeze well too!
Banana chocolate chip muffins are a fun spin on classic banana bread. These handheld treats are a great way to use up overripe bananas. Like my Double Chocolate Zucchini Bread these make the perfect on-the-go breakfast, after school goodie, or midnight snack. From batter to bake time, you can enjoy the fruits of your labor in under an hour.
What I especially love about this recipe is how consistently moist and fluffy the muffins turn out. Of course, using my go-to muffin base adapted from Zucchini Muffins, Yellow Squash Muffins, and famous Lemon Blueberry Muffin recipe is the secret.
The sweet banana flavor dances delicately with the boldness of the chocolate. It's a match made in flavor heaven. You'll find yourself craving these not-so-guilty pleasures, so make a big batch and freeze some for later!
Ingredients and Notes
Flour: I use all-purpose flour, but wheat will also work as a 1:1 substitution in the muffins.
Bananas: You need about 1 cup of mashed banana. The moisture and sugar content is somewhat important, so I like to use spotty overripe bananas. Dark bananas work great too and will have more banana flavor. If your bananas are green, you may want to add a bit more applesauce or ¼ cup extra banana.
Oil: Vegetable or canola oil are the best choices.
Nuts: I like chopped pecans particularly in these.
Chocolate chips: Any variety you prefer should work well. I use the standard size, but minis and larger chips will also work.
Unsweetened Applesauce: This makes the muffins lighter in calories as well as balances the flavors. In most of my recipes, the applesauce is a substitute for ½ of the oil. I use unsweetened unflavored, but sweetened or cinnamon flavored will work if that is what you have on hand.
How To Make Banana Muffins
The recipe quantities and notes are in the recipe card at the bottom, but these quick instructions give you a visual guide for how it all comes together.
Mash the bananas. For quick work, I run the bananas through a food processor or blender. It should look very thick but not dry. It should be runnier than real mashed potatoes.
Prepare the batter. This is a really simple no-fail muffin batter. Whisk together the dry ingredients – Flour, salt, baking powder, baking soda. In a separate bowl, whisk together wet ingredients – Eggs, oil, and applesauce until the eggs are broken and incorporated. Add vanilla, sugar, bananas and brown sugar. Mix until smooth. One cup at a time, add dry mixture to wet and blend a little before adding the next cup. This keeps the mixture from puffing into the air without overmixing.
Fold in the goodies. I use a spatula to evenly distribute the chocolate chips.
Spoon into muffin pan. Grease a standard muffin pan with butter or use muffin cups. I fill them up pretty high, at least ¾ full or a little higher for nice, rounded tops. The cooking time may increase a few minutes if the muffin cups are really full. These also work great for jumbo muffins, but the baking time will increase, and the bottoms may be a bit denser.
Recipe Tips for Fluffy Muffins
Choosing Bananas. Slightly overripe bananas are the starting point – when a few larger black spots or streaks start to show. This helps the moisture and sugar content in the recipe. However, I have made these with near green bananas before too and it's delicious. If your mash isn't moist and slightly runny, add a tablespoon or so of milk. I have not tried with completely black bananas (couldn't wait that long!). However, dark bananas are perfect for banana bread so I imagine they would be great here too.
Use fresh baking powder. This will ensure that the muffins rise properly. If your baking powder is older than a year, it's time for a replacement.
Don't overmix the batter. Mix the flour into your wet ingredients until it's just combined. If you overmix the batter your muffins may turn out denser.
Reserve a few chocolate chips. For photography perfect muffins, put aside some of the chocolate chips before putting in the batter (or reserve some extra!). Sprinkle on top of the muffins just before they go in the oven.
Serving and Storage Suggestions
Serving Ideas: Muffins are great served warm or cool. Pop them in the microwave for 10-15 seconds and enjoy! Store them away when not eating to keep them fresher longer. I don't add butter to the tops, but that is an option.
Store: Store in a cool, dry place in an airtight container. They can be stored in the refrigerator or freezer easily. They last 4-6 months in the freezer and about 2-3 days on the counter, if covered.
Freeze: Be sure to let the muffins completely cool before sealing and storing them in the freezer.
Make Ahead: These can definitely be made ahead of time and stored. I would not store uncooked batter because they won't rise as well.
FAQs
How can I make my muffins lighter and fluffy?
Make sure your baking powder and baking soda is fresh. Also, having your wet ingredients like eggs or butter at room temperature helps them form a smooth mixture that traps air. These bubbles expand during baking and making the muffins lighter and fluffy.
Are banana muffins healthy?
These banana muffins make a reasonably healthy breakfast with a little chocolate indulgence. The inclusion of applesauce instead of oil provides less calories and a lighter texture. One banana muffin is a good source of vitamin E and iron. They also are high in Omega 3 fatty acids.
Can bananas be too ripe for banana muffins?
The best bananas for banana bread are often black, not yellow. Yellow bananas produce a slightly denser
Do these banana muffins taste like banana bread?
They taste similarly, but they have a lighter, softer, and more buttery texture. You'll love it.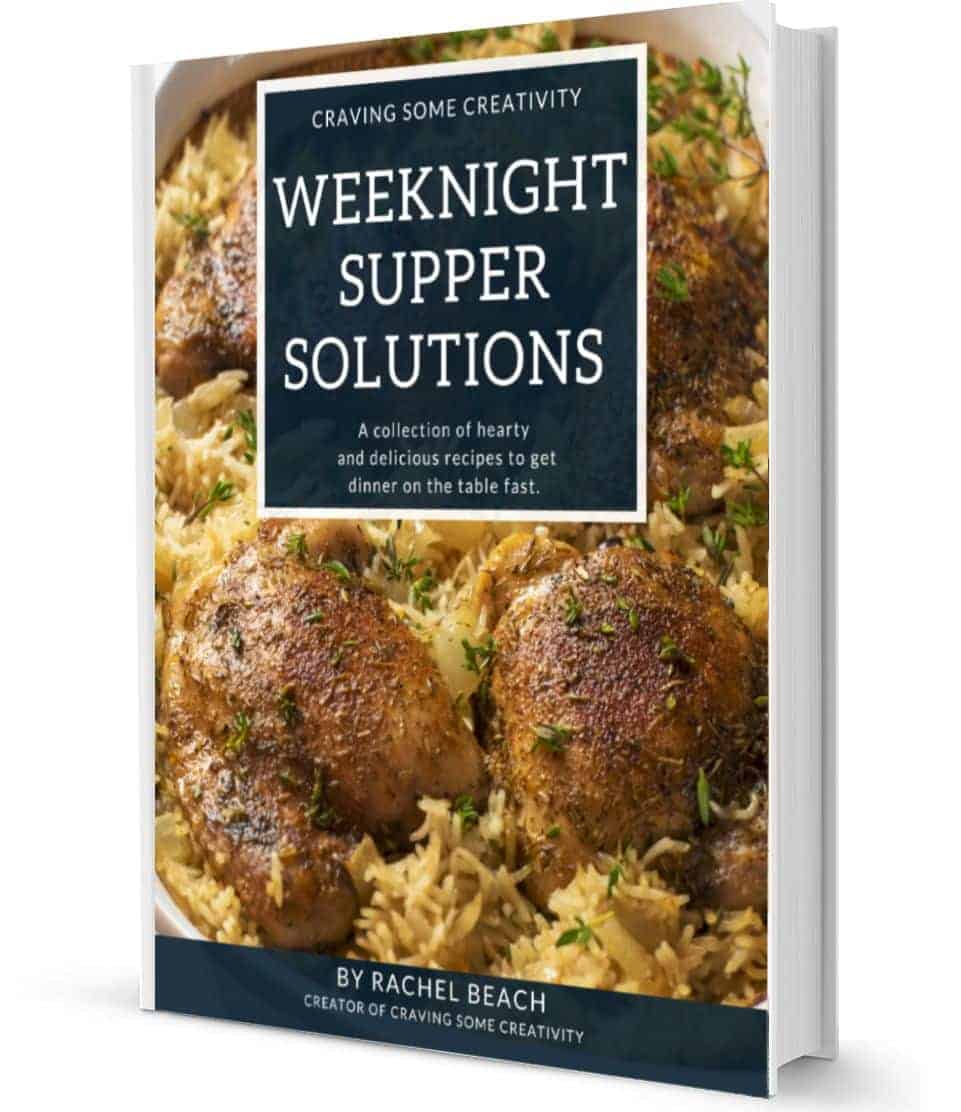 Not Sure
What's For Dinner?
Signup for recipe updates and get a free cookbook of Easy Weeknight Supper Solutions!
More Delicious Breakfast Ideas
PS. If you make this recipe, leave a COMMENT AND A STAR RATING in the comments section at the bottom and be sure to take a photo and tag it #cravingcreative on Instagram! I appreciate you for taking the time to read about me and my family recipes. 
Banana Chocolate Chip Muffins
Soft and fluffy, this Banana Chocolate Chip Muffin recipe couples banana and chocolate into a harmonious marriage of flavor. These moist, sweet muffins are the ultimate grab-and-go breakfast or snack.
Print
Pin
Rate
Servings:
12
regular muffins
Ingredients
1

cup

Mashed Overripe Bananas

About 2-3 bananas

2

Large Eggs

¼

cup

Unsweetened Applesauce

¼

cup

Vegetable oil

1

teaspoon

Vanilla Extract

½

cup

Granulated Sugar

¼

cup

Brown Sugar

light or dark is fine

1.5

cups

All-Purpose Flour

1

teaspoon

Baking Soda

1

teaspoon

Baking Powder

½

teaspoon

Salt

¾

cup

Chocolate Chips
Instructions
Mash the bananas in a food processor, blender, or by hand. Bananas, ideally, should have at least some dark spots on them. The mash should be slightly runny, like not as thick as mashed potatoes. If it is too thick, you can add a tablespoon of milk.

Preheat oven to 350. Grease muffin tins or use muffin liners.

In a mixing bowl, blend oil, applesauce, and eggs together. Add vanilla, sugar, bananas, and brown sugar. Mix until smooth.

In a separate bowl, whisk flour, baking soda, baking powder, and salt together. One cup at a time, add dry mixture to wet and blend before adding next cup until all are just mixed.

Using a spoon, stir in the chocolate chips.

Spoon batter to ¾ full in muffin tins. Bake for 16-20 minutes or until golden brown. Increase baking time for larger muffins. Muffins should feel soft and bouncy.
Notes
In a pinch, sweetened or cinnamon applesauce is fine. Do not use fruit flavored applesauce. This is a lighter calorie muffin so if you do have applesauce, you can substitute a half cup of oil (for a total of 1 cup) or melted, unsalted butter. They will be slightly denser.
Nutrition
Serving:
1
muffin
|
Calories:
201
kcal
|
Carbohydrates:
28.8
g
|
Protein:
3.9
g
|
Fat:
8.4
g
|
Saturated Fat:
1
g
|
Cholesterol:
23
mg
|
Sodium:
161
mg
|
Potassium:
132
mg
|
Fiber:
1.1
g
|
Sugar:
15.4
g
|
Calcium:
20
mg
|
Iron:
1.3
mg