The best carrot cake recipe! Made with real carrots, pineapple, raisins, walnuts, and a touch of cinnamon, this carrot cake recipe with pineapple is better than grandma's.
The kid in me screams that I want to eat all my vegetables in cake! The adult just gives a rather disproving look but that's ok. I have been waiting until just the right time to share my special Carrot Cake recipe. Dreams of spring and Easter whispered to me that this was that time. Filled with goodies like raisins and pineapple, this cake is moist and my favorite variation that I have ever had.
The funny thing about this cake is that it came about completely by accident. I was making my plain ol' carrot cake recipe when I realized mid-making that I had run out of vanilla extract. Seriously, what in the world do you substitute for vanilla? I almost skipped it when I saw that I had rum extract in the cupboard. For whatever reason, I just went with it. And I cannot believe the results! Although subtle, the rum extract added a certain warmth to the carrot cake and livened up the spices.
Since I know that Easter brings with it loads of chocolate and candy, I wanted to share a holiday treat recipe that my family not only loves, but that would also add a bit of nourishment to an otherwise sugar-laden day. And while Carrot Cake certainly isn't considered health food, it does have benefits that other cakes and sweets skip.
One last bit of disclosure. Some of you may remember my misadventures in icing a cake and wonder where my new-found decorating talents have sprung from. Nope, I didn't take a class. Rather, I enlisted the skills of a neighbor who just happens to run her own little cake baking company. I know, how lucky am I? I even got to play with a cake spinner, but I still need a LOT of practice. But hey, I did learn one little fact about pretty cakes. They use a ton of frosting.
The Recipe is at the bottom but first, I would like to show you some other fun EASTER PROJECTS!
Frequently asked questions:
Can this carrot cake recipe be made as cupcakes?
Absolutely! I adore this recipe in all forms! If you prefer to make this as individual cupcakes, I have a step by step recipe for carrot cake cupcakes that you can find here.
How do you store carrot cake after baking?
The cake layers can be stored wrapped or covered at room temperature or refrigerated for 1-2 days. Once the cake is frosted, it should be stored in the refrigerator due to the cream cheese in the frosting. It can be eaten chilled or you can set it out on the counter for one to two hours if you prefer room temperature cake. Carrot cake can also be frozen with or without the frosting for 2-3 months and thawed in the refrigerator overnight.
Can I substitute applesauce for the vegetable oil in carrot cake?
Unsweetened applesauce can be substituted for oil in this and many other baking recipes. The oil adds a lot of fat and moisture when baking, so the texture might change slightly. With all of the other ingredients that make this recipe so delicious and moist, it shouldn't alter the flavor too much.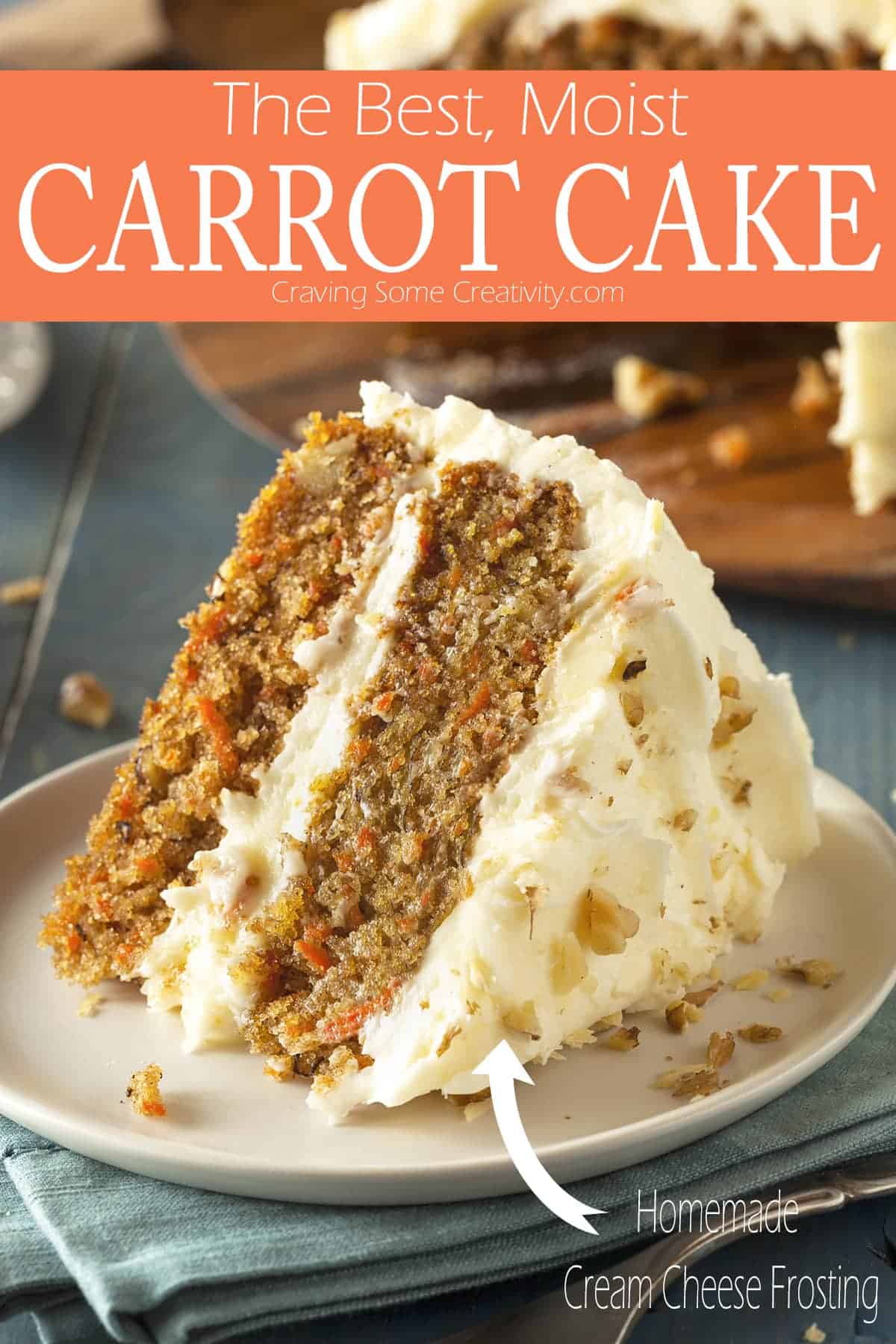 You've seen my #MakeIt project, now please visit some of the other wonderful blogger in this challenge and check out their beautiful Easter projects!
1. Easter Mantle w DIY Burlap Banner | 2. Easter Basket for Kids | 3. Speckled Easter Eggs || 5. Moss Covered Easter Basket | 6. Easter Kids Table Ideas | 8. Fabulous Carrot Cake | 9. Easter Egg Hunt Pom Pom Skirt
Fabulous Carrot Cake Recipe
This Carrot Cake recipe is a new twist on a traditional favorite and filled with raisins, carrots, pineapple, and nuts.
Print
Pin
Rate
Ingredients
2

cups

All Purpose Flour

2

tsp

Baking Soda

¼

tsp

Salt

2 ¼

tsp

cinnamon

3

Eggs

¾

cup

Buttermilk

¾

cup

vegetable oil

1 ½

cups

White Sugar

2

tsp

rum extract or vanilla extract

2

cups

shredded carrots

1

cup

chopped walnuts or pecans

1

can

crushed pineapple in juice

8oz

1

cup

Raisins
Instructions
Preheat oven to 350 degrees. Grease and flour two 8×8 cake pans.

In medium bowl, whisk combine flour, baking soda, salt, and cinnamon. In a second large bowl, combine eggs, buttermilk, oil, sugar, and extract. Add flour mixture, a cup at a time and mix well between each addition.

In another medium bowl, combine carrots, nuts, pineapple and juice, and raisins. Using a spoon or scraper, fold the carrot mixture into the batter.

Pour into prepared pans. Bake for 1 hour or until center is done and toothpick comes out clean. Let cool on wire rack before frosting with cream cheese frosting.
Nutrition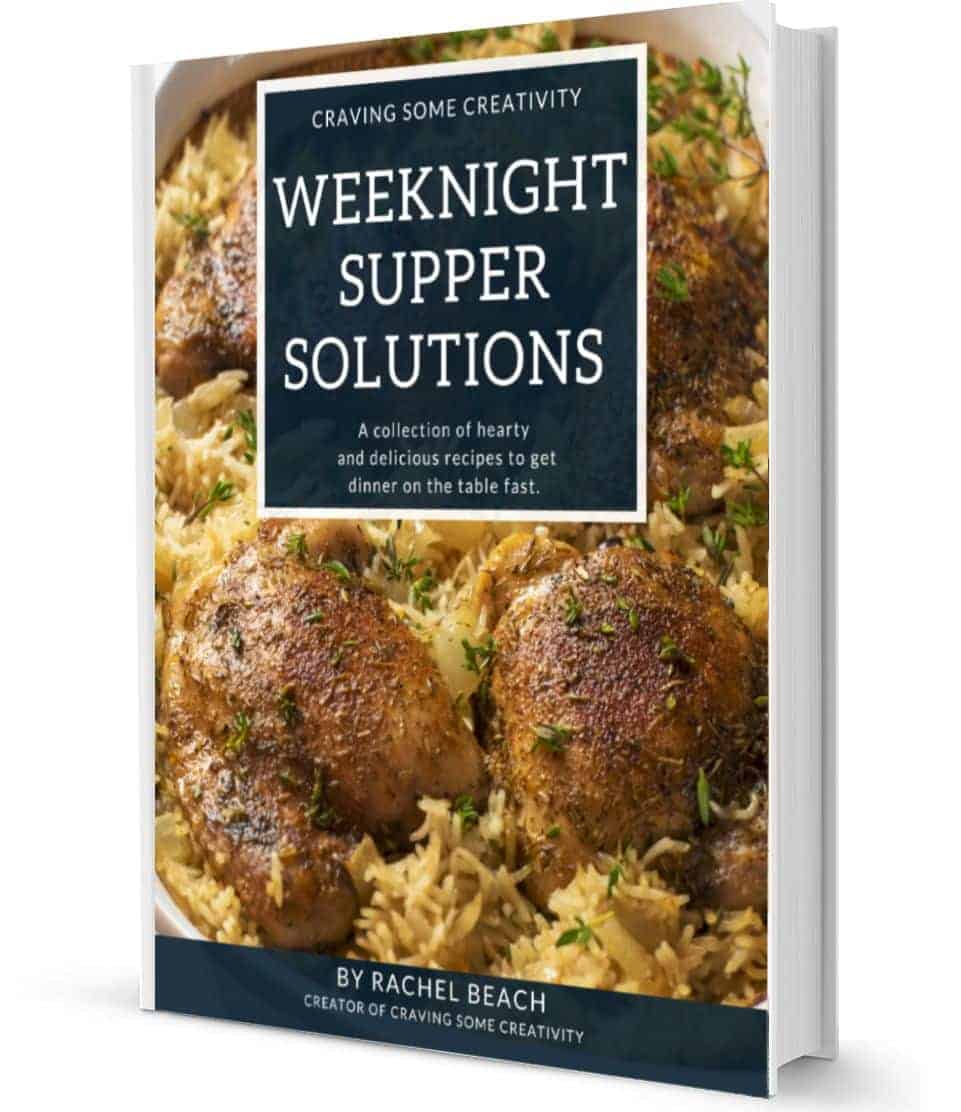 Not Sure
What's For Dinner?
Signup for recipe updates and get a free cookbook of Easy Weeknight Supper Solutions!
More Great Dessert Recipes