A practical kitchen cleaning schedule maintains the most high-trafficked area of the home. This handy kitchen cleaning checklist will transform "I'll get around to it" tasks into regular habits with bite-sized daily, weekly, and monthly tasks.
Weekly food prep, mad dash mornings, and Sunday suppers take their toll on the kitchen. And because it is the space where we prepare food; we want it to be the clean!
That means there's plenty of space for splashes or splatters, and plenty of crevices to attract crumbs. Dirty dishes, dingy floors, and full waste cans – wash, rinse, repeat.
So, what's a busy cook to do? Break up one daunting task into easy to manage smaller tasks! And delegate if you can.
If you are like me, this handy checklist will not only help you to keep it clean, but also let you know how often something should be cleaned!
Kitchen Cleaning Schedule
A few minutes of cleaning a day, keeps big messes at bay. The key is to establish a routine that's realistic for your lifestyle. I love a simple checklist. Each time you check off a task, you create a new habit and feel so accomplished. Here is a breakdown of tasks that will help keep your kitchen sparkling every day, week, month, and a spring-cleaning routine.
A Few Minutes a Day
Much like a good pizza delivery, a daily kitchen clean up should take less than 30 minutes. A few tips to get started include soaking pots and pans in a sink of soapy water while eating. No more scraping off dried-up food. And make it a family affair! Create an after-dinner routine to effectively knock out tasks.
Bonus: This is also a great method when company is dropping by! "Panic clean" with a plan.
Daily Tasks
Clear countertops of all the clutter.
Empty the dishwasher and dish drainer, as necessary
Wash dirty dishes
Wipe counters and stove top
Sweep floor, as necessary
Run the dishwasher, as necessary
Wash out the sink
Replace any cleaning towels or dish towels
Take out the trash
Weekly Date with Your Kitchen
Choose a day of the week where you have a solid hour to devote to a deeper cleanup. If biweekly works best for you, then so be it. Adapt the checklist to your household's needs!
Step one is to start with a clean slate! Clear surfaces of all debris.
Weekly Tasks
Remove leftovers and spoiled items from the fridge, wipe down
Clean outside of appliances
Wipe your cabinet doors and drawer fronts. Don't neglect the hardware!
Empty toaster of crumbs
Run vinegar cycle through coffee maker
Clean inside of the microwave
Thoroughly disinfect the sink and clean faucets
Sanitize or replace sponges
Wipe down doors, handles, and light switches
Mop floors
Going Deep
Monthly deep cleans are the perfect opportunity to take inventory of common kitchen supplies. Has the broom seen better days or time to consider Norwex products? Is it time to add light bulbs or trash bags to the shopping list? Or maybe it's time to whip up another batch of homemade glass cleaner.
This monthly schedule gives you a good idea of how often these items need to be cleaned, but they don't have to be done all at once. Sometimes it's easiest to incorporate one in your daily routine, like a bonus.
Monthly Cleaning
Sort pantry items outdated and what needs to be restocked.
Wipe out drawers and cabinets. Or try the brush attachment on your vacuum instead!
Give the trash can a good scrub.
Take inventory of freezer items that need to be tossed, restocked, or eaten soon.
Clean out the refrigerator. Wipe down shelves and drawers.
Clean garbage disposal. Grind lemon peels or lemon ice down for scent refresh.
Clean the dish drainer drip pan.
Spot-clean tile or backsplash.
Dust blinds or window treatments.
Wipe down any light fixtures and replace burned out bulbs.
'Tis the Season
The term spring cleaning list is no accident. About every six months certain areas of our homes seem to clamor for our attention. Kitchens are no exception to this rule. You've been keeping the kitchen fresh and tidy with your daily, weekly, and monthly checklists. Add these seasonal chores into the deep clean monthly rotation once or twice a year.
On deep clean days, I have one of two moods – either we tackle the project as a team, or everyone needs to stay out of my way.
Six Month Tasks
Clean refrigerator coils (unplug your fridge first)
Clean under the refrigerator
Clean out the "junk" drawer
Organize the pantry and vacuum pantry shelves,
Clean the oven
Take inventory of spices and supplements. Toss expired ones. Organize spices with labels, as necessary.
If it's been some time since your kitchen received a good deep cleaning, no judgment here. Sometimes, it does get away from our best intentions. I have a separate in Deep Cleaning Kitchen Checklist here to get all the things! Save time and feel accomplished with every happy little check mark. Celebrate the small stuff!
Kitchen Cleaning Checklist
Now that we know about how often kitchen items should be cleaned, I am including a checklist that I use to keep it spic and span.
Download my "Kitchen Cleaning Checklist" printable template here and the blank printable version here.
More Cleaning Ideas and Kitchen Organization
FAQs
What is the fastest way to clean a kitchen?
Start by clearing the clutter to make it easier to clean surfaces quickly. Make a designated pile for items that go elsewhere so you don't leave the kitchen until it's done. Also, clean top to bottom to effectively clean a space without needing to wipe again.
How do I make a clean checklist?
Break up tasks in a routine that works for you whether it is by specific days or add in longer chores as you get to them. I have included a handy kitchen cleaning schedule to get started.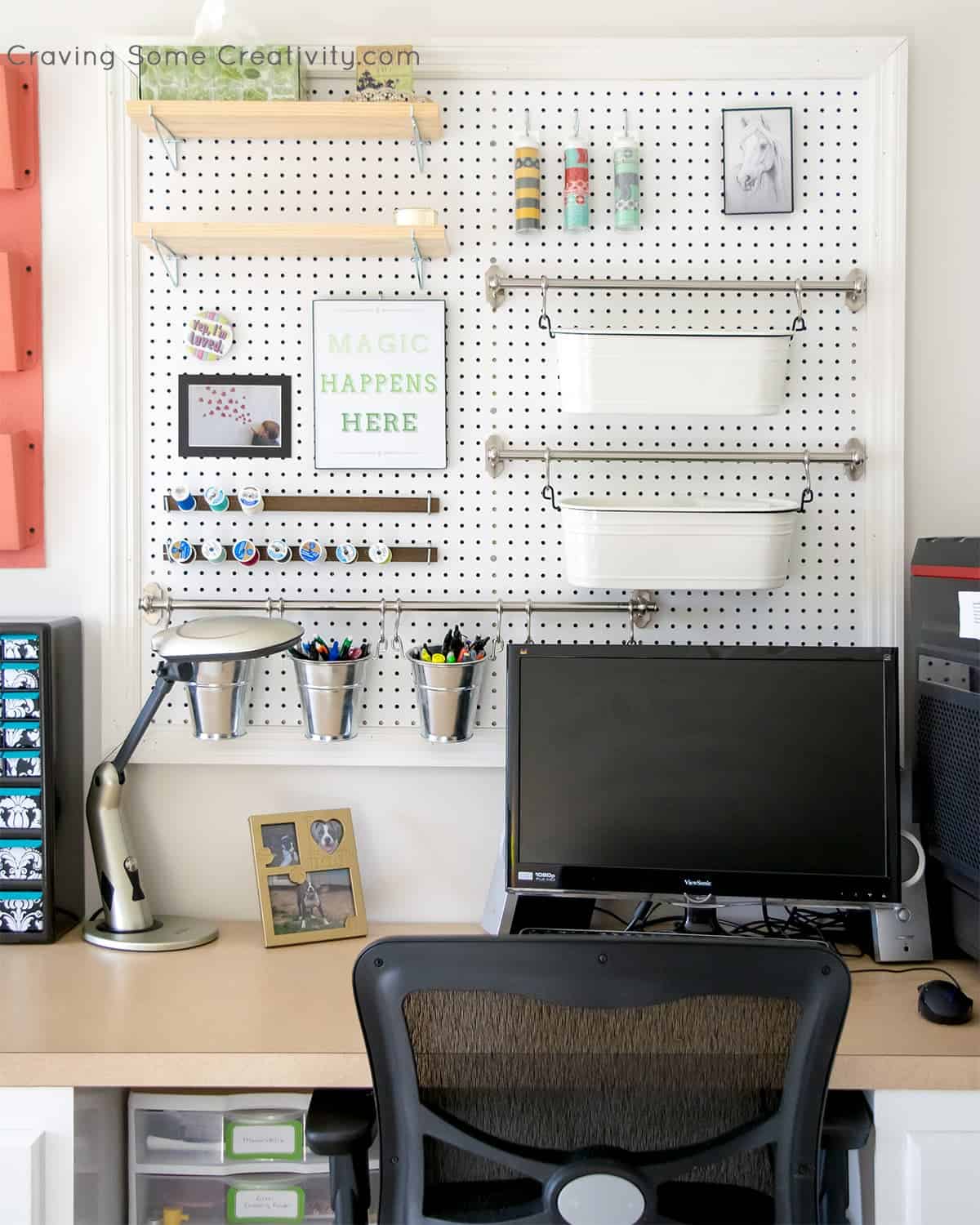 Grab our free series "Weekend Home Projects that will Transform Your Life"
Sign up below to receive updates including free printables, organization tips, home improvement projects, recipes and more!
More Cleaning Ideas
PS I love seeing your creations! Be sure to take a photo and tag #cravingcreative on Instagram! You can also stay in touch with me through following me on Instagram, Pinterest, and subscribing to the newsletter!