Stunning Bedroom Feature Walls enhance your interior design and make your space feel finished and intentional. From geometric prints to nature inspired murals, ignite your creativity with these 20 DIY bedroom accent wall ideas.
Your bedroom is your sanctuary, your haven from the world—a place where your unique personality and style should shine.
In the past, accent walls have been equated with slapping a bold color on one wall to make it stand out. But today's accent wall options allow you to make a bold statement or add depth your space without the hassle of a full-scale renovation.
So, gather your tools and roll up your sleeves through these bold & beautiful bedroom feature wall ideas. Create a masterpiece of style and comfort with a wall that is its own artwork.
Bedroom accent wall ideas
If you are looking for ideas on where to start with a color scheme for your bedroom walls, look no further than my step by step guide to picking paint colors. You can use that to pick any easy option from a black accent wall to calming sage.
1. Creative Molding Wood Panels
Wall molding is an affordable option to add instant dimension and texture. Wood accent walls are near and dear to my heart, as it's simple enough for DIY beginners to execute. Adding one accent wall like the geometric pattern accent wall featured here is a fun way to try something new in a master bedroom.
2. Statement Patterned Wallpaper
Sometimes a daring statement is just what your bedroom walls need. Thanks to modern design options and easy peel-and-stick application techniques, wallpaper's popularity is high. Add scope to your bedroom design with moody botanical prints like the one featured here. Step into a whole new world with wall art scenes like this Children's Jungle Scene or Beautiful World Map.
From art-inspired prints to a botanical oasis, the options are truly limitless. Other prints I love:
3. Faux Brick Backdrop
Brick walls elevate any interior space by adding character. It's such a versatile element; the natural variants in color and texture looks like a work of art. While the majority of us may not have access to an interior brick wall in our home, it's easier than ever to create the effect with peel-and-stick wallpaper or textured panels. Natural hues in the faux brick wall adds warmth to the industrial design featured here.
4. More than a Mural
This moon mural is a whole mood. Murals not only add a unique design installation but they add an impression of grandeur to small rooms. Choose a palette that contrasts the surrounding elements to enhance this effect. This smoky mural adds depth to an otherwise light and neutral space.
5. Wood Slats Artwork
I've seen wood slats in all sorts of creative ways, but this geometric wood wall design is truly unique. A guest room gets a major upgrade courtesy of this custom feature wall and built in. This installment adds a sense of serene luxury without breaking the bank.
6. Simple Stripes in Bold Color
When transitioning my son into a room fit for a tween, I wanted a design that left room to grow. Few motifs offer as many possibilities as a classic stripe. This race car style stripe across his room offers a punch of color while remaining masculine. Learn how to paint stripes with my foolproof method. It's easy enough for any beginner.
7. Color Blocking Plain White Walls
A blank slate sparked this genius streak of creativity. Shiplap planks get a splash of color courtesy of Fusion Mineral Paint. This classic color block technique, inspired by Hudson Bay, is a cheerful and inviting improvement.
8. Fresco Wall
Reproduce the dimension and character of a plaster wall with Textured Fresco. This painting technique fills a space with a sense of wisdom, a keeper of forgotten secrets. Create a soft chalky finish or an aged vintage vibe. There's many options to play with when it comes to Fresco.
9. Wallpaper the Bottom Half
Pretty and practical. A well-placed feature wall is more than just a pretty face. In this Boho Girl's Bedroom, adding molding and wallpaper below the window made the room feel more spacious.
10. Funky Geometric Shapes Wall
Create a visual feast for the eyes with this simple DIY Geometric Accent Wall. Add a touch of whimsy to any wall in less than a day. The perfect touch for a nursery, playroom, or creative space.
11. Floor to Ceiling Wainscoting
Wainscoting adds adds depth to interior spaces without any extra fussiness. Although it's traditionally seen on the lower wall, it creates an elegant effect when brought floor to ceiling. This crisp design features individual beveled rectangular panels divided by thin vertical strips. Add polished ambiance to hall spaces, dining rooms, or a bedroom feature wall.
12. Bold Pattern Color Scheme
Bold playful patterns embellish any design theme. This graphic patterned mustard wallpaper adds harmonious contrast to a superhero themed bedroom by Sunny Circle Studio. The pattern is subtle enough to support additional art on the walls without feeling busy.
13. Two Tone
Two-toned feature walls are a modern solution for any room in need of spunk. It's a no-brainer in rooms such as this, where wood wainscoting offers a natural division. When experimenting with two-toned walls, choose a lighter shade for the top portion of your space to draw the eye up. This keeps your space feeling open rather than boxed in. Although this room features bold shades of blue/green, choosing subtle colors still creates an eye-catching effect.
14. Wall Decals
Looking for a way to add graphic interest to your bedroom without a big commitment? Choose your own adventure with a wall decal! Wall decals are beautiful medium to add a pop of color. Peel-and-stick installation gives grace to beginner DIY'ers, while offering an inexpensive solution for renters itching to customize their space. Decal watercolor peonies are the perfect finishing touch for this pretty-in-pink bedroom setting.
15. Over sized Furniture or Shelves
Oversized furniture offers a pragmatic solution for storage or displaying a TV, without sacrificing your design aesthetic. Oversized furniture offers a less pricey and portable alternative to built ins. Here, we built a custom media console to accommodate a 65-inch television and integrated it with two side bookcases. Two smaller pieces flanking a large piece institutes seamless symmetry.
16. Modern Gallery
Gallery walls tell a visual story and anchors in the essence of a space. Gallery walls can feature everything from family photos, to framed prints, and/or 3D decorative elements. The only "rule" that applies when creating a gallery wall is to choose art that speaks to you. I recommend selecting a certain palette or theme for your wall for the most cohesive design. Modern floor to ceiling prints highlight natural elements for an overall airy aura.
17. Textured Walls
Textured wallpaper offers a way to create a visually stirring effect without additional clutter. It's the ideal option for those who lean towards a minimal design aesthetic looking for a way to soften up a space. Textured wallpapers come in all sorts of designs, often mimicking textures found in nature. Grasscloth Cream Wallpaper features a neutral linen taupe design. The layers of neutral textures and finishes in this bedroom is calming and cozy.
18. Welcome to the Jungle
Display lush green plants in simple yet chic style. No green thumb? There are lots of nice artificial ones that look beautifully realistic for jungle-like abundance. The effect is earthly and ethereal. Artificial greenery can be purchased in whole panels or installed individually.
19. Floor to Ceiling Headboard
Adding a headboard to your bed creates an instant focal point of the room. Moreover, when designing a large bedroom, a floor-to-ceiling headboard adds drama to prevent the room from feeling flat. This rough wood feature wall integrates muted hues and abundant natural textures to create a harmonious bedroom haven.
20. Acoustic Wall Slats
Acoustic wall slats and panels add appealing depth for an eye-catching bedroom. This versatile material works for mid-century modern decor, cottage style designs with organic elements, or a bohemian bedroom theme. These wood acoustic panels provide efficient sound absorption. Easy enough to install with basic DIY skills, panels also provide stop your room from sounding hollow while providing sleek visual interest.

FAQs
Is an accent wall still in style 2023?
Accent walls continue to be a top interior design trend. In 2023, prepare to see new ways to turn any wall into a statement wall! More than just a pop of color, a statement accent wall adds a focal point to bring personality to any room.
What are the trends for walls in 2023?
Current feature wall trends include wallpaper, textures like exposed brick, concrete, and natural stone, and bold paint colors.
How do you decide which wall should be an accent wall?
There aren't any "rules" to follow when selecting an accent wall. The wall should be solid and symmetrical for the biggest impact. Other factors to consider:
1.The wall you first see when you enter a room provides the best visual.
2. The wall with existing architectural features such as a fireplace, built-in bookcases, or a nook.
3.  Utilize your natural line of sight by choosing the wall you face regularly.
Which wall to accent in a small bedroom?
The general rule of thumb is to highlight the focal point of the room. Typically, the bed is the focal point making the wall behind it a natural choice for an accent wall. Highlight one of the shorter walls if your bedroom is long and narrow to create the illusion of more space.
How do you accent a wall behind a bed?
Accent walls shouldn't battle for attention with existing focal points, like your bed. Utilizing the headboard itself is the simplest way to ensure this. Other great options to consider: a photo/print gallery, a wall mural, a tapestry, or utilizing natural elements like wood, brick, and stone.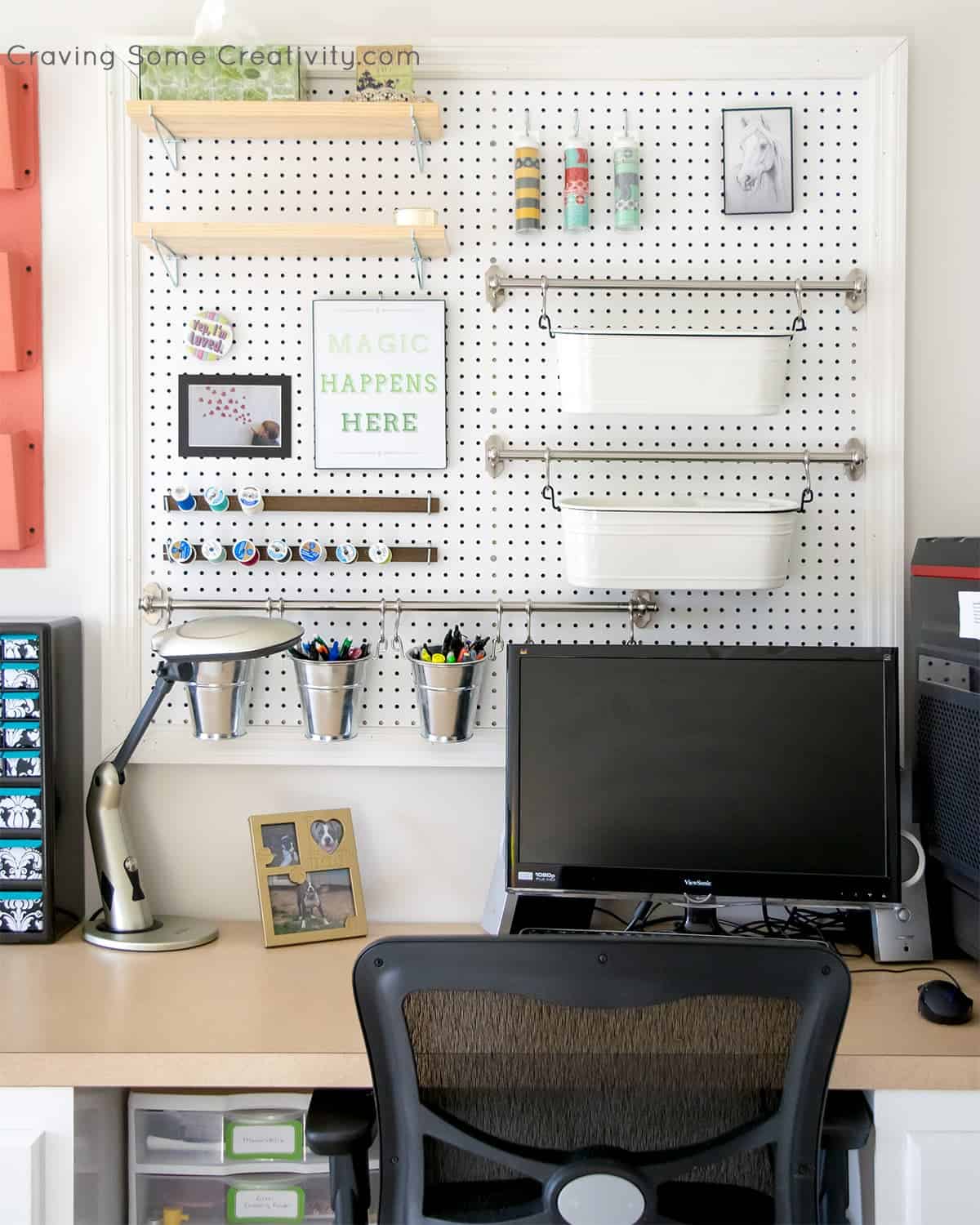 Grab our free series "Weekend Home Projects that will Transform Your Life"
Sign up below to receive updates including free printables, organization tips, home improvement projects, recipes and more!
More Design Ideas
PS I love seeing your creations! Be sure to take a photo and tag #cravingcreative on Instagram! You can also stay in touch with me through following me on Instagram, Pinterest, and subscribing to the newsletter!