These black painted furniture ideas are amazing transformations that create a dramatic and beautiful story. Check out these creative furniture inspiration ideas, tutorials, and before and after projects, large and small.
While the bejeweled hues of colorful painted furniture are hard to resist, there's no denying it: Black is beautiful. In the fashion world if you want to make a bold, elegant statement with minimal effort- black simply can't be beat.
The same is also true for home decor. A soft black piece of furniture is lovely to throw into the mix when you want to update your home design. Similar to white painted furniture, black furniture mixes well with every color and doesn't rely on passing trends.
5 Reasons I Love Black Furniture:
Makes a large room feel intimate & inviting.
Adds drama and depth to spaces.
Other colors pop in contrast.
Draws attention to architectural features in antique pieces while providing contemporary flair.
Adds an element of timeless appeal.
So, today I thought I would share some of the most unique, creative, and beautiful black furniture pieces and some of my best tips if you are considering adding one of these beautiful pieces to your own home.
Frequently Asked Questions
Is black painted furniture still in style?
Yes, although it does require balance with other tones. Black is chic, elegant, and never really goes out of style. It draws attention and works great as a small-scale accent or a focal point in the room. A touch of black can be beautiful in bathrooms, entryways, or kitchens.
Is black furniture a good idea?
As someone who has had black painted railings as well as furniture, the one thing to be aware of is that very dark colors and especially black tend to show dust more than medium or light colors. Gloss black furniture also shows brush marks and scratches more readily.
Best matte black furniture paint?
My favorite is Fusion mineral makes a deep, rich matte coal black that has a smooth finish, self-levels and buttery feeling. For something a little less inky black, try Ash or Midnight Blue.
How do I prime a black piece?
As most furniture painters lament, primer is usually a bright white color, which notoriously shows though the first coat of paint. One of the best tricks is to get the store to tint your primer a darker color. It won't be black, but it will be much easier to get full coverage and still bond well. That being said, there is no reason to use a stain blocking primer with deep black paints and some paints may not need a primer to bond to most woods.
My favorite black paint colors
Painting furniture black and having it be durable as well as beautiful requires using the right paint products for the job. Although I have generally stated that I am not a fan of true chalk paints, these are some of my favorite black paint options.:
Fusion Mineral Matte Paint in Coal Black (my favorite with a paint brush)
Benjamin Moore Advance in Satin sheen (they have lots of blacks, but we chose Black Panther for our basement cabinets. Wrought Iron is another fan favorite.)
I've listed every paint color used from the inspiration projects below from the best info I could find.
Ready to roll up your sleeves and start painting? Read my top picks for best furniture paints and choosing the best topcoat to protect your custom creation for professional looking results.
Black & Metallic Furniture
If there's a perfect color combination to go with black, it has to be warm metallics like gold, copper, and brass.
Curvy angles are given a deep new sheen with Beyond Paint in Licorice in this project by Petticoat Junction. The beautiful satin finish is brushed on flawlessly and pairs perfect with the accent stripe, featuring Rust-Oleum Metallic Rose Gold. It's a sleek accompaniment to the metallic drawer pulls.
Thanks to this simple makeover by Thirty Eighth Street, these end tables get the attention they deserve. Painting the pieces with Black Hills from Pure & Original Paint Co provided a striking contrast to the circular brass pulls.

One of my personal favorites! Learn how I transformed an ordinary mini fridge into this man cave masterpiece for less than fifty bucks. I used Rust-Oleum Metallic in Oil Rubbed Bronze and a custom handmade stencil to create an authentic look. It's one of my all-time favorite paint projects!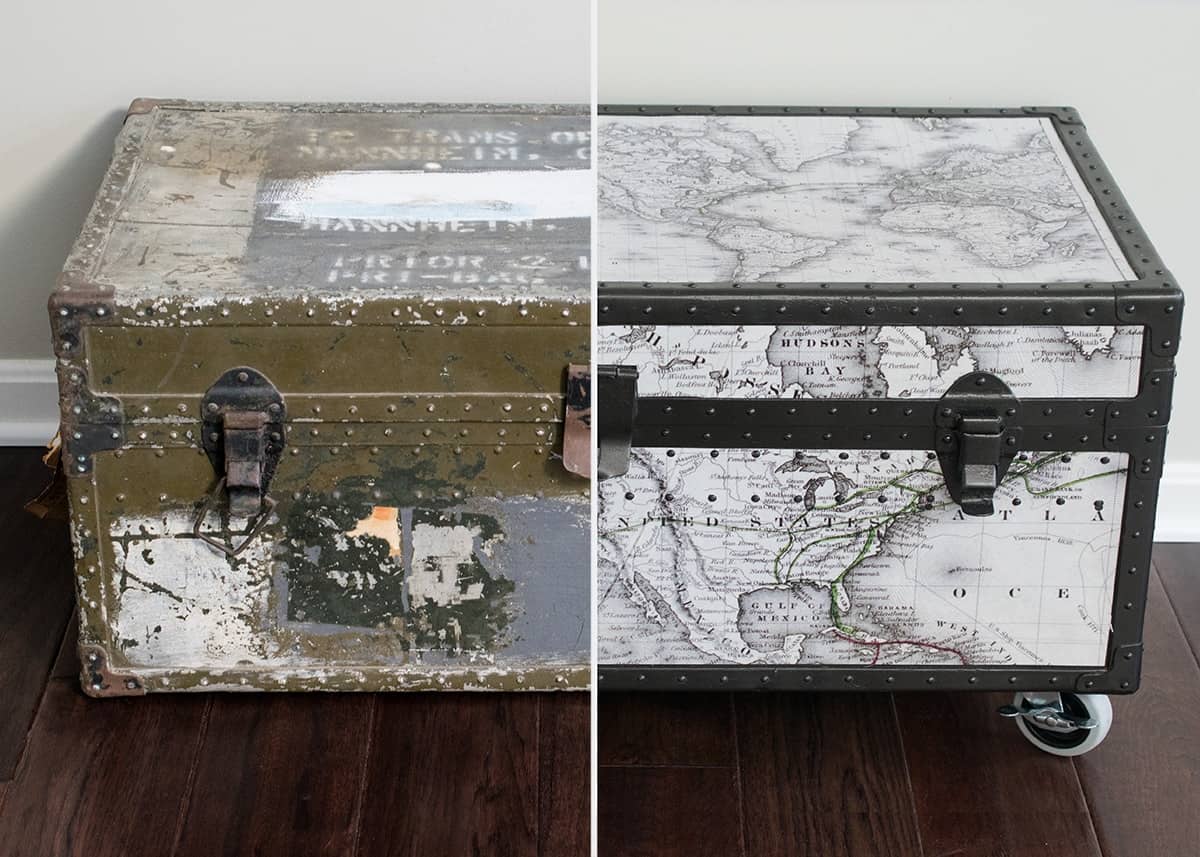 We rescued this Korean War Era army military footlocker from the dumpster pile. Although it had seen better days, I knew this trunk had more life left to live. After a good cleanup, I used Oil Rubbed Bronze for a metallic black and covered the body with vintage maps. The before & after is incredible!
Black Distressed Furniture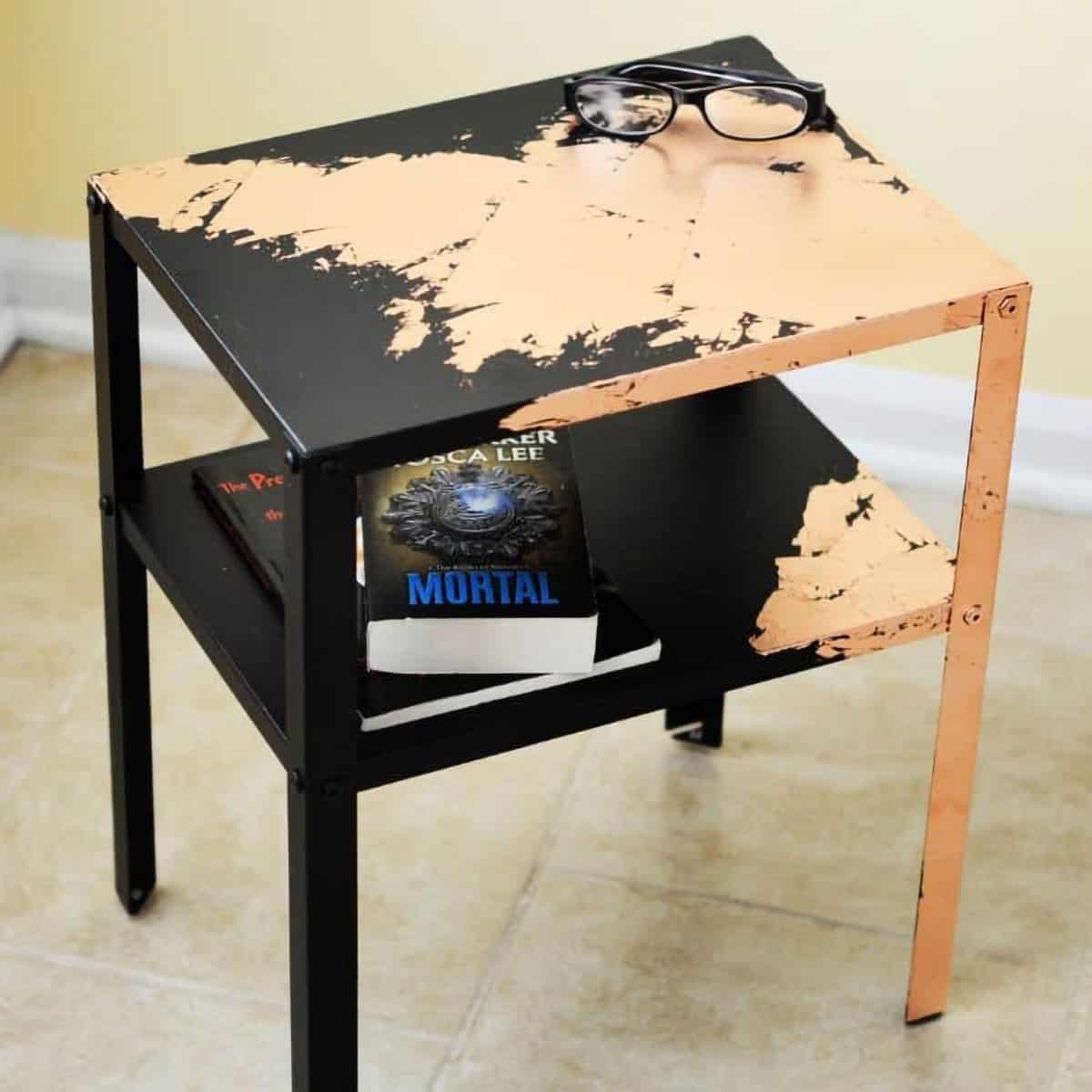 A budget friendly Ikea side table that passes for high end furniture! Strike gold with an art deco inspired side table and some copper leaf! Follow the simple tutorial by Home Fresh Ideas.
Stately Charm
Distressed black furniture accents are a clever way to retain the antique charm of a vintage piece while still keeping it relevant. @vintagegracedesign does a masterful job emphasizing the inlays and woodwork with the aid of Melange Paints in Jett Black.
BUFFET BEFORE & AFTER
This sideboard was already a stunner. But enhancements by @dalboscodesign give this buffet a brand-new lease on life. Fusion mineral paint in Coal Black harmonizes with a warm walnut stain. Black wax is applied to deepen the paint hue and to provide a light sheen.
Vintage Beauties
As much as I love pops of color, there's something timeless about a simple black painted finish. Black painted furniture is the cool kid in furniture inspiration, especially vintage furniture pieces. Use one of our favorite best black paints to add modern contrast, or depth in a room.
How do you create a cohesive aesthetic out of a collection of Craigslist pickups? A coat of Maison Blanch Wrought Iron paint pulls together this Victorian vision by tidbits and twine.
Stately Slate Gray Sideboard
This project by @pennollo_designs was a labor of love. The buffet went from a grime covered eye sore to a drop-dead gorgeous after the second coat. Ash by Fusion Mineral Paint is the moody slate grey you didn't know you were missing in your life…until now!
This artistic dresser design centers around the horse transfer displayed. Do Dodson Designs created a unique paint finish blended from Buttercream and Caviar by Chalk Mineral Paint to achieve the billowy cloud effect with brush strokes.
Unexpectedly Modern Black Painted Makeovers
Modern wicker furniture may not look like your grandmother's stuff but that doesn't mean we can't repurpose hers too! Follow along as Love Your Abode transforms a shabby secondhand piece to this tres chic chest of drawers. Noir Behr Chalk Spray Paint gives a matte black finish with no brush strokes; the backdrop allows rattan knobs to pop.
Spruce up outdoor furniture with our handy how-to. See how this secondhand patio set went from eek to chic. The wrought-iron like finish was revived with Rust-Oleum Semi-Gloss Black Spray Paint which has great coverage and ease of use with no brush strokes!
A vintage solid oak sideboard makes a gets bold statement when redressed in this smokey deep grey by Fusion Mineral Paint. Prairie Rustics paired antique brass toned handles with a matte finish that teeters on the edge of black.
Dipped Dresser
Up the drama factor with a custom dipped black piece. @ebonybasten reinvigorated a ho hum dresser with a bold application of Melange's Basilik Black paint on the upper portion while leaving the bottom portion neutral. The understated two-tone knobs are the finishing touch.
When you know, you know. After finding the perfect piece for her bathroom storage needs, Thrifty Decor Chick gave this IKEA cabinet a custom paint job. Sherwin Williams Tricorn is your not-so-basic black, a striking contrast to the natural wood grain tones.
Paint truly is magical. For example, this three-piece office "set" is actually a mish mash of furniture purchased at different times. Maggie Overby Studios used Amy Howard chalk paint to blend them together.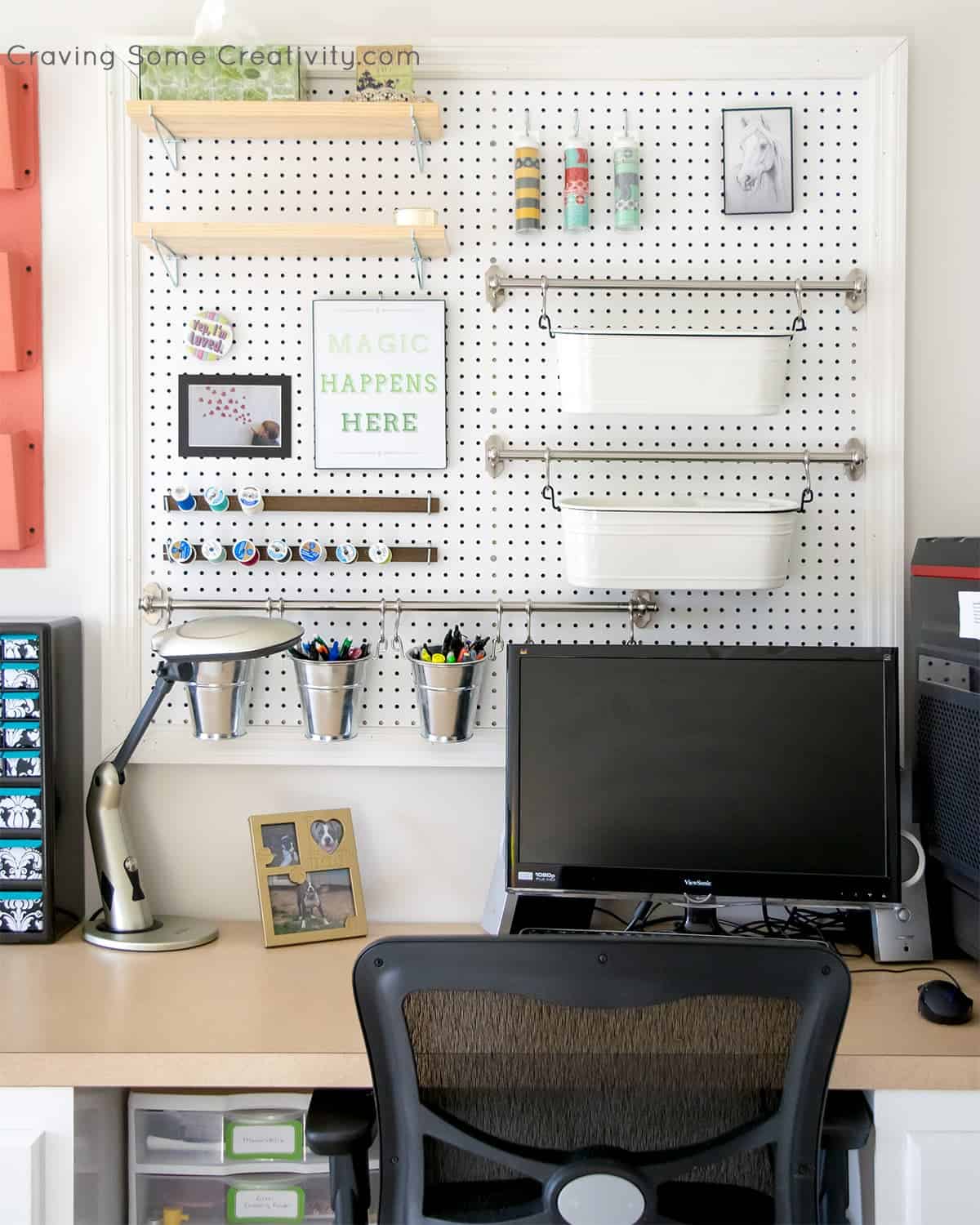 Grab our free series "Weekend Home Projects that will Transform Your Life"
Sign up below to receive updates including free printables, organization tips, home improvement projects, recipes and more!
More Painted Furniture Makeovers
PS I love seeing your creations! Be sure to take a photo and tag #cravingcreative on Instagram! You can also stay in touch with me through following me on Instagram, Pinterest, and subscribing to the newsletter!