Skip the expensive spa and pamper yourself with a few of these luxurious DIY Spa day ideas create a haven of relaxation, without breaking the bank.
Everyone needs a little self pampering every once in a while. It's a refresh from the stressors of everyday life, if only for an hour. However, the cost of frequent visits often keeps the spa experience a rare indulgence for us budget-minded gals and gents.
What if you could indulge in a spa experience as often as you wish…in your own bedroom and bathroom? Spa-zen without ever leaving your front door. Dreamy, right?
Our guide to the ultimate DIY Spa Day includes tips, recipes, treatment ideas and product recommendations. It's the ideal escort on the road to relaxation. You can choose a few of these ideas for a personalized retreat or follow our step-by-step guide for a fully indulgent night of pampering that is uplifting and soul restoring!
The Ultimate Step By Step Guide
A few items to take care of before we start:
Time – Ah, time, our most precious resource. Eliminating distractions is the only way to truly escape from the hustle and bustle of life. No phone, no children, no calendars or to-do list. Schedule a "time-out" that works for you, whether that's once a week or once a month.
Kick The Clutter – Clutter is without-a-doubt the worst offense to the idea of a relaxing space. A quick tidy-up will do wonders to set the mood. If you are looking for more long term solutions, check out our Best Ways to Organize a Small Bathroom and Lazy Girls Guide to Making a Cozy Bed.
1. Fill the Senses
Now that the clutter is gone, surround yourself with items that inspire and rejuvenate. Focus on each of the senses to immerse yourself in a relaxing retreat.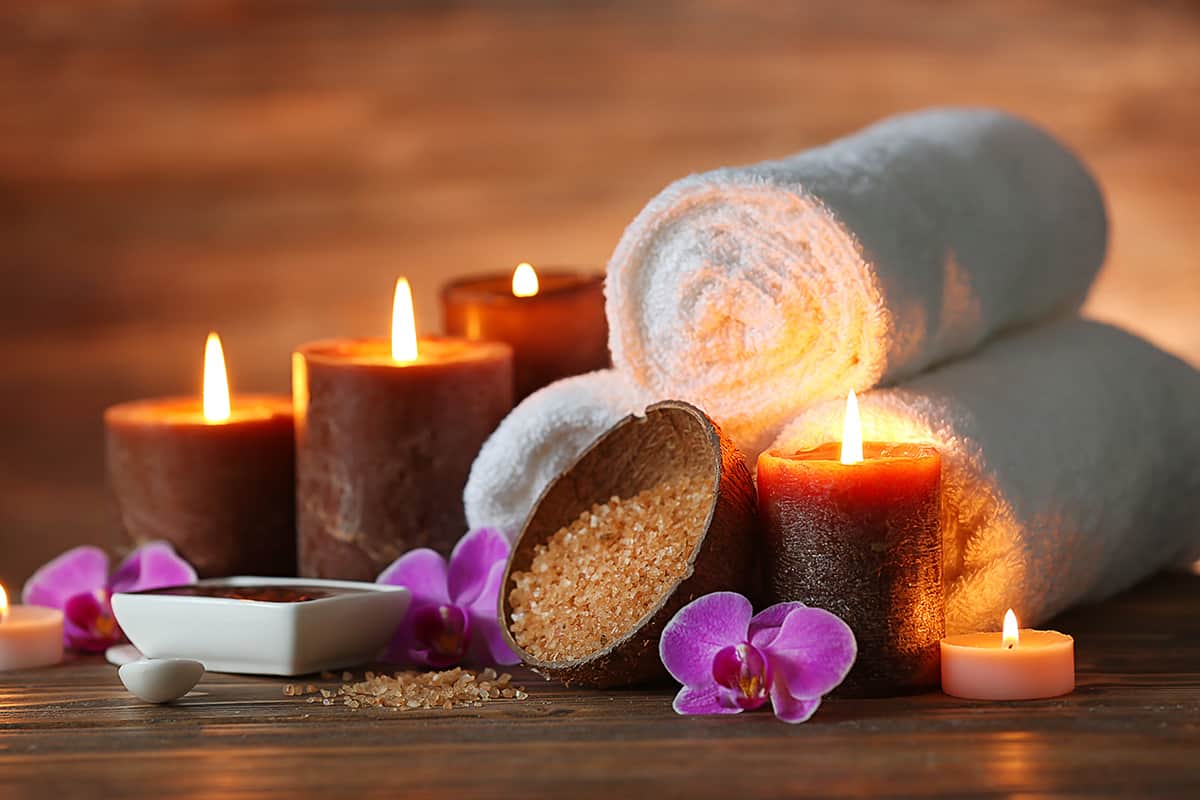 Sound – Choose a relaxing playlist from Spotify to set the mood. Also, one of my favorite ways to commence a good spa day is with a singing bowl (a bowl that makes a lovely bell sound when you tap it.)
Texture – Touch is one of our most powerful senses. Think of setting up the space in terms of texture. A soft, luxurious bath robe is the ultimate spa item or pair a gritty salt scrub with a creamy lotion to get the best benefits.
Scent – Select a signature scent for the day. Lavender, eucalyptus, or coconut are all reminiscent of spa retreats. Light a few scented candles or evoke the scent of a spring forest with these all-natural incense sticks.
Taste – You don't need to be literal with this sense, but you can "feed" your senses with yummy smelling bath products, some mints, a refreshing beverage, or even a small chocolate as a treat.
Lighting – Traditional bathroom lights function to make sure your makeup is in place, not to lift your mood. For a true spa-like feel, consider mixing functional types of lighting. For example, a lighted makeup mirror for facials, or add a dimmer to enhance the atmosphere.
Pro Tip: Cover bathroom windows with frosted contact paper to filter sunlight and create a mellow mood for your at-home spa day experience.
2. Set the Mood
The best way to set the mood for a DIY Spa Day though is a good starting ritual. Many spa capitalize on this by offering a cup of tea or a steam room while you wait. At home though, you have many personalized options.
Set up the space with intention. Lighting the candles and laying out the products can be a wonderful way to get in the mindset.
If you are into more new age vibes, try a smoke cleanse or burn some incense.
Take some deep breaths along with a singing bowl.
Take a moment to make a cup of tea or an iced coffee.
Sit it meditative pose for a few minutes and focus on your breath to come into the space and the present moment.
Wrap a hot towel on your face with some essential oils. Breath in the aromatherapy!
3. Spa-Worthy Refreshments
It's not a true spa day at home without refreshments. We all have signature ways we like to unwind.
Enjoy a bit of bubbly with your bath ritual? A glass of Prosecco is always a classic choice.
If a tranquil cup of tea is more your DIY spa day style, loose leaf tea drops are a must-have addition to your tea cupboard. Enjoy hot or iced, no tea bag necessary!
Craving something a bit more indulgent? Try our White Chocolate Martini Recipe made with creamy white chocolate liqueur and vodka.
Keep it simple with some spa water. Spa water is lightly infused water with fruits and vegetables. It's as easy as slicing up some cucumbers, for example, and adding them to the water. Chill in the refrigerator for a half hour for best flavor.
DIY SPA DAY IDEAS
Now with all the setup done and the home spa looking relaxing, let's dive into some inspiring rituals!
Facials and Masks
Get back that glow with a pampering face mask treatment. Face masks are great additions to every skincare routine. They pack a powerful ingredient punch to target specific skin care concerns. Here are some ideas:
Simulate a spa facial with a facial steamer. This model comes with professional extraction tools for a blemish free complexion, and includes a towel warming chamber for bonus refreshment!
Oatmeal and Honey Facial Mask – This homemade moisturizing mask from Somewhat Simple uses simple pantry staples for a supple skin treatment.
The FHF Fast Fix Mask Sampler – An organic trio of facial masks that provide radiance, hydration, and firmness. Something to address every skin care need.
Sheet masks are a busy gal's secret weapon! An instant boost of skin nourishment in under 15 minutes!
Apply your favorite serum first for an extra boost of antioxidants and to increase the bond between the sheet mask and your skin.
Natural facial sponges made from the root of Japanese konjac plants provide gentle cleansing & exfoliation for all skin types.
Pro Tip: Applying your face mask with a professional brush decreases the chance of product contamination, increasing shelf life. It also enhances the spa-like feel of your treatment!
Do Your Body Some Good
Our bodies are simply amazing. Daily wear and tear and stress can really take its toll. Although we may not be able to restore ourselves to factory settings, we can take time out for restoration.
Epsom bath salts sprinkled into a tub helps relieve those achy muscles and sore feet.
Take a coconut milk or colloidal oatmeal bath to relieve irritations, dry skin, and even hives or poison ivy.
A full body scrub is exfoliating and invigorating especially when the seasons change. Mix 2 cups Himalayan salt, 1 cup coconut oil, and 10 drops Rose essential oil for diy body scrub.
Bath bombs are fun and fizzy. Make your own Rose Bath Bombs.
Add a cooling eye mask or some cucumber slices and allow your tensions to melt away.
Hydrate skin naturally with a lightly scented organic body oil or all-over moisturizer.
If you don't have time for a full body soak, how about a foot soak while you bask in a facial treatment?
Pro Tip: A true spa aficionado simply needs a dry brush. With benefits ranging from exfoliation to lymphatic circulation and stress reduction – this is a 5 minute weekly ritual not to be forsaken!
DIY Foot and Hand Care
You don't have to do a full mani/pedi for this boosting treat. Taking care of your nails and cuticles makes you look put together.
Do a Foot Peel for the ultimate treatment for those calloused feet. The Original baby Feet is one of my all-time favorites
Add a foot mask like this Aveeno Cica Foot Repair.
Strengthening Nail Mask – whisk 1 egg yolk, 1 teaspoon Honey, 1 tablespoon water and apply to your nails and cuticles for 10-15 minutes. Wash with warm water.
Use a cuticle remover to help dissolve dead skin and soften the nail beds.
Use a cuticle oil or vitamin E capsules to moisturize and then push back gently with a cuticle stick.
Diy Foot Mask Recipe
1 Tablespoon Olive Oil
1 Tablespoon Cocoa Butter
3 vitamin E capsules (contents only)
Break the vitamin E capsules and mix ingredients well. After a shower, while the pores are still open, massage the mask into the feet, covering with socks overnight. Wash with warm water in the morning for radiant feet.
DIY Hair Care
Bringing the spa experience to your own home doesn't have to be ultra-expensive. With the help of a few high-quality items, a luxury spa experience is attainable.
Try one of these DIY Hair Masks. Most are simple to find ingredients from your pantry!
For Fine hair, this repairing mask provides excellent hydration without weighing your hair down.
Try a Nourishing Mask like this highly rated Soulfood Mask from Amika.
Massaging your hair and scalp with natural oils like coconut, argan, sesame or olive oil can nourish your hair roots and strengthen your hair follicles. Leave the oil overnight and shampoo it off the next morning for best results.
Diy Scalp Treatment Recipe
1 Tablespoon Apple Cider Vinegar
1 Tablespoon Coconut Oil
½ cup Coarse Salt (not salt rocks)
1 teaspoon Honey
Mix ingredients well. Massage the scrub gently into damp scalp and let it sit for about 10-15 minutes, before rinsing it off with lukewarm water. Shampoo and condition as normal.
One Last Must-Do
Now that you are feeling all relaxed and inspired, don't forget to schedule your next appointment with yourself or even consider something for your man with these ideas! Come back and check out some other ideas you didn't get to this time around or take it to the next level.
Remember – time for self-care has become more essential than ever. Just like a car, or a computer or anything else that's always "on"- humans require maintenance too!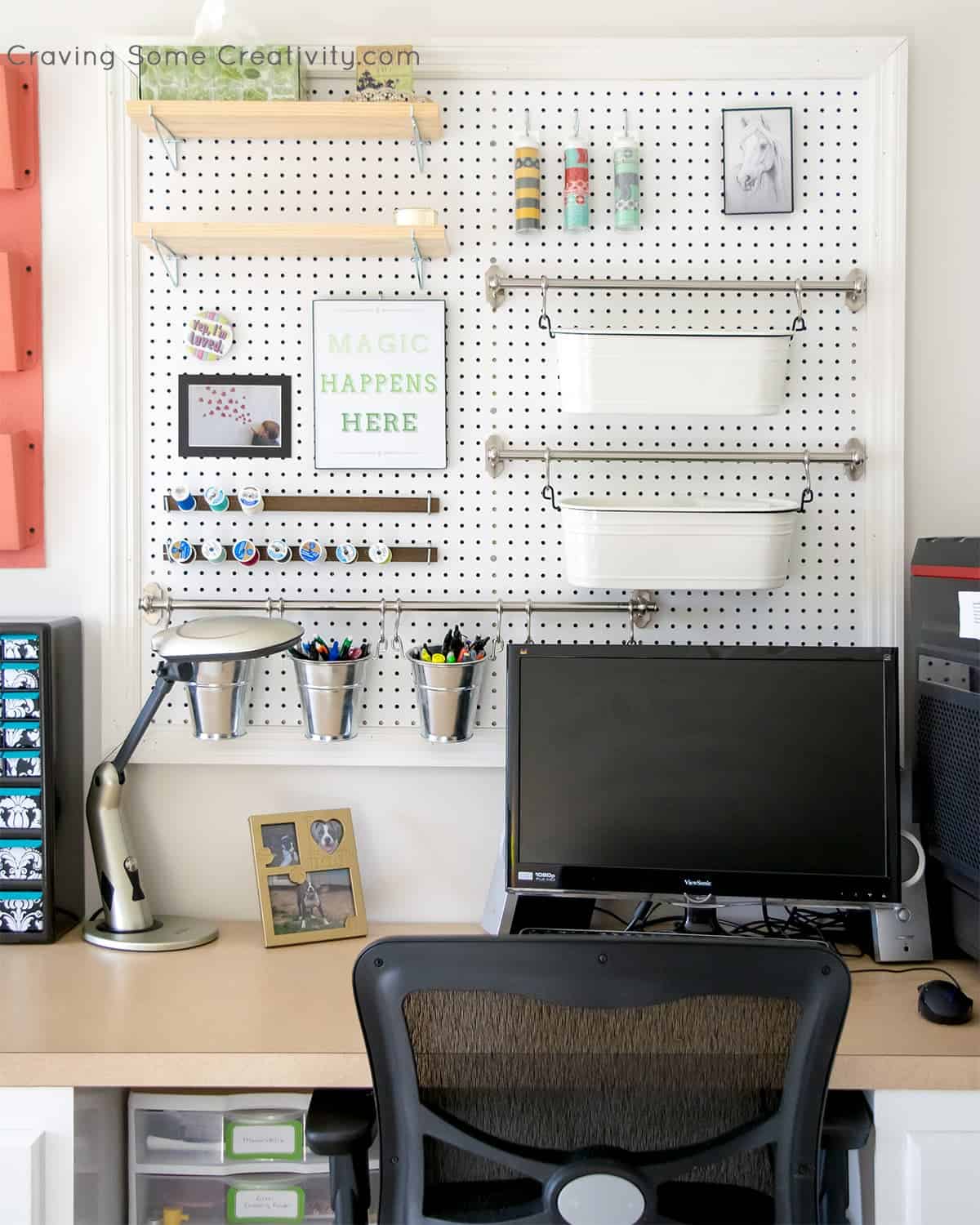 Grab our free series "Weekend Home Projects that will Transform Your Life"
Sign up below to receive updates including free printables, organization tips, home improvement projects, recipes and more!
More Amazing Bathroom Ideas