These peanut butter balls with Rice Krispies make the perfect bite-sized treat. Chocolate covered no-bake peanut butter balls get a crispy upgrade, they are the best version yet!
These peanut butter balls with rice krispies are my husband's absolute favorite holiday treat. His mother has made them for decades now. Although I altered his mother's original peanut butter balls recipe, I think my "best wife ever" status would be doubted if I couldn't make these.
He begs for them from his mom and myself every chance he gets. The man isn't your subtle hint type either. He also isn't the begging type either which makes this all the more entertaining. If guilt tripping means that I bake cookies, go ahead and put a sign on my forehead.
Tips for Dipping the Balls in Chocolate
Over the years, I have learned a lot about the best techniques for dipping peanut butter balls. Making the perfect peanut butter ball is all about the heavenly ratio of chocolate to peanut butter.
What chocolate is best for dipping?
In my humble opinion, this dulci frutta is the best supermarket variety of melting chocolate for dipping. You can get the chocolate shell pretty thin with this and it does have a solid chocolate taste.
My second choice would go to this chocolate melting bark, or Ghiradelli Wafers. Both work well and have good chocolate flavor.
Avoid anything called candy wafers or the stuff in the cake decorating aisle. Quite frankly, I want real chocolate even if I don't get those perfectly smooth truffle balls that you see on many blogs.
Regular chocolate or chocolate chips will work. However, I find that the coating is much thicker and lumpy.
Technique for Dipping Items in Chocolate
First, I get everything setup and ready to go before heating the chocolate. The chocolate is perfectly fine to be melted in the microwave. Heat for 30 seconds, stir, repeat until smooth is the simplest method. Just make sure NO water comes in contact with the melting chocolate ever.
What I do is drop them in the chocolate, spoon the chocolate around them (do not swirl the ball itself), and then pick them up with a fork. I don't stab them with the fork but scoop them up with it. Then I shake them a bit to remove the excess chocolate. When I am satisfied, I use a toothpick to push them out on a sheet of wax paper. And voila, perfectly chocolate covered peanut butter balls!
Check Out The Video To See This Technique in Action
No Bake Peanut Butter Balls Recipe FAQs
What kind of peanut butter is best?
It doesn't matter what kind of peanut butter you use for these peanut butter balls recipe. I personally recommend a smooth peanut butter rather than a crunchy one. However, if you prefer the crunchy style peanut butter or if that is all you have on hand, that will work perfectly fine as well.
Do I chill in the refrigerator or freezer before dipping?
Chilling can be done in the refrigerator for at least an hour. The freezer can be used as well to reduce time. The point of chilling the peanut butter is to allow the chocolate to harden faster, so there is no need to freeze the balls completely.
Can I substitute white sugar for powdered sugar in this recipe?
Powdered sugar is a necessity. Granulated sugar will not dissolve correctly nor provide the light, airy texture.
How many balls does this recipe make? How large are the peanut butter balls?
This recipe makes 50 1-inch balls, but can easily be divided in half for a small batch.
Recommended Tools
Parchment Paper. Wax paper also works.
My favorite Chocolate Wafers: Cuts down the prep time and this is my favorite store-bought sauce. You can find it in most grocery stores, so this is just a reference.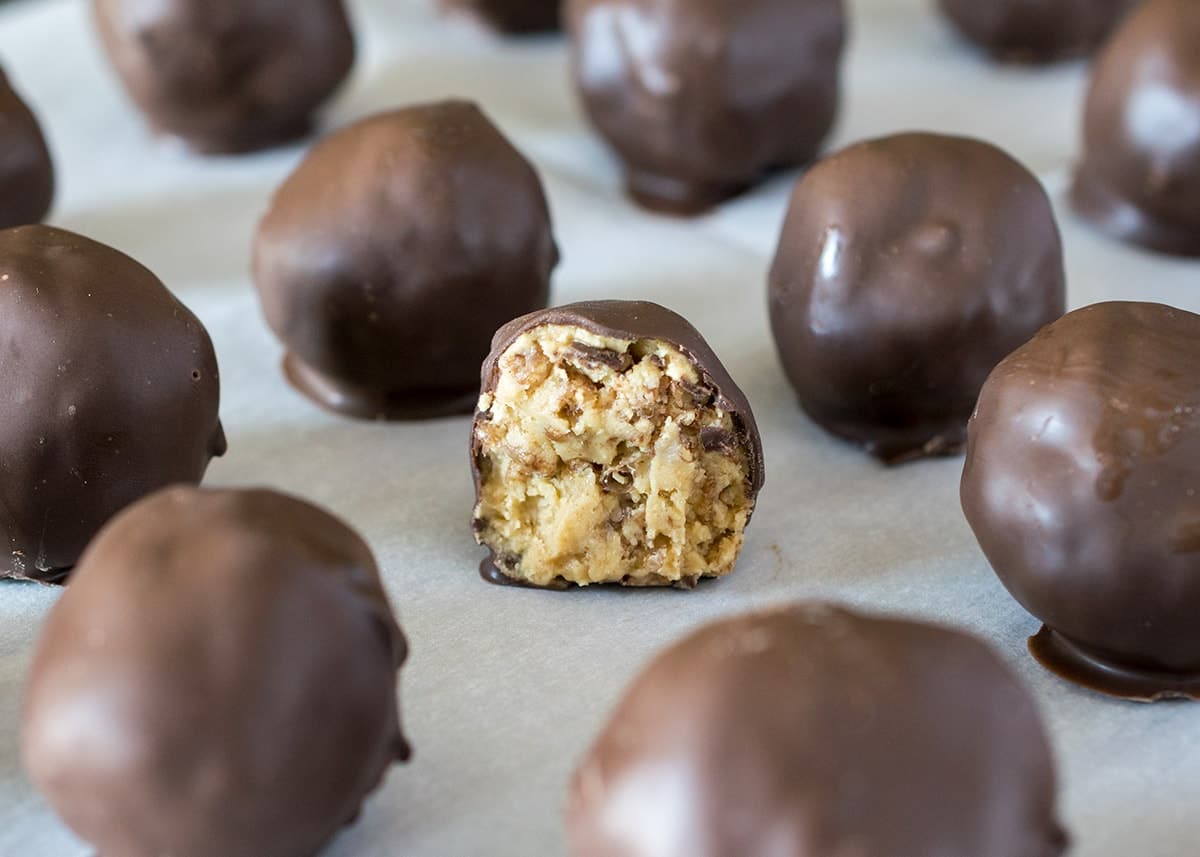 MORE GREAT CHOCOLATE DESSERT RECIPES
Peanut Butter Balls with Rice Krispies
These crispy chocolate covered peanut butter balls make the perfect bite-sized treat. They even have cocoa rice krispies in them for added crunch!
Print
Pin
Rate
Ingredients
3 ½

Cups

Cocoa Rice Krispies

16

oz

peanut butter

creamy or crunchy, your preference, 2 cups

½

cup

Butter

1 stick

1

lb

powdered sugar

3 ¾ cups

12

oz

semi-sweet chocolate melting wafers
Instructions
Soften (not melt) butter. In a mixer, beat butter and peanut butter together until smooth.

Slowly add powdered sugar, ⅔ cup at a time and combine between additions until blended.

With spoon or spatula, fold in rice krispies.

Roll small balls (1-1.5" in diameter) in hands and chill in refrigerator at least 1 hour. If the mixture isn't sticking together well (too crumbly), you can add a bit of vegetable oil and stir well.

Melt chocolate in a double boiler or in the microwave. Dip chilled balls into chocolate. Scoop out with a fork and gently shake off excess chocolate. Place on wax paper to cool.
Notes
Sometimes old peanut butter dries out or the oil is drained off. If the mixture is too crumbly, you can add up to a ¼ of a cup of vegetable oil.
Nutrition
Serving:
1
ball
|
Calories:
125
kcal
|
Carbohydrates:
17
g
|
Protein:
2.4
g
|
Fat:
8.4
g
|
Sodium:
67
mg
|
Potassium:
61
mg
|
Fiber:
0.9
g
|
Sugar:
14.2
g
|
Iron:
1.1
mg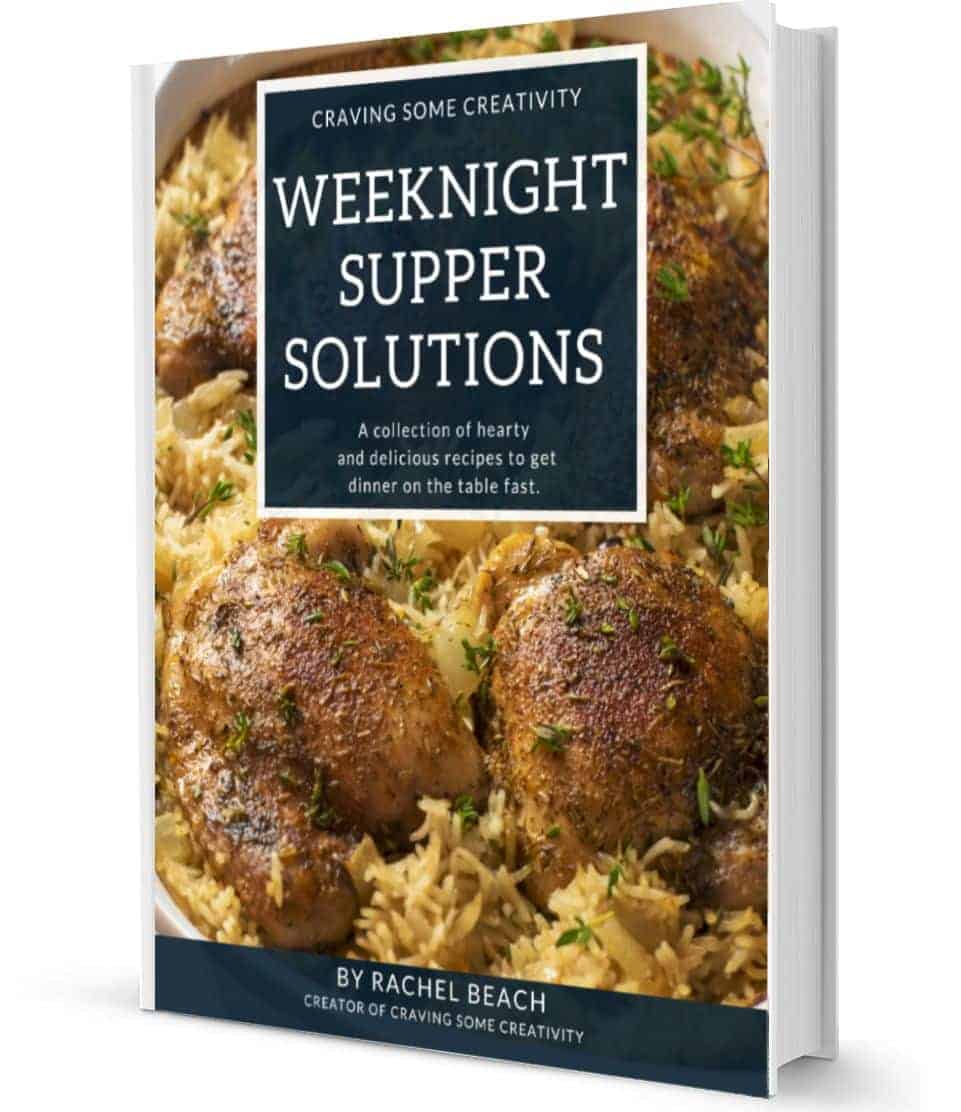 Not Sure
What's For Dinner?
Signup for recipe updates and get a free cookbook of Easy Weeknight Supper Solutions!
More Delicious Deserts