Chocolate Chip Pecan Cookies are a Southern twist on the classic chocolate and nut cookie combo. If you like a crispy chocolate chip cookie, this is the recipe for you! I have included all of my secrets for buttery rich flavor, with crispy edges and a soft center. Flavorful and full of texture, it's hard to eat just one!
In my humble opinion, every online foodie and recipe blogger should have a perfect chocolate chip cookie recipe. AND we should taste test them all – I'm not going to trust a baker with unsatisfactory cookies.
Or maybe I just want to go on a cookie bender. It's 50/50.
If you've stumbled here while searching the internet for the BEST chocolate chip cookie recipe, this recipe is a little different from the sea of gooey, underbaked cookies on Pinterest. Crispy chocolate chip cookies are my love language. I'm proud to say that after baking a few thousand cookies on a self-imposed mission, I've created the perfect bakery style cookie that is crispy and loaded with texture, but not dry or cakey.
Cookies are kind of a big deal in our house. In fact, I'd be hard pressed to come up with a variety we don't enjoy including Hot Chocolate Cookies, Coconut Pecan cookies, and Pecan Pralines. But I always come back to this classic.
These Chocolate Chip Pecan cookies are loaded with flavorful texture. The crunchy nuts and melty chocolate chips work in blissful harmony. Every necessary component of a good cookie is present- buttery rich flavor, with crispy edges and a soft center. The evil genius of cookies that sucks you in and leaves you craving more.
How you know this is the cookie recipe for you:
You know that chocolate doesn't mask a subpar, floury batter.
They're soft and melty on the inside, but not gooey or doughy.
Crisp with buttery notes of caramel; flavor that lingers in your tastebud memory bank and leaves you clamoring for another bite.
You turn your nose up at thick and bready, overly chewy cookies.
No need to chill the dough or other patience killers.
Loaded with chocolate chips. Oh, and let's not forget the nuts which add a wonderful crunch!
Less sugar than other recipes so that the chocolate chips punctuate the buttery crust with their burst of dark sweetness.
No-fail baker's secrets after testing this recipe for years! No weird photography tricks.
Convinced yet? You can either hit that "Jump to Recipe" button at the top to get started or continue reading all of my thoroughly tested and tasted secrets.
Ingredients and Notes
Below is an overview of what you'll need to make these with notes for substitutions. I try to stick to the most common United States brands for writing recipes, because they need to be easy to duplicate.
Flour. All-purpose flour is my preference, but you can substitute wheat flour for a 1:1 substitute. I haven't tried gluten free flours to know the proper ratios. If you take a crack at it, let us know in the comments below!
Chocolate Chips. Rule of thumb: if it's good enough to eat straight out of the bag, it's the right chocolate for these cookies. In my testing, I've found that most brands of dark chocolate chips are much larger in size, so take that into account if using. I love the flavor of Guittard semi-sweet chocolate chips. Costco Kirkland's brand used to be one of my favorites, but I admit I haven't tried it in a few years. Some of the cheaper varieties and Nestle semi-sweet chips have too much paraffin for me.
Nuts. My preference is pecans, as the name states, but you can use whichever nuts you prefer. Do chop them up to make pieces small enough to fold into the dough.
Sugar. A mix of white and light brown sugar is used. Dark brown sugar has more moisture in it from the molasses. Using dark brown sugar may give cookies richer flavor, but they'll also be flatter, unless you add more leavening.
Butter. Only UNSALTED. Salt does add something to cookies, but we already have that taken care of and measured perfectly.
Vanilla Extract. Only Pure Vanilla Extract, no imitation stuff. I use my homemade vanilla extract, but a good quality store-bought like Neilsen Massey lends a warm, earthy undertone that can't be beat.
Eggs. Large whole eggs are perfect.
Baking Soda. Fresh baking soda is critical to these cookies. If your baking soda is over two years old (unopened or sealed) and six months old (opened), get some new stuff.
My Cookie Baking Secrets
Generally speaking, cookies all have the same basic ingredients. Once you have the right ingredients, the secret to the perfect cookie is all in the balance between chocolate and batter.
Secret #1 – Soft Butter. Butter that has been allowed to soften at room temperature makes the best cookies. Period. That being said, I understand best laid plans don't always work out.
This technique can be tricky, but you can cut the butter sticks into about 10 pieces and place the butter cubes in a microwave-safe bowl. Microwave at 20% power in 10-second intervals until the butter cubes have softened. Depending on your microwave power, this takes 20 seconds to a minute.
Proceed slowly because the last thing you want is a pool of melted butter. Room temperature butter means that you can push a finger into it, but it's still solid (you can pick it up and move it easily).
I do NOT chill the dough. When room temp, the butter and fats are perfect as is. More than once, I've forgotten the dough in the fridge. The result was alien spaceship shaped cookies. No thanks.
The dough needs to be smooth. If you see butter chunks when you cream the butter and sugar, allow the batter to sit for 10 minutes and mix again. Don't proceed until it's completely mixed.
Pro Tip: These cookies are flat, but not too flat. If you like thicker cookies that rise and are a bit softer, add ½ teaspoon baking powder.
Secret #2 – Size and shape matters. The truth is that a good cookie scoop makes better cookies. I use a #40 medium cookie dropper (a little over a tablespoon). I scoop up a slightly rounded mound which translates to cookies that are about 3-3.5 inches in diameter. With a cookie scoop, the cookies spread and bake more evenly. Plus, it's easier and less messy. There's really no comparison to hand rolling.
Secret #3 – Top with chips before baking. The secret to these cookies is to put 3-4 chips on the tops after you roll them. Put them on organically, like you just sprinkled them in and gently press so they stick. Photographers often press them in just after baking to make them look like they have more chocolate (those sneaky photographers!)
Secret #4 – Parchment paper. Ever tried moving cookies with a spatula only to have them slide off looking like ovals? I use a silicone mat (or parchment paper) and slide the mat from the cookie sheet to a cooling rack. Let them cool for several minutes, until the edges have hardened, before taking them off the mat.
Secret #5 – Cooling the cookie sheet between batches. This one is up for interpretation. A hot cookie sheet will make cookies spread more and be flatter. If I'm making a huge batch of cookies, I always bake 3 cookies first to test how well they spread. If they spread perfectly, I let the cookie sheet cool between batches (or use a second sheet). However, if I want them to spread a little more, I use a hot cookie sheet.
Secret #6 – Weigh your flour and sugar. Ok, I admit I don't do this every time, but it's very true. The truth is that no two people's 1 cup of flour is exactly the same. If you find that you have trouble with some baking recipes, try weighing your flour and sugar (I have included grams in the recipe card). It may be the key to solving all of your baking mishaps.
Storing and Freezing
Store: Store them in a well-sealed, airtight container at room temperature. To keep them soft, try adding a slice of bread to the container, but don't lay it directly on the cookies. I sometimes use a sheet of wax paper in between.
Freeze: If you've baked a huge batch, you can easily freeze them for later! After baking, allow cookies to cool completely. Place them in a freezer-safe zip-top storage bag. They last up to 6 months. To thaw, spread them out until they come to room temperature.
Freezing the Dough: Chill the cookie dough balls in the refrigerator for at least 1 hour. Place the cold cookie dough balls into a labeled zipped-top bag. Label the bag with the name, month, and the baking temperature and place the bag in the freezer. Freeze cookie dough for up to 3 months.
More Irresistible Cookie and Brownie Recipes to Try
Frequently asked questions
Are pecans or walnuts better in chocolate chip cookies?
Pecans are the perfect pairing to sweet chocolate and are my personal favorite. You can use whichever type of nuts you prefer. Walnuts, hazelnuts, or macadamia nuts are a few common varieties.
How long do chocolate chip pecan cookies stay fresh?
They will typically stay fresh for 3 or 4 days in a sealed container. However, they can last up to a week when stored with a piece of sliced bread.
What makes cookies flat vs fluffy?
While the baking powder and baking soda play a role, the most common difference is the temperature of the butter when added to the dough. Melted butter will spread more, where room temperature butter and sugar cream together to trap tiny air pockets. These air pockets result in fluffier cookies that have the perfect balance of lift and crispness.
How do I make my cookies softer?
Many think that underbaking cookies is the way to make them softer. While that works, it isn't ideal. Using more brown sugar than white sugar or dark brown sugar results in a moister, softer cookie. The increased moisture and molasses reacts with the baking soda for more lift and chewy texture.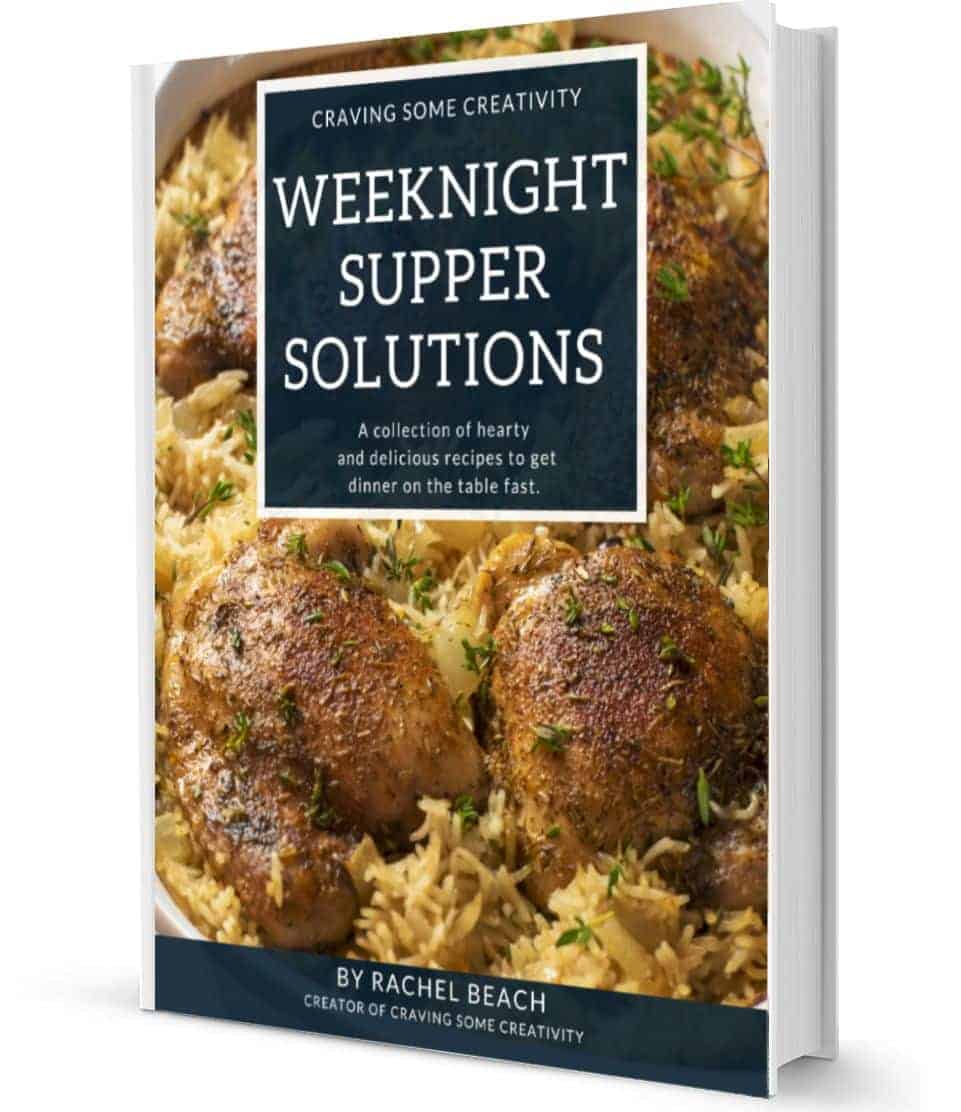 Not Sure
What's For Dinner?
Signup for recipe updates and get a free cookbook of Easy Weeknight Supper Solutions!
Check Out More of Our Creative Desserts
PS. If you make this recipe, leave a COMMENT AND A STAR RATING in the comments section at the bottom and be sure to take a photo and tag it #cravingcreative on Instagram! I appreciate you for taking the time to read about me and my family recipes. 
Chocolate Chip Pecan Cookies
These Chocolate Chip Pecan cookies are loaded with flavorful texture, buttery rich flavor, with crispy edges and a soft center. The evil genius of cookies that sucks you in and leaves you craving more.
Print
Pin
Rate
Ingredients
2.5

cups

All-purpose Flour

1

teaspoon

Baking Soda

1

teaspoon

Salt

1

cup

Unsalted Butter

room temp, 2 sticks

1

cup

Light Brown Sugar

½

cup

White Granulated Sugar

2

Large Eggs

1

teaspoon

Vanilla Extract

2

cups

Chocolate Chips

1

cup

Chopped Pecans
Instructions
Pre-heat oven to 350 degrees F.

In a medium bowl, add flour, baking soda, and salt. Stir until combined.

In a large bowl or mixer, add butter, brown sugar, and white sugar. Beat at medium-high speed until creamy and fluffy. Add eggs and vanilla and mix until well incorporated.

Add dry ingredient mixture to egg mixture, ½ cup at a time, and mix slightly between additions. Scrape the side of the bowl and mix until consistent. Do not overmix. (The point of mixing in smaller portions is to keep the flour from puffing into the air.)

Set aside ¼ cup of each of the chips and pecans. Fold the rest into the batter with a spatula or spoon.

Using a cookie scoop, drop dough onto an ungreased cookie sheet about 2 inches apart. Sprinkle 3-4 chocolate chips and some pecan on top. Press slightly so they stick.

Bake 10-14 minutes or until edges are starting to brown. Allow to cool slightly before moving to a wire rack.
Nutrition
Serving:
16
g
|
Calories:
78
kcal