Toffee Chocolate Chip Cookies are where warm caramel flavors and earthy dark chocolate undertones play in perfect harmony. Golden brown edges and a soft, chewy interiors laden with toffee bits.
I take my cookies seriously. Crispy edges, soft center, and warm buttery flavor- what's not to love? I've baked a lot of cookies in my day. Which means we've been lucky enough to taste test all of the recipes during development stage- Coconut Pecan Cookies, Monster Cookie Bars, Bakery Style Chocolate Chip Pecan Cookies, and Hot Chocolate Cookies, just to name a few.
These things I know to be true- there is a perfect ratio of chocolate chips to batter, nothing can mask a subpar batter, and it's nearly impossible to eat just one!
Toffee Chocolate Chip Cookies make that last credo extra challenging. These little buttery candy bits bring even more depth of rich caramel flavor. It's like a hug wrapped in a cookie served up with a nostalgic glass of milk.
Ingredient Notes
The full recipe, including quantities, is included in the card at the bottom of this post. Here are some notes on ingredients to help answer common questions as you recreate this recipe.
All-purpose flour is my preference, but you can use wheat flour for a 1:1 substitute. I haven't tried gluten free flours to know the proper ratios.
Chocolate Chips. If it's good enough to eat straight out of the bag, it's the right chocolate. I use these chocolate chunks because some of the cheaper varieties and Nestle semi-sweet chips have too much paraffin for my tastes.
Toffee Bits. It's easy to find Heath toffee bits in the fall and around Christmas time (aka cookie baking season). If it's out of season, you can buy toffee bits here.
Sugar. A mix of white and light brown sugar is used. Dark brown sugar contains more moisture in it from the molasses. Using dark brown sugar may give cookies richer flavor, but they'll also be flatter, unless you add more leavening.
Butter. Always unsalted for baking. Makes it easier to control the salt, which does affect how cookies taste. However, 1 stick of butter contains ½ teaspoon of salt so if you only have salted butter, then skip the additional salt.
Vanilla Extract. Only Pure Vanilla Extract, no imitation stuff. I use my homemade vanilla extract, but a good quality store-bought like Neilsen Massey lends a warm, earthy undertone that can't be beat.
Baking Soda. Fresh baking soda is critical to these cookies. If your baking soda is over two years old (unopened or sealed) and six months old (opened), get some new stuff.
How to Make Toffee Chocolate Chip Cookies
While the recipe card contains all of the step-by-step information you need, there are a few tips to keep in mind to create the perfect cookie.
Smooth Dough.. If you see chunks of butter when you cream the butter and sugar, the butter wasn't quite the correct temperature. Allow the batter to sit for 10 minutes and mix again. Don't proceed until it's completely mixed.
I do NOT chill the dough. When room temp, the butter and fats and leavening are perfect as is. I've honestly tried this "one neat trick" so many times, using all kinds of methods and different lengths of time. I've even baked comparisons side by side. My conclusion is that there's absolutely no need to chill this cookie dough for taste or texture.
Tips for Successful Cookies
Soft Butter. Room temperature butter means that you can push a finger into it, but it's still solid (you can pick it up and move it easily).
Top with chips right after baking. The secret to these cookies is to put 3-4 chips on the top as they come out of the oven. Put them on organically, like you just sprinkled them in and gently press so they stick.
Use a cookie scoop. I use a #40 medium cookie dropper (a little over a tablespoon). I scoop up a slightly rounded mound which translates to cookies that are about 3 inches in diameter. With a cookie scoop, the cookies spread and bake more evenly on the baking sheet. Plus, it's easier and less messy.
Parchment paper. Keep your cookies round by using a silicone mat (or parchment paper) and slide the mat from the cookie sheet to a cooling rack. Let them cool for several minutes, until the edges have hardened. Pull off the mat.
Weigh your flour and sugar. The truth is that no two people's 1 cup of flour is exactly the same. If you have trouble with some baking recipes, try weighing your flour and sugar (I have included grams in the recipe card).
Storage Tips
Store: Store cookies in a well-sealed, airtight container at room temperature. To keep them soft, try adding a slice of bread to the container, but don't lay it directly on the cookies. Sometimes, I'll use a sheet of wax paper in between.
Freeze: If you've baked a big batch, you can easily freeze them for later! After baking, allow cookies to cool completely. Place them in a freezer-safe zip-top storage bag. They last up to 6 months. To thaw, spread them out until they come to room temperature.
Freezing Cookie Dough
Chill the cookie dough balls in the refrigerator for at least 1 hour. Place the cold cookie dough balls into a labeled zipped-top bag. Label the bag with the name, month, and the baking temperature and place the bag in the freezer.
Frozen cookie dough typically keeps up to 3 months.
More Cookie Recipes To Enjoy
Frequently Asked Questions
What makes cookies chewy vs crunchy?
The baking time and shape of the cookies can definitely make cookies spread faster and be crispier. Moisture is another factor as white sugar creates crunchier cookies, whereas brown sugar (especially dark brown) creates chewier cookies.
What is the best chocolate chips for cookies?
My rule is that if you like to eat it straight out of the bag, then the chocolate is perfect for cookies.
What kind of toffee should I use?
The brand doesn't make a difference, but around the fall and Christmas season, you can usually find Heath toffee bits in the baking section of the grocery store easily.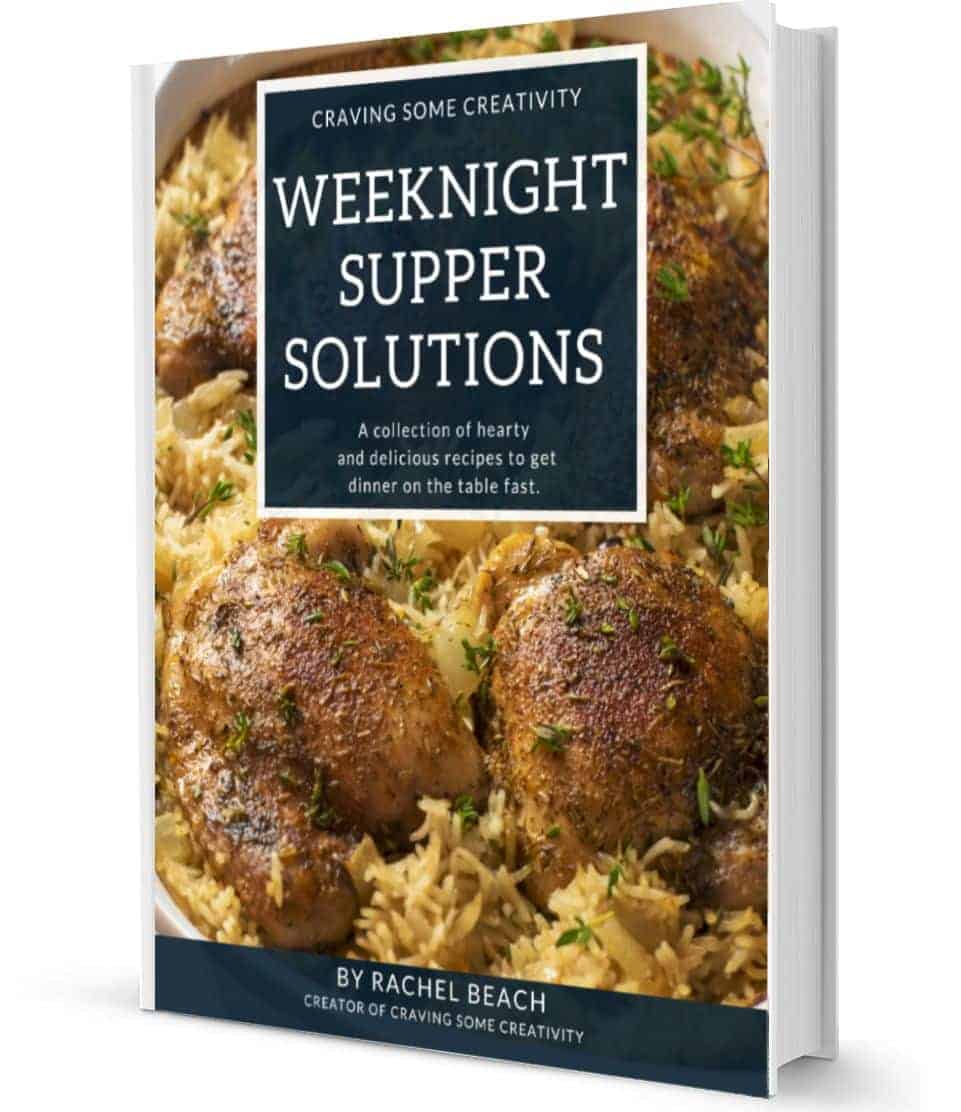 Not Sure
What's For Dinner?
Signup for recipe updates and get a free cookbook of Easy Weeknight Supper Solutions!
More Delicious Cookie Recipes
PS. If you make this recipe, leave a COMMENT AND A STAR RATING in the comments section at the bottom and be sure to take a photo and tag it #cravingcreative on Instagram! I appreciate you for taking the time to read about me and my family recipes. 
Toffee Chocolate Chip Cookies
Toffee Chocolate Chip Cookies are where warm caramel flavors and earthy dark chocolate undertones play in perfect harmony. This cookie recipe features golden brown edges and a soft, chewy interiors laden with toffee bits.
Print
Pin
Rate
Ingredients
2.5

cups

All-purpose Flour

1

teaspoon

Baking Soda

½

teaspoon

Salt

1

cup

Unsalted Butter

room temp, 2 sticks

1

cup

Light Brown Sugar

½

cup

White Granulated Sugar

2

Large Eggs

1

teaspoon

Vanilla Extract

2

cups

Chocolate Chunks

1

cup

Toffee Bits
Instructions
Pre-heat oven to 350 degrees F.

In a medium bowl, add flour, baking soda, and salt. Stir until combined.

In a large bowl, add butter, brown sugar, and white sugar. If using a mixer, beat at medium-high speed until creamy and fluffy. Add eggs and vanilla and mix until well incorporated.

Add dry ingredient mixture to butter mixture, ½ cup at a time, and mix slightly between additions. Scrape the side of the bowl and mix until consistent. Do not overmix. (The point of mixing in smaller portions is to keep the flour from puffing into the air.)

Set aside ⅓ cup of the chips. Fold the rest into the batter with a spatula or spoon.

Using a cookie scoop, drop dough onto an ungreased cookie sheet about 2 inches apart.

Bake 10-14 minutes or until edges are starting to brown. If desired, nestle 2-3 chips into the tops of the cookies within 1-2 minutes of removing from the oven. Allow to cool slightly before moving to a wire rack.
Nutrition
Serving:
16
g
|
Calories:
240
kcal
|
Carbohydrates:
37
g
|
Protein:
3
g
|
Fat:
17
g
|
Saturated Fat:
10
g
|
Polyunsaturated Fat:
1
g
|
Monounsaturated Fat:
5
g
|
Trans Fat:
0.4
g
|
Cholesterol:
45
mg
|
Sodium:
77
mg
|
Potassium:
121
mg
|
Fiber:
1
g
|
Sugar:
25
g
|
Vitamin A:
377
IU
|
Vitamin C:
0.02
mg
|
Calcium:
26
mg
|
Iron:
2
mg