Grilled Parmesan Zucchini is fast, frugal, and flavorful. A simple way to add seasonal color and texture to your summer recipe repertoire. Tender zucchini steaks are grilled to a smoky sweet perfection and sprinkled with savory Parmesan. Dive into this delightful veggie dish!
Zucchini is one of those multipurpose ingredients that keeps on giving. In my neck of the woods, it's bountiful in late summer and I've found lots of yummy ways to use it- Double Chocolate Zucchini Bread, Healthy Zucchini Muffins, and the house favorite Shrimp and Zucchini Hibachi. But this recipe may be my new favorite.
I truly wish I had discovered this years ago! This Grilled Parmesan Zucchini recipe has been on regular rotation all summer because, as a busy mom, I love simple dishes that still pack delicious flavor.
Why you'll love this recipe:
Healthy. Zucchini is packed full of nutrients. I'm convinced picky eaters wouldn't resist their veggies if all of them tasted this good.
Fast. The recipe takes about 10 minutes from start to finish!
Budget Friendly. Five simple ingredients including common kitchen staples.
Simple. Easy enough to prepare on a busy weeknight or for a large group of guests.
Versatile. Serve as an appetizer, a side dish, or a veg forward main course.
Ready to add it to your recipe repertoire?
What do you need to make Grilled Zucchini?
Fresh Zucchini
Salt and Pepper
Garlic Powder
Grill Cooking Spray or High Heat Oil (Avocado oil or Canola oil)
Parmesan Cheese
Chef's Tip: It's best to use freshly shredded parmesan cheese rather than store bought pre-shredded. Pre-shredded contains cellulose which keeps the cheese from sticking together. This means pre-shredded doesn't melt as well or stick to the zucchini when you're eating it.
Tips for Grilling Zucchini
Slice your zucchini into uniform strips, so that they grill evenly. You can achieve this with a knife, but a mandolin provides more control. This is the one I recommend because it has larger slices.
Thicker strips are better. I recommend about ¼ inch-thick or 8mm.
Remove a sliver of skin off of each side to maximize your zucchini. You can use a knife or peeler to maximize your zucchini and to give it a flat side.
Season the zucchini before placing on the grill. Sprinkle the cheese on after cooking, while it's hot and fresh.
Preheat the grill and make sure the grates are clean and well oiled.
You can also brush or drizzle oil on the zucchini directly. I do not recommend butter for this.
If you don't have a grill, a grill pan with ridges like this one is great.
What to serve with grilled zucchini?
This works as a delicious side dish for other simple summer dishes like:
If you are also looking for pairing ideas, I might serve it with picnic fair like a ranch pasta salad or broccoli apple salad. Or keep it simple with Cajun Potatoes, rolls, or other grilled veggies like grilled elotes.
How to Store Leftovers?
Let the zucchini completely cool before storing in an airtight container. For make ahead lunches, I recommend slightly undercooking the zucchini, so it steams perfectly in the microwave the next day.
Frequently Asked Questions
Can I make parmesan zucchini in the oven?
Yes, you can easily make this side dish in the oven. Preheat the oven to 375°F (190°C) and place the seasoned zucchini steaks on a baking sheet lined with parchment paper or aluminum foil. Bake for about 10 minutes. Remove from the oven and top with shredded parmesan cheese.
Which oil should I use for grilling?
Different oils have different smoke points, or temperatures where they start to burn. For grilling, I stick to oils with smoke points above 400°F like vegetable oil or avocado oil. Olive oils can vary in their actual smoke point, depending on quality and the refinement process.
How do you cut zucchini for grilling?
I find that round slices fall through the grill grates easily. Therefore, it's best to slice into ¼ inch-thick "steaks" or lengthwise. Peel the skin on opposite sides of the squash. Otherwise, you'll have end pieces that are entirely skin. The skin doesn't cook up the same, but it helps to hold the shape.
Why is my roasted zucchini soggy?
It's been cooked too long or sliced too thin. Also, the seed area of zucchini tends to cook faster and become soggy, so choosing small, young zucchini is generally better because the seeds haven't developed.
How do you dry zucchini before cooking?
Generally speaking, I haven't found this necessary. However, if your squash has a lot of moisture, you can slice and layer on a plate with paper towels as described in my Squash Muffins recipe.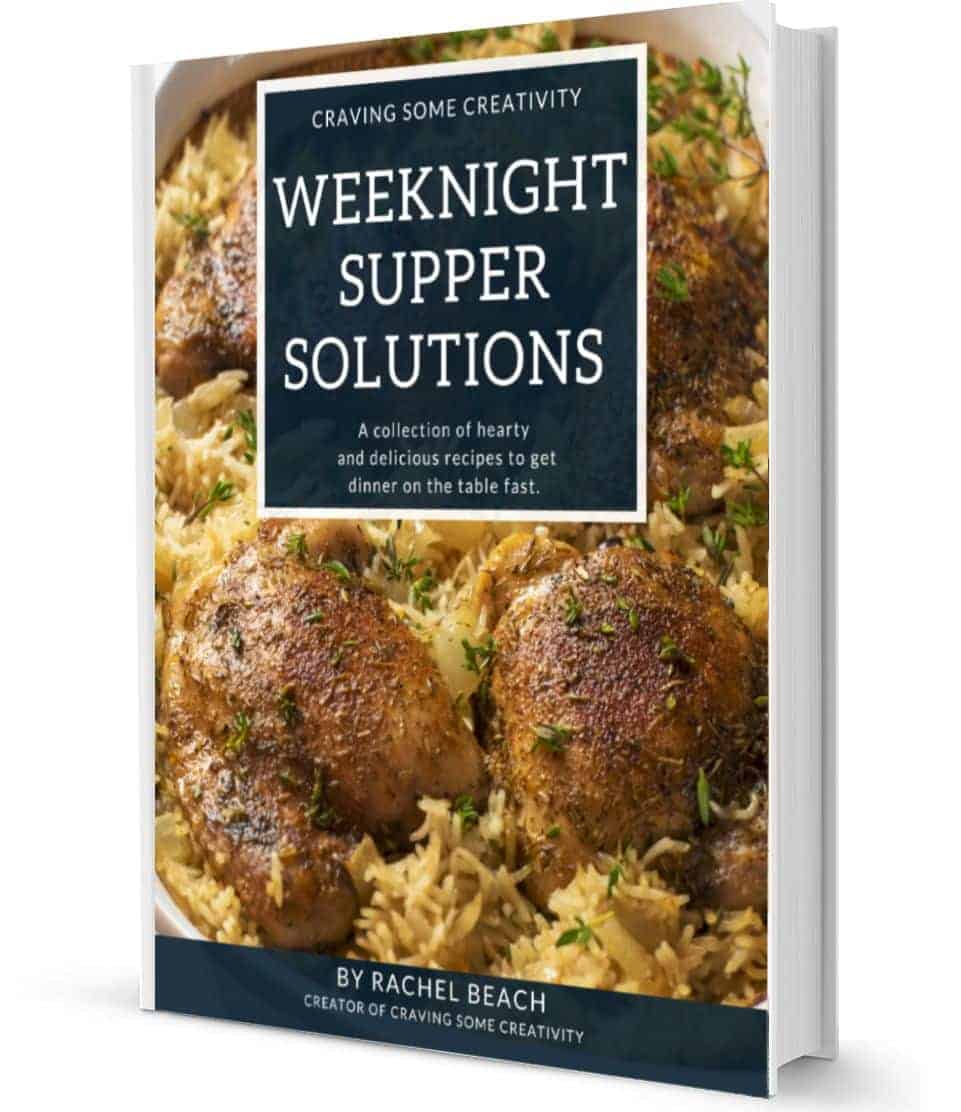 Not Sure
What's For Dinner?
Signup for recipe updates and get a free cookbook of Easy Weeknight Supper Solutions!
More Simple Side Dish Recipes
PS. If you make this recipe, leave a COMMENT AND A STAR RATING in the comments section at the bottom and be sure to take a photo and tag it #cravingcreative on Instagram! I appreciate you for taking the time to read about me and my family recipes. 
Grilled Parmesan Zucchini
Tender zucchini steaks are grilled to a smoky sweet perfection and sprinkled with savory Parmesan. Dive into this delightful veggie dish!
Print
Pin
Rate
Ingredients
2

lb

Zucchini

6 medium zucchini (8 inches long,2 inches diameter)

½

teaspoon

Garlic Powder

½

teaspoon

salt

½

teaspoon

Ground Pepper

Cooking Spray

1

cup

Shredded Parmesan Cheese
Instructions
It's best to cut a sliver off on either side that will be only the skin. Cut the remaining body of the zucchini in ¼-inch-thick steaks, lengthwise.

Turn grill on high heat, or 450°F (232°C). Brush the grates to remove any previous debris and spray with cooking spray once hot.

Salt and pepper one side of the zucchini steaks and place seasoned side down on the grill at either a 45-degree angle or horizontal to the grates.

Salt and pepper the other side while zucchini is cooking. allow to cook for 2-3 minutes before flipping using tongs to avoid zucchini from slipping between grates. For best grill marks move item to new, unused part of the grill with hotter grates.

After cooking on both sides and cooking to desired firmness (about 6 minutes), remove zucchini and place on a serving platter.

Sprinkle zucchini with desired level of grated parmesan cheese. Salt and pepper to preference.
Nutrition
Calories:
98
kcal
|
Carbohydrates:
7
g
|
Protein:
7
g
|
Fat:
5
g
|
Saturated Fat:
3
g
|
Polyunsaturated Fat:
0.3
g
|
Monounsaturated Fat:
1
g
|
Cholesterol:
15
mg
|
Sodium:
333
mg
|
Potassium:
436
mg
|
Fiber:
2
g
|
Sugar:
4
g
|
Vitamin A:
448
IU
|
Vitamin C:
27
mg
|
Calcium:
173
mg
|
Iron:
1
mg