Mexican Street Corn Salad (also known as Esquites) highlights the tangy flavors of fresh charred juicy corn covered in a crema sauce of cilantro, Cotija cheese, and spices. A fresh spin makes this recipe perfect for potlucks or parties of any size.
Mexican cuisine is a cuisine that engages all of your senses, with colorful plating, aromatic spices, and palate-pleasing textures. My stomach growls as I daydream of Chicken Enchiladas, Carnitas Tacos, and endless baskets of chips dipped in Queso Blanco.
So naturally, flavorful side dishes like Elotes are where it's at! Grilled corn covered with garlicky mayo and topped with Cotija cheese, cilantro, lime, and chili powder. Is your mouth watering yet?
More often than not, food trucks present Elotes in salad form. The grilled corn is cut off the cob to create a portable dish known as Elote en Vaso (Corn in a Cup) or Esquites (Corn Salad). My Festive Mexican Corn Salad packs all of the savory flavor of the traditional version, but I've added a pasta mix too bulk it up a bit for entertaining.
Ingredients and Substitutions
Here is an overview of what you will need with notes about ingredients and substitutions for this Mexican Street Corn Salad.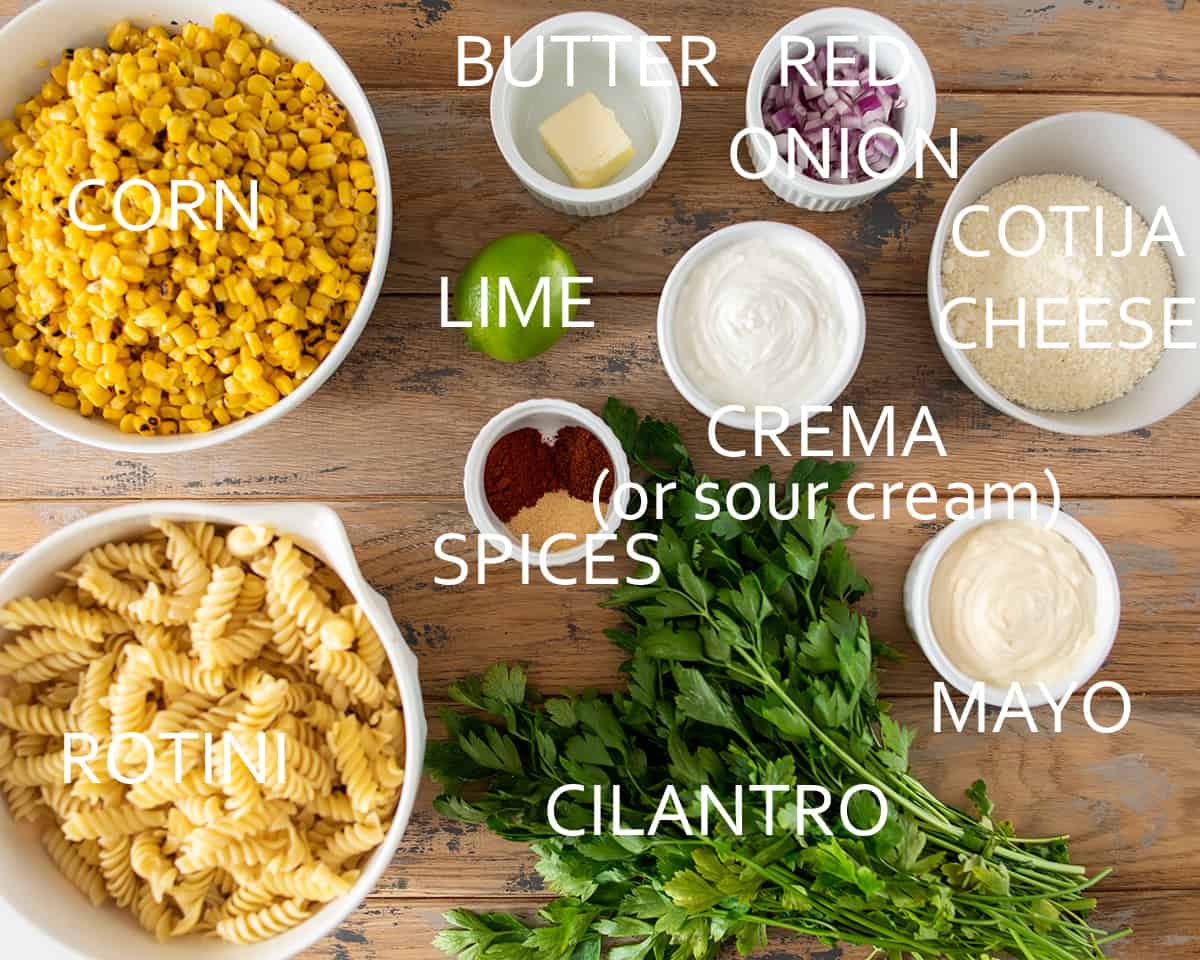 Cotija Cheese. This cheese is white, crumbly, salty, and doesn't melt well. This is the traditional option along with Queso Seco, but only the specialty stores carry it here. If you can't find it, Feta is the closest substitution, but feta is more tangy or sour tasting.
Corn. Since it is grilled, you will want the cob – unless you can find fire roasted corn kernels, which are sometimes in the freezer section. I have also successfully grilled frozen corn on the cob, but it needs to thaw first.
How To Choose Good Corn? First, always remove the husk at the store or at least peek at the corn. The silks (hairlike projections that come out of the top) should be brown and sticky to the touch. If they're dry or black, then it's old. If they are bright yellow, it's not ready. The husk should be bright green and wrapped tightly.
Mexican Crema or Sour Cream. If you don't have Mexican Crema available, use sour cream. Mexican crema is somewhat similar to sour cream, but it is higher fat, a little sweeter in taste, and a lot thinner.
Spices. I use a mixture of smoked paprika, garlic powder, chili powder, and fresh cilantro to make this pasta salad a little smokey with plenty of flavor.
Pasta. This is actually completely optional! I like rotini or bowtie for pasta salads. With the addition of the pasta, it becomes the perfect size for a summer gathering. However, I also serve this exact recipe as an easy side dish by cutting the dressing recipe in half and leaving out the pasta.
How To Grill Corn
1. With No Husk
This is my recommended method for best flavor. It's the easiest too since any bits of silk will burn off. Brush the ear with a little oil or butter if you like, then place it on the grill, turning regularly. There will be some nice char on the ear itself, which adds to the smoky flavor!
2. With Husk On
The grilling is essentially the same as without a husk.
Peel the husks back but leave them attached at the bottom of each cob.
Remove the silks from the ear. A stiff brush works well for raising the silks.
Place the husk back over the cob and grill normally.
3. Without a Grill
If you are lacking a grill (or maybe it's just too hot outside to fire it up) and you are craving this, no worries. Making Esquites with no grill is still possible! Here are a few options:
Pop the corn on a cast iron pan and put it in the oven on broil. Brush with a bit of oil or butter. Turn a few times to evenly cook. Takes about 10 minutes or less.
If you have a gas stove, you can cook the corn cobs directly over the flame (no pan!). Turn with tongs. This will be a bit uneven in cooking through the corn.
How to Remove Corn Kernels off the Cob Easily
This is my preferred method. It's fast, a little messy, and you get the most sweet corn off of the cob.
Usually before grilling (or after if it has cooled), I cut the full cobs into smaller pieces that I can handle in my small hands. Roll a knife around the cob to cut the kernels and score the cob itself. You don't need to cut through! Then put your hands on either side of the score and SNAP the corn upward – kind of like how one would break long spaghetti.
Pry the entire first row of corn up with the back end of a spoon or fork. If your corn is soft or tightly packed, the first row may be messy and pop. But it's only one row, so don't worry if it isn't perfect.
Using a knife, cut each row around the cob. Break up the rows with your fingers in a bowl.
The pasta is easy to put together. Mix up the dressing ingredients in a bowl. Put the salad ingredients in a bowl and toss with the dressing to coat.
It is best if the salad sits for 1-2 hours in the refrigerator to let the flavors come together.
Chef's Tip: Any creamy pasta salad can look rather one color, so I like to reserve about a half cup of the toppings (corn, cilantro, cheese) before coating the ingredients. Then sprinkle the remaining toppings on so they stand out a little more and there is more texture.
Mexican Street Corn Salad Variations
Other Veggies. This is an excellent way to use up extra veggies you have in the fridge like red pepper, green pepper, tomatoes, green onions, and avocado.
Easy Side Dish (Esquites). This recipe is a wonderful side item for family dinners. I halve the dressing ingredients and don't make the pasta.
Gluten Free. Use gluten free pasta and check your mayo (if you substitute it) just to be sure.
Vegan or Dairy Free. I personally believe it is very difficult to take all of the dairy out of this recipe and have it resemble anything like the original. Truthfully, as I try to make everyone happy, there are better options like Mediterranean Chopped salad or Corn and Black Bean Salad.
Serving and Storage Tips
Serve: Cold. I like to add a squeeze of lime just before serving. It adds a fresh zing that livens up the flavor even more!
It is normally served as either a gathering dish or as a side dish. I love it for family bbqs because it's so easy and different. You could serve it with:
And don't forget dessert! 15 Minute Punchbowl Cake, Key Lime Pie, and Carmelitas are some of my all-time summer favorites.
Store: Lasts 3-4 days in the refrigerator if covered. The sauce will soak into the pasta over time so it won't be as creamy as the first day.
Frequently Asked Questions
Should you make pasta salad the night before?
This pasta salad can easily be made the day before and even better tasting since the spices have had time to develop and blend. The dressing will soak in a little bit and it won't be as creamy looking, but it will taste great!
When making this recipe, do you rinse the pasta?
Yes. Draining and rinsing the pasta immediately under cool water not only stops the cooking process but helps to cool down the pasta for making the salad. It also helps to keep the pasta from soaking in sauces, which can make the pasta dry.
How long does pasta salad last for?
Leftover pasta salad should be stored in a covered container in the fridge. Leftovers will last about 4 days. Always stir before serving. I do not recommend freezing, as it can separate once thawed, and become oily.
How to keep pasta salad cold?
I don't recommend letting sitting out at room temperature for more than 30 minutes or so. If you intend to serve this recipe outdoors or in a warm environment, keep it in a cooler or nestled in an ice bin to keep it chilled.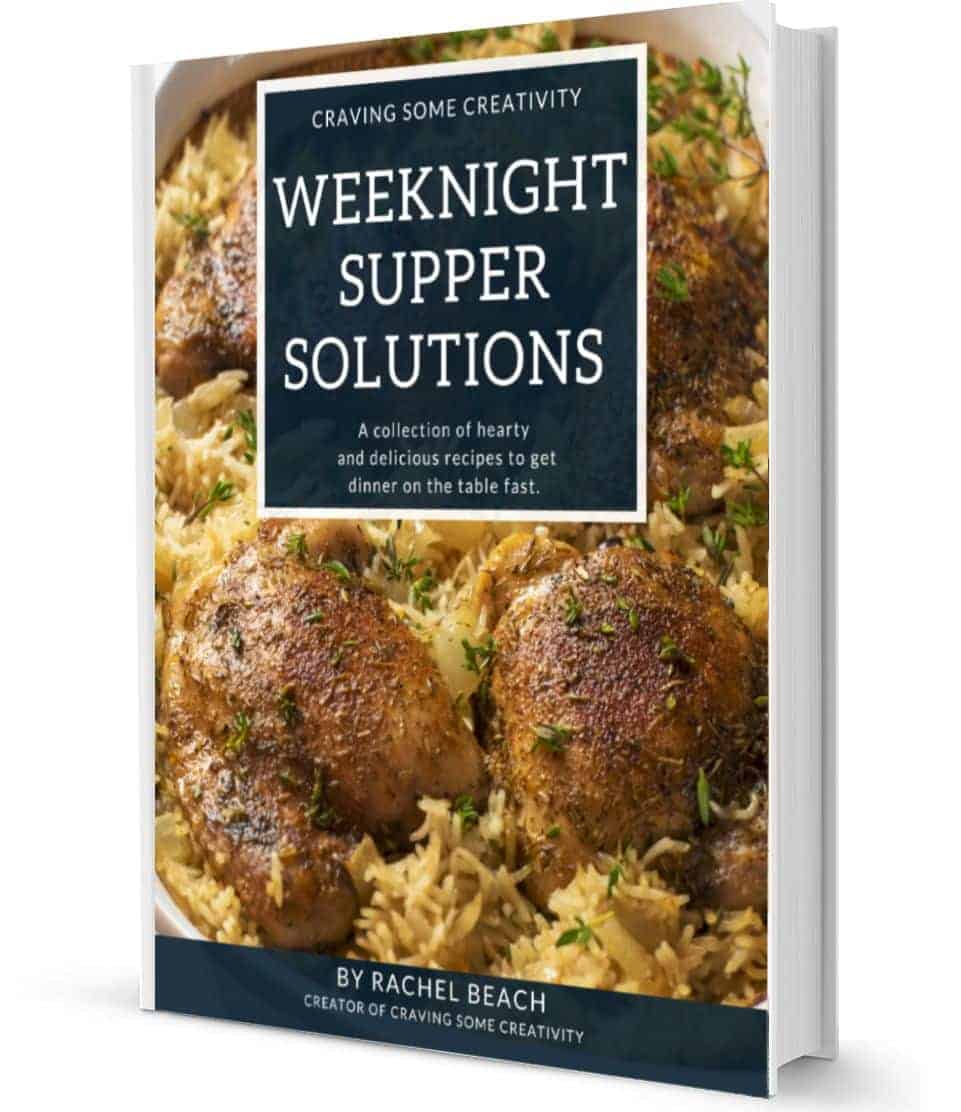 Not Sure
What's For Dinner?
Signup for recipe updates and get a free cookbook of Easy Weeknight Supper Solutions!
More Summer Recipes
PS. If you make this recipe, leave a COMMENT AND A STAR RATING in the comments section at the bottom and be sure to take a photo and tag it #cravingcreative on Instagram! I appreciate you for taking the time to read about me and my family recipes. 
Mexican Street Corn Pasta Salad
Mexican Street Corn Salad (also known as Esquites) highlights the tangy flavors of fresh charred juicy corn covered in a crema sauce of cilantro, Cotija cheese, and spices. A fresh spin makes this recipe perfect for potlucks or parties of any size.
Print
Pin
Rate
Ingredients
3

Ears of Corn

Can also use fire roasted corn kernels

1

tablespoon

Butter

for grilling the corn

8

oz

Rotini Pasta

½

cup

Cotija Cheese

Substitute feta if you can't find cotija

¼

cup

Chopped Cilantro Leaves

¼

cup

Red Onion

diced
Dressing
¼

cup

Mayonaisse

⅓

cup

Mexican Crema

Substitute sour cream if necessary.

Salt and Pepper

½

teaspoon

Garlic Powder

½

teaspoon

Chili Powder

*See Note

½

teaspoon

Smoked Paprika

Plus more for garnish, if desired

1

teaspoon

Lime Juice
Instructions
Light a grill. Remove the husks and season the corn with salt and pepper, if desired. Place the corn on the hottest part of the grill and cook, turning as needed, until cooked through with nice grill char marks, 8 to 10 minutes. Butter the corn lightly if desired just before it comes off the grill.

Cook pasta according to package directions until al dente. Rinse under cool water and set aside to drain and cool.

Once corn has cooled to touch, remove the kernels. You can slice them off with a sharp knife or use a spoon to remove one whole column and then use your thumb to push out the corn kernels row by row (this is demonstrated in the post with photos.)

In a small bowl, stir together the mayo, crema, garlic powder, chili powder, and smoked paprika.

In a large bowl, add the pasta, corn kernals, cilantro, lime juice, and dressing mixture, Toss everything until well coated. Sprinkle with cotija cheese and stir slightly or leave on top.

If desired, you can sprinkle a little more paprika and cilantro over the cotija cheese. It gives more depth in the visual appearance.
Notes
Chile Powder and Chili powder are not the same thing. Chile powder is ground peppers, and can vary a lot in heat level. Chili powder is a mix of chiles, cumin, and other spices. For this recipe, I use chili powder because it is much easier to find, and I like the cumin. I can control the heat best as well.
Nutrition
Serving:
1
cup
|
Calories:
177
kcal
|
Carbohydrates:
27.5
g
|
Protein:
6
g
|
Fat:
5.7
g
|
Saturated Fat:
2.7
g
|
Cholesterol:
31
mg
|
Sodium:
82
mg
|
Potassium:
237
mg
|
Fiber:
1.8
g
|
Sugar:
2.1
g
|
Iron:
3
mg