Get ready to spice up your dinner game with this creamy and flavorful poblano cream sauce. Made in just minutes, it's delicious to keep on hand for tacos, nachos, burritos, or as a dip for chips!
A good topping sauce elevates lots of meals and always seems to add that little missing zing. Avocado crema, Greek dressing marinade, and infused olive oil are some of my favorite sauces and each has their place.
Today, however, I wanted to add some peppery flair with this poblano cream sauce recipe! I started this for pairing with blackened fish tacos but it is a versatile recipe works as a tasty topping, dip, or sauce and takes only a few minutes to make.
Are poblano peppers spicy?
If you have not had poblano peppers, they are not spicy. They have a Scoville rating similar or slightly above Anaheim peppers, the mildest peppers on the scale.
Poblano peppers are unrippened and green. However, if they are allowed to ripen and turn red on the plant, they are dried and called Ancho chiles. Best known for stuffing recipes such as Chile relleno, poblano-ancho have a distinct bold delicious flavor without a lot of heat.
Ingredients and Notes
Poblano cream sauce is a delicious creamy sauce made from roasted poblano peppers, spices and a sour cream base.
What is crema?
Truthfully, American sour cream, Mexican crema agria, and central American crema (like Honduras or San Salvador) can be used interchangeably and often are. However, there are some differences in taste and texture.
Mexican crema agria is thinner and has a more tangy and slightly sweet taste compared to American sour cream.
Mexican crema is considered table cream and has a lower fat content.
Salvadoran crema is generally the most common in my area, although other central American countries have their own version. It tends to be more milky-yellow in color (like mayonnaise) than the Mexican varieties. Salvadoran crema is made from heavy cream and is cultured, giving it a tangy yet nutty flavor.
We use Salvadoran crema for ours because I like the flavor best.
How to Roast Poblano Peppers
I prefer to roast my peppers either on my natural gas stove or on the gas grill. It's easier to control the evenness of the roasting and you don't have to deal with the heat of the oven.
Put the pepper directly over the flame and let it blister with some black spots before turning to another side. Keep moving until the skin is charred and blistered on all sides.
However, if you don't have a gas stove or a propane grill, you can roast them in a conventional oven easily.
Preheat the oven to broil (HIGH heat) and place the rack as close to the burner as possible without the peppers touching the burner. Roast the peppers, turning them occasionally, until the skin is charred and blistered on all sides. You may find that the thinner ends don't char as well. About 20-25 minutes.
Remove peppers to a bowl or Ziplock bag. Cover the bowl with plastic wrap or a kitchen towel and let the peppers steam for a few minutes.
After steaming, it should be very easy to peel the thin skin off the peppers from bottom to top.
Cut the top with stem off and remove the seeds.
After that, it's as simple as tossing all of your ingredients in a blender and pulsing until it is the smooth consistency you desire.
Serving Suggestions
This sauce has so, so many uses!
Drizzle tacos, burritos, or chicken enchiladas
Dip tortilla chips into it.
Drizzle over grilled meats, fish, or shrimp
Spread on sandwiches or wraps.
Top baked potatoes or sweet potatoes
Especially good in breakfast dishes, such as breakfast burritos.
Dollop on white chicken chili, soups, and stews
As a condiment for burgers or hot dogs.
Recipe Tips
You can roast the poblanos ahead of time. They freeze well too for sauces like this.
Feel free to adjust the ratio of sour cream to peppers to make it creamier if you like.
You can add spices like cumin, coriander, or even sesame seeds to suit your tastes.
Storage: Don't leave out for more than an hour since this recipe contains dairy. Store leftover in an airtight container in the fridge. Lasts 5-6 days. Give it a quick stir and enjoy!
More Delicious Recipes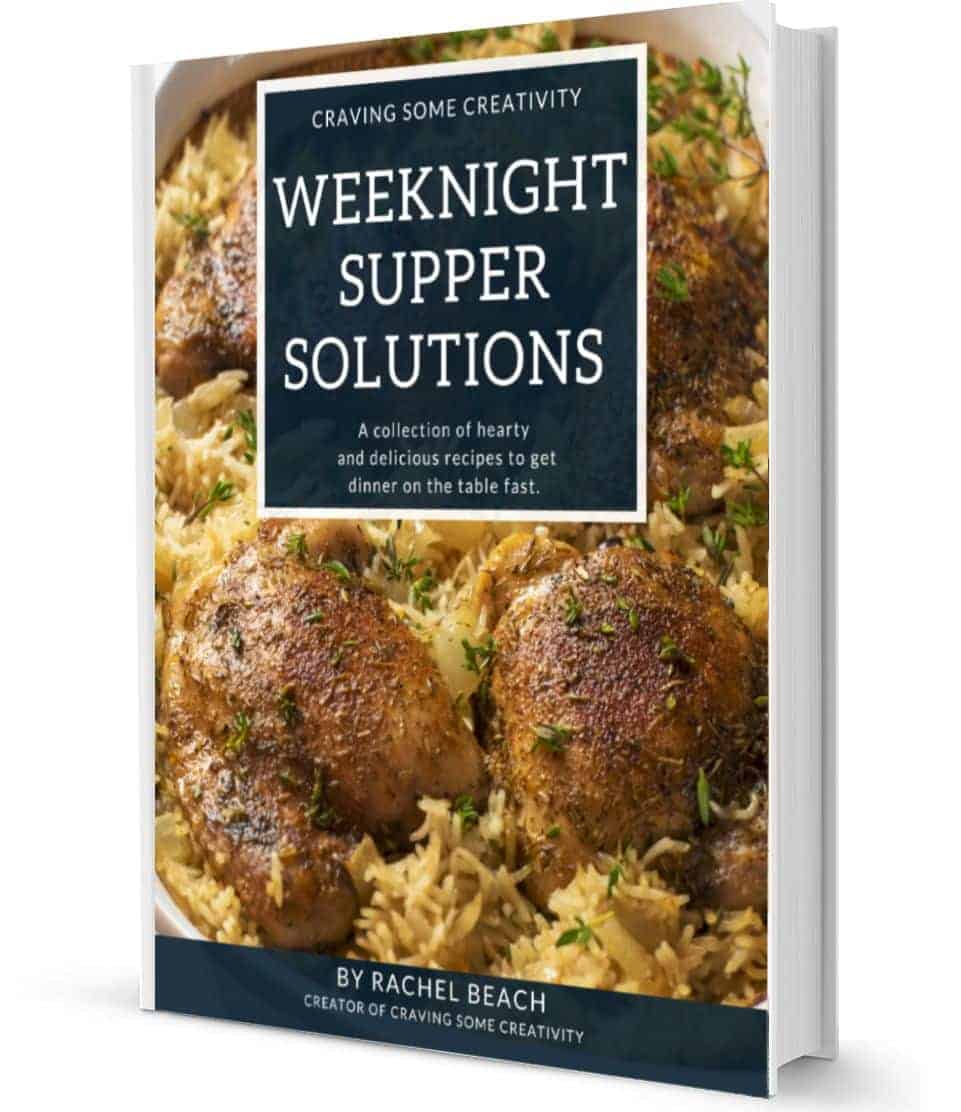 Not Sure
What's For Dinner?
Signup for recipe updates and get a free cookbook of Easy Weeknight Supper Solutions!
More Festive Recipes
PS. If you make this recipe, leave a COMMENT AND A STAR RATING in the comments section at the bottom and be sure to take a photo and tag it #cravingcreative on Instagram! I appreciate you for taking the time to read about me and my family recipes. 
Poblano Cream Sauce
Get ready to spice up your dinner game with this creamy and flavorful poblano cream sauce. Made in just minutes, it's delicious to keep on hand for tacos, nachos, burritos, or as a dip for chips!
Print
Pin
Rate
Ingredients
1

pound

Poblano Peppers

sometimes called Pasilla pepper (about 4 peppers)

⅓

cup

Mexican or Central American Crema

or Sour Cream

2

cloves

Garlic

¼

cup

Fresh Cilantro

1

Lime

or 1 teaspoon lime juice

½

teaspoon

Salt
Instructions
Roast the peppers. You can char the peppers on an outdoor gas grill, on a gas stove, or in the oven. For the oven, turn on the broiler and place the peppers directly on the rack closest to the top. Roast until the peppers start to turn black-brown and rotate to another side. Repeat until each side is roasted. This can happen pretty quickly, so keep an eye on them. Remove the peppers and place in a large ziplock bag or tupperware container with lid to steam.

When the peppers are cool enough to touch, peel off the charred skin and discard the skins. Cut off the top and put a slit down the center to open the pepper. Discard the seeds.

In a food processor, combine all the ingredients and blend until you reach your desired consistency. Add additional water if too thick. Season to taste with additional salt or lime.
Nutrition
Calories:
17
kcal
|
Carbohydrates:
2
g
|
Protein:
1
g
|
Fat:
1
g
|
Saturated Fat:
0.02
g
|
Polyunsaturated Fat:
0.02
g
|
Monounsaturated Fat:
0.004
g
|
Cholesterol:
3
mg
|
Sodium:
32
mg
|
Potassium:
59
mg
|
Fiber:
1
g
|
Sugar:
1
g
|
Vitamin A:
146
IU
|
Vitamin C:
24
mg
|
Calcium:
13
mg
|
Iron:
0.1
mg