Not everyone has a laundry room with lots of space. Personally, we have a laundry closet, with a small linen closet. The laundry used to spill out in the kitchen (not a good look) until we turned the linen closet into laundry storage space.
I don't know about you, but in my house, dirty clothes have a tendency to end up tossed as far as humanly possible from the laundry hamper. The kid gets home from school and socks are in the front room or I find a cloth used to wipe something down in my office. Of course, it falls to me, and all of our hampers are in the bedrooms upstairs. Even worse, come laundry day, the laundry was sorted and piled on the kitchen floor. Not a good look. I prayed that no one would visit that day. After I finished organizing the pantry a few months ago, I knew that the laundry situation would be my next organizing project. And that brings me to today's makeover!
I have an awkward and tiny laundry room that sits between the garage and the kitchen. Our little laundry room had a broom closet that just wasn't being utilized to its fullest potential. Do you ever have those moments where you just can't take the mess any longer? That was me…and so I enlisted my husband to help me build some shelves in that closet, pronto.
I put two rails on each side with enough space between to hold the laundry baskets. The rails are made of scrap wood. We cut a white laminate shelf to appropriate size to make 2 shelves for the laundry closet and placed them on top of the rails.
*I always feel the need to state this, but the house wasn't in good shape and that is what all of the walls looked like when we moved in. Actually, that is better than some.
Of course, I wanted the closet to also look nice! I choose wallpaper because I felt it would hold up better to scrapes and dings. I used a damask print but there are tons of reasonably priced, fun prints. I purchased two rolls, but I was about a foot short. I left that area at the very bottom shelf so no one will ever notice it. Well, now you will, lol. Good job, calling myself out.
3 large baskets to hold clothes that can also be taken upstairs to fold.
I wanted to keep the wire rack so I could hang a few small things like bras. I don't dry sweaters or anything like that in here though.
So happy to have a place to store the laundry ready for the washing machine. And it is pretty too! I plan on putting a sliding door in, but that is a project for another day. I hope you enjoyed this little laundry room closet makeover!
More Stunning Organization Projects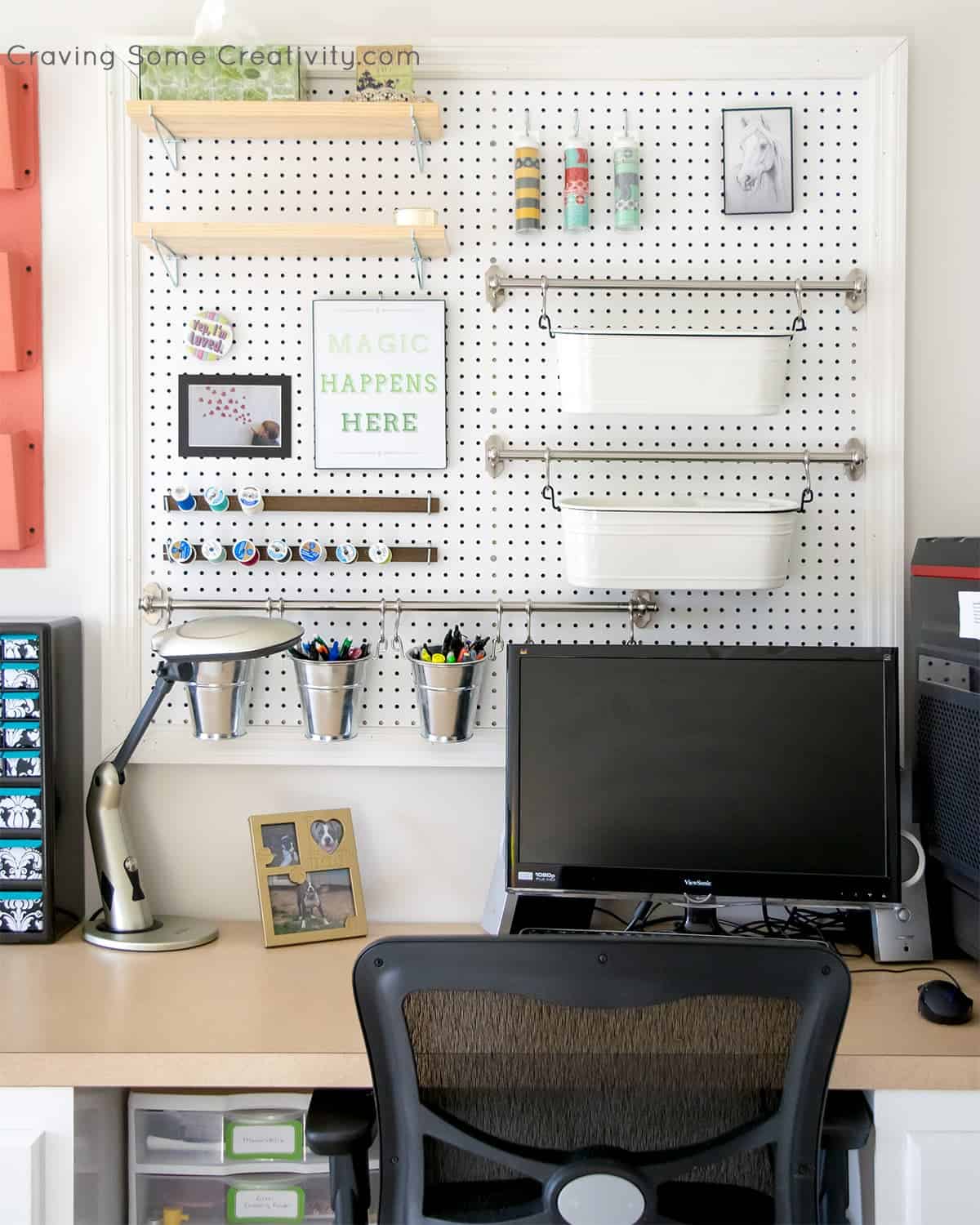 Grab our free series "Weekend Home Projects that will Transform Your Life"
Sign up below to receive updates including free printables, organization tips, home improvement projects, recipes and more!
More Home Solutions
PS I love seeing your creations! Be sure to take a photo and tag #cravingcreative on Instagram! You can also stay in touch with me through following me on Instagram, Pinterest, and subscribing to the newsletter!