Classic Subway Tile is a big trend that doesn't seem to be going anywhere. It has a clean look to it that goes with many different decor styles, such as our modern classic mixed bathroom that we are renovating. For our bathroom, we chose a white subway tile that looks like brick for our shower walls. When installing a beveled subway tile, there are some important characteristics that make it a bit different to work with than other tiles.
We have been very hard at work renovating the hall bathroom and we have learned a lot along the way. The reveal won't be for a few weeks but tiling was the biggest project and I am so happy that it is done. Although we have tiled our kitchen backsplash and another bathroom floor, using beveled tile presented new and different challenges for our shower that I wanted to share with anyone wanting to tackle a similar project.
Decide your Subway Tile Pattern
The nice thing about subway tile is that you can customize the pattern easily to include a stacked pattern, a brick offset pattern, or even a horizontal pattern. Here are some examples:
Image via Oregon Brick
Create A Subway Tile Layout with the Beveled Edges in Mind
When we were deciding our layout for the shower, I decided to create the beveled tiles edging with an endcap piece. One of the biggest problems was that ending with a full piece would result in an uneven looking edge. For a more finished look, layout your design so that the beveled edges are cutoff when butted next to an endcap piece. This is also true when working in corners or if you are ending into a wall.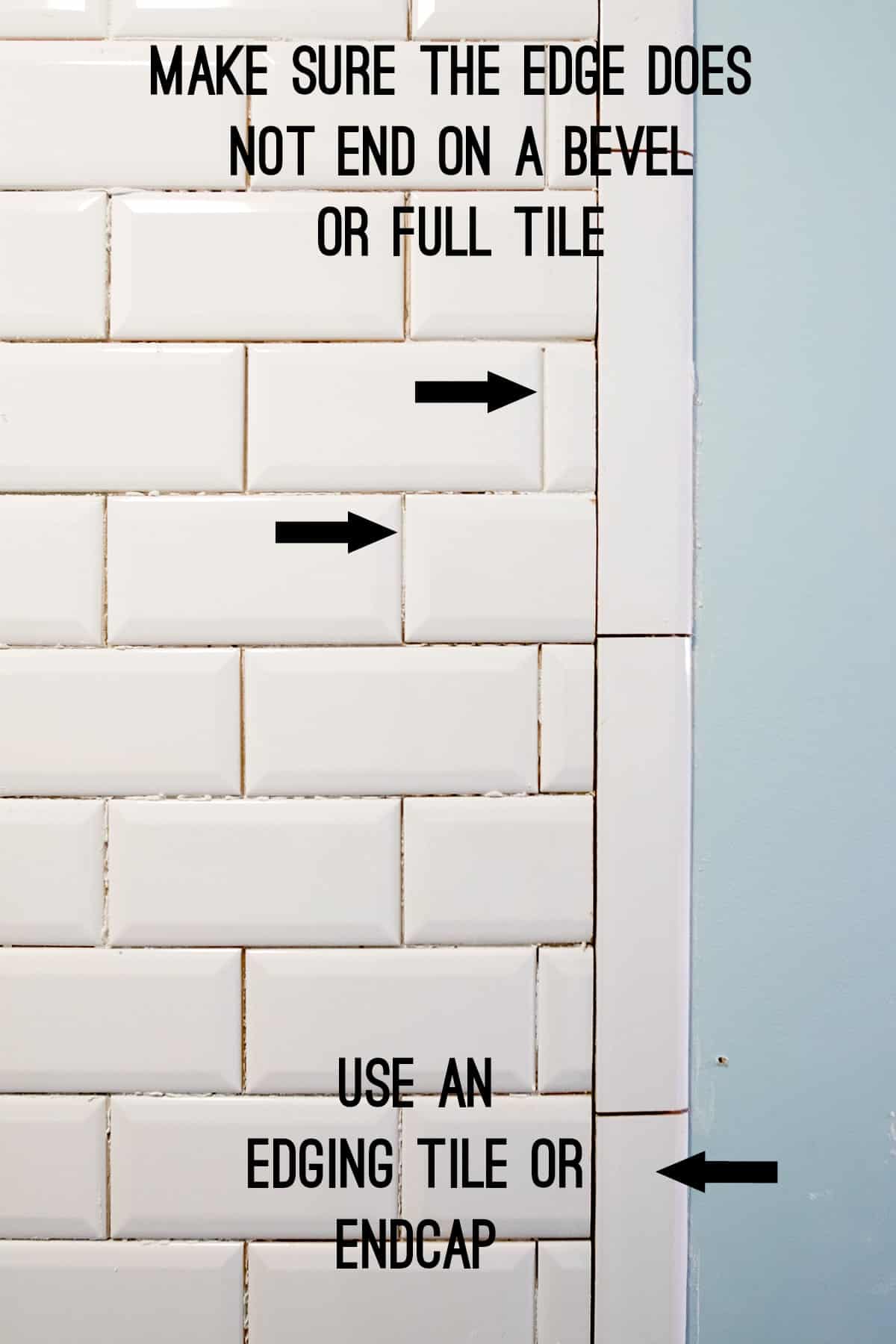 Beveled Subway Tile Needs Mitre Cuts in Corners
In corners, mitre cuts are an absolute necessity when using beveled edge tiles or really any subways tile that has rounded edges. A mitre cut only means that the cut is done at a 45 degree angle so that both ends connect together to fit a 90 degree angle. The one thing you will find is that walls in your house may not be perfectly square, or 90 degrees, so you may end up with a tiny gap between the tile. Don't worry, grout in the corners will cover that up without problem.
If you are looking for a tile saw, this one is a good Tile Saw on a budget (which does mitre cuts).
Tiling and Level
First things first, before you ever put a single tile on the wall, check for level in relation to the other elements in the room. Is the ceiling edge level? Countertops? Cabinets? etc, etc. Our ceiling bowed in towards the center dramatically, which is why we didn't tile all the way to the ceiling. We could have built it up with drywall spackle, but decided it wasn't worth it. When checking for level over long spaces, use at least a 3-4 foot level like this one, not a little level.
Using a Ledger Board
This tip actually builds on to the last tip. I honestly recommend this tip for most any large tiling surface like a shower or full wall. A ledger board is just any very straight board that you put up where your first tiling row would go. You let the first (or rather second from bottom row) rest on the board when tiling. Using a ledger board will ensure that everything is level and starts out perfect. After you have tiled up the wall, you can remove the ledger board and tile the final row.
I forgot to take a picture of ours, but we tacked it up in place of the first row of tile above the tub base.
Creating Awkward or Complex Cuts in Tile
Tile that requires multiple cuts are the hardest to get correct fit. To make this easier cut a piece of paper and fit into the tile space to create a template. After the tile is cut to the shape of the template, dry fit into place to check for fit.
Grouting Beveled Subway Tiles
With most tile, I recommend using a hard rubber float for grouting around the tiles. However, beveled edge tiles make it difficult for a rubber float to properly push into the grooves, resulting in a lot more wastage of grout mixture. A softer masonry float can be used that will result in less wastage. I personally still used a black rubber float to spread the grout onto the tiles and, then, using my dry fingers, removed the excess back to the bucket. Whichever float you choose, you will still need a tile sponge to even out the grout and create clean professional lines.
Subway tile is a beautiful option whether you choose beveled edge tile or another option. I admit that I am a very messy tile installer but the look of this tile is so worth the effort of thinking a bit ahead. If you have any questions, let me know in the comments below! Now that the tile is finally finished, we are moving on to the vanity and I have some great ideas coming your way.
Update: You Can See Our Completed Bathroom Renovation Here.
Looking for More DIY Home Improvement Projects? Check These Out:
Grab our free series "Weekend Home Projects that will Transform Your Life"
Sign up below to receive updates including free printables, organization tips, home improvement projects, recipes and more!
More DIY Tile Tutorials