Like elegant bricks, Beveled Subway Tile has a low-maintenance, timeless style that works beautifully in kitchens and bathrooms. However, there are some important characteristics you need to be aware of before installing beveled tile.
Classic Subway Tile is a big trend that doesn't seem to be going anywhere. It has a clean look that coordinates with many different décor styles, such as our modern classic bathroom we are showcasing today, the herringbone tiling installation, and our traditional wainscoted bathroom. The beveling gives it an elevated, sophisticated brick characteristic.
However, when installing a beveled subway tile, there are some important characteristics that make it a bit different to work with than other tiles.
6 Quick Tips to Expertly Install Tile
Use a mortar mixer paddle attachment. It's much faster, more consistent, and easier to mix than by hand.
When starting, use a ledger board in place of the first row. This will allow you to get perfectly straight lines moving upward. (The photo below is me holding one up in place since I forgot to take a photo of it before tiling.)
I have used quite a few brands over the years, and my favorite grout to work with is Mapei with the Grout Maximizer.
I still clean and seal my grout yearly. While they say it's not required, I can confidently say it lasts longer and stays cleaner this way.
If using a natural stone, in particular marble, check the porosity as some grouts may stain it. With real marble, only use a white or very, very light grout. Marble will pull the grout color into the tiles.
Wipe off excess mortar from the fronts of the tiles and grout lines BEFORE IT DRIES. Chiseling out excess mortar that grout won't cover is much longer. I clean the tiles as I go.
The Most Common Mistakes with Beveled Tile
Mistake #1: Ending a Row on the Bevel
One of the biggest problems is ending with a full piece, which gives an uneven looking edge. For a more finished look, layout your design so that the beveled edges are cutoff when butted next to an endcap piece. This is also true when working in corners or if you are ending into a wall.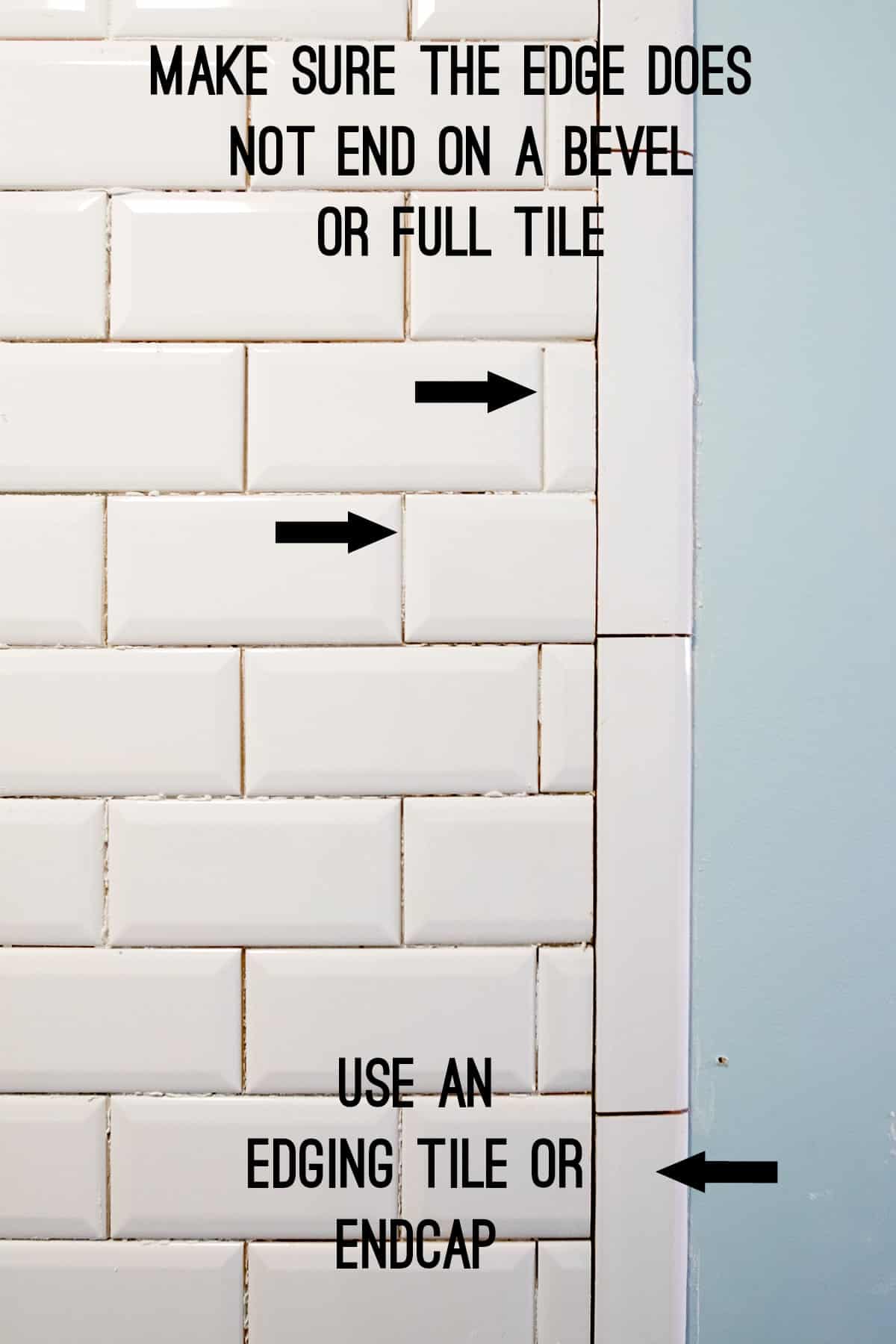 Mistake #2: Not using an endcap tile.
Ceramic tile has a glaze on top. This glaze does not extend inside so you have an ugly edge when you cut. To hide this edge, you need an endcap tile. Often times, you can edge with the same tile, but not when installing a high beveled tile.
There are several styles including tiles, tile trims, and metal edging trim. If using a tile, the tile must be as thick as the thickest part of the main tile.
Mistake #3 : Not Cutting Bevels in the Corners
In corners, mitre cuts are an absolute necessity when installing beveled edge tiles. A mitre cut means that the cut is done at a 45-degree angle so that both ends connect together to fit a 90-degree angle.
The one thing you will find is that walls in your house may not be perfectly square, or 90 degrees, so you may end up with a tiny gap between the tiles. Don't worry, grout in the corners will cover that up without problem.
Pro Tip: If you are looking for a tile saw, this one is a good Tile Saw on a budget (which does mitre cuts).
Mistake #4: Not Using The Right Spacers
I recently had to tear out a professional tile installation for my mother-in-law's brand-new house because the contractor believed hexagon tiles don't need spacers. The tile job was so terrible that the grout lines varied from nothing to 3/16 of an inch. Please don't do this.
I am old school when it comes to spacers and very picky. Over time, I have come to prefer T-spacers rather than X-shaped spacers (pictured below), but either will work with this tile. I also keep wedge spacers on hand because they are so handy for keeping proper alignment. You can cut them to size.
Mistake #5: Complex Cuts
Tile that requires multiple cuts are the hardest to get correct fit. To make this easier cut a piece of paper and fit into the tile space to create a template. After the tile is cut to the shape of the template, dry fit to check before installing.
Grouting Beveled Tiles
With most tile, I recommend using a hard rubber float for grouting around the tiles. However, beveled edge tiles make it difficult for a rubber float to properly push into the grooves, resulting in a lot more wastage of grout mixture.
A softer masonry float can be used that will result in less wastage. I personally still use a black rubber float to spread the grout onto the tiles and then, using my dry fingers, removed the excess back to the bucket.
Whichever float you choose, you will still need a tile sponge to even out the grout and create clean professional lines.
Subway tile is a beautiful option whether you choose beveled edge tile or another option. I admit that I am a very messy tile installer, but the look of this tile is worth the effort of thinking a bit ahead. If you have any questions, let me know in the comments below!
Update: You Can See Our Completed Bathroom Renovation Here.
Looking for More DIY Home Improvement Projects? Check These Out: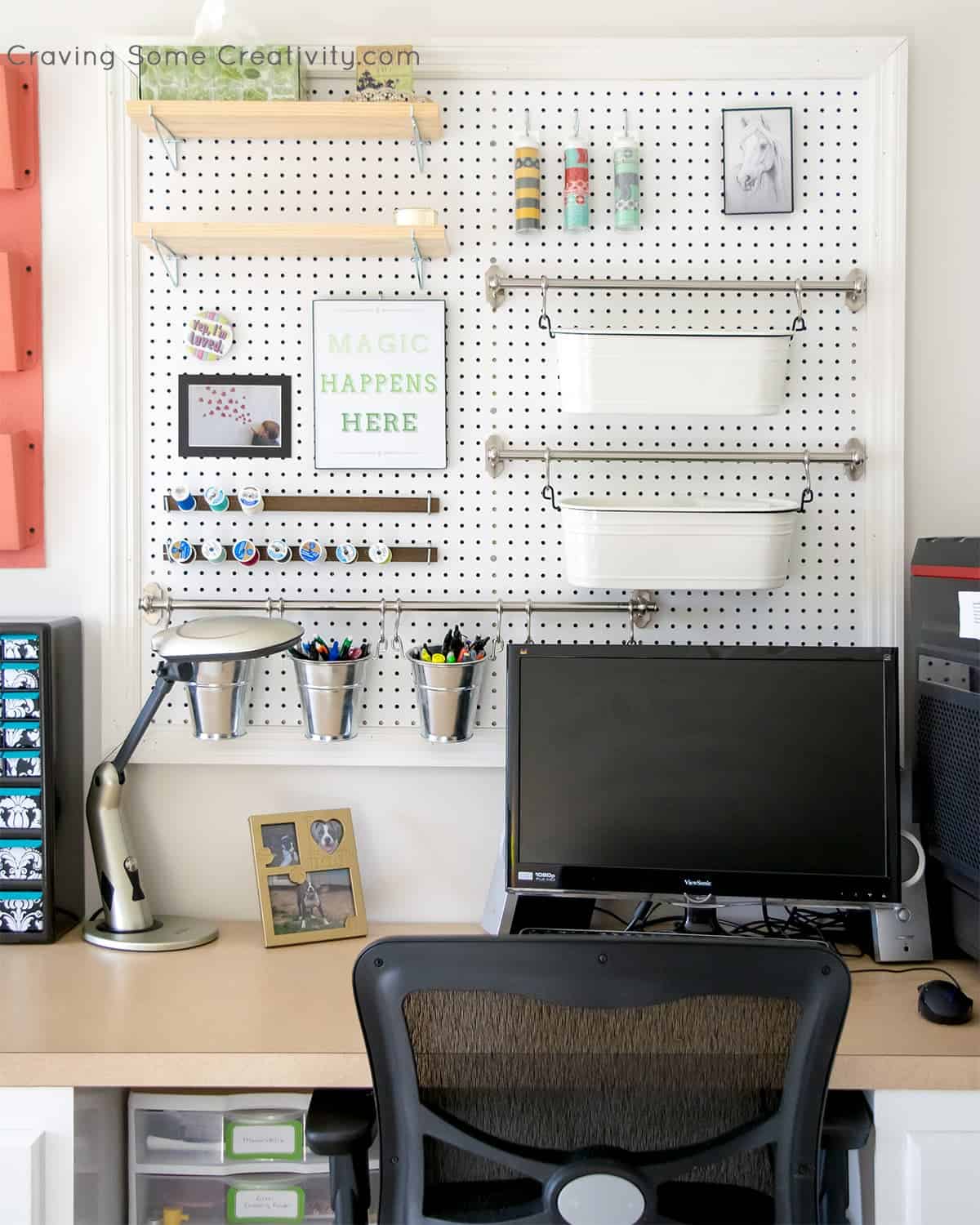 Grab our free series "Weekend Home Projects that will Transform Your Life"
Sign up below to receive updates including free printables, organization tips, home improvement projects, recipes and more!
More DIY Tile Tutorials
PS I love seeing your creations! Be sure to take a photo and tag #cravingcreative on Instagram! You can also stay in touch with me through following me on Instagram, Pinterest, and subscribing to the newsletter!