This pecan pralines recipe has been a loved family recipe for over 35 years. Whole snappy pecans in a browned sugar coating, these treats are a kind of cookie that is a classic in the south and, especially, New Orleans.
New Orleans Pralines are kind of a big deal. Even though pralines (prounounced praw-leens) are made throughout the south, New Orleans is famous for them and you can find them in candy shops around town fresh from the oven.
If there was one treat I would most associate with my childhood, it would be these pralines. My mother made them every Christmas, every birthday, and probably a few more times a year. She spent years experimenting and perfecting her pralines to taste exactly like the memories of the New Orleans my Dad grew up in. Of course, I have been to New Orleans to compare them, and I have to say these are pretty authentic.
Recently, Mom came up for a visit and I begged requested she make her New Orleans pralines recipe so that I could share with all of you. Luckily, she obliged and shared all of her tips from making them over the last 35+ years.
I highly recommend that if you ever make a trip, the best New Orleans pralines recipe to is at Southern Candymakers in the French Quarter. It's near the French Market and the famous Cafe Du Monde.
Tips for Making Pecan Pralines
A pecan praline recipe is fairly simple and straightforward, but like with any candy, there are some tips to making them just right or it can seem tricky.
Read the recipe through before starting and have everything ready. This may seem like common sense, but even I have found myself not reading the recipe entirely through before I start. This recipe moves very quickly and you need to be ready for the next step when it comes up.
Don't Double the Recipe – The problem with doubling this praline recipe is that the pralines may start to cool too quickly as you are putting them out on the wax paper.
Dropping them Down – You don't want to start laying them out too early or the candy coating will run out further and away from the pecans. After the baking soda and vanilla are added, don't stop whisking/beating until you are ready to drop them. Otherwise, the syrup may cool unevenly as you spoon.
Frequently Asked Questions
Can I use pecan pieces?
Yes, although I wouldn't recommend anything smaller than halves. It will have a slightly different texture and just as delicious.
How Long Do Pecan Pralines Last?
Nothing is better than fresh New Orleans pralines. Unless you have tasted them just after they have cooled, you haven't lived. Pralines can be stored in an airtight container in a room temp, dry place without any problems. After a day or two the sugars may begin to crystallize in the pralines. They are still plenty delicious, so don't be worried if you notice them turning lighter or beginning to show white specks or crystals.
Tools used in this New Orleans Pralines Recipe
Wooden Spoon– A wooden spoon is preferable in this recipe because it doesn't transfer heat.
Candy Thermometer – Really recommend this one for getting the pralines exactly right. It doesn't need to be an expensive one, it just needs to be accurate.
What's the Difference Between Pralines and Brittle?
The main difference between brittle and pralines is the hardness of the candy. Pralines are cooked to the soft crack stage and should be semi-soft but not chewy. Brittle, however, is cooked to a very high temperature, resulting in a much harder and "brittle" candy.
Check Out Our Other Southern Favorites: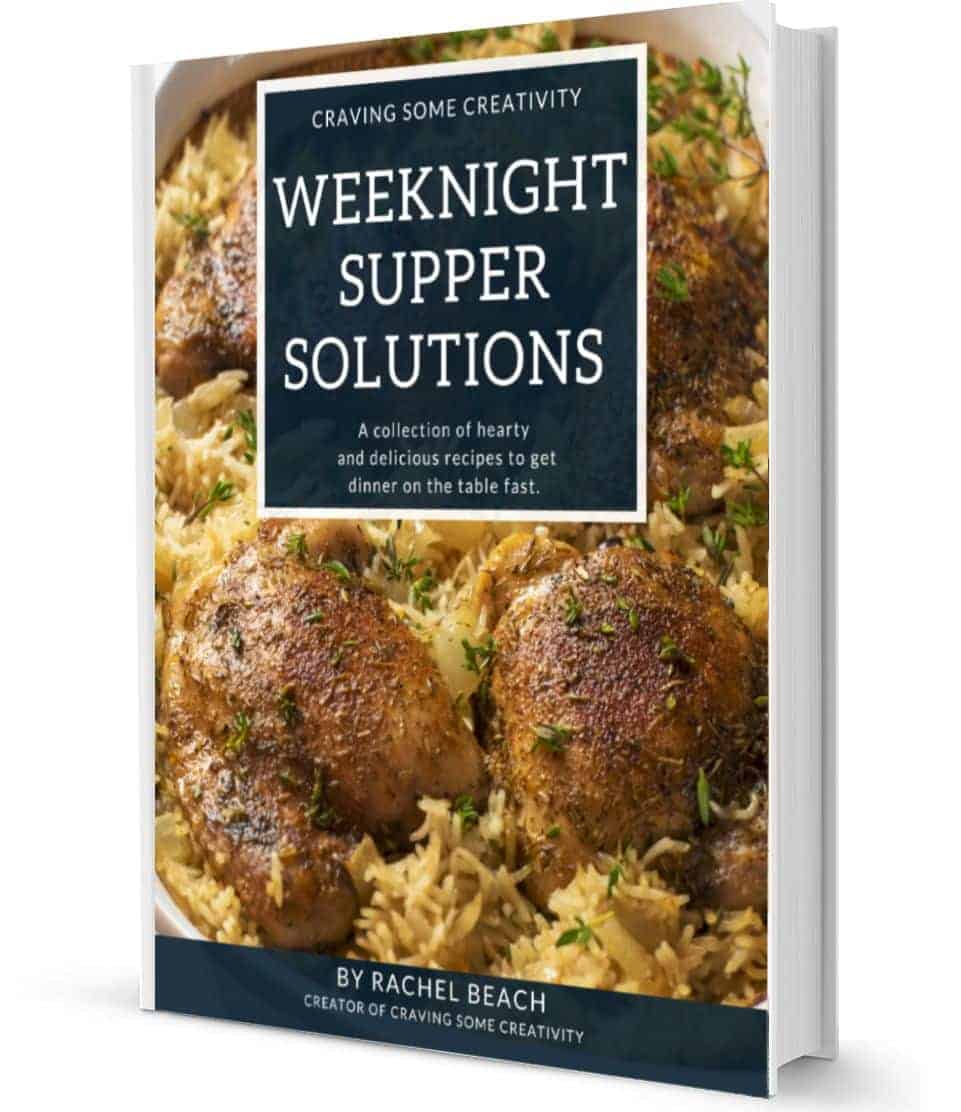 Not Sure
What's For Dinner?
Signup for recipe updates and get a free cookbook of Easy Weeknight Supper Solutions!
More Delicious Desserts
PS. If you make this recipe, leave a COMMENT AND A STAR RATING in the comments section at the bottom and be sure to take a photo and tag it #cravingcreative on Instagram! I appreciate you for taking the time to read about me and my family recipes.
New Orleans Pralines Recipe
This pralines recipe has been a family recipe that my mom has been making for over 25 years. Whole snappy pecans in a browned sugar coating, these treats are a kind of cookie that is a classic in the south and, especially, New Orleans.
Print
Pin
Rate
Ingredients
1

cup

granulated sugar

1

cup

light brown sugar

firmly packed

2

cups

whole pecans

¾

cup

buttermilk

2

tablespoon

unsalted butter

½

teaspoon

baking soda

dash

salt

1

tablespoon

vanilla extract

parchment paper
Instructions
Combine the sugars, pecans, buttermilk, butter, and salt into a large, heavy saucepan over low heat. Stir gently but consistently until the sugar dissolves. 

Cover and cook over medium heat for 2-3 minutes to wash down the sugar crystals from the sides.

Uncover and, stirring constantly, to 234 degrees on a candy thermometer. This is called the soft ball stage.

Immediately remove from heat and stir in baking soda and vanilla. Stir vigorously with a wooden spoon until the mixture begins to thicken.

Working quickly, drop by spoonfuls onto parchment paper paper. Let stand until firm.
Notes
This recipe should not be doubled. The mixture will cool too fast to get them onto the wax paper properly.
A wooden spoon is preferable in this recipe because it does not transfer heat. 
If the candy stiffens before you're done dropping the spoonfuls, add a spoonful of boiling hot water and stir until it loosens, then continue scooping until you have formed all the pralines.
You can use wax paper, although there may be some transference (I have never had any however).
Nutrition