Signal the official start of the Spooky Season with these easy & creative Halloween mantel decorating ideas. Pumpkins, ghosts, spiders, and gleeful grins are sure to stir up some frights. Featuring design tips and dollar store DIYs, create an inexpensive macabre masterpiece that will dazzle and delight!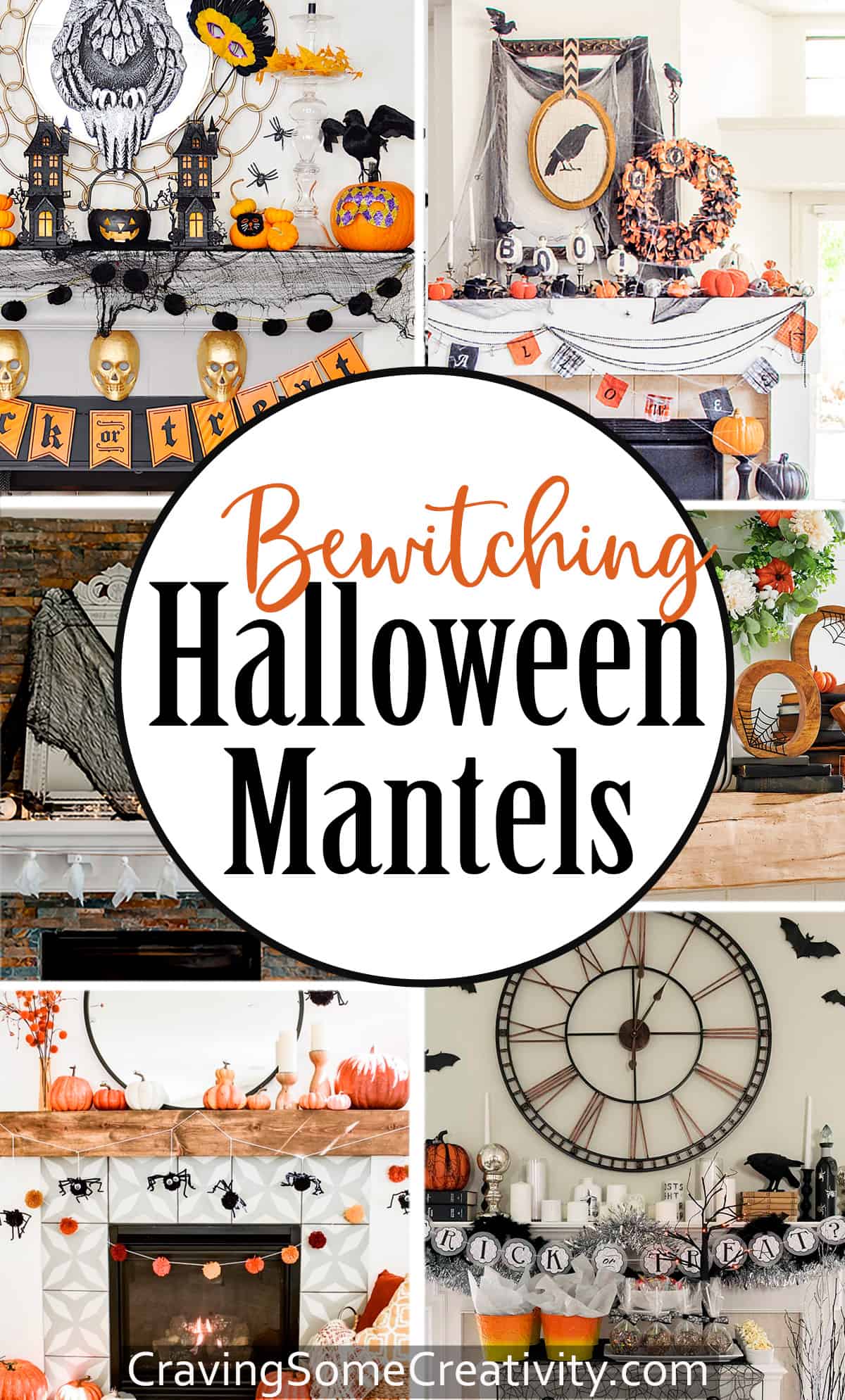 The one rule of Halloween decorating is that there are no rules! Choose to go with a style that speaks to your inner good witch or bad witch.
While I am more about keeping the scary decorations outdoors, I do generally decorate the fireplace mantel each year with a vintage gothic theme. I tried once to decorate the whole house – bad idea. I may have sleepy-ninja-attacked a skeleton in the dark and our poor dog wanted to protect us from the window displays. Lesson learned – small doses.
Thus, I am a fan of budget friendly inspiration like our collection of Easy DIY Halloween Decorations from years past. Today, I've gathered some of my favorite Halloween mantel decor ideas for a hauntingly good time!
Ready for best part? Most of these designs use common items you probably already have on hand or include dollar store DIYs. Because nothing is scarier than spending hundreds of dollars of stuff that sits in storage 11 months of the year.
How to Decorate a Halloween Fireplace
Drape a garland or scarf. From pom-poms to cheeky banners, cheesecloth, and sparkly spiderwebs, fabric options are the perfect backdrop.
Add metallics for elegance. Add a spooky glam vibe to your mantel with accents that often play well with existing décor like mirrors and vases.
Layer textures. Think cobwebs, glittery spheres, mirrors, lighted candles, or dusty books. Varying textures add depth and visual interest to your mantel.
Reuse what you have. Get creative with everyday items on hand! Forage dead branches from your yard. Candlesticks, mirrors, clocks, glass jars, and old books all work great with a Halloween theme.
Think about the overall shape. Choose an overall shape based on your mantel size, such as symmetrical or offset. Use a mix of tall, short, wide, and heavy or light items. Achieve balance by thoughtfully repeating items (groups of 3 or 5) and arranging taller accessories in the back while smaller items are front and center. Prop items up for more height.
Create a focal point. To draw the eye upward, place one large item in the center, such as an oversized mirror, painting, framed print, wreath, or clock. Don't forget the hearth area! Fireplaces traditionally have two focal points.
Halloween Mantel Decorating Ideas
Without further ado, let's kick off this spooktacular time of year with a celebration of these hauntingly good displays!
1. Candy Corn Orange Mantel
This fireplace mantel decor has layers of texture, color, and pattern. An eclectic mixture of upcycled items, simple DIY crafts, and fun new finds results in a one-of-a-kind design.
2. Gothic Black Crows Mantel
Eat drink and be scary! That's the motto of any good Halloween party. This black & white mantel & buffet came together with items I primarily shopped from my own home. The Edgar Allen Poe inspired spooky mantel features a classic cast of characters- dark bats, spooky birds, ravens & crows, spider webs, and spells.
3. Creepy Crawly Garland and Orange Pumpkins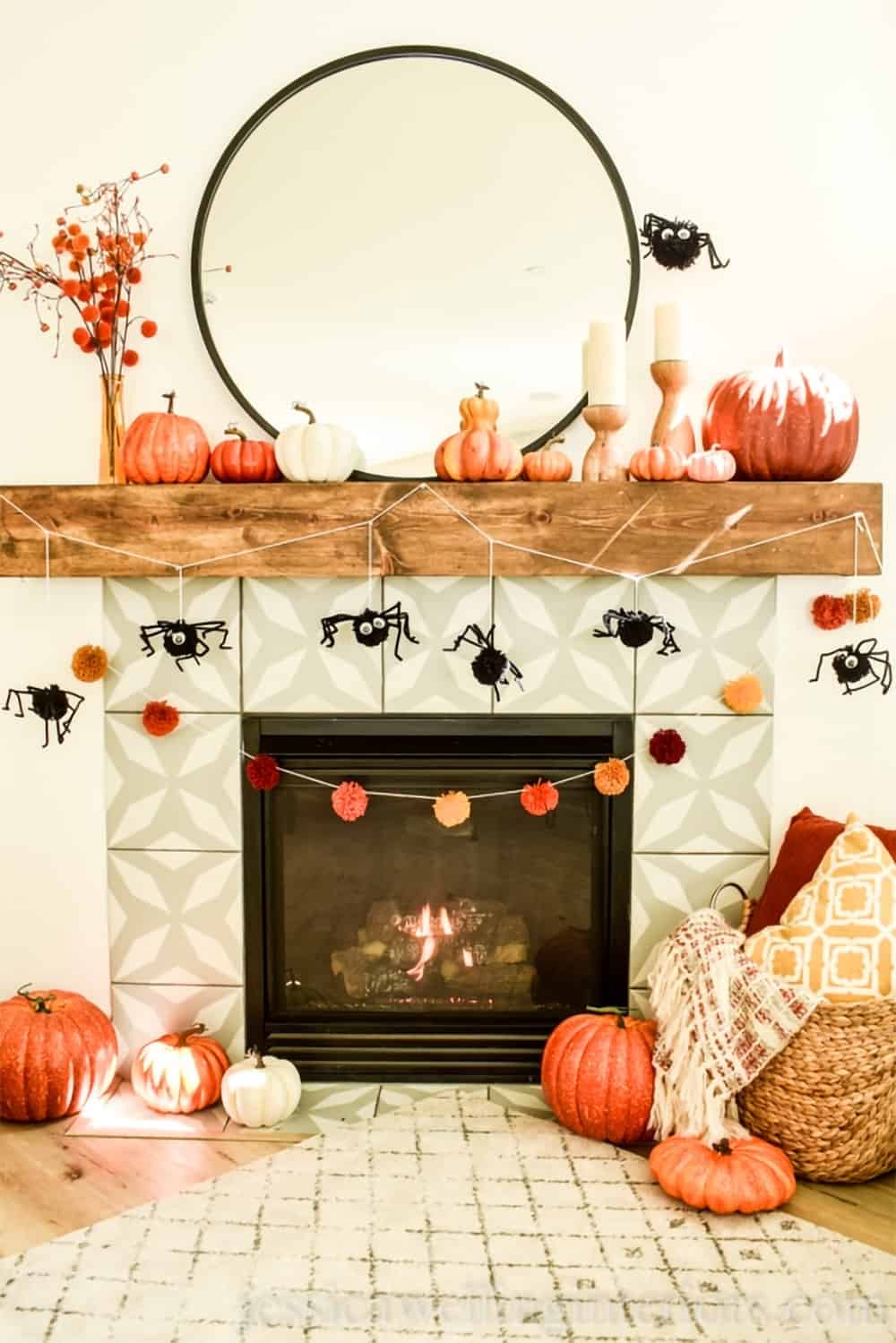 What's creepier than spiders? Maybe zombies, but even that's debatable to this gal. Easy yarn makes great spider webs with this kid-friendly pom-pom garland craft. Pair with pumpkins for a cozy fall vibe that could easily transition into November.
4. A Cauldron of Bats
Beware, it's a bit batty in here! Fun fact: a group of bats is actually called a cauldron. A neutral palette and thoughtfully selected felt pumpkins frame a scene that's frightening yet chic.
5. Antique Dollar Store Finds
Check out this spooky Victorian vignette cleverly designed from dollar store finds. This macabre creation is the ideal design for crafty DIYers or anyone looking to go big with a small budget.
6. Mix Fall and Halloween Fireplace Decor
Although we've become well-known in our neighborhood for our elaborate Halloween outdoor witch display, I tend to do something slightly more subtle inside. This mantle design blends fall & Halloween decor for a spooky yet chic effect. Pumpkins provide festive pops of color to an understated palette.
7. Crafty Layered Halloween Display
If you've got it, haunt it! This Edgar Allen Poe inspired mantel proves that scary can still be stylish. Multiple levels of fun DIY projects like sweater pumpkins and crow wall art create a visual feast for the eyes.
8. Modern Farmhouse Halloween Mantel
Spell out Halloween fun with these SPOOKY letters adorned with spider webs. This beautifully textured farmhouse hearth highlights a neutral palette paired with cheery seasonal greenery and bright bursts of orange and gold. It's colorful and feels like a cozy old bookstore that may be a tad haunted.
9. Easy Wood Signs
A classic color scheme and clean lines provide a contemporary spin to traditional Halloween styling. This mantel is too cute to spook with a printable pumpkin garland and playful polka dots & stripes.
10. Classic Orange, Black, and Gold Mantel
Touches of glitter and gold make for a truly fa-boo-lous design. Haunted houses, macabre masks, and an ominous owl cast a southern gothic style spell with a hint of glam.
11. Eerie Glam Skeletons
No bones about it- a haunted Garden Wreath featuring silver skulls and black roses is a focal point that won't soon be forgotten! The spray-painted metallic backdrop is especially fun. Flanked by the spookiest pumpkins in the patch and draped in black tulle, this mantel design manages to walk the line between fanciful and frightful.
12. Black Branches for Height
This ghostly mantel has real spirit. An antique candelabra and ghosts anchor this cleverly layered design which pays homage to haunted houses and the things that go bump in the night. Note the use of three garlands to create a strong foundation of texture.
More Halloween Decor Ideas for Your Mantel
Brooding Color schemes such as burgundy, purple, orange, and black.
Bold combinations such as lime green, purple, and orange (ala Beetlejuice!)
Framed antique portraits
Old books or book pages
Black creatures like cats, bats, ravens, spiders, bugs, and crows, birdcages
Skulls and skeletons
Ghosts and ghouls
Halloween garlands or Scarves
Pumpkins and jack-o-lanterns
Apothecary jars
Feeling inspired to haul out the Halloween decor? Which spooky scene cast a spell on you? Share your favorite Halloween hearth designs with us!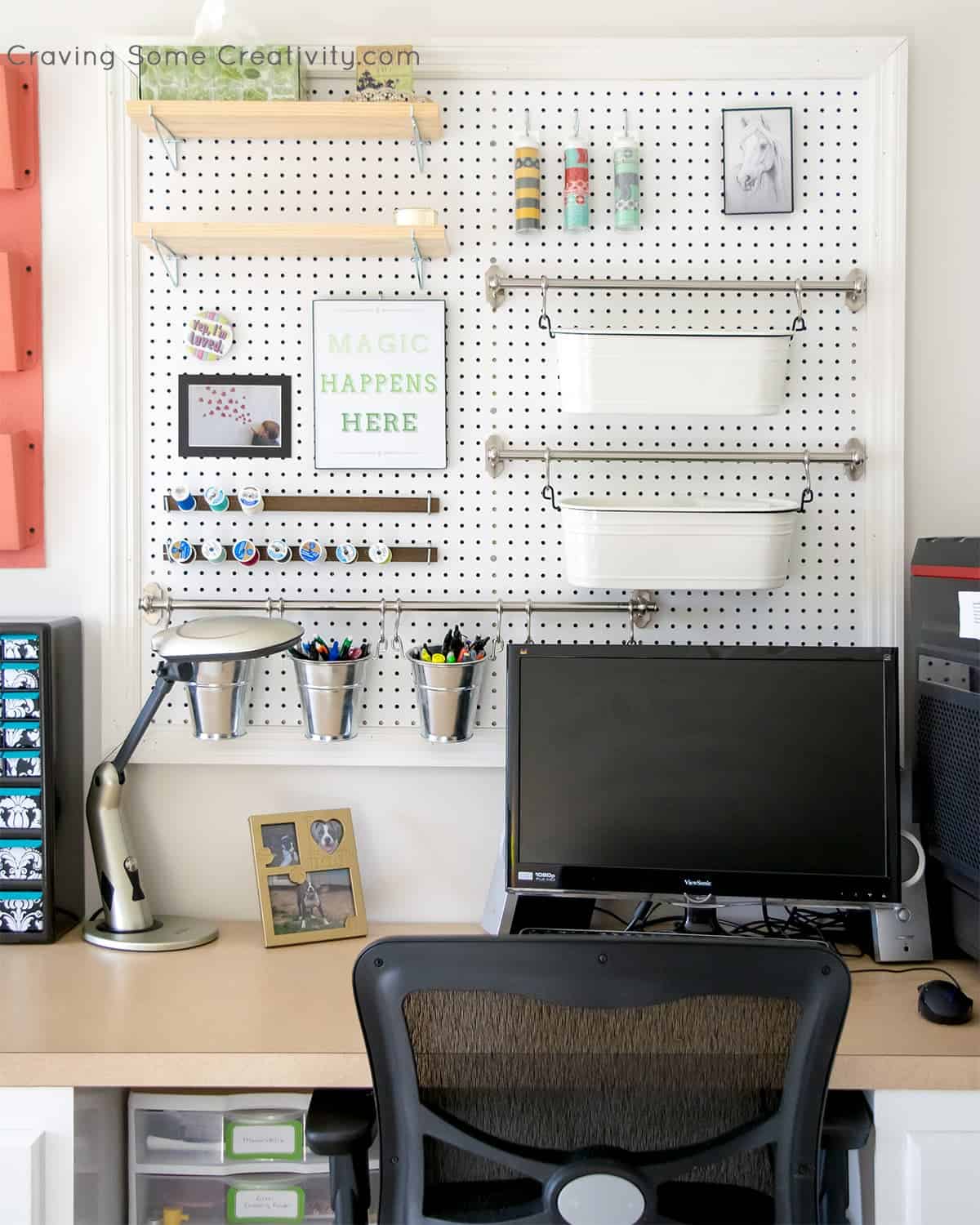 Grab our free series "Weekend Home Projects that will Transform Your Life"
Sign up below to receive updates including free printables, organization tips, home improvement projects, recipes and more!
More Halloween Ideas
PS I love seeing your creations! Be sure to take a photo and tag #cravingcreative on Instagram! You can also stay in touch with me through following me on Instagram, Pinterest, and subscribing to the newsletter!